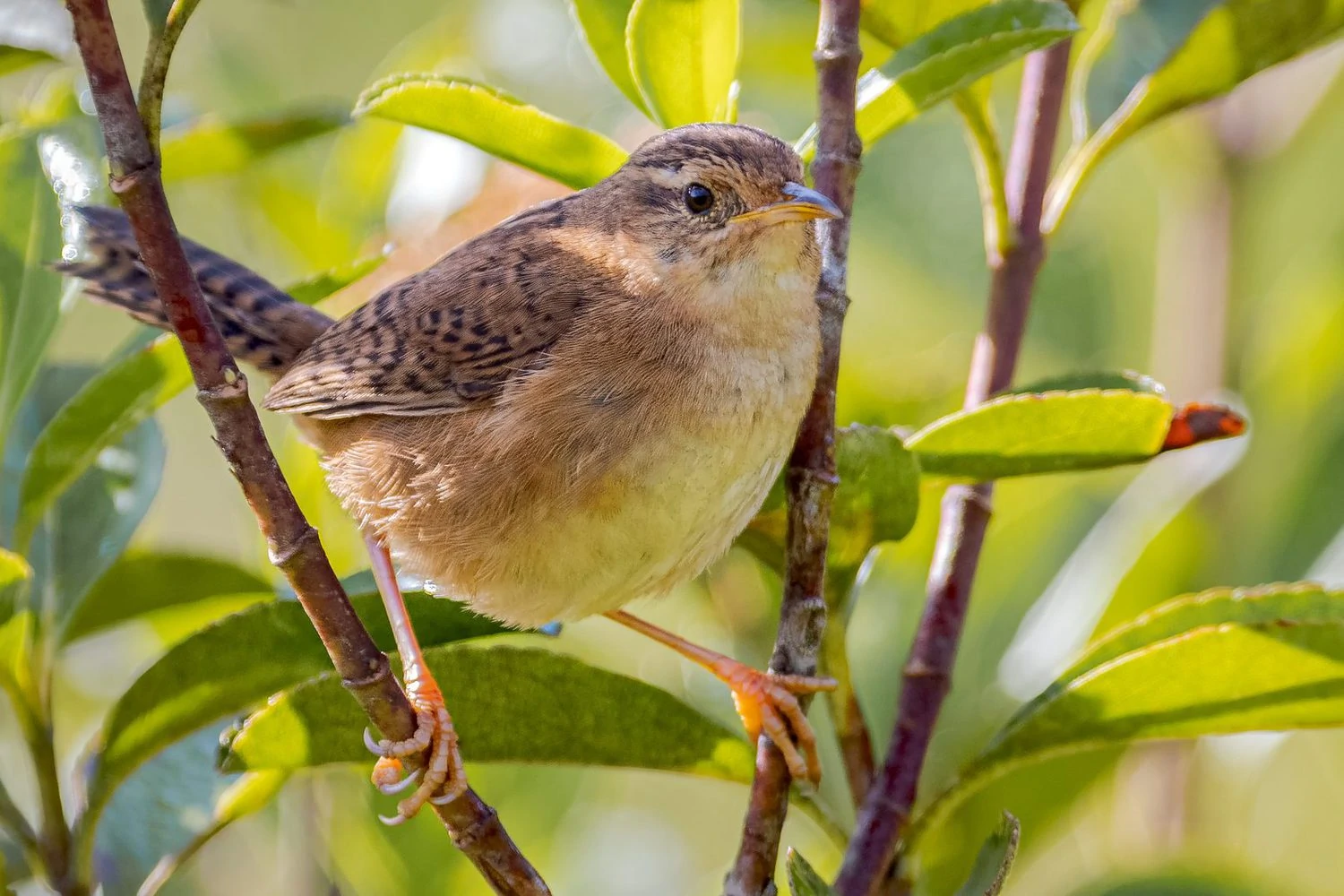 Sedge Wrens are small brown wrens that are darker above with black streaking on their heads and black and white streaking on their backs and wings and barring on their tails.
They have a small light eyebrow stripe. Their underparts are white with peachy buff on their flanks. Males and females look similar and they often hold their tails upright.
Sedge Wrens look similar to Marsh Wrens and can be found in similar wet areas, but Marsh Wrens lack striped shoulders and have lighter bellies.
Cistothorus stellaris
Length: 3.9 – 4.7 in (10 – 12 cm)
Weight: 0.25 – 0.35 oz (7 – 10 g)
Wingspan: 4.7 – 5.5 in (12 – 14 cm)
Range
Sedge Wrens breed in southern Canada, the Midwest, and sometimes further to the east of the US. They migrate and spend winter in southeastern states and northern Mexico, near the Gulf and Atlantic coast.
Habitat And Diet
You can find Sedge Wrens very hidden in wet grasslands, marshy areas, and meadows with lots of vegetation. They usually prefer shallower areas than Marsh Wrens and hunt for insects and spiders.
Sedge Wren Sounds:
Their song is simple and consists of a few short notes followed by a similar pitch of a few more rapid notes.
Nests
Nests of Sedge Wrens are built by the males and they make several of them so that some serve as decoys for predators. When the female finally chooses her mate, she will then add grass, sedge, and feathers to their nest.
Nests are round and made of dried grass with an opening or entrance on one side. The female lays one to ten eggs which she incubates herself for a period of twelve to sixteen days.
Fun facts:
Sedge Wrens are not so sweet and will pierce the eggs of other Sedge Wrens that nest too close, destroying them.
Sedge Wrens were once known as "Short-billed Marsh Wrens" but were renamed to better distinguish them from Marsh Wrens.