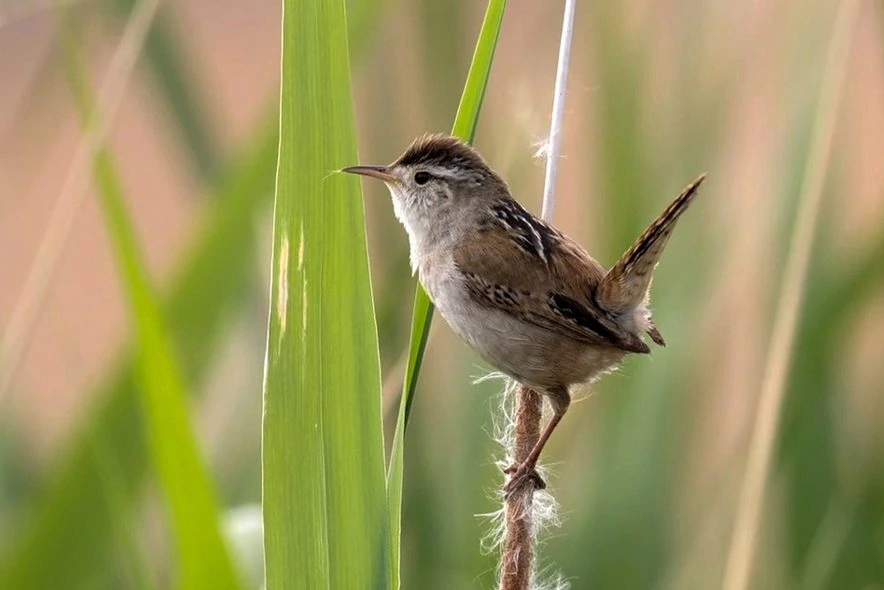 Marsh Wrens are brown with black and white streaks on their back. Their underside is grayish brown, and they have the distinctive upright tail of the wren.
They lack stripes on their shoulders and have longer bills than Sedge Wrens. Males and females look the same.
Cistothorus palustris
Length: 3.9-5.5 in (10-14 cm)
Weight: 0.3-0.5 oz (9-14 g)
Wingspan: 5.9 in (15 cm)
Range
Marsh Wrens breed in the Northern US states and Central Canada before migrating to Southern states and Mexico. Some birds in the west and along the Atlantic Coast may remain resident all year. They can be spotted during migration in the Eastern US.
Habitat And Diet
You can find Marsh Wrens in wetlands clinging to reeds, with each foot grabbing a different stalk. They can be hard to spot but listen out for singing amongst the reeds, especially at dawn and dusk.
They eat insects and spiders, which they pick off leaves close to the water.
Marsh Wren Sounds:
They sing a distinctive buzzy song that can last for 20 minutes.
Nests
Nests of Marsh Wrens are fully enclosed, except for a small opening in the top. They are made from reeds and grasses woven together. 3 – 10 eggs are laid, which take around two weeks to hatch and two weeks to fledge.
Fun facts:
Marsh Wrens may build up to twenty round dummy nests attached to cattails, but they usually only use one and will destroy the eggs and nestlings of rival birds.