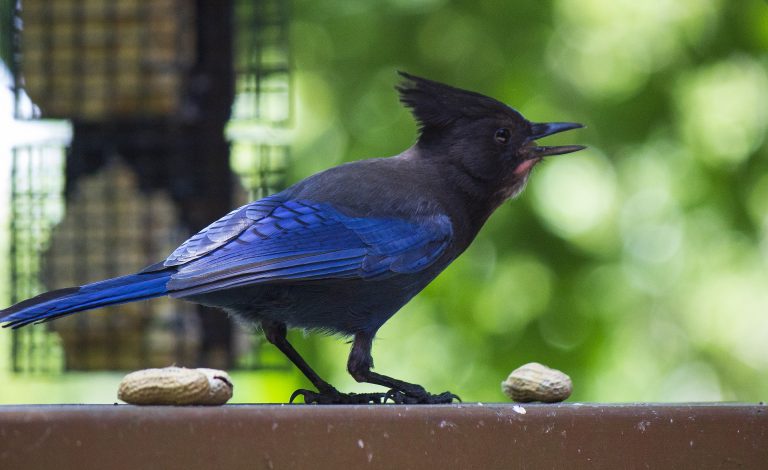 Steller's Jays are large songbirds with black triangular crests that stick up from their heads. The rest of their heads and onto their chests and back are black, with the rest of their bodies being blue.
Cyanocitta stelleri
Length: 11.8-13.4 in (30-34 cm)
Weight: 3.5-4.9 oz (100-140 g)
Wingspan: 17.3 in (44 cm)
Range
Steller's Jays are resident in western US states, western Canada, Mexico, and Central America.
Habitat And Diet
You can find Steller's Jays in evergreen forests in the mountains, and they will also be found around picnic tables, campgrounds, and backyard feeders.
Steller's Jays eat most things they can forage for, including insects, seeds, nuts, berries, eggs, and nestlings, but also making a nuisance of themselves around garbage and your unguarded picnic!
Steller's Jay Sounds:
They make 'kaw' sounds as well as fast two-toned calls, peeps, and harsh guttural sounds. Steller's Jays can also mimic other noises such as other bird species and even sprinklers and alarms.
Nests
Nests of Stellar's Jays are usually near the top of conifer trees and are built from leaves and plant material held together with mud and lined with soft pine needles.
Attract Steller's Jays
Attract them to your backyard with peanuts and suet.
Fun fact:
Stellar's Jays make nests out of the mud.