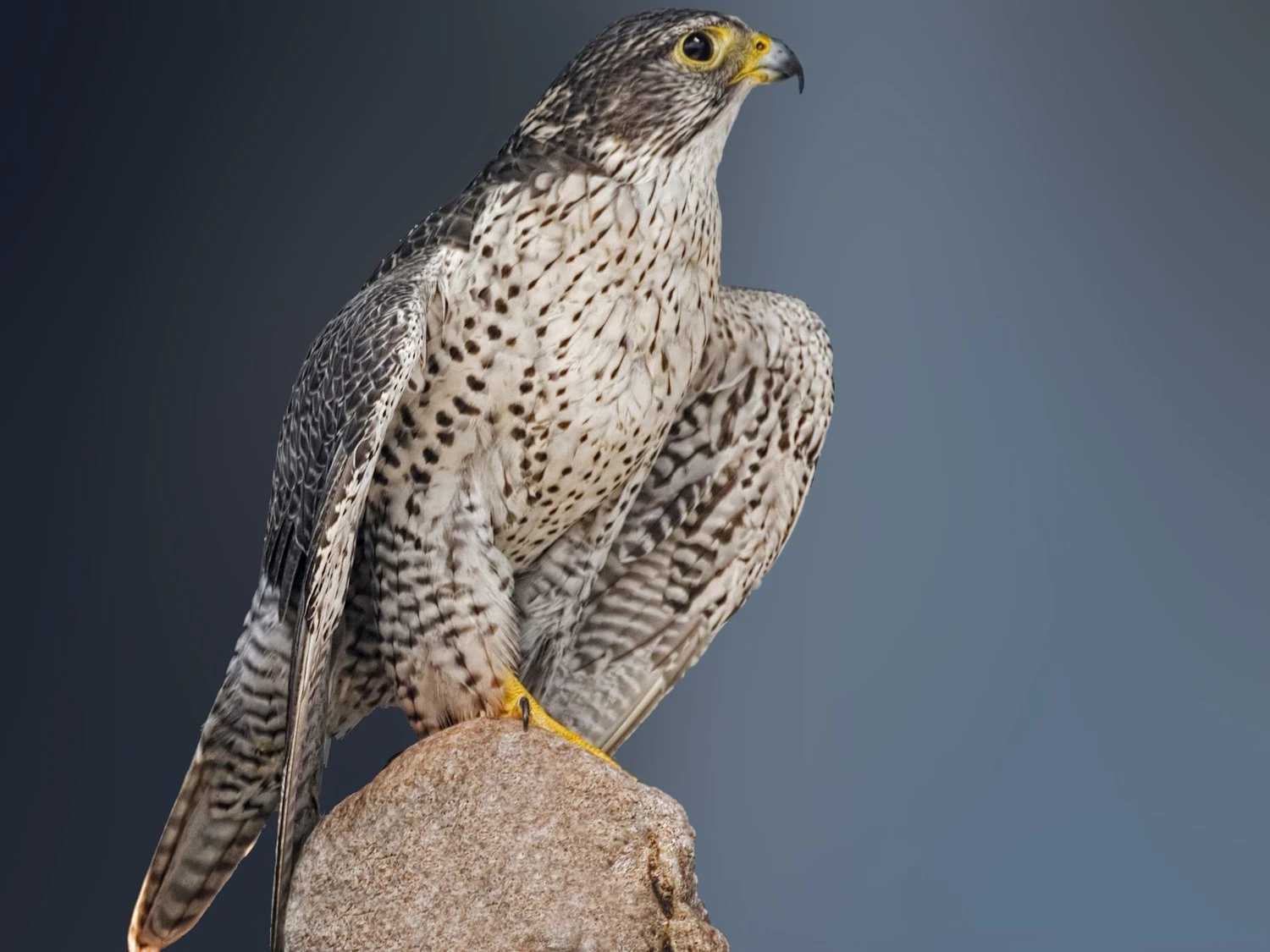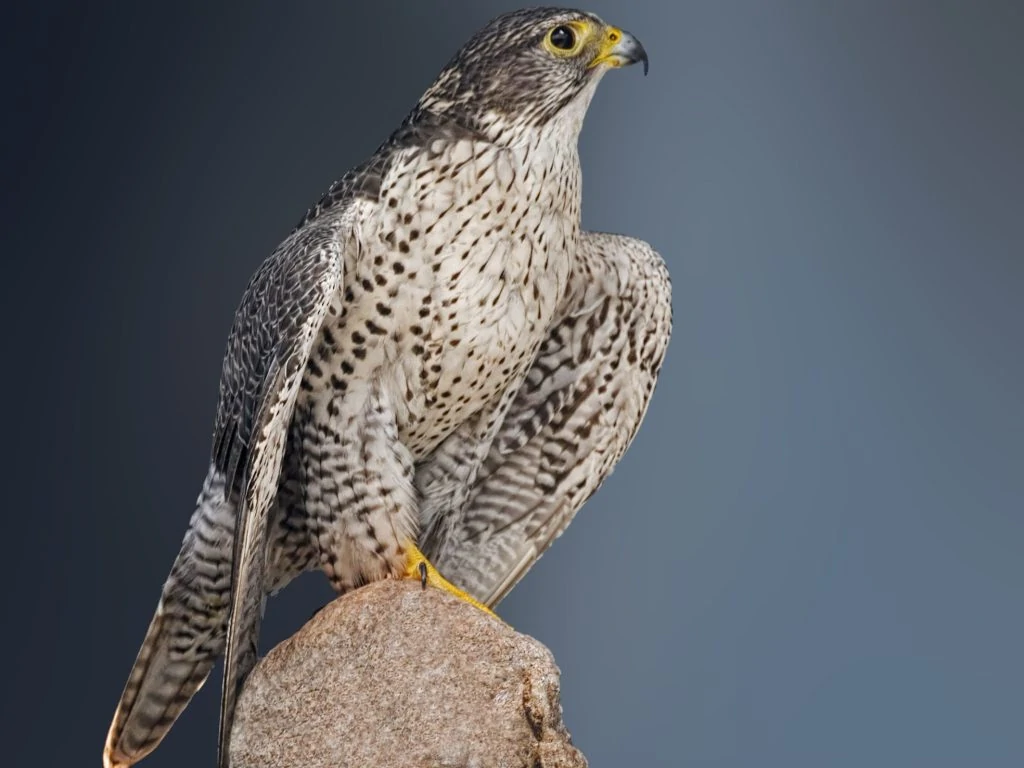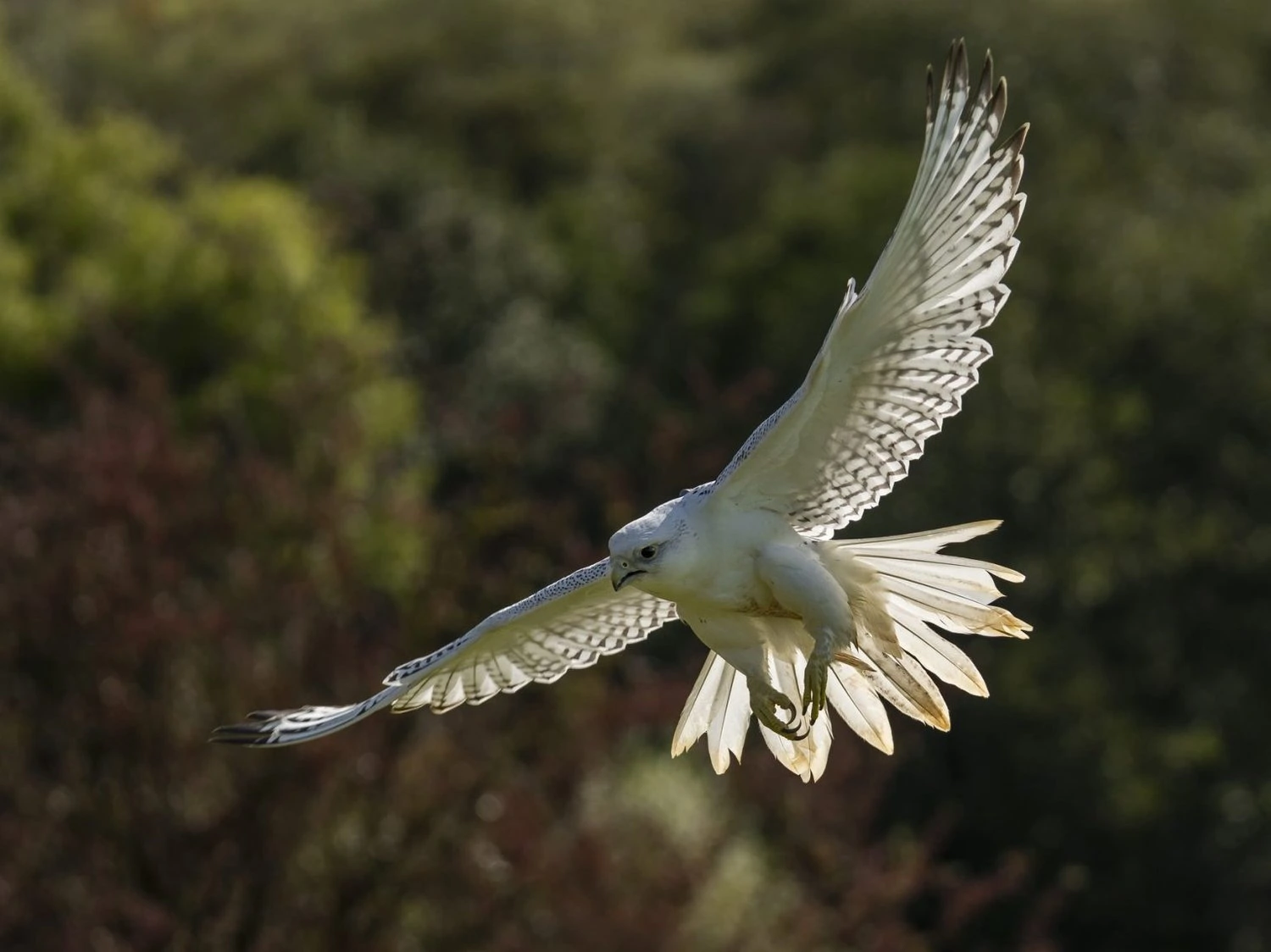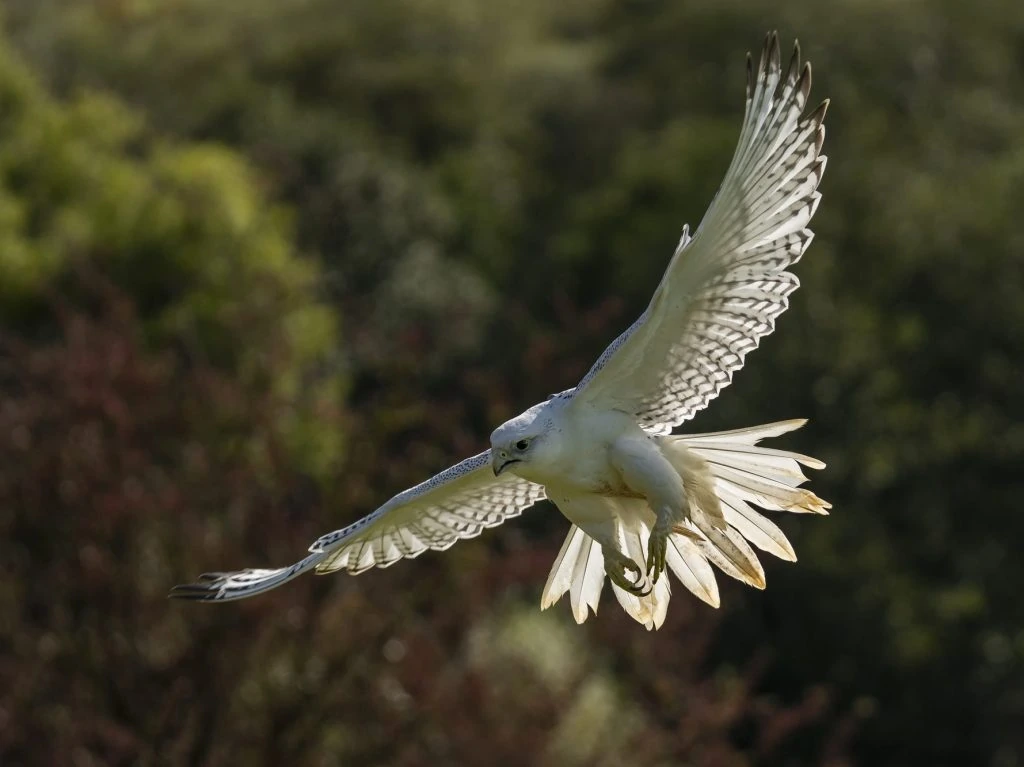 Gyrfalcons are the largest Falcons and are apex predators of the Arctic, where they snatch birds from the sky or dive at great speed to catch unsuspecting prey from the ground.
Their coloring varies greatly but generally has three morphs – white, silver/gray, and dark. Silver/gray is most common in North America 
The silver/gray morphs are heavily banded gray and white on their upperparts but some are mostly gray without obvious banding. Their underparts are evenly spotted and white at the throat. Juveniles have solid dark heads and are browner overall.
The White morphs of Gyrfalcons are white with brown/black barring on their upperparts with dark wingtips and a white tail. Some birds have barring on their tails and spots on their breasts. Juveniles are similar but have more barring on their upperparts but have faint streaks on their underparts.
Falco rusticolus
Length: 20 – 25 in (51 – 64 cm)
Weight: 41.6 oz (1179 g)
Wingspan: 48 – 64 in (122 – 163 cm)
Range
Gyrfalcons breed in the high arctic of Canada before migrating south across Canada and northern US states, those that breed further south in the arctic remain all year. They are also found in Europe.
Habitat And Diet
You can find Gyrfalcons in one of the harshest places on earth, the arctic tundra. They usually stay on cliffs near shorelines or rivers and with a vast open space where they can easily hunt prey. When they migrate during the winter, they stay in areas with plenty of birds for them to hunt, like coasts, reservoirs, grasslands, farmlands, and river valleys. 
Gyrfalcons primarily hunt ptarmigans and waterfowl but they also hunt and eat songbirds. Their diet is not limited to birds since they also prey on hares, ground squirrels, and arctic foxes.
They may hunt low by cruising near the ground to scare birds and animals and immediately grab them with their talons. When hunting while flying, they usually strike down their prey from above and let them fall to the ground. They will then retrieve it.
Gyrfalcon Call:
Nests
Nests of Gyrfalcons are often found on cliffs. They don't build their own nests but instead make use of abandoned nests of other birds. The female lays up to five eggs and she incubates them for as many as thirty-six days. 
Fun Fact:
When the chicks aren't able to finish off their meal, the female Gyrfalcon will keep or store their leftovers behind some vegetation to retrieve for later.