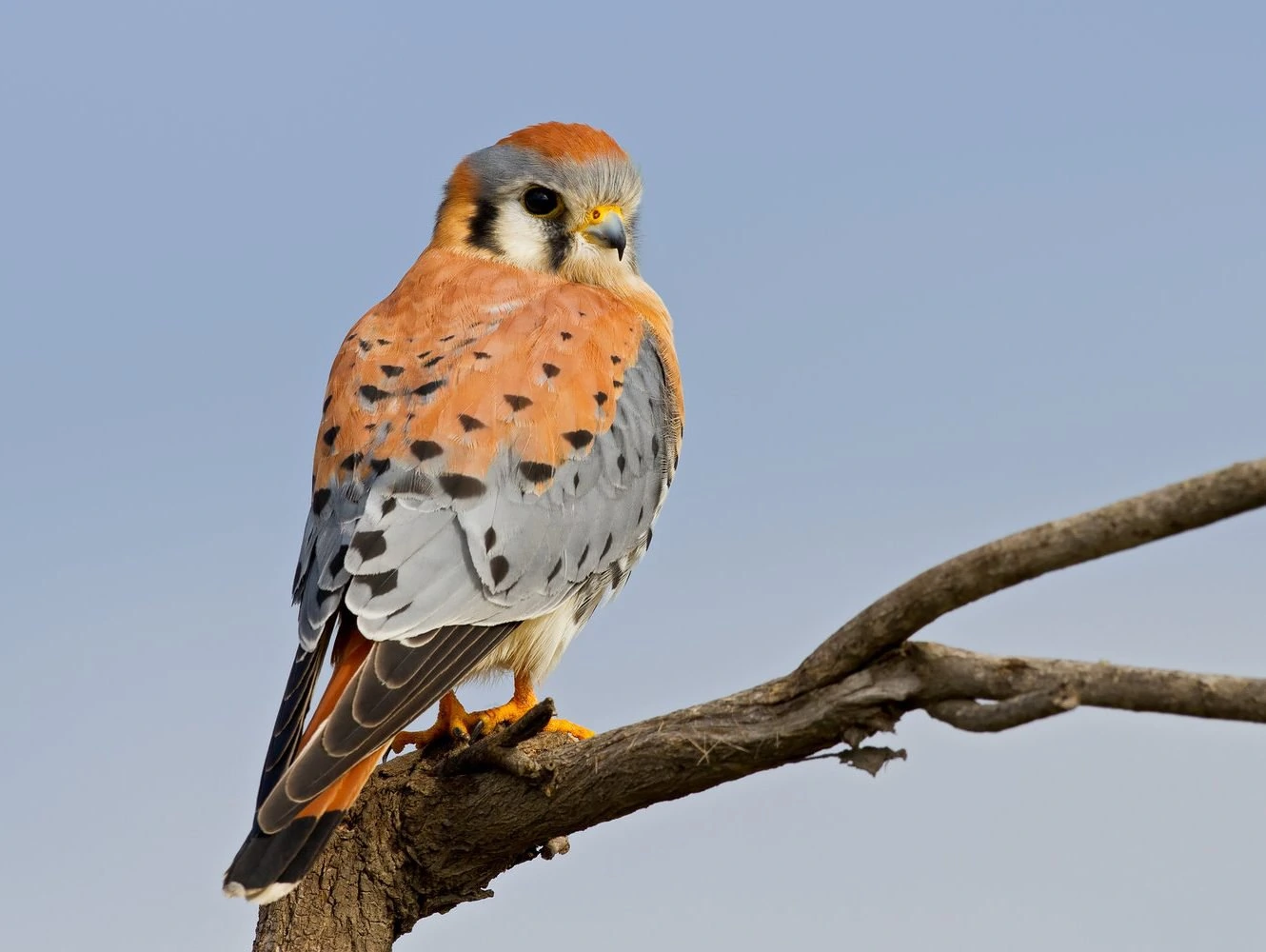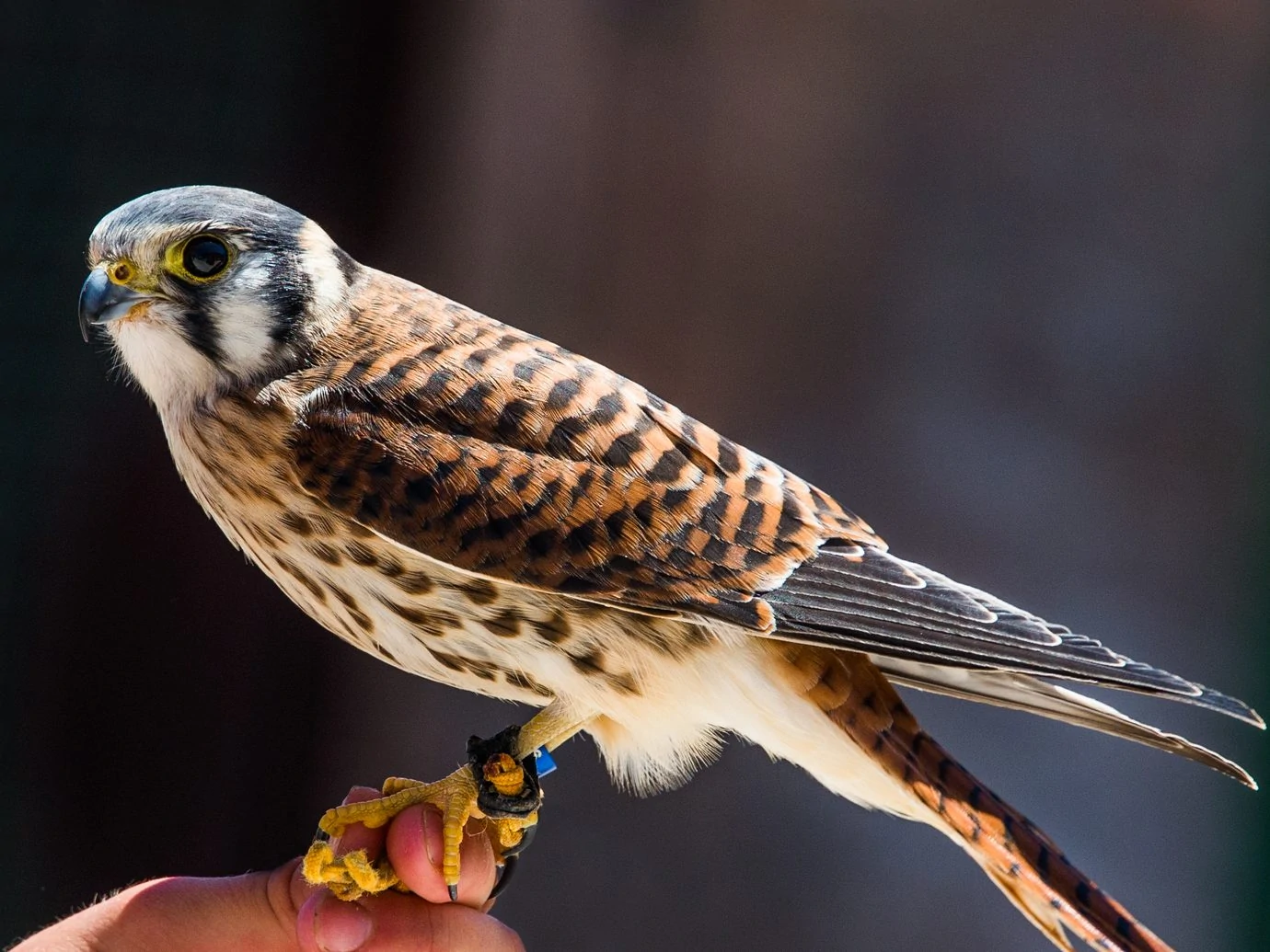 American Kestrels are the smallest and most colorful falcons in North America. Males and females have different colors and markings.
Adult Male American Kestrels have dark gray heads with varying amounts of rufous on the crown, white throats, blue-black bills, and unique vertical slashes on their white faces – one under their eyes and another behind their eyes. This is significant because most falcons only have one.
Their bellies and breasts are orange with brown spots, their backs are red-brown, their wings are blue-gray with white spotting, and they have yellow legs and feet. Their underwings appear spotted. Their tails are reddish-brown with one broad black band and a white tip.
Female American Kestrels share similar traits with the males – rufous crowns, gray heads, white faces, and two black vertical slashes on the face. They also both have two black spots at the back of their heads that deceives potential attackers when hunting from the rear.
However, female American Kestrels have a general rufous coloring, particularly on their backs and wings, and their barring is more pronounced. They have white bellies and breasts with rufous streaks. Their tails are also reddish-brown with many bars.
Falco Sparverius
Length: 9 – 12 in (23 – 30 cm)
Weight: 3.9 oz (111 g)
Wingspan: 20 – 25 in (51 – 64 cm)
American Kestrels are the most common falcon with seventeen subspecies living in varied environments and habitats across the Americas. With many subspecies, American Kestrels have plenty of regional variation in their coloring, markings, and vocalizations.
Range
American Kestrels are found in North and South America. Those that breed in Canada migrate south for winter, but the rest remain resident all year.
Habitat And Diet
You can find American Kestrels mainly in open areas without dense cover as they prefer viewing their whole territory from a single perch.
They typically live in grasslands, pastures, plains, meadows, agricultural fields, deserts, and even urban environments. You may see them perched on fence posts, lone trees, and low shrubs.
Since American Kestrels can inhabit a wide range of environments, they can also have a diverse range of prey. They can hunt and eat grasshoppers, crickets, cicadas, beetles, and dragonflies. What they do is sit and wait on a perch. When they have their prey in sight, they either catch it on the ground or while in flight.
American Kestrels can also hunt by hovering while scanning for prey on the ground.
They may use this strategy when hunting mice, voles, lizards, frogs, and small birds. American Kestrels only attack when they're sure that they will succeed.
American Kestrel Call:
Nests
Nests of American Kestrels include abandoned nests of woodpeckers or other birds, their own tree cavities which they're reusing, their old nesting sites along cliff ledges and tops of buildings, and tree holes or cavities in cactuses. They also make use of artificial nest boxes. 
Female American Kestrels usually lay up to seven eggs. Incubation begins only when all eggs have been laid. The female incubates the eggs for about a month. During this time, the male hunts for food and feeds his bounty to the female. He may sometimes assist in incubation to let the female hunt on her own.
Attract American Kestrels
Attracting them to your backyard is possible if you put up nest boxes that are within their preferred habitats. They need a perch and open area and preferably with no outdoor pets. 
Fun Fact:
American Kestrels can see using ultraviolet light which comes in handy when trying to hunt their prey. It is especially handy when seeing the trails of urine that are left by voles that allow the American Kestrels to pinpoint their exact location.