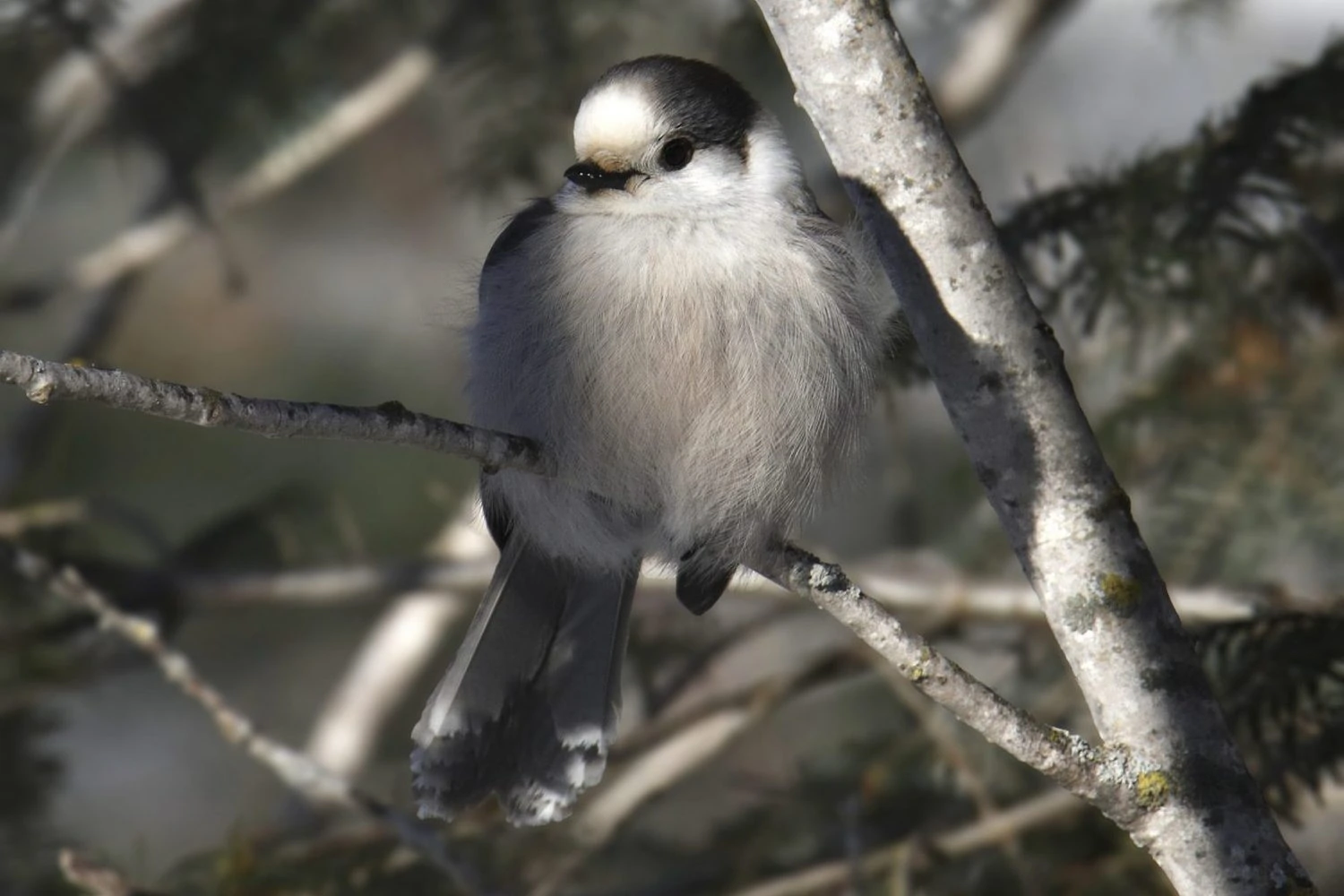 Canada Jays are dark gray on the back and a soft pale gray below. They have white heads and throats, with a black band running around the back of the head.
They are sometimes known as Grey Jays. Females look the same as males, but juveniles are darker gray all over.
Length: 9.8-11.4 in (25-29 cm)
Weight: 2.0-3.0 oz (58-84 g)
Range
Canada Jays are resident in Canada, Alaska, and the high mountains of the northwest US. Some color differences occur with Canada Jays from different areas. With those in the Rockies being paler than those in Canada.
Habitat And Diet
You can find Canada Jays in boreal forests where spruce trees are common. They are not as loud as other Jays and are opportunity feeders, eating a wide variety of food, including insects, berries, and dead animals. They will also come close looking for food dropped by hikers.
Although they look sweet, Canada Jays have a deadly side, and they will kill baby birds for food and even hunt smaller species such as chickadees and warblers.
Canada Jay Sounds:
They have a gentle whispered song but often make harsher calls and clatters. Canada Jays can also imitate other species.
Nests
Nests of Canada Jays are built early in conifers when there is still snow around. The nest is made from dead twigs and is lined with feathers and built on the south side of the tree for warmth.
Attract Canada Jays
Attract them to your backyard with most kinds of bird food, such as seeds and suet, and they will readily eat from tube or platform feeders.
Fun Fact:
Canada Jays produce special saliva, which they use to mold food into a sticky blob, and then they stick it in a hiding place like gum under a desk.