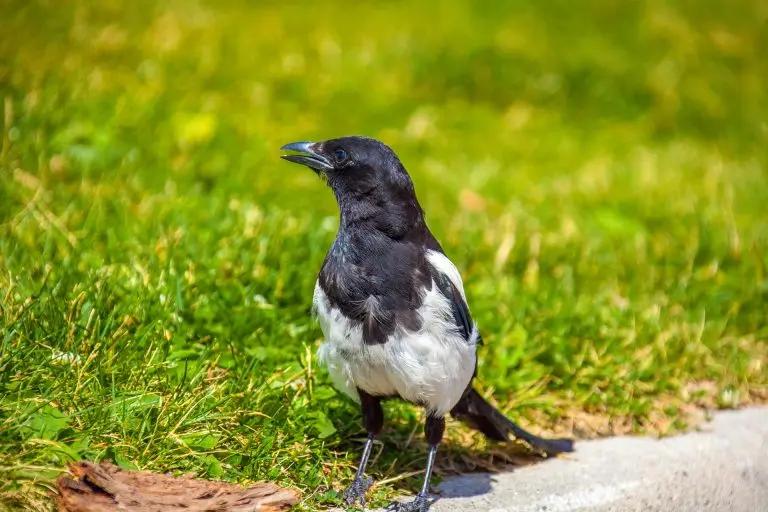 Black-billed Magpies, usually just called Magpies, are black and white birds that are noisy. They have long tails and blue-green iridescent flashes in the wing and tail. Males are up to 25% heavier than females.
Pica hudsonia
Length: 17.7-23.6 in (45-60 cm)
Weight: 5.1-7.4 oz (145-210 g)
Wingspan: 22.1-24.0 in (56-61 cm)
Range
Black-billed Magpies live in northwestern US states and western Canada, and the coast of Alaska. They do not migrate.
Habitat And Diet
You can find them walking on the ground in meadow and grasslands or other open areas feeding on fruit and grain, beetles, and grasshoppers. They have also been known to kill small mammals such as squirrels and voles and raid bird nests for eggs or nestlings and even carrion.
Black-billed Magpie Sounds:
A series of harsh calls and also a scream.
Nests
Nests of Black-billed Magpies are a messy ball-shaped collection of twigs with a neat cup of mud and soft material on the inside. They lay 6 – 7 eggs, and these take around three weeks to hatch and fledge a further 3 – 4 weeks.
Attract Black-billed Magpies
Attract them to your backyard with platform and suet feeders with black oil sunflower seeds, peanuts, fruit, suet, millet, and milo.
Fun Fact:
A gathering of magpies calling around one of their dead is called a funeral.