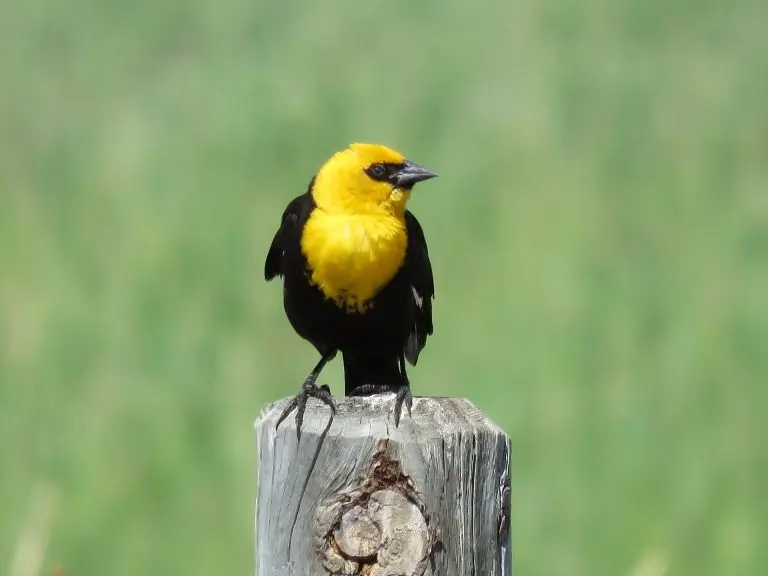 Yellow-headed Blackbirds are striking birds with glossy black bodies, bright yellow heads and chests, and white patches on the wings in males.
Females are brown instead of black, and the yellow head is duller. They are larger than the Red-winged Blackbird.
Xanthocephalus xanthocephalus
Length: 8.3-10.2 in (21-26 cm)
Weight: 1.6-3.5 oz (44-100 g)
Wingspan: 16.5-17.3 in (42-44 cm)
Range
Yellow-headed Blackbirds breed in western and prairie wetlands and nest in the reeds. They forage over surrounding wetlands, grasslands, and fields, mostly for insects in the summer.
Habitat And Diet
After breeding, Yellow-headed Blackbirds migrate to fields and farmland in Southwest states and Mexico for the winter in large flocks.
Yellow-headed Blackbirds feed on insects in summer and seeds and grains in winter.
Yellow-headed Blackbirds Sounds:
The screeching buzz at the end of a few more musical notes is very distinctive.
Nests
Nests of Yellow-headed Blackbirds are made from long wet stems weaved together and attached to cattails or reeds over the water. They lay 2 – 5 eggs taking about two weeks to hatch and another week or two before fledging.
Attract Yellow-headed Blackbirds
Attract them to your yard with sunflower seeds.
Fun Fact:
Yellow-headed Blackbirds hunt for insects by flipping over stones to flush them out.