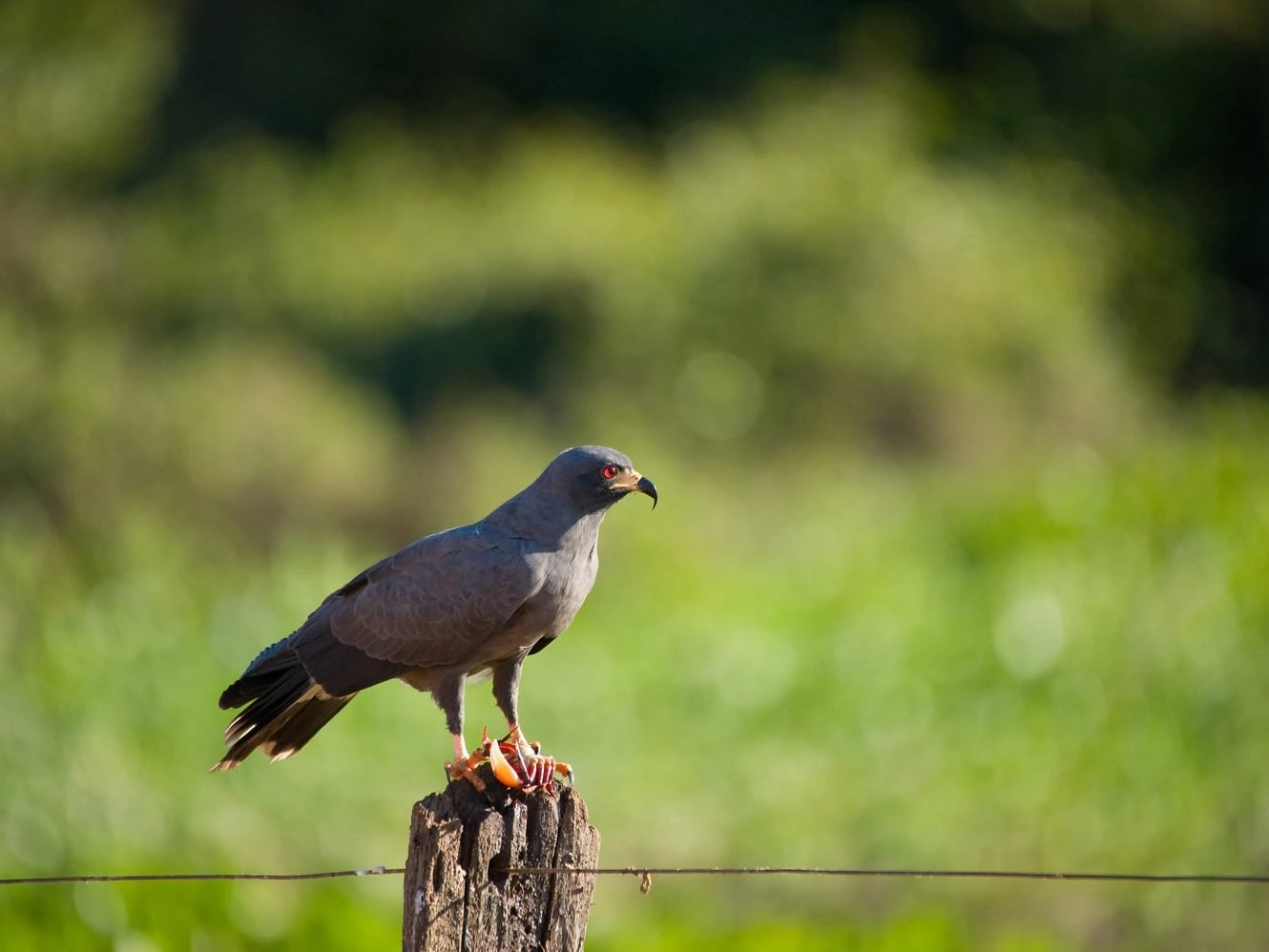 Snail Kites are named for their primary prey, apple snails. Male Snail Kites have dark gray bodies, red eyes, specially-hooked orange bills with black tips, long white tails with thick blue-black distal bands, and gray terminal bands. Their legs are reddish-orange.
Females are brown overall with heavy white streaks on their bellies. They have whitish heads, with darker areas above and behind the eyes. They have orangish-brown eyes, a thin, curved orange bill with a black tip, and white chins. Their legs are red-orange.
Juveniles resemble females with their dark brown coloring and streaks on their heads and bellies. Their eyes are dark brown, their bills are entirely dark and their legs are yellowish.
Rostrhamus sociabilis
Length: 16 – 18 in (41 – 46 cm)
Weight: 13.3 oz (377 g)
Wingspan: 45 in (114 cm)
Range
Snail Kites are resident all year in Central and South America, Cuba and mainly Florida in the southern United States.
Habitat And Diet
You can find Snail Kites in freshwater marshes, shallow lakes, and other bodies of water with marsh edges and emergent vegetation. They roost communally in tropical woodlands near these wetlands.
The apple snail is the primary food of these Snail Kites. They hunt them from a perch or while flying over shallow and clear waters. They grasp them with their talons and then perch on a branch to extract the snail from within with their specialized hooked bills.
When apple snails are less abundant, they may feed on other prey like turtles, crayfish, snakes, small crabs, or fish.
Snail Kite Call:
Nests
Nests of Snail Kites are often found in bushes on the ground or in trees less than 30 feet tall. They are usually beside shallow water next to feeding areas. The male builds the nest with dry sticks and plant materials lined with leaves, reeds, and grasses.
The female lays two to four eggs and both adults incubate them for twenty-six to thirty days.
Fun Fact:
Once the young become fledglings, one parent will establish another brood with another mate, in a mating system called "sequential monogamy".