Don't get me wrong, I love all birds (I even forgave the seagull that pinched my sandwich on the boardwalk when I was a kid), but hummingbirds are without a doubt the cutest of the bunch!
Considering their glorious iridescence, diminutive stature, and adorable bee-like fascination with nectar, there's bound to be someone in your life who shares my soft spot for this sweet little species, and below, you'll find a selection of hummingbird gifts that will blow them away!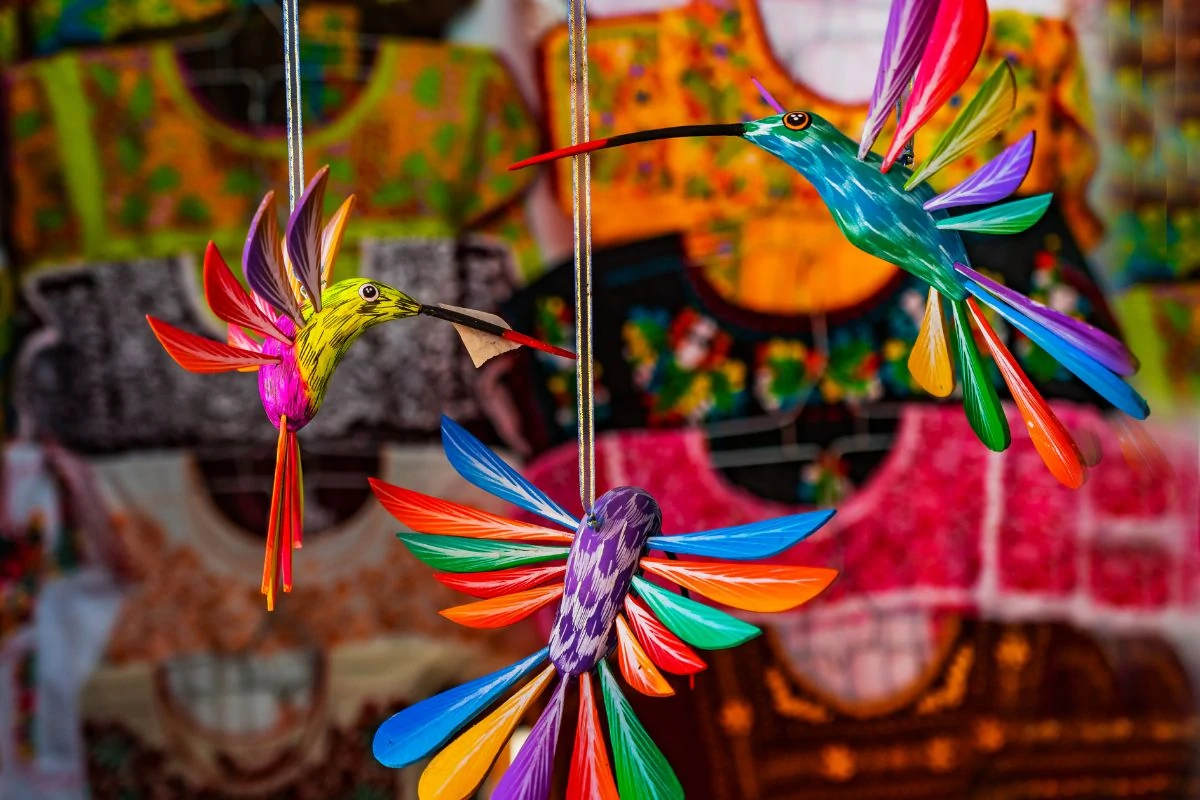 This site is reader-supported and as an Amazon Associate, I earn a commission if you purchase a product I recommend at no extra cost to you.
Have you ever wished that wild birds weren't so timid (gulls and pigeons excluded)?
As animal lovers, we can never be too close to our favorite creatures, but birds rarely give us the time of day, which is why this kit is sure to be a home run when gifted to a hummingbird superfan.
With this rudimentary assembly of plastic flowers and nectar cavities, you can literally train wild hummingbirds to lick nectar from your hand — How freakin' cool is that?!
They may take a while to warm to the idea, but be patient, and they'll be hitting you up for a slurp of the good stuff every day of the week.
If the hummingbird fanatic in your life would rather respect the personal space of their local hummingbird population but would still like to see plenty of them, treat them to this super colorful feeder and give yourself a pat on the back for being the best gift giver of all time.
A feast for both hummingbird bellies and human eyes, it'll beautify any outdoor space and guarantee frequent visits from these most delicate of birds.
It even has an ant guard and bee blocker to make sure the only animals dining out on delicious nectar are hummingbirds.
You know what's better than hummingbirds stopping by for a bite to eat? Hummingbirds literally living on your property, that's what!
With these beautiful, natural grass hanging houses, an entire family of hummingbirds can lay down some roots in a backyard, giving the landowner endless joy, day in and day out.
They're not in any way disruptive of established landscape aesthetics and will blend right into a natural backdrop.
To be honest, they look so cozy that I'd be happy to live in a human-sized version of these little eco-pods.
If you wanted to take the gifts discussed above to the next level, I'd recommend pairing them with a big old bottle of liquid nectar so the hummingbird lover you hold dear can keep those long, hungry tongues coming back for more.
It also makes for a fantastic solo gift if you're working with a budget, as even though it's not the most expensive of items, it's the very thing that's going to get the receiver closer to the birds they love so much.
Also, it only has natural coloring from hibiscus flowers. Every hummingbird nut needs some of this in their cupboard, so it's a guaranteed pleaser.
It's sort of like buying a guitarist a fresh set of strings, or an artist some new paints or brushes… they always need more!
Top tip — It's not such a good idea to buy random bits of merch featuring the recipient's bird of choice, as they likely have a bazillion little trinkets bursting from every nook and cranny of their household; however, when the merch is this dang cute, we can make an exception!
These socks are straight-up GORGEOUS! Picking them out of the top drawer in the morning is sure to put a smile on your loved one's face, which makes them a pretty darn wonderful gift if you ask me.
Did you know that there are about 340 species of hummingbirds?
I bet the individual you're buying for does, yet they're unlikely to be acquainted with them all, which is why this life-size guide to the diverse hummingbird family will go down a storm!
And it's not one of those flappy, insubstantial paperbacks either; it's a sturdy hardcover that will be cherished for years to come and possibly passed down through generations — Now that's a good gift.
Hummingbirds love a whole host of colorful, nectar-rich flowers, and this seed pack combines them all, allowing you to turn your backyard into a veritable Shangri-La of hummingbird activity.
Give someone this pack of seeds and come growing season they won't be able to move for the hummingbirds in their midst.
Bird-themed jewelry tends to be a little over the top, but these minimalist sterling silver hummingbird studs are as sophisticated as they are cute!
Suitable for any sort of event, from a night out on the town to a job interview, these little beauties won't be spending much time hidden away in the jewelry box, but when they do need a rest…
… They can be stored in this stunning little jewelry box, almost as small and delicate as the birds themselves.
Featuring an enameled case beneath a bejeweled hummingbird and flower, this box is as much a work of art as the finery it holds within, and despite appearing shiver-inducingly expensive, it's actually very reasonably priced, but shhhhh… no one needs to know.
If money is no object and you really want to get into a hummingbird lover's good books, why not treat them to this masterpiece pair of Zeiss binoculars?
Not only are they considered some of the best for birdwatching in general, they have a super wide field of view, which will help the receiver track the lightning-fast flight of hummingbirds.
Here's another option for all you big spenders out there.
Hummingbirds beat their wings at approximately 10 to 15 times a second, making them almost invisible to the human eye — It's sort of like looking at a propeller seconds before a plane takes off.
To fully appreciate these magnificent creatures and their unique movement, you have to slow things down… like wayyyy down, and to do that, you need a video camera with an impressive resolution and absolutely stacked FPS (frames per second).
The camera I've included here offers 60 FPS, but really, it's a more the merrier situation.
If you can afford a 4K, 100+ FPS video camera, the quality of the slow-motion footage will be even more breathtaking!
You can't go wrong with this fleecy hummingbird blanket. It's pretty, warm, cozy, and surprisingly affordable — Hooray!
Just make sure the recipient isn't already up to their ears in hummingbird throws before committing to the purchase.
This pair of gardening clogs is a double whammy gift.
Firstly, everybody needs gardening shoes, but they're one of those things you're constantly putting off until next payday, and before you know it, your casual shoes are all caked in mud and covered in cleavers and dandelion seed.
Secondly, they're decorated top to bottom with gorgeous hummingbird fabric, sure to keep someone very happy as they tend their garden, no doubt making it more enticing for their favorite bird.
Tote bags have become a fashionable and practical way of expressing ourselves (sort of like bumper stickers, but with less attitude), so a quality tote featuring some hummingbirds is a top-notch gift.
It can be used as a fashion accessory, to reduce single-use plastic bags when shopping, or as a replacement for an unsightly backpack.
A super colorful jigsaw puzzle is always a fun prospect on a drizzly day in winter, especially if it portrays a summer garden teeming with beautiful hummingbirds.
You may not catch a glimpse of them in your backyard on such a day, but these joyous jigsaw stand-ins will tide you over 'till the warm seasons come back around and your favorite birds return for some tasty nectar!
Final Thoughts
As you can see, as long as you put in a bit of thought and effort, you'll come up with tons of amazing hummingbird gift ideas for that special someone in your life who absolutely adores them.
My advice is to try and think outside the box.
Don't just settle for anything with a hummingbird on. Find them something that will deepen their connection with their spirit bird!
Gifts that encourage activity, such as feeders, nesting homes, seeds, nectar, cameras, and binoculars are the best, as they provide rewarding experiences, experiences that become cherished memories, which are the most precious gifts of all.