With their fiery feathers and black, warpaint-esque mask, cardinals are some of the most visually arresting birds in the sky, so it's no surprise they rank pretty darn high on many a bird lover's top ten list.
Their striking plumage also makes them a vibrant, eye-catching theme for a plethora of highly giftable merchandise, from tote bags to stained glass sun catchers, and I've curated a list of choice pieces below.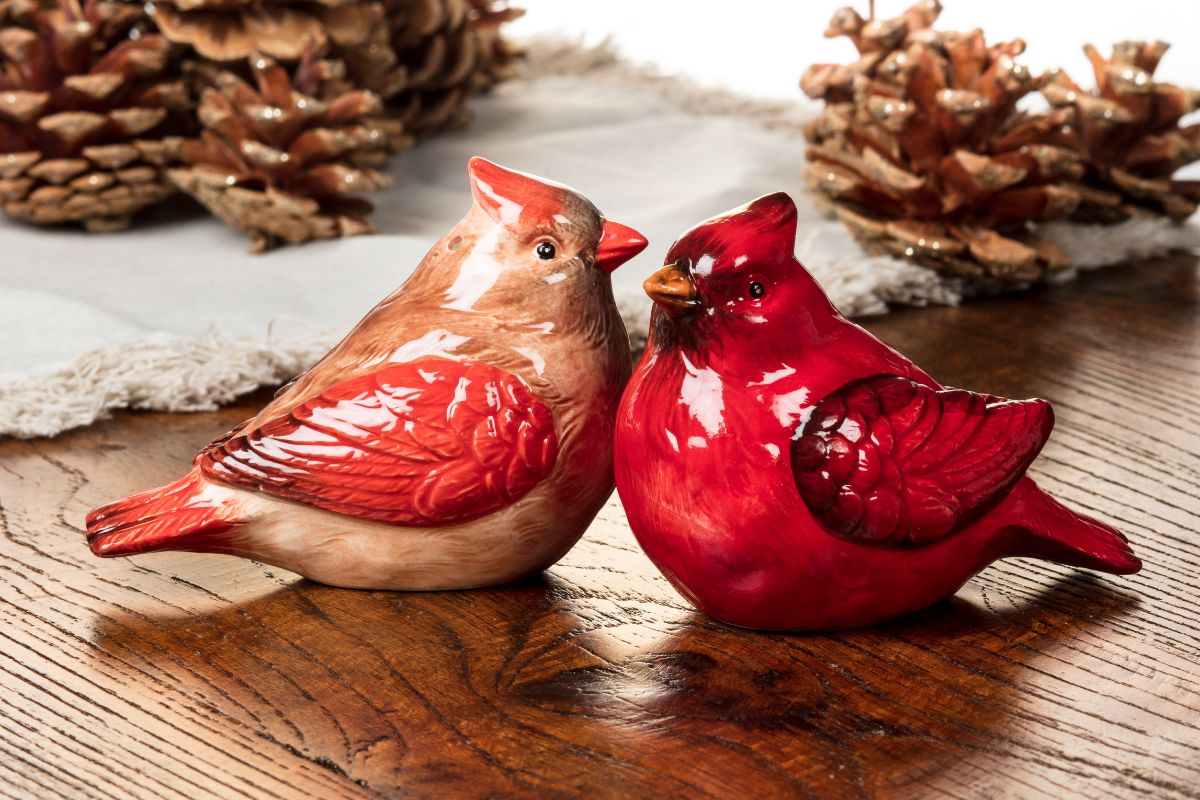 This site is reader-supported and as an Amazon Associate, I earn a commission if you purchase a product I recommend at no extra cost to you.
In my opinion, the absolute best cardinal gift is one that will get the recipient closer to their favorite animal, which is why I'm choosing sweet pea seeds for my top spot.
Cardinals absolutely LOVE sweet pea plants, so imagine how many would visit a garden full of them! The yard would be positively ablaze with the ruddy feathers of these wonderful birds.
But sweet peas are just one of the suitable options. Cardinals are also big fans of purple majesty millet, nasturtium, purple coneflower, sunflowers, and safflower.
Any of these seeds would make a fantastic gift for a cardinal enthusiast, so maybe it would be a good idea to subtly find out which plant they prefer in their garden.
Of course, this sort of gift only makes sense if there is a cardinal population in the area, so bear that in mind before buying some seeds for your nearest and dearest.
Sale
If the recipient does live amongst cardinals, once the seeds are sown, they'll need plenty of water to grow into big, bushy beacons calling the local cardinal population to come and hang out, so my second suggestion is this AMAZING cardinal watering can.
And once the day's watering is done, it can be set down and used as a beautiful decoration — No hiding this watering can in the shed; it's far too fabulous for that!
Playing host to a Vatican of cardinals in your backyard is an awe-inspiring experience, but there is one unfortunate thing to consider… they'll eventually fly off and head for the wild or someone else's back green, unless, that is, they live on the property!
With this nesting box designed especially to accommodate cardinals, you can coexist with your favorite feathered friends for as long as they care to stay put.
Just picture seeing fledgling babies take their first flight, and watching the fiery hue of their parents gradually take hold of their fluffy plumage — Tell me that doesn't sound magical.
Sale
Cardinal feed is another awesome gift idea if you're looking to treat the bird lover in your life.
With this sizable bag of super high quality fruit and nut snacks and supplies, they'll have cardinals eating from the palm of their hand… maybe literally!
The fruit content of this feed mix provides shed loads of healthy nutrients, while the nut content provides loads of healthy fats that help wintering cardinals survive the cold, encouraging them to visit year round.
Sale
Cardinals are so brightly colored, that they're almost incandescent, making them the perfect thematic fit for this exceptional solar lantern.
Not only will this lantern illuminate the way ahead and on the darkest nights, it'll augment the space with an ambiance that's sure to be a hit when the next party spills out into the backyard.
Allow the recipient to spread their wings and take their love of cardinals on the move with this fantastic portable coffee mug.
The black background of the ceramic emphasizes the red of the cardinals and berries, so it's as visually warm as it will be physically with a lovely steaming cup of Joe inside.
And the food-grade silicone lid really is something else!
Featuring both drink and breathe holes, as well as an easy-open function for when you need a quick slurp while you're on the go, this is the wanderer's mug of choice, sure to make gloomy mornings a little brighter and heavy workloads a little lighter.
CEDAR HOME Coffee Ceramic Mug Porcelain Latte Tea Cup With Lid in Gift Box 17ounce. Cardinal Bird
Flower and Bird: This mug is a gift for girlfriend and boyfriend, parents and grandparents. When they drink their coffee they will think of you.Licensed and collections
THOUGHTFUL DESIGN: Handmade elegant minimalist. Innovative making techniques produce perfectly smooth rims and edges. Perfect for coffee, tea, cocoa and cereal
PACKAGE: 1 x Flower and Bird. Comes in a drop resistance box to resist breakage.Holding up to 17 ounces, The Perfect Cup is top-rack dishwasher safe and microwaveable.
The expertly painted cardinals take what would be a perfectly fine (albeit a little plain) trinket box, and make it a real feature piece. .
If the recipient you have in mind is already swamped with cardinal jewelry, this box celebrates their love of the bird in an aesthetically pleasing and practical way.
Now they have the perfect place to store all their cardinal jewelry, and as a bonus, it adds a lovely (yet tasteful) splash of color to any room.
That said, this cute little box is, well… little, so there's a good chance they'll have to find a few other places to keep their various cardinal knick-knacks, but this will be a great start.
Bits and Pieces - Ceramic Cardinal Trinket Box - Cardinal Keepsake and Jewelry Box - Home Décor
Cardinal Keepsake Box: Our Bits and Pieces Cardinal Trinket Box, featuring a bright red dimensional cardinal perched on top for the handle, will hold your rings and earrings in place.
Jewelry Box: Keep your most treasured trinkets and jewelry in this lovely hand-painted jewelry box with tree branches, red berries, and a small cardinal adorning the side.
Cardinal Art: Our cardinal keepsake box fuses beautiful cardinal art with security for your jewelry in an ingenious way to help conceal your treasures.
This jigsaw puzzle is pure disassembled joy! Put it back together and you'll be met by a summery scene in which cardinals and company frolic amongst the bushy, pom-pom flowers of a hydrangea.
Even a red admiral butterfly joins in on the fun!
It's only around 500 pieces, so it's not going to keep someone held up in their home for weeks trying to put it all together, but this just means they'll get to appreciate the full picture faster.
Should the person you're shopping for have recently purchased some new or antique wooden furniture, now is the perfect time to gift them some lovely coasters, and these cardinal coasters are the best of the best!
As finely crafted stoneware, these coasters add oodles of sophistication to a coffee or side table, while the cardinals add vibrant splashes of color, keeping a space both tidy and fun! — The ultimate way for a cardinal fan to keep unsightly coffee rings at bay.
The crimson plumage of cardinals makes them a remarkably Christmassy bird, so when the next holiday season rolls around, why not treat that someone special with these lovely cardinal-themed tree decorations?
Gift them just before the big day, and they can pop them on a spare branch in time for the man in red's arrival, helping to get the entire household into the holiday spirit.
And if there doesn't happen to be a spare branch, you can guarantee that some of the old Christmas staples will be getting the boot to make space for these lovely new additions.
Not only will this pretty, stained glass cardinal sun collector entice more birds to a backyard, if someone would rather keep it indoors, it's a fantastic way to add some warmth to a room.
Even on a relatively gloomy day, this guardian cardinal will take what meager natural light passes through, paint it a strawberry red, and cast it into the room, forming an enticing ember-like glow.
Tote bags are a super stylish way to cut down one's reliance on plastic shopping bags, which in turn, will help to save the environment and ensure cardinals always thrive in the wild, meaning this is a gift that keeps on giving.
Every time the recipient pops to the grocery store or the mall, they'll be doing their part to put a stop to the environmental crises we're caught in, all while showing off their love of cardinals — Pretty wholesome, right?
I wanted to include a feeder on this list, as any bird lover relishes an opportunity to bring more birds into their backyard flock, but instead of any old cylindrical one, I suggest treating someone near and dear to this cardinal-shaped design.
Even on days when the birds aren't a-bitin', they can look out into their yard, see this festive feeder, and feel the presence, not just of their favorite bird, but of you and what you mean to them.
Exhart Bird Feeder, Cardinal Mesh Bird Seed Feeder, Hanging Outdoor Glass and Metal Lawn and Yard Decoration 15.5 x 3 x 18.5 Inch
CARDINAL BIRD FEEDER: Attract birds to your garden from near and far when you fill this adorable cardinal outdoor decor with bird seed. Meticulously crafted and lovingly hand painted, this wild bird...
VIBRANT AND COLORFUL: This decorative metal bird feeder features a stunning blue flower painting on a stylish red cardinal bird, and has a convenient metal mesh seed basket that blends in naturally at...
READY TO HANG AND OUTDOOR FRIENDLY: Bird feeders are made with quality metal and glass materials, UV tested to resist fading, and the garden ornament can be easily hung from a tree, porch, patio,...
You really can't go wrong with a simple cardinal coffee mug.
If you're looking for an inexpensive gift that will get plenty of use and bring a smile to the recipient's face every morning, it's a no-brainer!
Sale
Dean Crouser Cardinal Watercolor Red On White 16 Ounce Glossy Stoneware Mug With Handle
Cardinal mug is a great way to bring the outdoors inside. Pair mug with other coordinating Dean Crouser tabletop pieces featuring the same artwork (sold separately).
Coffee cup is made of stoneware. Let your family kick-start their day with a sip of tea or coffee in this charming cardinal mug.
Mug holds approximately 16 ounces of your favorite hot or cold beverage. Measures approximately 4.5 x 3.5 inches. Perfect for an encouraging display or use in a kitchen.
Final Thoughts
If someone is coo-coo for cardinals in your life, any one of the items discussed here today will put a smile on their face, but do be sure to subtly establish what they do and don't already have.
If they're a prolific cardinal lover, you may have to choose one of the more off the wall suggestions on this list, or perhaps a combination gift that provides an experience as well as a nice object.
For instance, pairing the cardinal watering can with sweet pea seeds is a celebration of their passion in itself, yet it encourages them to take action, plant the seeds, and invite real cardinals to their backyard.
There's no better gift for a cardinal lover than facilitating recurring visits from their number one bird!