Introducing a bird bath to your yard is one of the most thoughtful things you can do to make your property more bird-friendly, but as noble of an endeavor as it is, it's not always smooth sailing.
Much like any outdoor feature, bird baths require maintenance, especially throughout the winter months!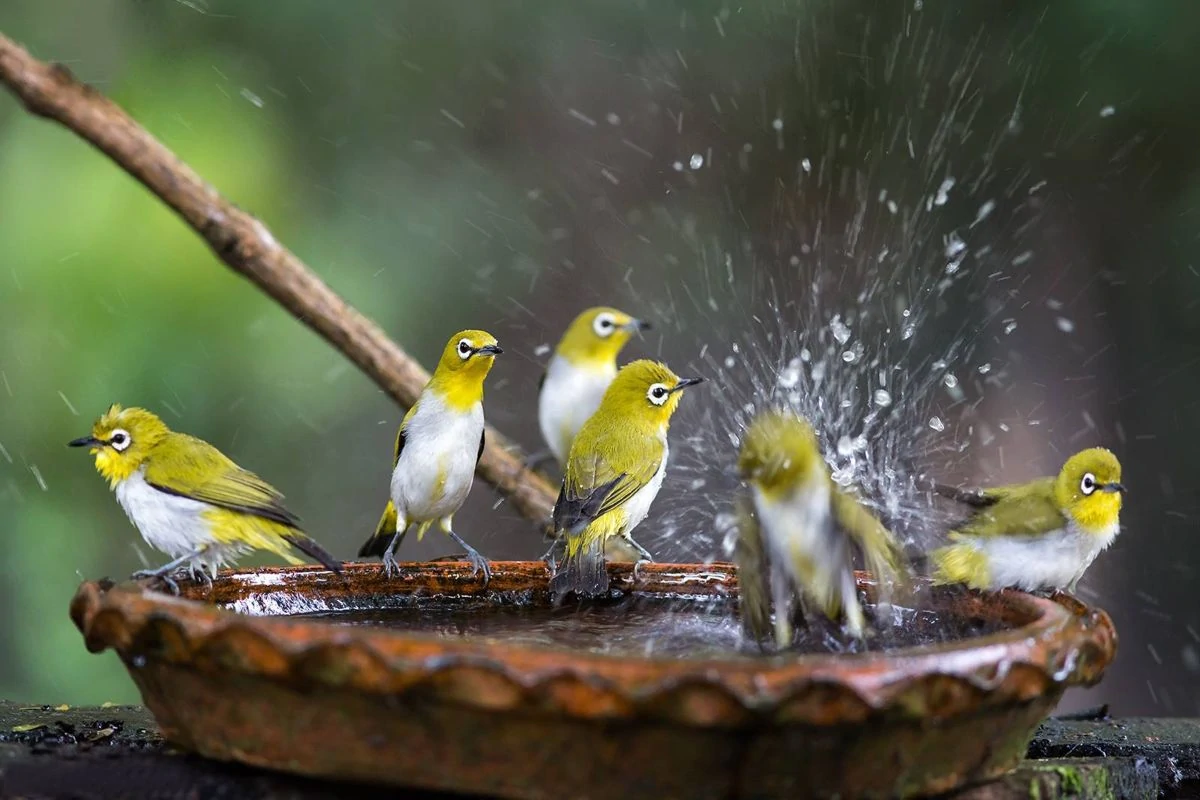 Without constant care, a traditional bird bath can wind up a miniature frozen wasteland that offers little in the way of sustenance for your backyard flock.
Furthermore, certain modes of freeze prevention, such as salting or applying chemicals, can be deadly to our feathered friends.
So, what's the solution to this ornithological conundrum? Heated bird baths, that's what!
Having done the research, I'm presenting to you today the five best heated bird baths for taking better care of your winged neighbors come wintertime.
I can feel a chill in the air already, so let's dive right in, shall we?
This site is reader-supported and as an Amazon Associate, I earn a commission if you purchase a product I recommend at no extra cost to you.
Best Heated Bird Baths: Reviews
With a gorgeous wooden pedestal and dual octagonal basin plate, this heated bird bath from Songbird Essentials is about as elegant as they come.
It looks fantastic in larger green spaces with plenty of winter plants such as holly and beautyberry — Which, by-the-by, are also fantastic for wintering birds!
It arrives with a 60-watt thermostat that automatically triggers the heating element when ambient temperatures drop below the 32 °F threshold, and it's functional right through to -20 °F, so it would take some pretty extreme cold to freeze this bath's water.
In terms of basin dimensions, you get 1 and ⅜" depth and 14 and ¼" diameter, so a number of birds can use it simultaneously, and small birds will be able to fully submerge themselves for a feathery deep clean.
The four-pronged base is relatively wide, and during my tests, it stood up to some pretty intense winds without toppling, but I'd recommend providing shelter for it when the weather gets particularly unpleasant.
Pros
Aesthetic — Elegant wooden design beautifies your outdoor space
Deep thermal range — -20 °F functionality combats almost all instances of freezing.
Basin dimensions — Lots of birds can bathe together!
Double ring, insulated foil heating element — Super reliable thermals
Cons
Assembly — It doesn't arrive fully constructed.
Price — This kind of quality doesn't come cheap.
Also available from Birdertown
Songbird Essentials Heated Birdbath
Some assembly required .
Beautiful double ring heater turns on at 32 degrees F
60 Watt thermostatically controlled and insulated foil heating element that is safely enclosed and sealed
The rock pool design of this ground mounted bird bath is perfect for those who'd rather keep their yard looking lovely and natural, and the sand-coating gives it a natural feel too, ensuring birds feel right at home when taking a dip!
This ingenious coating also galvanizes the plastic frame, but I have heard of people saying that after a couple of cold seasons, this protective layer starts to separate from the core in places, although I encountered no such trouble during my tests.
A standout feature for me was the space to tuck the cord away so it can be used in hot weather without any unsightly cables lying about, and the 70-watt heating element is pretty impressive too.
Thermostatically controlled, it kicks in as soon as temperatures reach freezing, and it's functional down to at least -11 °F (which was the coldest weather I had to test it).
The basin has a max depth of roughly 2", which is ideal for full submersion, guaranteeing it'll attract plenty of birds, but make sure to keep it away from potential predator hiding spaces, as ground-level installations can leave your feathered friends quite vulnerable.
Pros
Easy setup — Pop it on the ground, plug it in, and you're done!
70 watts — Can handle 2" depth way below freezing
Cable management — Cord tucks away for a neat look in the warm months
Natural aesthetic — Blends right into the landscape
Cons
Coating — May come loose in places after a while
Also available from Doitbest
With a minimalist metal pedestal and a smart cream basin, this API bird bath is an ideal addition to a patio area.
I say this not just because it's an aesthetic fit for most outdoor social spaces, but due to the build as well.
The metal frame is incredibly rugged, but the base prongs are also quite thin, which could lead to some sinkage on soft wet ground, but a paved area will suit it to a tee!
Boasting a mammoth 150-watt heating element, it has the potential to keep the ice away at ridiculously low temperatures, making it a great choice for those who live in particularly brutal climates.
What's more, this raw thermal muscle permits a super wide basin, 20" x 2" to be exact, making this bath party central for your local bird community.
For the price, I'd have perhaps preferred a metal to a plastic bowl, but it looks fantastic, and it never once showed any signs of weather weakness during my tests.
Pros
Slim frame — Not much material for wind to catch on, reducing the risk of toppling
Aesthetic — Smart look makes a great addition to a patio
150-watt element — Suitable for very cold climates.
Basin dimensions — Large basin provides plenty of room for lots of birds.
Cons
Thin base — May sink in soft ground.
Also available from Bestnest
Sale
API Heated Birdbath Heated Bird Bath with Stand (Item No. 970)
ICE FREE WATER - This heated bird bath keeps water ice-free all winter thanks to its fully enclosed heating element.
PLASTIC BIRD BATH - The bird bath is made of a durable weather-resistant plastic and measure 20" in diameter.
PROTECTED HEATING ELEMENT - This birdbath's heating element is fully enclosed and protected so that animals cannot come into contact with it.
If you've got some patio doors that open up onto a deck, I'd disregard all my other picks and snatch this one up immediately.
Arriving with a robust mounting bracket, you can install this directly on the fencing of your deck, giving you an awesome view of the frolicking birds out the window — A birdwatcher's dream!
Measuring 20" x 2", it's large enough to increase the size range of birds that frequent your yard, potentially giving you glimpses of those uncommon birds you're yet to tick off your list!
Crafted from cream-colored stone, it's as beautiful as it is functional, and as it will be stationed right near your door, replenishing it is a total breeze.
During my tests, the "tilt-to-clean" function of the bracket made disposing of stagnant water completely fuss-free.
Plus, the mount itself is a clamp, so you won't need to deface your deck rail to install it — Woo-hoo!
As if that wasn't enough, it has a super powerful 150-watt heating element that can handle large volumes of water in the frostiest of climates.
Pros
Stone basin — Quality look and feel
Dimensions — Will attract both small and large birds
150-watt element — Great for colder climates (-20 °F)
No tool installation — Clamps on without drills or screws
Cons
Size — May be a little space-hogging for small deck areas
Also available from Bestnest
Looking to tighten the purse strings and help out the wintering birds in your yard? This diminutive Gesail unit is the only way to go!
It can be mounted on the ground or on a structure, meaning you can shift it around your yard to follow the sun, take a load of the element, and save some pennies on your energy bill.
And speaking of elements, this thing can handle 'em! It may be cheap, but during my tests, I found it to be incredibly sturdy, and with a 75-watt heater, you get some pretty impressive frost-fighting power!
It's not the most attractive bird bath in the world, and with a 3 cm depth, it's not the best for larger creatures, but I can testify to the fact it keeps innumerable small birds very happy indeed.
Pros
Price — Won't break the bank!
Flexible mounting options — Suitable for any type of yard
75-watt heater — More than powerful enough to keep the chill away
Cons
Aesthetic — It's not pretty, but it gets the job done!
Also available from Ratekitchen
Buyer's Guide
Now that you've had your fill of fantastic heated bird baths, it's time to pick one most suited to you and your tree-dwelling chums, and to help you out, I've composed this brief yet informative buyer's guide detailing all the essential considerations.
Mount Format
Before we dive into the nitty gritty, let's start with the absolute basics… mount format. How and where do you plan on installing your heated bird bath?
Your answer will lead you to one of three different types:
Ground Mounted
Pedestal Mounted
Deck Mounted
Ground Mounted Bird Baths
Ground mounted bird baths are exactly what they sound like… shallow vestibules that sit directly on the ground.
They're simple, affordable, and relatively varied in terms of style, but there are some pretty significant downsides to bear in mind too.
Firstly, the low position makes birds that stop by easy targets for predators such as cats and foxes. They also pose a trip hazard, so picking an appropriate spot is essential, especially for seniors.
Having said all that, according to experts, birds feel most comfortable drinking and bathing closer to the ground, and if you're an animal lover rather than just a bird lover, you'll enjoy the fact that this mounting format is highly accessible to many forms of wildlife.
Pedestal Mounted Bird Baths
These are what many refer to as "classic bird baths". Composed of a pedestal and an integrated basin, they're the most ornate of the options and can really beautify an outdoor space.
What's more, it gives the visiting birds a high vantage point, reducing the chances they'll become another animal's dinner; however, no bird bath is perfect.
Unless you find a way to secure them permanently, they can be blown over in bad weather, which is often when birds need this resource the most.
Deck Mounted Bird Baths
Deck mounted bird baths are the bird watcher's favorite!
Featuring a screw mount that attaches directly to the fence of your decking, you can set them up in view of a window and observe the birds as they preen and bathe.
Wattage
The strength of a bird bath is measured in watts, and it should scale with the physical dimensions of the basin. Greater volumes of water require more powerful heating elements to resist freezing.
Generally speaking, 50 watts is enough to keep a small bird bath from freezing over, but for larger baths, I'd recommend holding out for a 150-watt heater.
Power Source
You have two options when it comes to power source, electricity or solar. Solar powered bird baths are fantastic in theory, but in practice, many don't perform as well as you'd hope.
Think about it… You mostly need heat in the winter months when sunlight is relatively scarce, so they may not get enough light to keep Jack Frost at bay.
Electrically heated bird baths are the safe bet. Granted, they will contribute to your energy bill, but the excess is almost completely negligible — we're talking roughly $7 a month depending on the wattage.
Trigger
Thankfully, many heated bird baths arrive with thermostat activation, meaning they have a built-in thermostat that triggers the heating element once ambient temperature drops below a predetermined threshold.
These are great designs, as they eliminate manual operation and save energy, ensuring the heater is only ever on when it absolutely needs to be.
Size
The bigger the bath, the greater the size range of birds it'll attract.
Most measure around 20" in diameter with a depth of approximately 2", which is more than enough room for most common backyard birds to have a good splish-splash and fully submerge themselves should the feeling take them.
Consider the square footage of your outdoor space when deciding what size heated bird bath to go for.
As nice as it is to help birds out, you don't want to sacrifice too much space if it's running a premium in your yard.
Aesthetic
There are no rules here. Heated bird baths come in all shapes, sizes, and styles, and it's completely up to you what kind will suit your property best.
One thing I will mention here, though, is that darker colors absorb more heat from the sun, which will act as a natural freeze deterrent, meaning the heating element won't have to work as hard, and you'll save a few bucks a month on your energy bill.
Cleaning
Bird baths can get pretty dirty after a while. Not only do they collect the filth of bathing birds but lots of natural detritus such as leaves, seeds, nuts… you name it.
An easily removable basin takes the sting out of cleanup.
Materials
Heated bird baths can be made of all kinds of materials, including ceramic, concrete, metal, plastic, and wood.
Once again, this is a matter of personal preference, but do keep in mind the rigors your bird bath will face when exposed to the elements.
Frequently Asked Questions
Got time for a quick heated bird bath FAQ?
How Do Heated Bird Baths Work?
The typical heated bird bath features an integrated heating element connected to a thermostat that keeps tabs on air temperature.
As soon as it registers 32 °F (0 °C), it activates the heating element, keeping the water from changing states.
How Hot Will The Water In A Heated Bird Bath Get?
Don't worry, you're not going to walk out into your backyard one day to find a basin of feathery cardinal soup.
Although the words "heated bird bath" conjure cartoonish images of birds kicking back in a spa sauna, the water won't actually get steamy. In fact, the water won't even get warm.
The job of the thermal element in a heated bird bath is simply to keep temperatures just above 32 °F. Once achieved, it cuts out, meaning the water is always quite cold.
How Much Does It Cost To Run A Heated Bird Bath?
The heating element in your bird bath is similar to a lightbulb in terms of energy consumption — You can assume you'll spend roughly 1 penny per hour of runtime.
The cold season tends to span approximately 100 days, which would equate to about $24 assuming your bird bath is between 50 and 75 watts.
But that's only if your heater is running 24/7, which it almost certainly won't. A more realistic figure for the entire winter months would be about $10.
How Long Do Heated Bird Baths Last?
The bird baths themselves can last as long as 10 years with proper care and maintenance, but the heating elements aren't as robust.
In my experience, they tend to sputter out around the 3-year mark, but it's nothing to worry about, as they can usually be replaced.
How Often Should I Replenish The Water In A Heated Bird Bath?
I'd recommend refilling your bird bath once a day, especially during the winter, as greater volumes of water are more resistant to freezing.
Plus, even though the heating element doesn't boil the water, it does increase evaporation rate slightly, so frequent replenishing is a good idea.
Final Thoughts
Heated bird baths are great for birds, but they're also amazing for us bird enthusiasts too, not as baths (obviously), but as a way of keeping our feathered friends around.
Winter is rough on birds, and if they can't find running water in their usual haunts, they'll depart for other yards that do provide for their needs.
Use the buyer's guide to pick out the perfect bird bath for you and your backyard flock, and you're guaranteed to not only appease your existing bird population, but increase it!