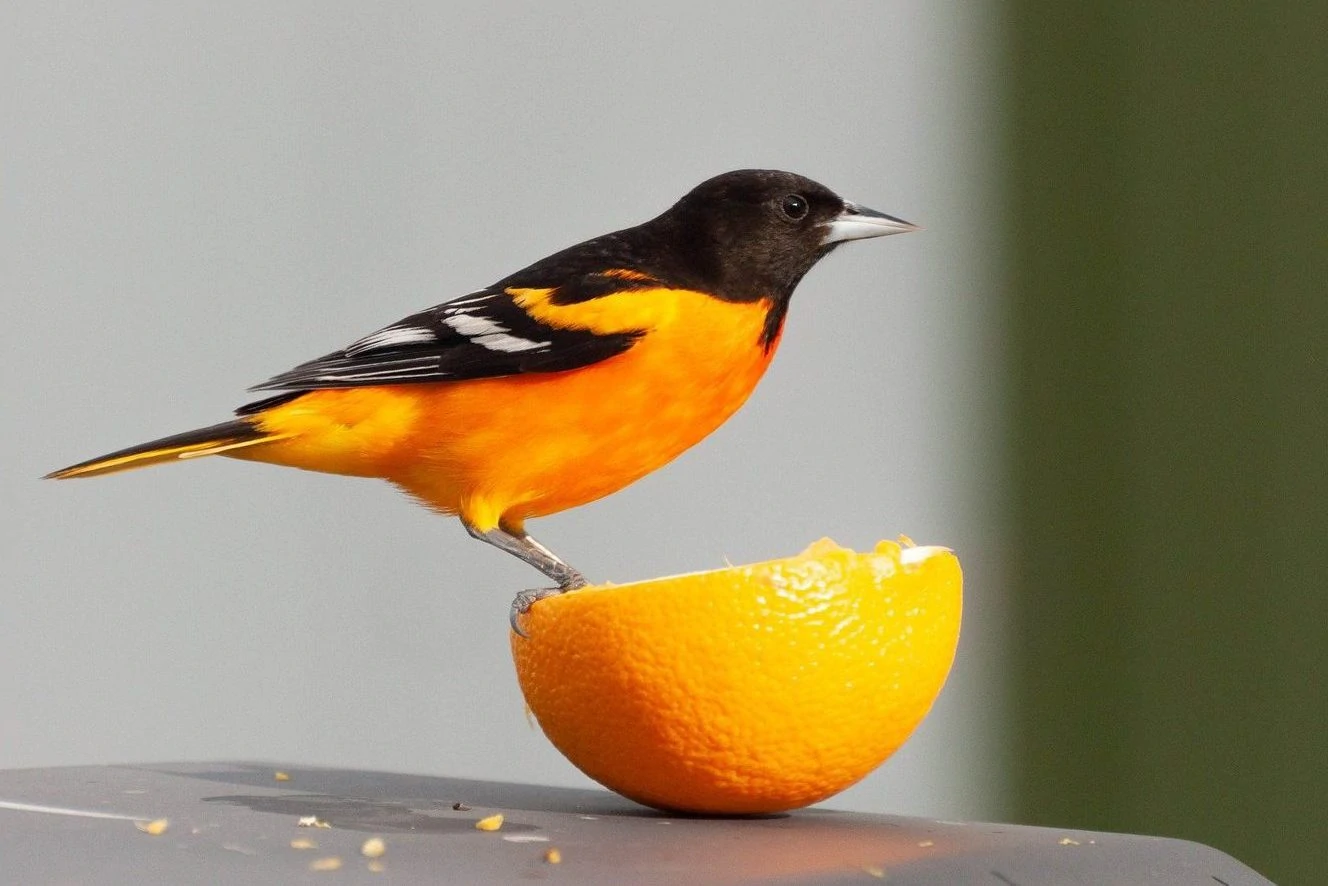 Birds and fruiting plants have evolved together, so they both benefit. Birds get a tasty treat to help them refuel, and in turn, the birds disperse the seeds of the fruiting plant so, allowing the plants to continue to grow.
What Birds Eat Fruit?
Birds that eat fruit include members of the crow family, including crows, magpies, and jays, members of the cardinal family, including cardinals and tanagers, and members of the blackbird family, including starlings, grackles, and orioles, plus some warblers and sparrows.
What Fruit Do Birds Eat?
Birds may have a preference for certain types of fruit, and these are the top varieties to feed them:
1. Apples
Apples are one of the most popular fruit to feed birds as it is cheap, readily available, and a natural source of fruit.
Birds that eat apples include bluebirds, Gray Catbird, Northern Cardinal, Cedar Waxwing, Scarlet Tanager, Red Woodpecker, Northern Flicker, grosbeaks, Northern Mockingbirds, American Crow, House Finch, Blue Jay, European Starlings.
The native crabapple (in the image above) is a great way to provide a natural source of apples for the birds to enjoy. However, you can also place slices of apples on platform feeders or whole apples on spikes.
2. Oranges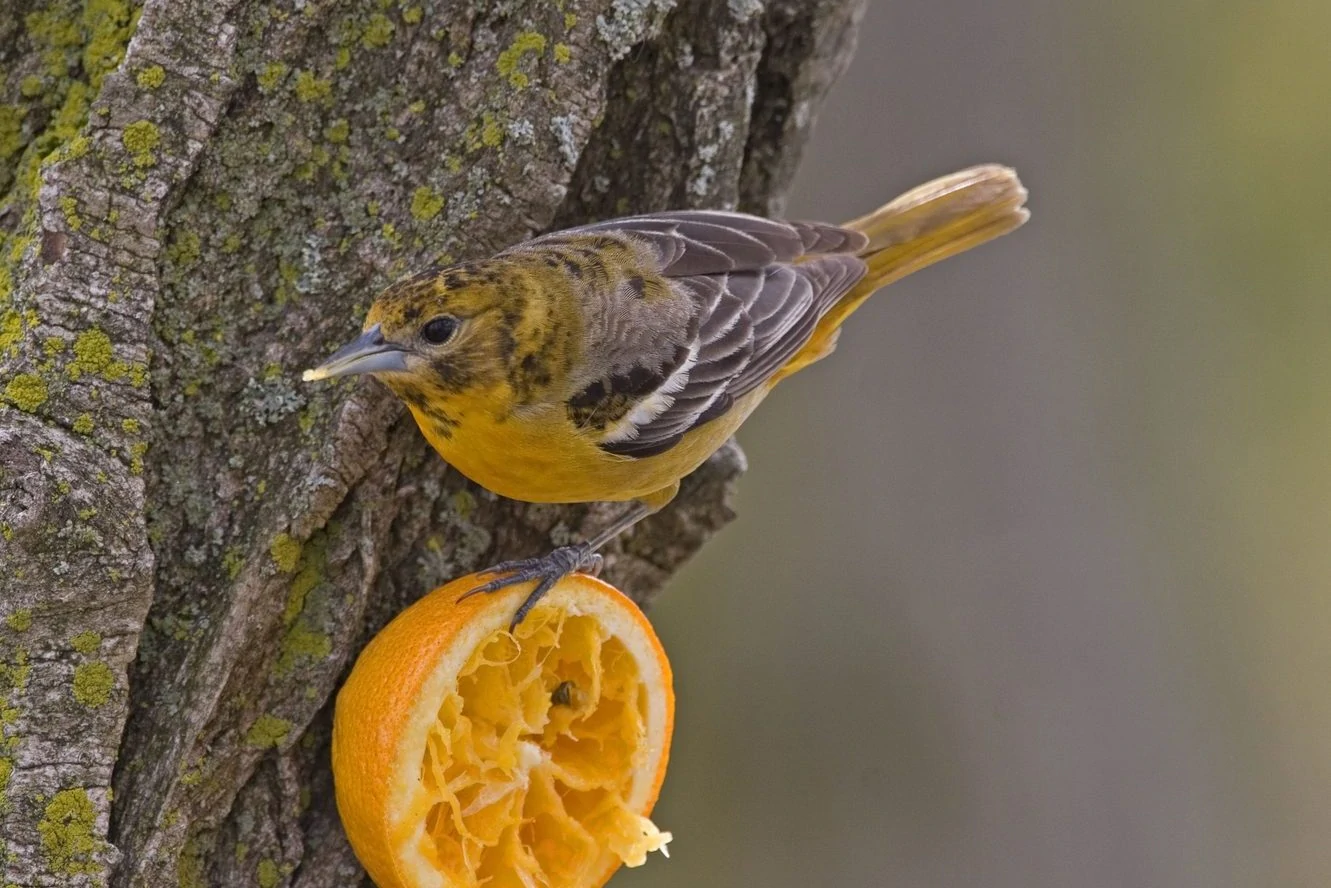 Oranges are another classic fruit to feed birds, especially orioles and tanagers, in the spring and summer. Other birds also enjoy oranges, such as bluebirds, robins, waxwings, mockingbirds, grosbeaks, and thrashers.
Oranges can be cut in half and placed on platform feeders or trays, or they can be placed on oriole feeder spikes.
3. Strawberries
Robins, House Finch, House Sparrows, starlings, crows, grackles, Cedar Waxwing, blackbirds
4. Raisins
Raisins are great as they do not leave any mess and can be thrown on the ground or on platform feeders and birds love them. If you regularly feed raisins at the same time, you will have birds queuing up expectantly waiting for you and your tasty treat.
Birds that eat raisins include crows, bluebirds, robins, waxwings, orioles, catbirds, and mockingbirds.
5. Berries
There are both berry-producing bushes and shrubs that you can plant, such as serviceberries or holly bushes, that are enjoyed by birds but not humans if you wish to save some fruit for yourselves.
You can also give berries on platform feeders, and birds love blueberries and blackberries. Birds that love to eat berries include robins, Blue Jays, bluebirds, waxwings, catbirds, Tanagers, and some sparrows.
6. Grapes
Birds love grapes, but the dark red variety rather than green grapes. You can cut the grapes in half to make it easier for them to eat or grow vines if you live in an area that is warm enough.
Birds that like to eat grapes include robins, crows, starlings, waxwings, mockingbirds, bluebirds, woodpeckers, orioles, tanagers, and cardinals.
7. Bananas
Bananas that are in danger of being overripe can be mashed up or placed on a spike and fed to birds. Although it is not an obvious choice, and birds may prefer more familiar fruit, it still attracts birds such as robins, blackbirds, cardinals, catbirds, jays, and tanagers.
8. Cherries
Cherries from trees or placed on feeders are an excellent choice for birds. Some varieties of cherry trees only produce small fruits suitable for birds and are not edible by humans.
Birds that love cherries include Cedar Waxwings, starlings, blackbirds, and crows.
How To Feed Fruit To Birds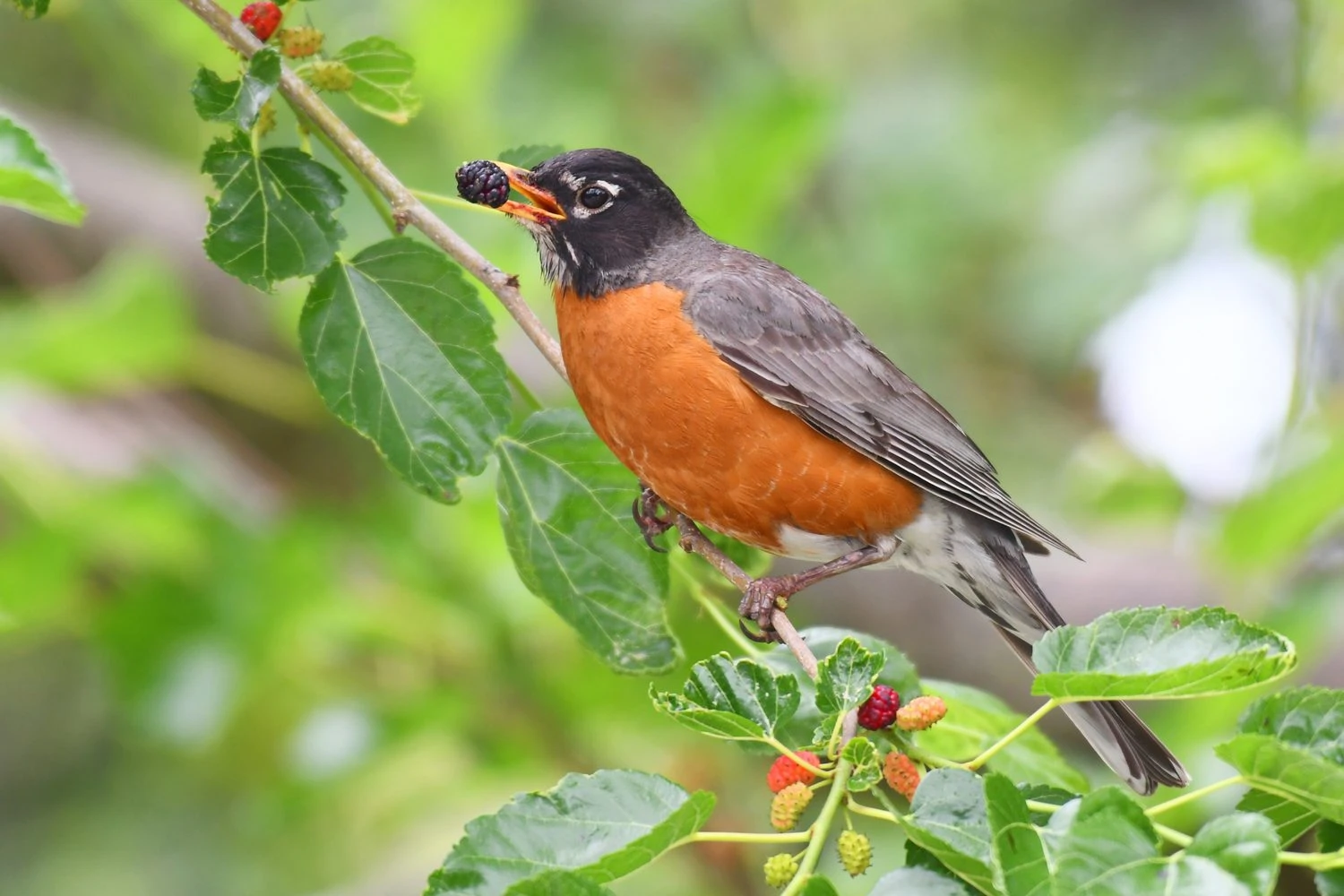 There are many different ways to feed fruit to birds. You can try
Planting fruiting shrubs and bushes such as berry-producing blackberries, raspberries, holly berries, mulberries, blueberries, Virginia Creeper, and sumac.
Plant fruiting trees such as cherry, elderberry, plum, orange, and crabapples.
Place fruit of open platform feeders such as apples, oranges, strawberries, or other fruit cut into chunks.
Do not clear up fruit that has fallen from trees or is damaged, as the birds will love these tasty treats.
Create a fruit garland by threading chunks of fruit on a string and tieing it between two supports or trees.
Place fruit in mesh bags, such as bananas, and the birds will not only peck at the fruit in the bag, but they will also feed on the fruit flies that are attracted to it.
Place fruit in special fruit feeders such as those with a spike that holds an apple or orange feeders for orioles.
Scatter dried fruit on the ground, such as raisins, as some birds such as crows and Jays prefer to feed on the ground. If you feed at a regular time, you will have the birds queueing up waiting for you!
Place fruit in suet cages to hold the fruit in place and enable you to hang it from trees.
Don't use pesticides or herbicides as birds can ingest this with the fruit.
Ensure to clean areas where food has been fed and do not put out more fruit than the birds can eat in a short period of time as the fruit can go bad and go moldy.
Which Birds Eat Grape Jelly?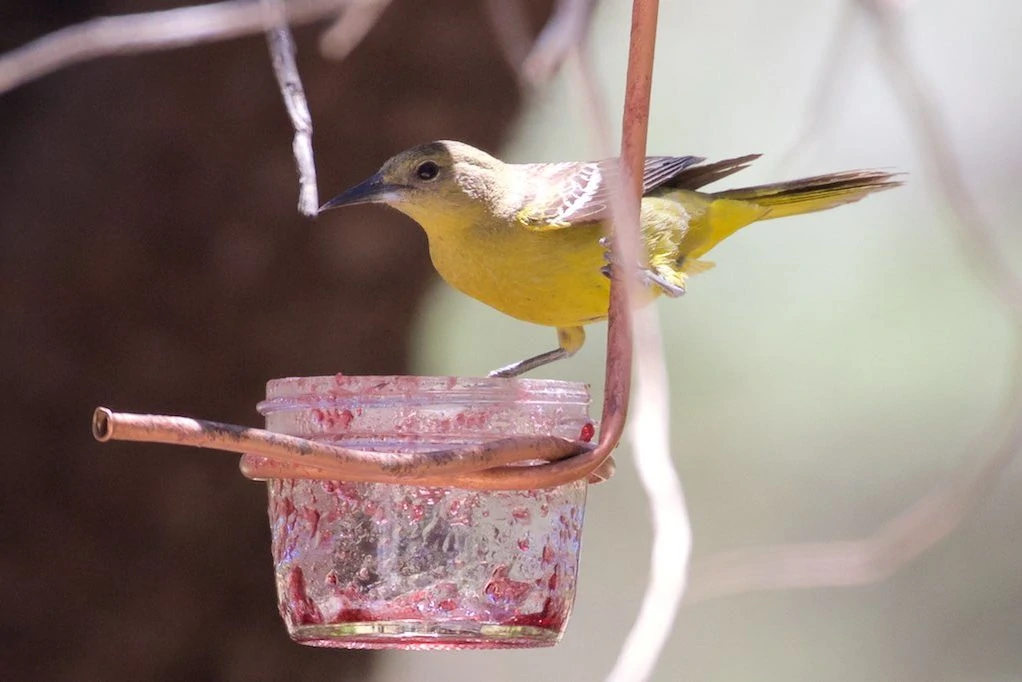 Grape Jelly is another option to feed birds, especially tanagers and orioles but other fruit-eating birds such as catbirds, woodpeckers, House Finch, robins, yellow-rumped warblers, grosbeaks, Cape May Warbler, Brown Thrashers, and northern mockingbirds.
You can buy bird-specific grape jelly in stores that are better for them, or you can make your own. Birds prefer dark-colored jellies such as grape, blackberry, or raspberry.
It is best to only offer jelly during the spring and fall migration when birds need the extra energy as jelly lacks the important nutrients that real fruit gives and is more of a quick energy hit. Don't feed too much jelly to birds and save it for an occasional treat.
Which Plants To Grow That Have Fruit For Birds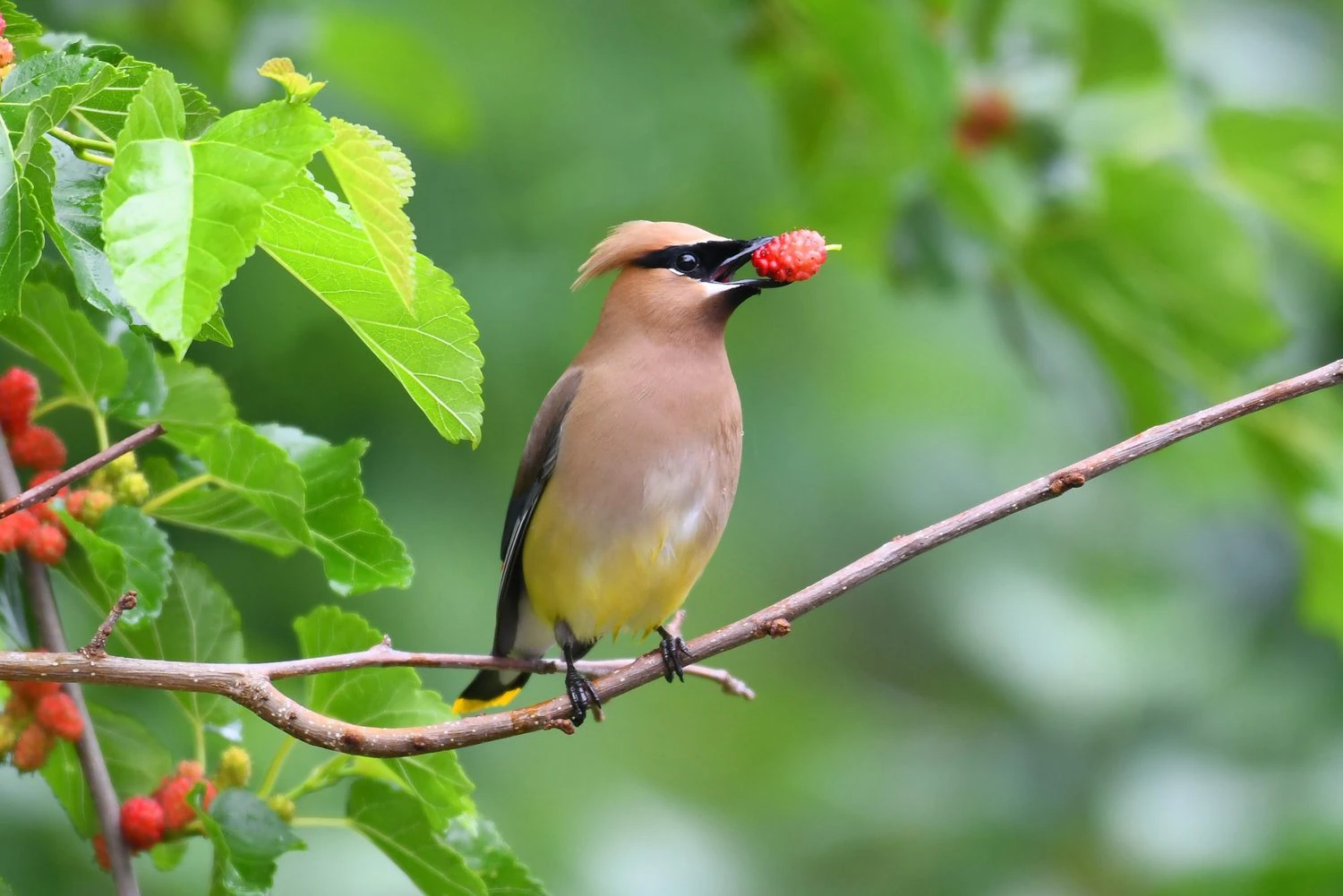 Planting native berry or fruit-producing trees and shrubs is a fire sure way to attract birds to your yard for the tasty treats. If you are happy to share your fruit with birds, there are some great options to attract fruit-eating birds.
Fruiting shrubs and bushes that you can plant include blackberries, raspberries, strawberries, holly berries, mulberries, blueberries, serviceberries, juniper, viburnum, Virginia Creeper, and sumac.
Fruiting trees you can plant include cherry, elderberry, plum, orange, and crabapples.
Birds That Eat Fruit In Winter
Many birds eat fruit that either do not migrate or spend the winter in parts of the united states after breeding in Canada or more northern states. Birds that eat fruit in winter include cardinals, crows, robins, jays, finch, starling, woodpeckers, mockingbirds, and grackles.
30 Species Of Birds That Eat Fruit:
1. Northern Cardinal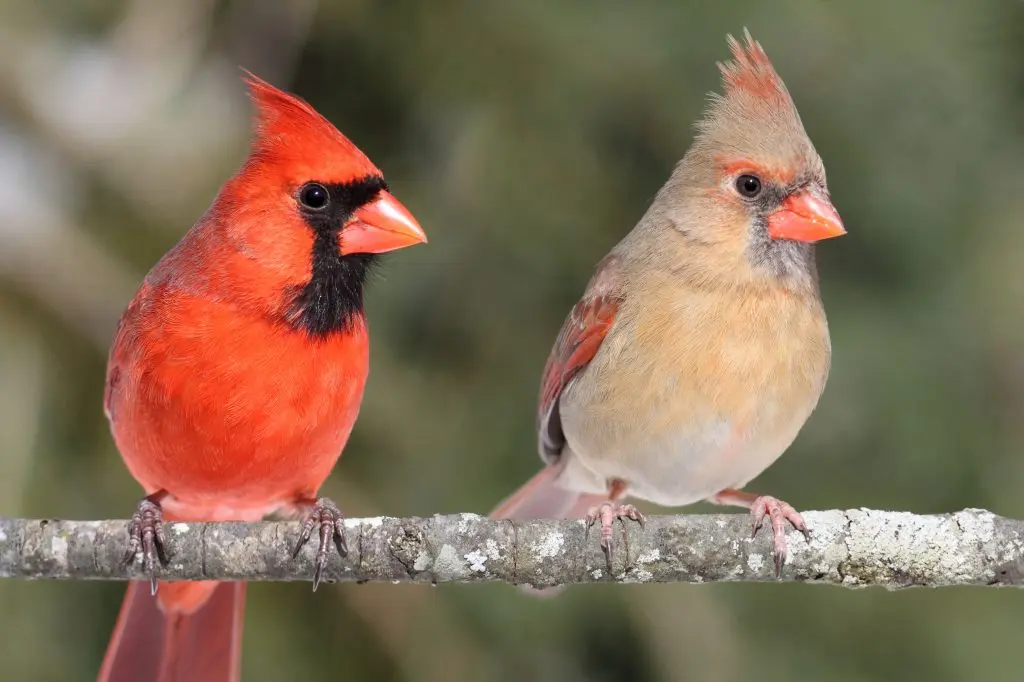 The bright red male Northern Cardinal with black around their faces is an incredible sight, especially against a white winter background. They also have red crests and beaks.
Females are also a little showy with their brown coloring, sharp brown crest, red highlights, and red beaks.
Cardinalis cardinalis
Length: 8.3-9.1 in (21-23 cm)
Weight: 1.5-1.7 oz (42-48 g)
Wingspan: 9.8-12.2 in (25-31 cm)
Northern Cardinals live in the Eastern half of the US and some states in the south as far west as Arizona.
You can find Northern Cardinals in dense vegetation foraging for seeds, fruit, and insects. Northern Cardinals will sometimes attack their own reflection during the breeding season as they obsessively defend their territories.
Northern Cardinal Song:
Northern Cardinal Call:
Attract Northern Cardinals to your backyard with feeders full of sunflower seeds, peanut hearts, millet, and milo. They will feed from large tube feeders, hoppers, platform feeders, or food scattered on the ground.
2. American Robin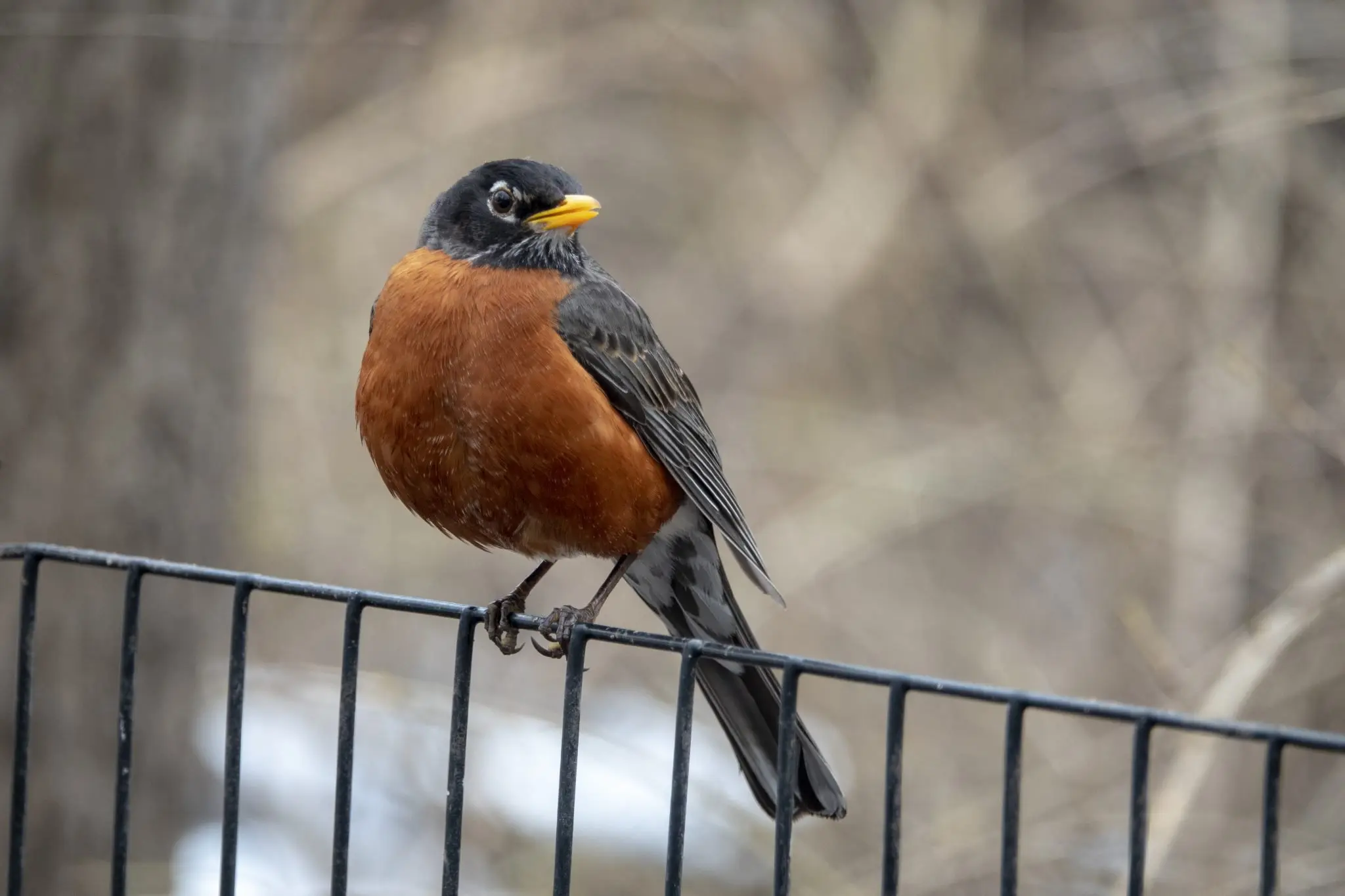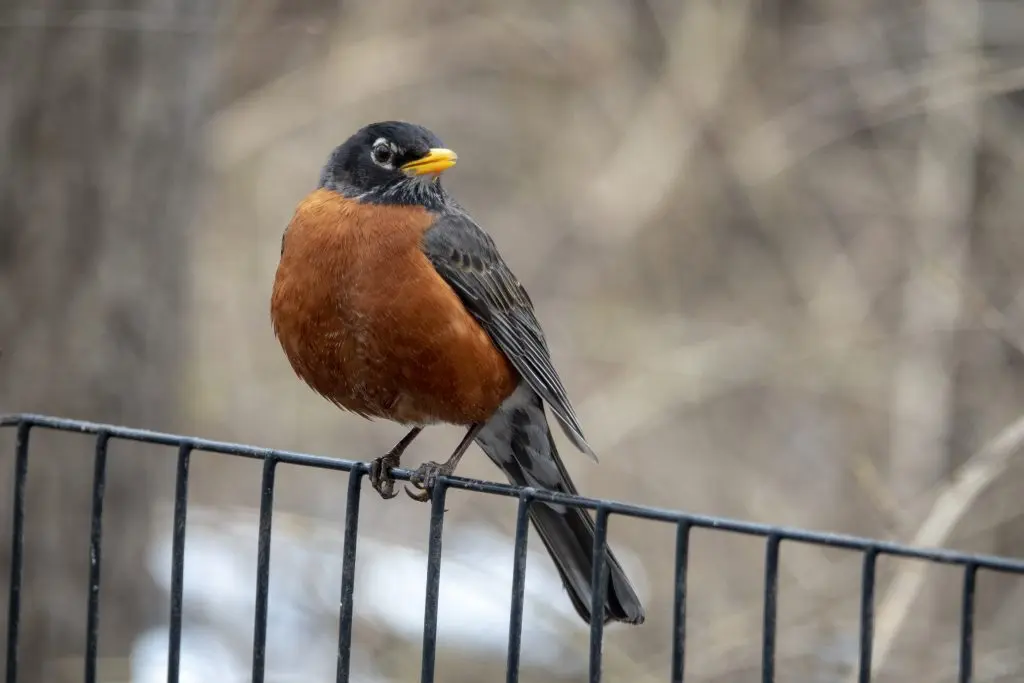 American Robins are a common sight on lawns eating earthworms. They have black heads and backs with red or orange breasts. They tend to roost in trees in winter, so you are more likely to see them in your backyard from spring.
Turdus migratorius
Length: 7.9-11.0 in (20-28 cm)
Weight: 2.7-3.0 oz (77-85 g)
Wingspan: 12.2-15.8 in (31-40 cm)
American Robins are residents in the lower 48 and the coast of Western Canada and Alaska. Those that breed in Canada and inland Alaska move south for the winter.
American Robins can be found in many habitats, from woodlands, forests, and mountains to fields, parks, and lawns. They eat earthworms, insects, snails, and fruit.
American Robin Song:
American Robin Call:
Attract American Robins to your backyard with sunflower seeds, suet and peanut hearts, fruit, and mealworms. Platform feeders are best or food scattered on the ground. Also, try planting some native plants that produce berries, such as juniper, sumac, hawthorn, and dogwood.
3. American Crow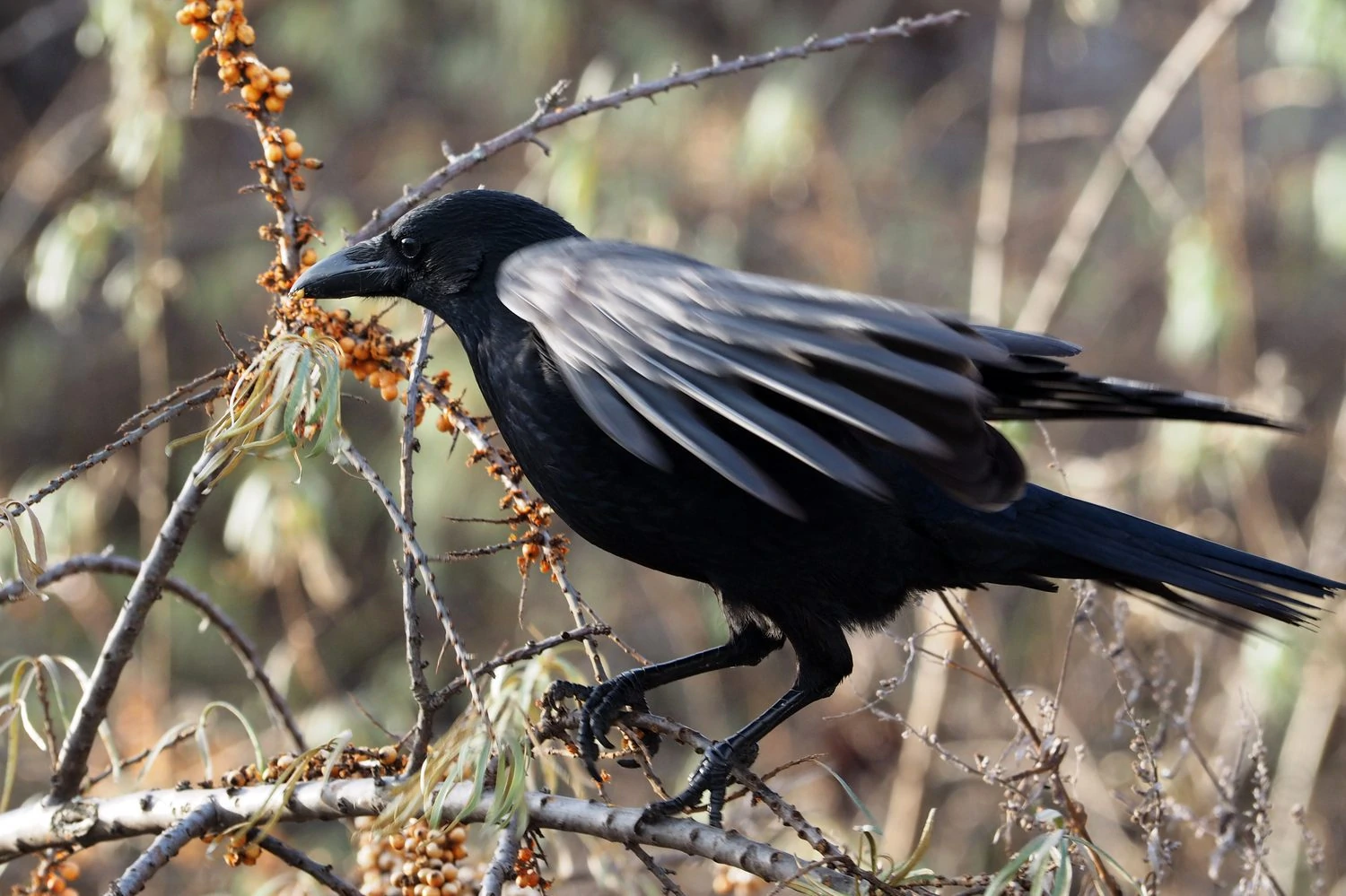 American crows are large all-black birds that make a hoarse, cawing sound.
Corvus brachyrhynchos
Length: 15.8-20.9 in (40-53 cm)
Weight: 11.2-21.9 oz (316-620 g)
Wingspan: 33.5-39.4 in (85-100 cm)
American Crows are residents all year in most of the lower 48 and the Pacific Coast in Canada and Alaska. Those that breed in Canada and the northern Midwest migrate south for winter.
They are common birds found in most habitats, including treetops, woods, fields, beaches, or towns.
They eat most things and usually feed on the ground, eating earthworms, insects, seeds, and fruit. They also eat fish, young turtles, mussels, and clams and will even eat eggs and nestlings of many species of birds.
In winter, American Crows gather in large numbers of up to two million crows to sleep in noisy communal roosts.
American Crow Call:
Attract American Crows to your backyard by scattering peanuts, but they can become a nuisance as they are attracted by garbage or pet food if left out.
4. Blue Jay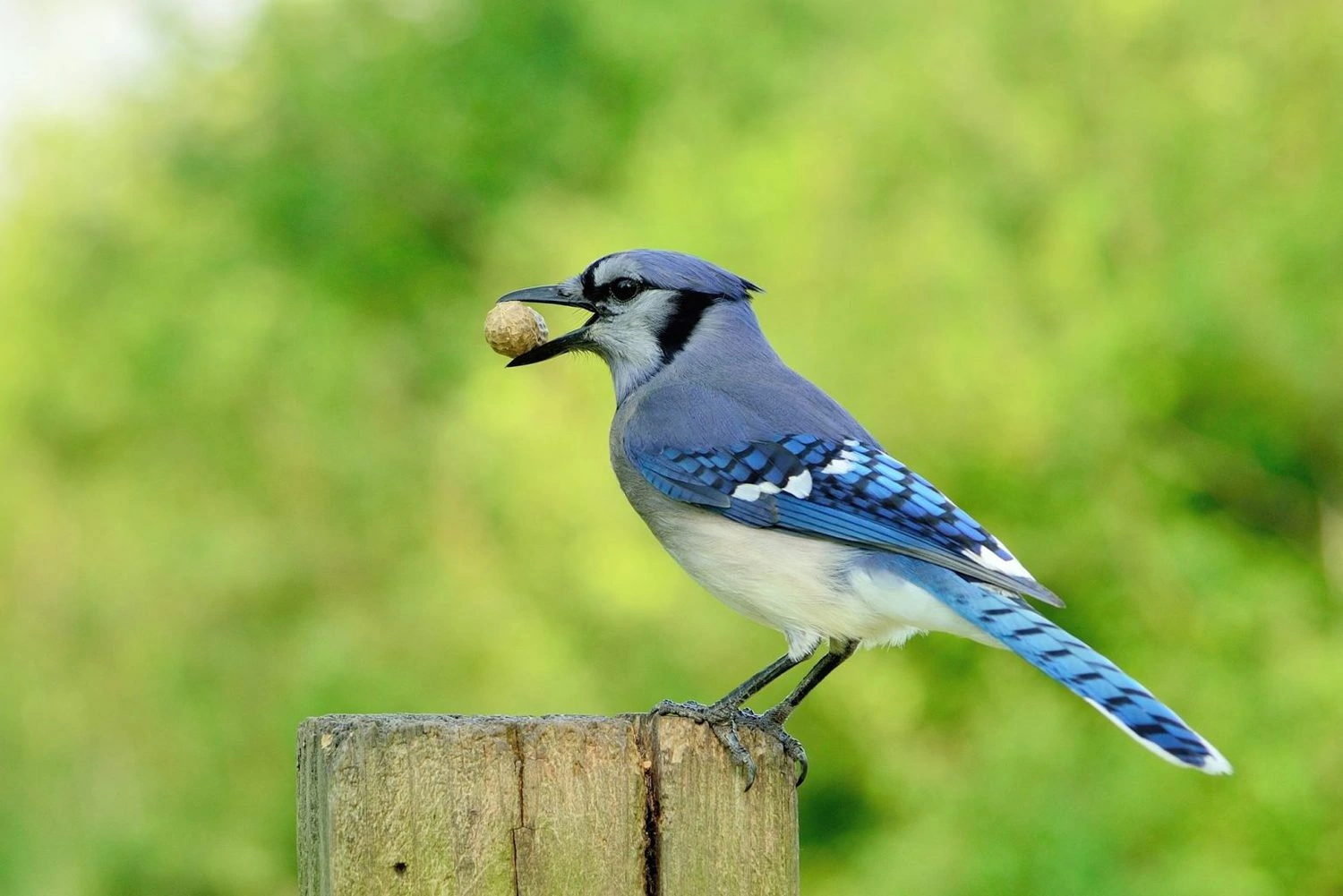 Blue Jays are common large songbirds with a blue upright crest, blue and black backs, and white undersides.
Cyanocitta cristata
Length: 9.8-11.8 in (25-30 cm)
Weight: 2.5-3.5 oz (70-100 g)
Wingspan: 13.4-16.9 in (34-43 cm)
Blue Jays live in eastern US states and Southern Canada all year. Some birds will migrate west for winter but not very frequently.
They are noisy birds that travel in family groups eating acorns when available. They can be found in forests, mainly near oak, as they eat acorns. They can also be found in backyards near feeders. As well as acorns, they eat insects, nuts and seeds, fruit and grain. They may also take eggs from nests or take nestlings.
Blue Jay Call:
Blue Jays are large birds and prefer to fly in, grab a peanut or sunflower seed and take it away to feed. They prefer platform or tray feeders to make it easy to make a quick exit.
Attract Blue Jays to your backyard with peanuts, sunflower seeds, and suet. They prefer these on open tray feeders or hopper feeders on a post. They will also enjoy a birdbath.
5. House Finch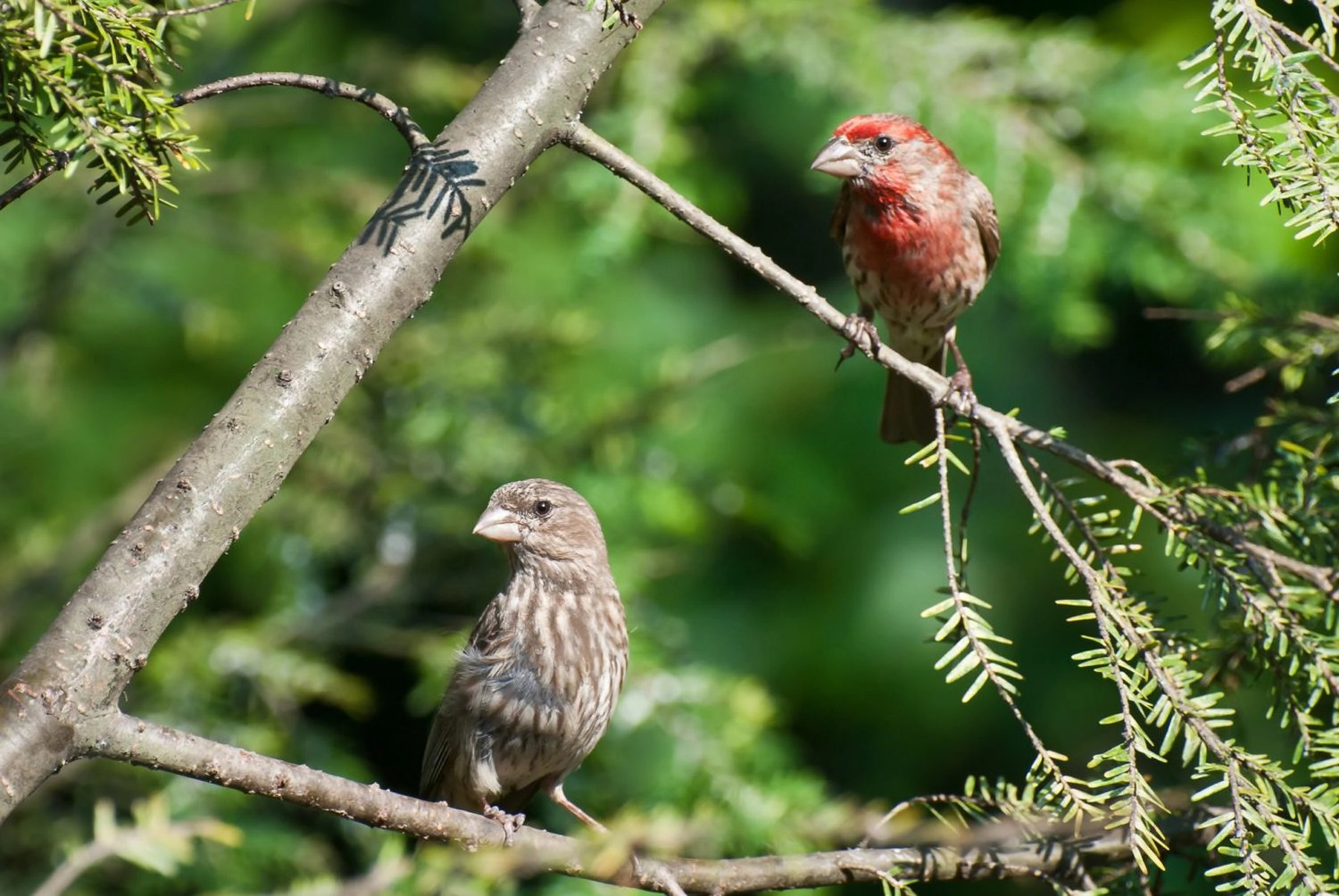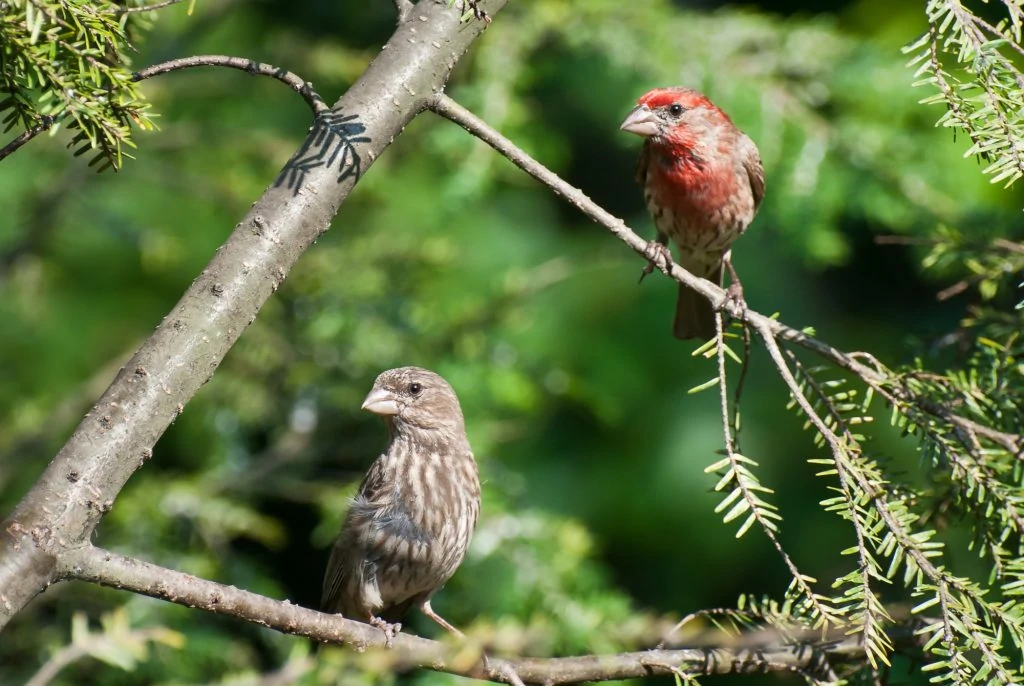 House Finches males have a red head and breast, and the rest of their bodies are mainly brown-streaked. Females are brown-streaked all over.
Haemorhous mexicanus
Length: 5.1-5.5 in (13-14 cm)
Weight: 0.6-0.9 oz (16-27 g)
Wingspan: 7.9-9.8 in (20-25 cm)
Originally only in western US states, House Finches were introduced to eastern US states and have done very well, even pushing out the Purple Finch.
They can be found in parks, farms, forest edges, and backyard feeders in noisy groups that are hard to miss.
House Finch Song:
House Finch Call:
Attract House Finches to backyard feeders with black oil sunflower seeds or nyjer seeds in tube feeders or platform feeders.
6. European Starling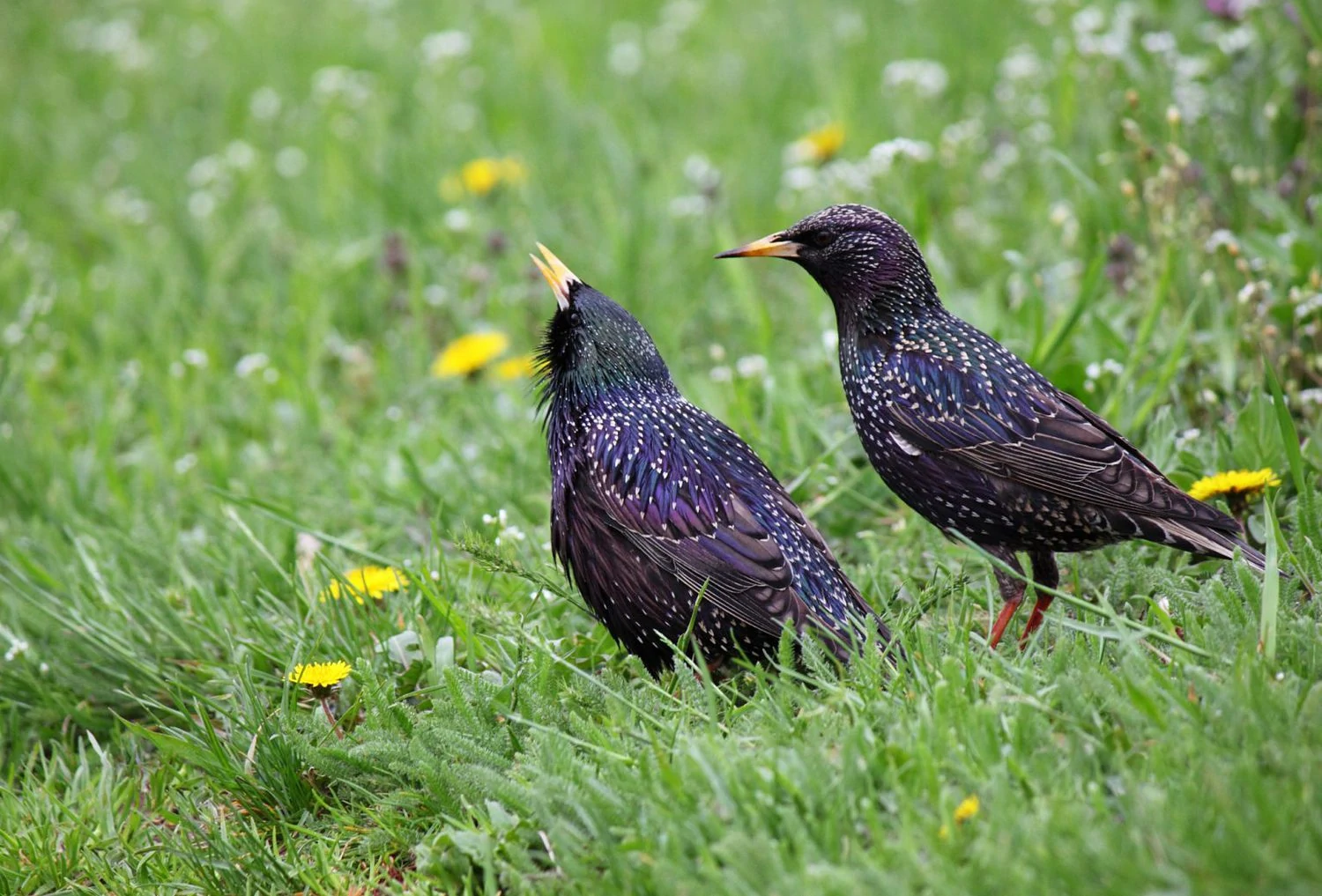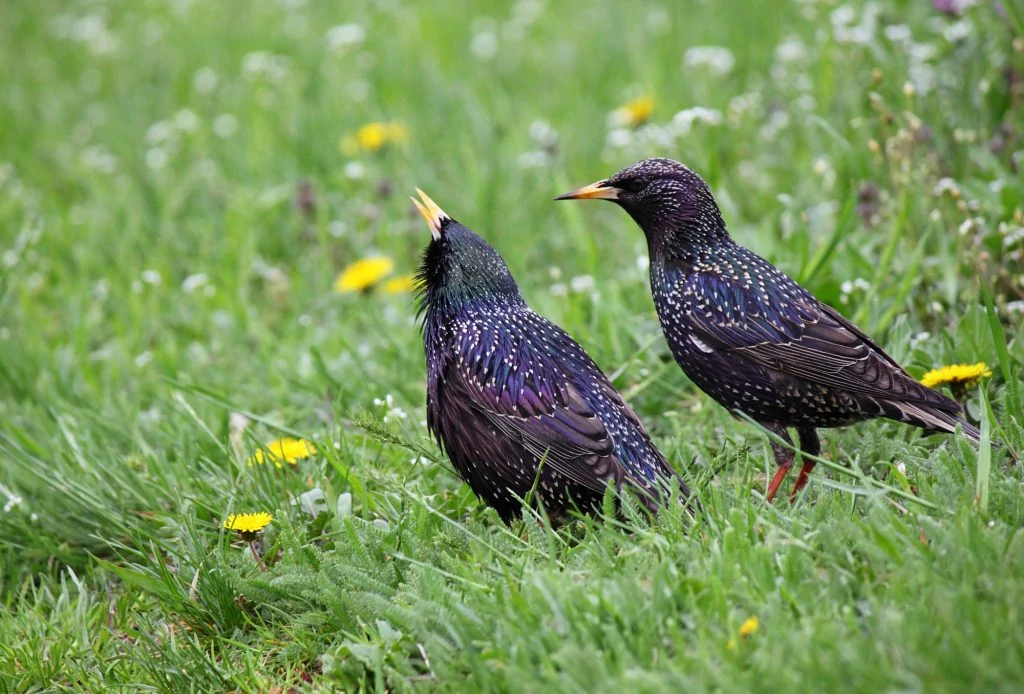 European Starlings are not native but are now one of the most numerous songbirds. They are stocky black birds with iridescent purple, green, and blue tones.
Sturnus vulgaris
Length: 7.9-9.1 in (20-23 cm)
Weight: 2.1-3.4 oz (60-96 g)
Wingspan: 12.2-15.8 in (31-40 cm)
European Starlings live in all of North America, except the north of Canada and Alaska.
They are considered a pest by some due to their aggressive behavior. These birds fly in large, noisy flocks and can be seen perched in groups on the top of trees or flying over fields.
European Starling Calls:
Starlings predominantly eat insects, including beetles, flies and caterpillars, earthworms, and spiders. However, they also eat fruit, including cherries, holly berries, mulberries, Virginia Creeper, sumac, blackberries, and grains and seeds.
Attract European Starlings to your backyard feeders with black oil sunflower seeds, suet, cracked corn, and peanuts.
7. Red-bellied Woodpecker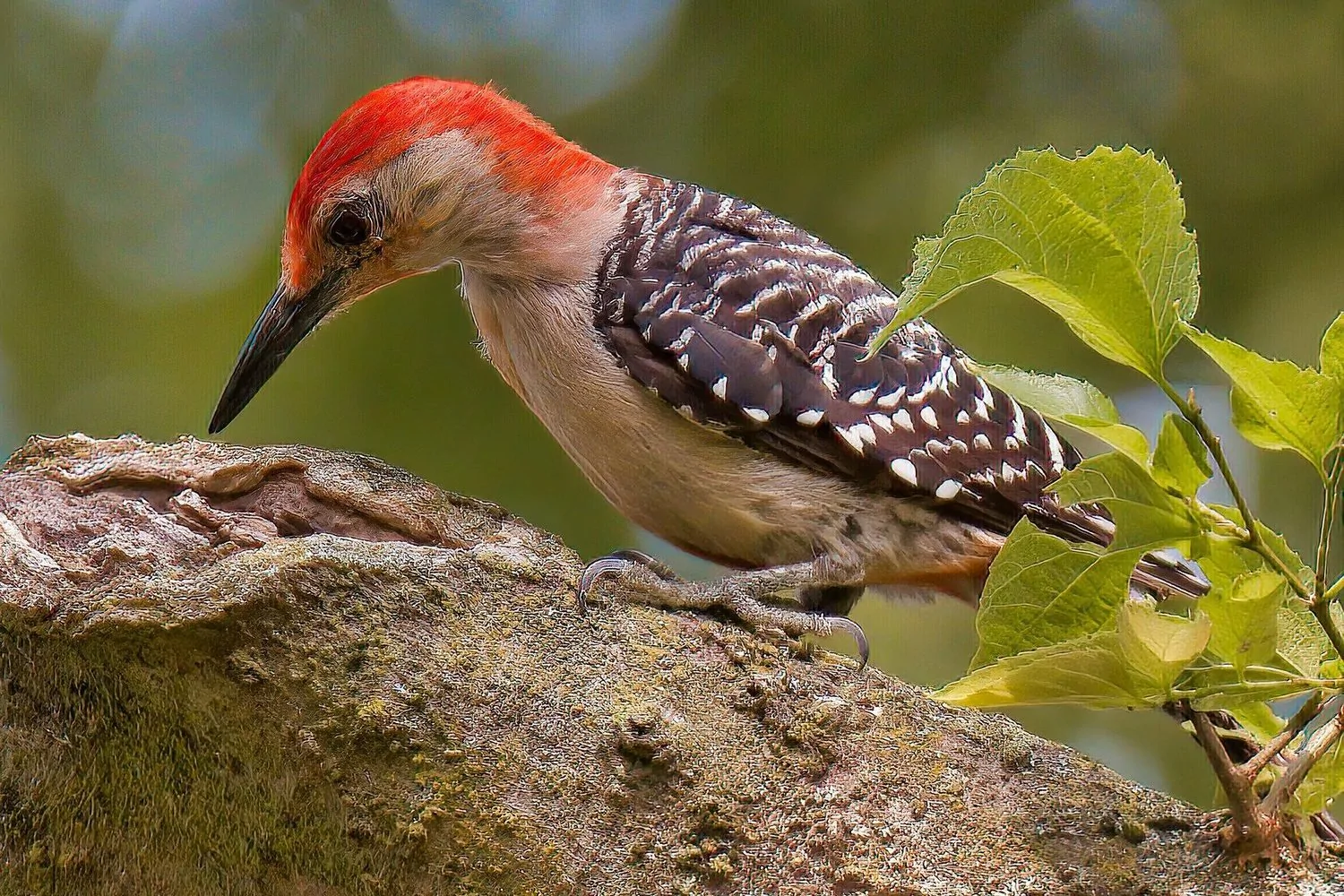 Red-bellied Woodpeckers can be mistaken for Red-headed Woodpeckers as they have red caps, but they are much smaller than the Red-headed Woodpecker. Female Red-bellied Woodpeckers lack the red cap and only have red at the back of their heads.
They also have a very pale red belly that can be hard to spot, but they do have the typical woodpecker black and white markings over their backs.
Melanerpes carolinus
Length: 9.4 in (24 cm)
Weight: 2.0-3.2 oz (56-91 g)
Wingspan: 13.0-16.5 in (33-42 cm)
Red-bellied Woodpeckers can be found in eastern US states, and they do not migrate.
Red-bellied Woodpeckers eat insects, spiders, seeds from grasses, fruit, and nuts. They will also sometimes eat nestlings. They nest in dead trees and may use the same nest year after year. They lay 4-5 white eggs on a bed of wood chips.
The tongue of the Red-bellied Woodpecker sticks out 2 inches past the beak and is barbed at the tip, along with sticky spit. This helps catch prey from deep crevices.
Red-bellied Woodpecker Call:
Red-bellied Woodpeckers can often be seen at bird feeders, especially if you live near wooded areas. They make a distinctive loud rolling call which means you will often hear them before you see them.
8. Gray Catbird
Gray Catbirds are so named because of their distinctive catty mew song that can last for up to 10 minutes. They are medium-sized songbirds with a slate gray coloring, black cap and tail, and a reddish patch under their tails.
Dumetella carolinensis
Length: 8.3-9.4 in (21-24 cm)
Weight: 0.8-2.0 oz (23.2-56.5 g)
Wingspan: 8.7-11.8 in (22-30 cm)
Gray Catbirds breed in the Midwest, eastern US states, and southern Canada before heading to the Gulf Coast and the Caribbean for winter. Some remain all year along the East Coast.
You can spot Gray Catbirds in dense shrubs, small trees, and along forest edges or hedgerows. They are named after their 'mew' sounding call.
Gray Catbird Call:
Attract Gray Catbirds to your backyard with fruit and fruit trees or shrubs such as dogwood, winterberry, and serviceberry.
9. Northern Flicker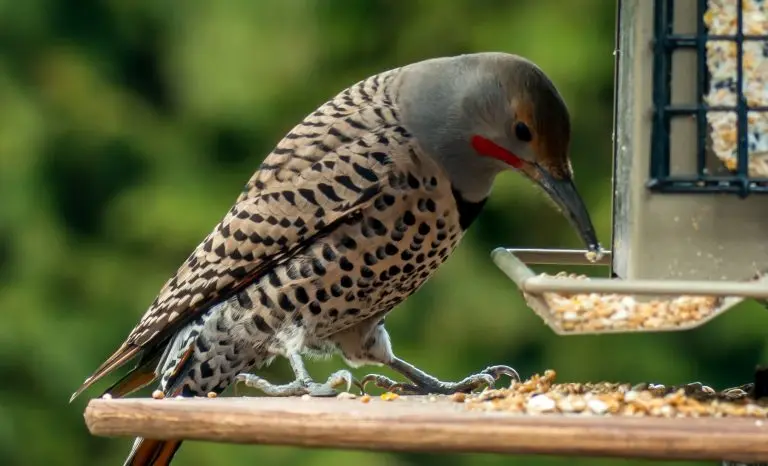 Northern Flickers are large brown woodpeckers with black spots and a white patch on their rump in flight, plus a red nape of the neck in the males.
Northern Flickers have red or yellow flashes in the wings and tail depending on where they originate. Red-shafted birds live in the west, and yellow-shafted birds live in the east.
Colaptes auratus
Length: 11.0-12.2 in (28-31 cm)
Weight: 3.9-5.6 oz (110-160 g)
Wingspan: 16.5-20.1 in (42-51 cm)
Northern Flickers can be spotted across the US all year and in Canada during summer. Those that breed in Canada migrate south for the winter.
Northern Flickers mainly eat ants, beetles, fruits, and seeds, and they can often be seen on the ground digging with their curved bill.
Northern flicker Call:
Attract Northern Flickers to your backyard with suet.
10. Northern Mockingbird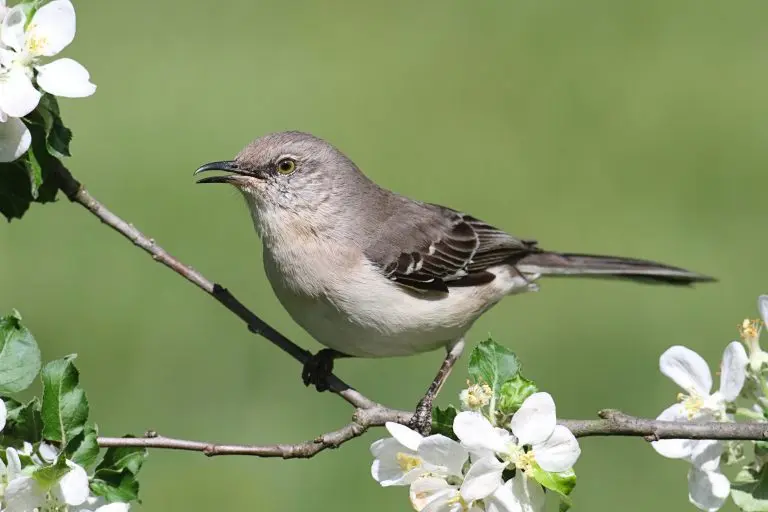 Northern Mockingbirds are medium-sized songbirds with small heads and long tails. They are a gray-brown color and slightly paler on the underside than their back, and they have two white wingbars visible in flight.
Mimus polyglottos
Length: 8.3-10.2 in (21-26 cm)
Weight: 1.6-2.0 oz (45-58 g)
Wingspan: 12.2-13.8 in (31-35 cm)
Northern Mockingbirds do not migrate and can be spotted across the lower 48 and southern Canada.
They are usually seen alone or in pairs and aggressively defend their territory. A male mockingbird can learn around 200 songs in its life, copying other birds' songs, and they can sing all through the day and into the night.
Northern Mockingbird Call/Song:
Attract more Northern Mockingbirds to your backyard by planting fruiting trees or bushes, including hawthorns, mulberries, and blackberry brambles. They don't often visit feeders, but they will come to open lawn areas.
11. Yellow-rumped Warbler
Yellow-rumped Warblers are gray with flashes of yellow on the face, sides, and rump and white in the wings.
Females may be slightly brown, and winter birds are paler brown with bright yellow rumps and sides turning bright yellow and gray again in spring.
Setophaga coronata
Length: 4.7-5.5 in (12-14 cm)
Weight: 0.4-0.5 oz (12-13 g)
Wingspan: 7.5-9.1 in (19-23 cm)
Yellow-rumped Warblers breed predominantly in Canada and parts of the Rockies and the Appalachian mountains.
During migration, they can be seen in the Midwest before overwintering in southern and southwestern US states and the Pacific Coast and into Mexico and Central America.
You can find Yellow-rumped Warblers in coniferous forests, especially during the breeding season. During winter, they can be found in open areas with fruiting shrubs. In summer, they eat mostly insects and on migration, and in winter, they eat mostly fruit, including bayberry and wax myrtle.
Yellow-rumped Warbler Song:
Attract Yellow-rumped Warblers to your backyard with sunflower seeds, suet, raisins, and peanut butter.
12. Common Grackle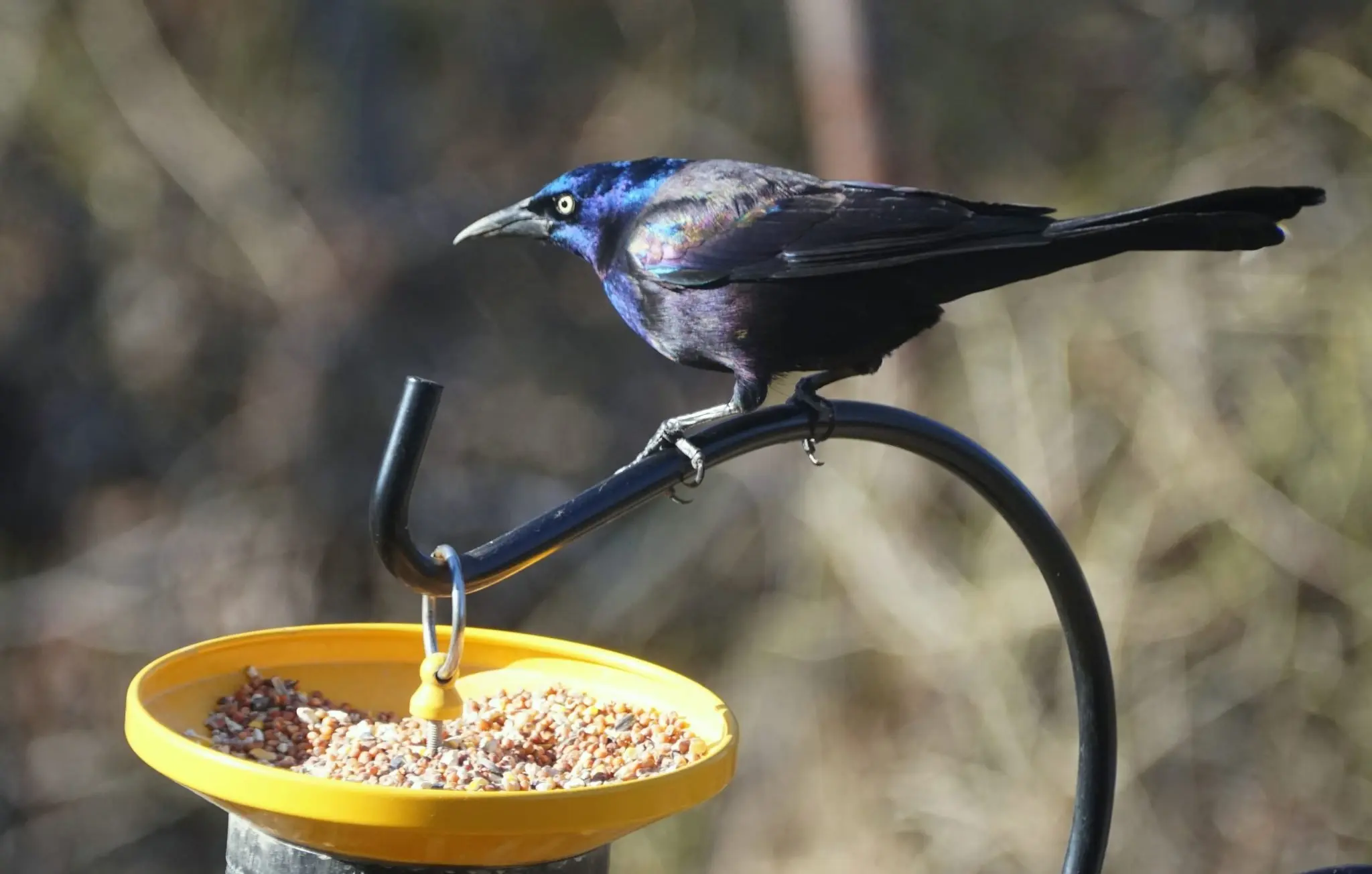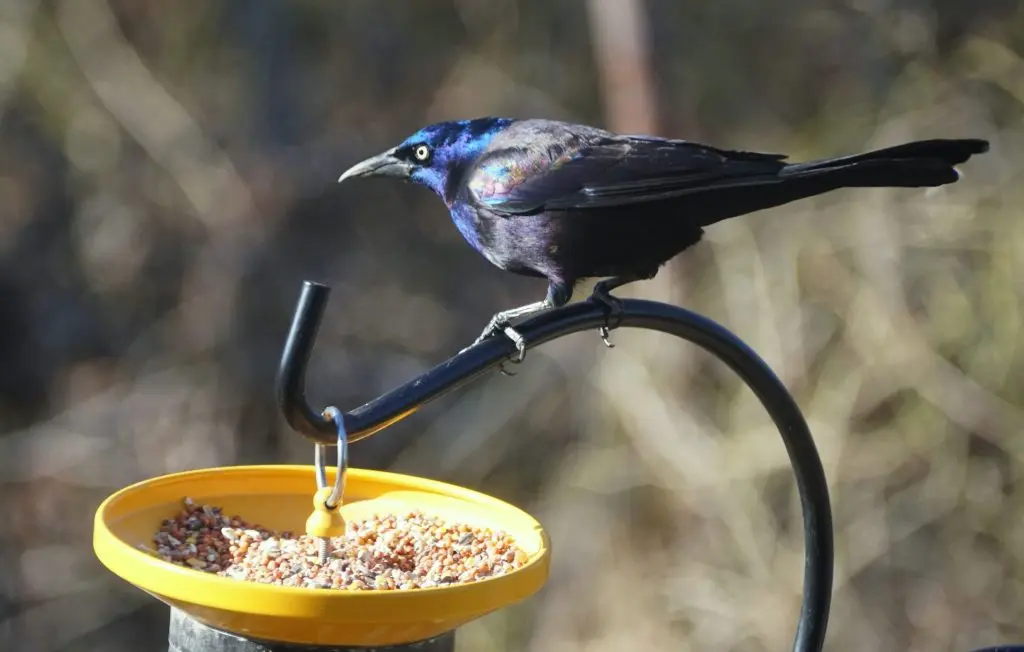 The Common Grackle is a blackbird taller and longer tailed than a typical blackbird with glossy iridescent bodies.
Quiscalus quiscula
Length: 11.0-13.4 in (28-34 cm)
Weight: 2.6-5.0 oz (74-142 g)
Wingspan: 14.2-18.1 in (36-46 cm)
Common Grackles are resident all year in southeastern states, but those that breed in Canada and the Midwest migrate south.
They eat many crops but mostly corn, and they gather in noisy groups high up in trees. Unfortunately, they will also eat garbage and so can be a nuisance. Their habitat is varied and includes open woodlands, marshes, parks, and fields.
They may gather in their millions in winter to forage and roost, mixed in with other species of blackbirds.
Common Grackle Call:
Attract more Common Grackles to your backyard with mixed grain and seed sprinkled on the ground or platform feeders.
13. Eastern Bluebird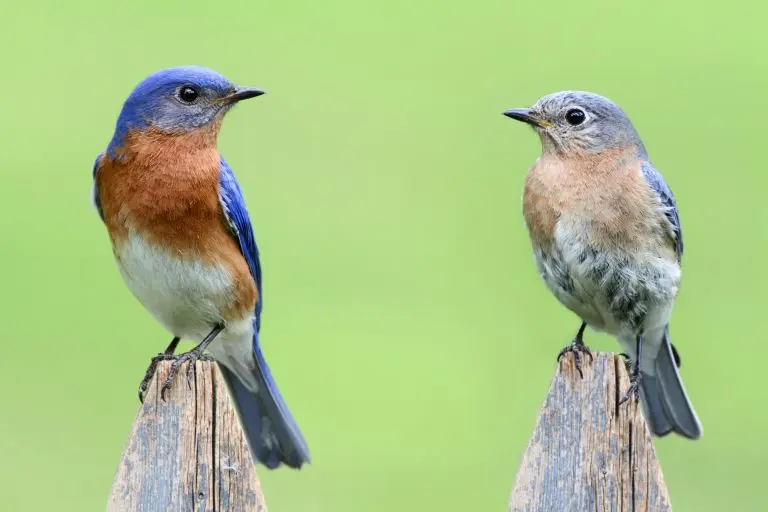 Eastern Bluebirds are small thrushes with big, rounded heads, large eyes, and big bellies.
The males are deep blue on the back and a reddish color underneath. Females are grayer above with some blue in the wings and tail and a less vivid orange-brown breast.
Sialia sialis
Length: 6.3-8.3 in (16-21 cm)
Weight: 1.0-1.1 oz (28-32 g)
Wingspan: 9.8-12.6 in (25-32 cm)
They live all year in southeastern US states, but those that breed in the northern US and southern Canada migrate south.
You can find Eastern bluebirds in meadows, and they can often be spotted perched on wires and posts or low branches, looking for insects.
Eastern Bluebird Song:
Attract Eastern Bluebirds to your backyard by offering mealworms and nest boxes if your yard is pretty open and spacious.
14. Cedar Waxwing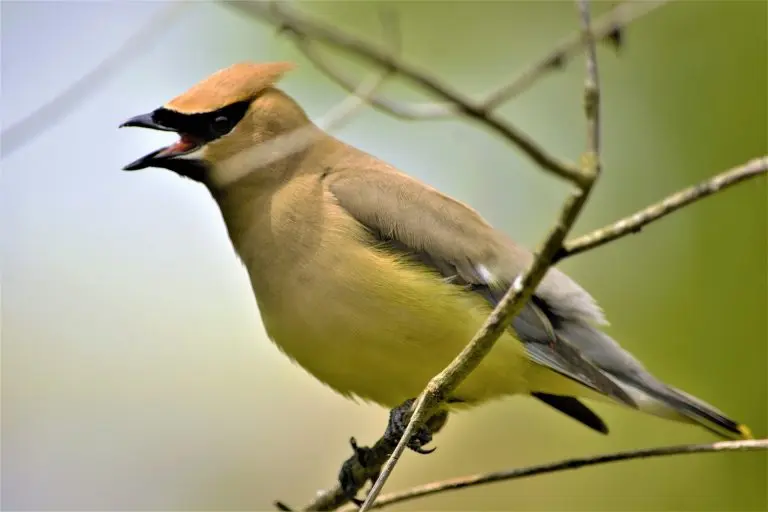 Cedar Waxwings are elegant social birds that are pale brown on the head, chest, and crest, which fades to gray on the back, wings, and tail.
Their belly is pale yellow and bright yellow towards the tail. They have a narrow black mask over their eyes and bright red on the wingtips.
Bombycilla cedrorum
Length: 5.5-6.7 in (14-17 cm)
Weight: 1.1 oz (32 g)
Wingspan: 8.7-11.8 in (22-30 cm)
Cedar Waxwings remain all year in the northern half of the US. Those that breed in Canada migrate to the southern half of the US for winter.
They make a high-pitched call and can be found in berry bushes, woodlands, and streams.
Cedar Waxwing Call:
Attract Cedar Waxwings to your backyard by planting native trees and shrubs with small fruit such as serviceberry, dogwood, juniper, winterberry, and hawthorn. You can also try fruit on platform feeders.

15. Baltimore Oriole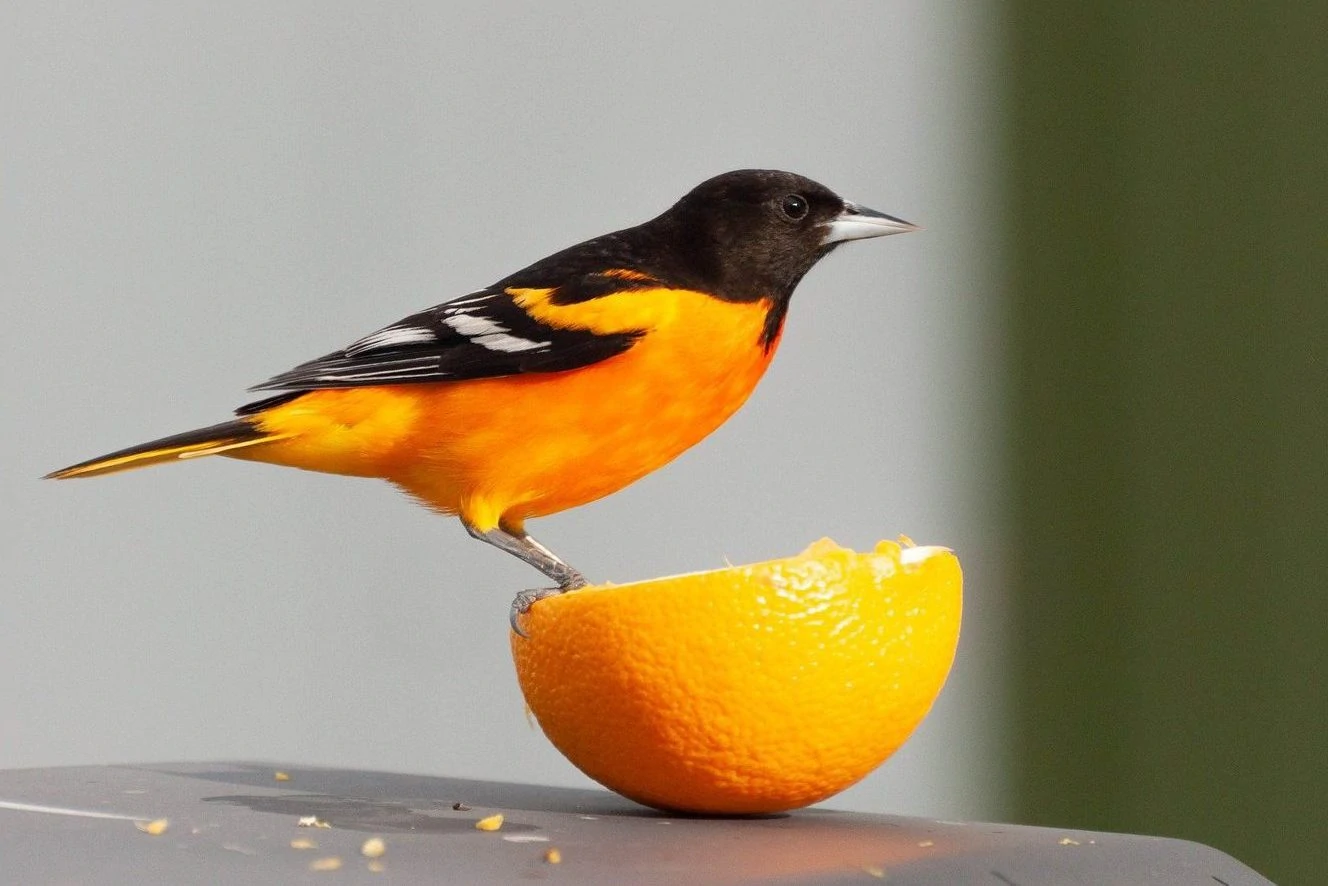 Baltimore Orioles are a colorful sign of spring in the east of North America, and they are members of the blackbird family. Adult males are bright orange and black with white wing bars on the black wings.
Females are mostly dull yellow and brown. They are yellowish underneath and on their heads, grayish-brown on the wings, and brownish-yellow on their backs.
Icterus galbula
Length: 6.7-7.5 in (17-19 cm)
Weight: 1.1-1.4 oz (30-40 g)
Wingspan: 9.1-11.8 in (23-30 cm)
Baltimore Orioles breed in eastern US States and central US states, including central-southern Canadian provinces and along the southern border with the US.
For winter, they migrate to Florida, Central America, and the Caribbean, leaving as early as July.
You can find Baltimore Orioles high up in open woodland, riverbanks, and forest edges foraging for insects and fruit, and they often come to parks and backyards. They make incredible hanging bag-like nests woven from fibers.
Baltimore Orioles' diet is insects such as beetles, crickets, grasshoppers, as well as spiders, and snails, and they help eat pest species. However, they eat a wide variety of fruits and can damage crops such as raspberries, mulberries, cherries, bananas, and oranges.
Baltimore Oriole Song:
Attract Baltimore Orioles to your yard with oranges cut in half on platform feeders or hanging from trees. Also, oriole feeders filled with sugar water and plant fruit and nectar sources such as raspberries, crab apples, and trumpet vines.
16. White-throated Sparrow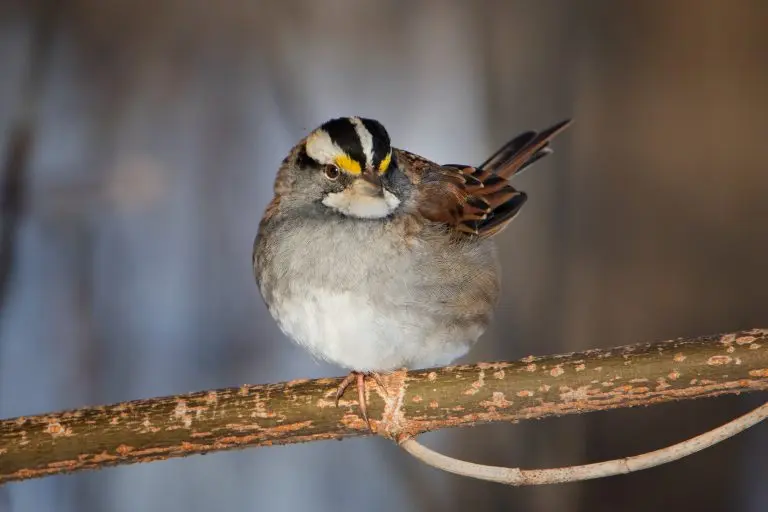 White-throated Sparrows have a distinctive black and white striped head, bright white throat, and yellow between the eye and bill. Their backs are brown, and underneath is gray.
Zonotrichia albicollis
Length: 6.3-7.1 in (16-18 cm)
Weight: 0.8-1.1 oz (22-32 g)
Wingspan: 7.9-9.1 in (20-23 cm)
White-throated Sparrows are migratory birds, breeding mainly in Canada before heading south in winter to eastern and southern US states and the Pacific Coast.
You can find White-throated Sparrows on the ground in forests and woods and along the edges of wooded areas, often in large flocks.
White-throated Sparrows' diet is mainly seeds of grasses and weeds and fruits such as grape, sumac, mountain ash, blueberry, blackberry, and dogwood. They will also eat many insects from the forest floor, especially in summer.
White-throated Sparrow Song:
Attract White-throated Sparrows to your backyard with millet and black oil sunflower seeds on platform feeders.
17. California Scrub-Jay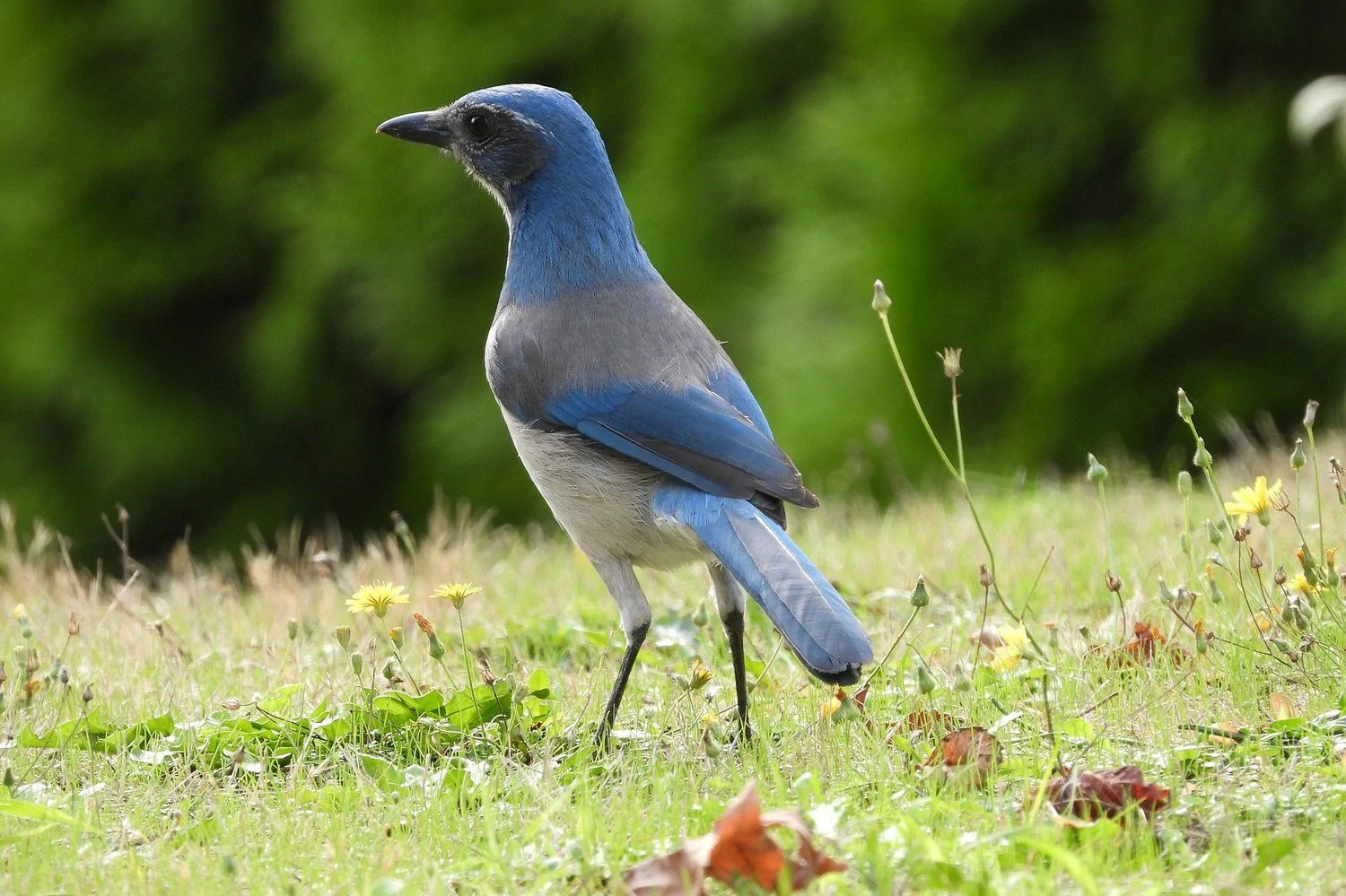 California Scrub-Jays are large songbirds with long tails, whitish undersides and rich blue and gray backs, and a bright blue breast band. They are larger than a robin but smaller than a crow. They look visually similar to the Woodhouse's Scrub-Jay but with more vivid colors.
Aphelocoma californica
Length: 11.0-11.8 in (28-30 cm)
Weight: 2.5-3.5 oz (70-100 g)
Wingspan: 15.3 in (39 cm)
California Scrub-Jays are resident all year on the Pacific Coast from British Columbia down to Baja California.
You can find California Scrub-Jay in scrub, oak woodlands, and in suburban yards and parks. They eat insects and fruit during spring and summer and then seeds and nuts, especially acorns, in fall and winter.
California Scrub-Jay sounds: Their call is high-pitched and repetitive. They also sing a courtship song of soft whistles.
Nests of California Scrub-Jay are usually hidden in oak trees and can take up to 10 days to construct the nest made of twigs and a soft lining. They lay 1 – 5 eggs, and the eggs take around 17 – 19 days to hatch.
Attract California Scrub-Jays to your backyard with sunflower seeds and peanuts in your feeders.
Fun fact: California Scrub-Jay will screech over the body of a dead jay and invite others to do the same, and this can last up to half an hour, according to the University of California – Davis
18. Black-billed Magpie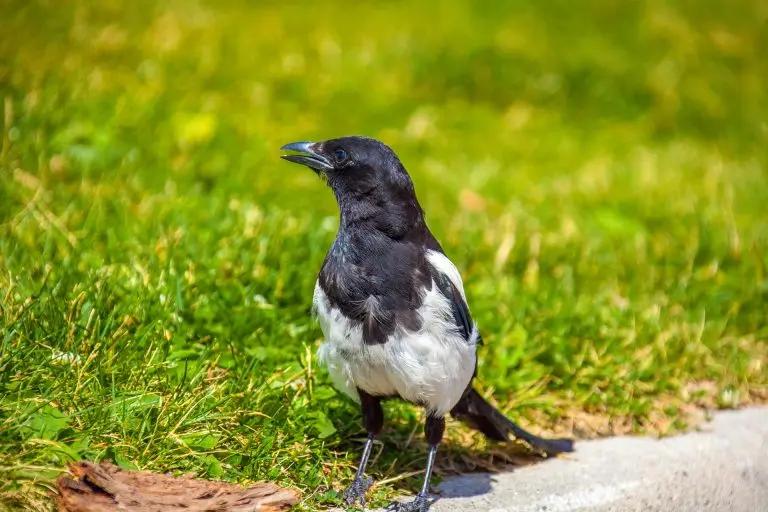 Black-billed Magpies, usually just called Magpies, are black and white birds that are noisy. They have long tails and blue-green iridescent flashes in the wing and tail. Males are up to 25% heavier than females.
Pica hudsonia
Length: 17.7-23.6 in (45-60 cm)
Weight: 5.1-7.4 oz (145-210 g)
Wingspan: 22.1-24.0 in (56-61 cm)
Black-billed Magpies live in northwestern US states and western Canada, and the coast of Alaska. They do not migrate.
You can find them walking on the ground in meadows and grasslands or other open areas feeding on fruit and grain, beetles, and grasshoppers. They have also been known to kill small mammals such as squirrels and voles and raid bird nests for eggs or nestlings and even carrion.
Black-billed Magpie sounds: A series of harsh calls and also a scream.
Nests of Black-billed Magpies are a messy ball-shaped collection of twigs with a neat cup of mud and soft material on the inside. They lay 6 – 7 eggs, and these take around three weeks to hatch and fledge a further 3 – 4 weeks.
You can attract Black-billed Magpies to your backyard with platform and suet feeders with black oil sunflower seeds, peanuts, fruit, suet, millet, and milo.
Fun Fact: A gathering of magpies calling around one of their dead is called a funeral.
19. Woodhouse's Scrub-Jay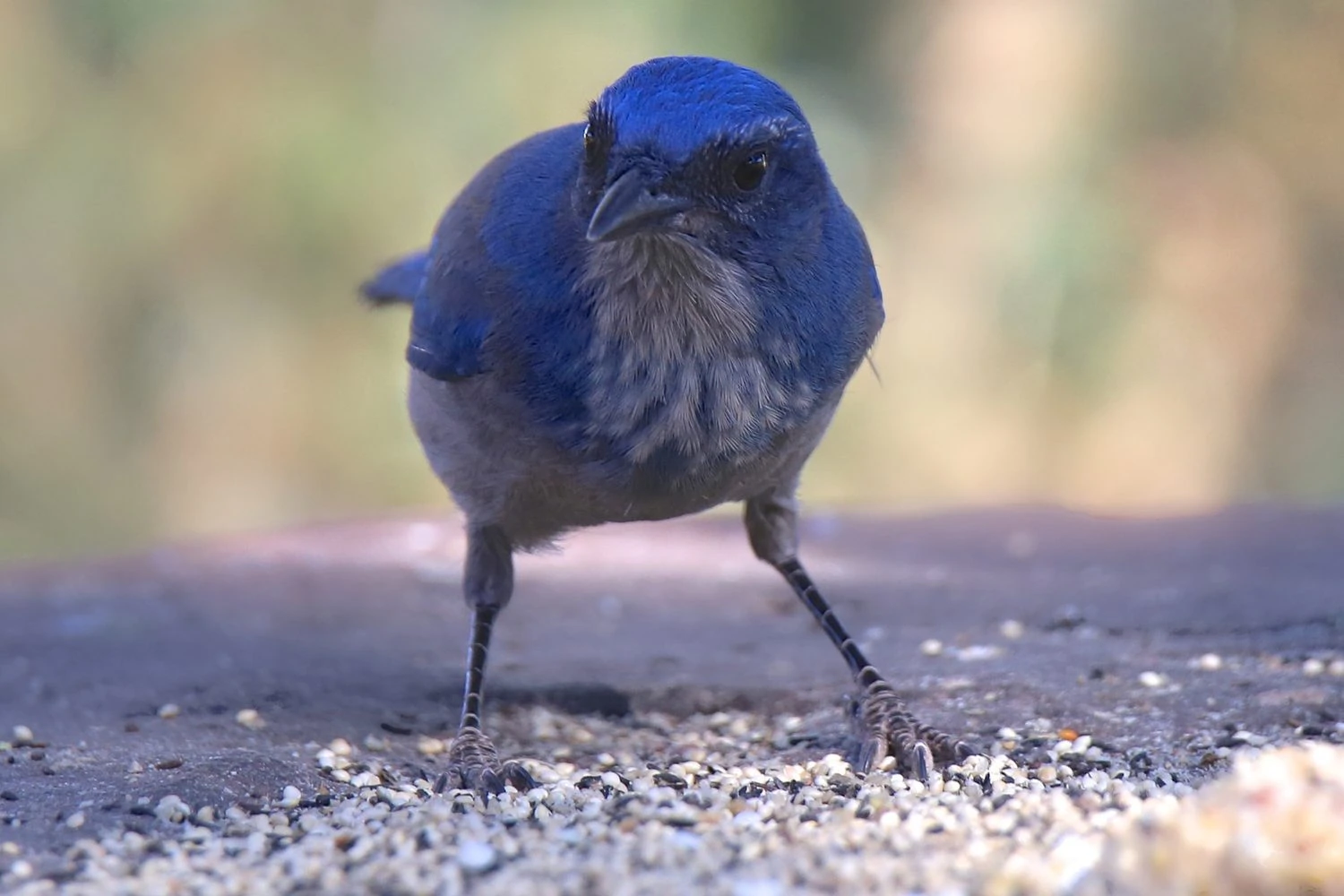 Woodhouse's Scrub-Jays are the Blue-Jays of the Southwest with lovely blue and gray coloring. They are light blue and dark gray on the back and light gray underneath. Their tails are long and blue.
They are duller in color than California Scrub-Jays and have only a small necklace, and lack the crests of Blue Jays and Stellar's Jays.
Aphelocoma woodhouseii
Length: 11.0-11.8 in (28-30 cm)
Weight: 2.5-3.5 oz (70-100 g)
Woodhouse's Scrub-Jays are resident inland in southwest US states and Mexico. You can find them in wooded areas with pinyon-juniper and scrubby areas.
Insects and fruit make up most of the diet of Woodhouse's Scrub-Jays in summer and nuts and seeds in winter.
Woodhouse's Scrub-Jay sounds:
Nests of Woodhouse's Scrub-Jay are fairly simple platforms made of twigs and lined with moss and grass.
Attract Woodhouse's Scrub-Jays to your backyard with sunflower seeds and peanuts.
Fun Fact: Woodhouse's Scrub-Jays are thieves that steal food from other birds' stores, especially Acorn Woodpeckers' granary tree store of acorns.

20. Orchard Oriole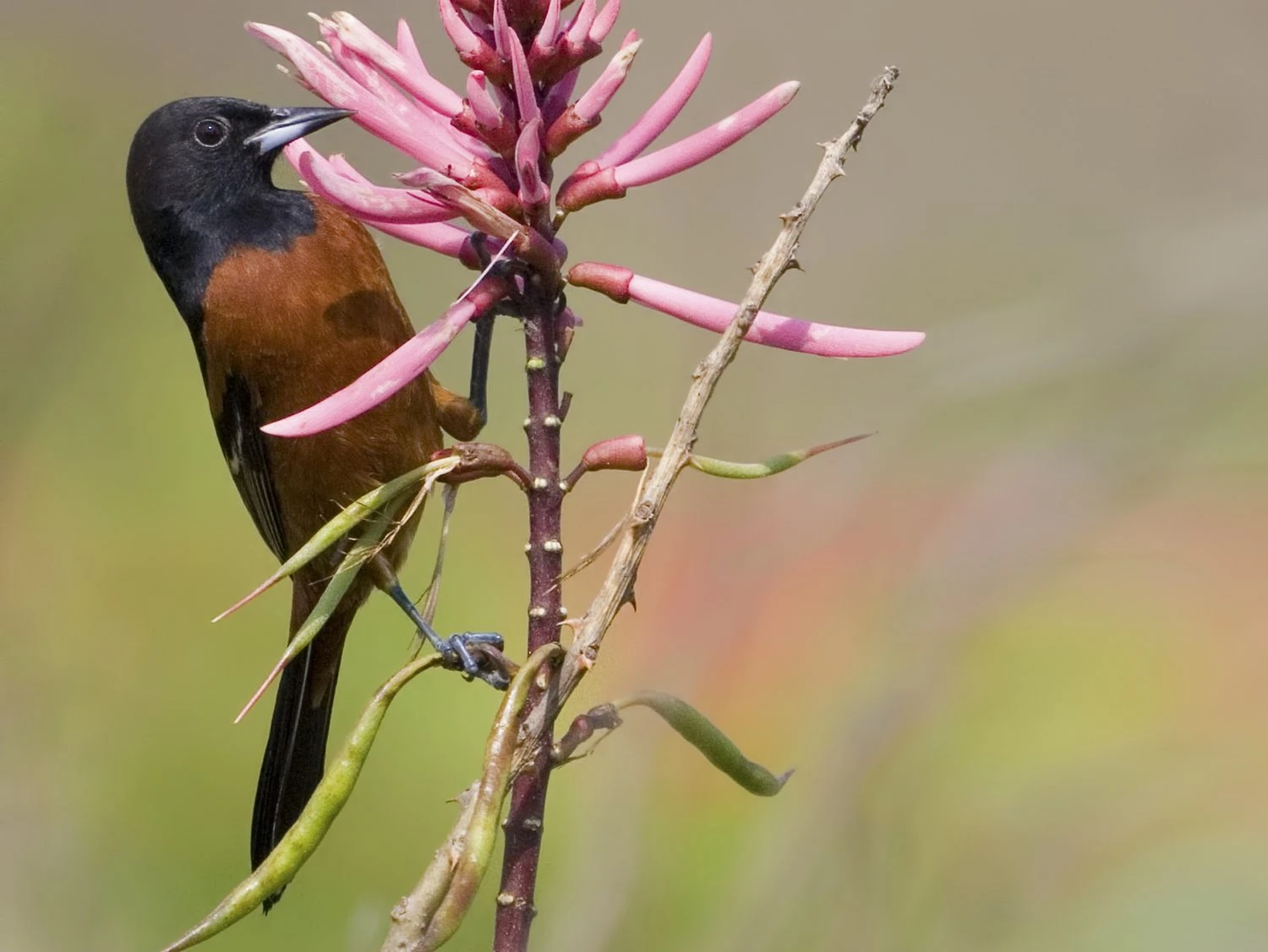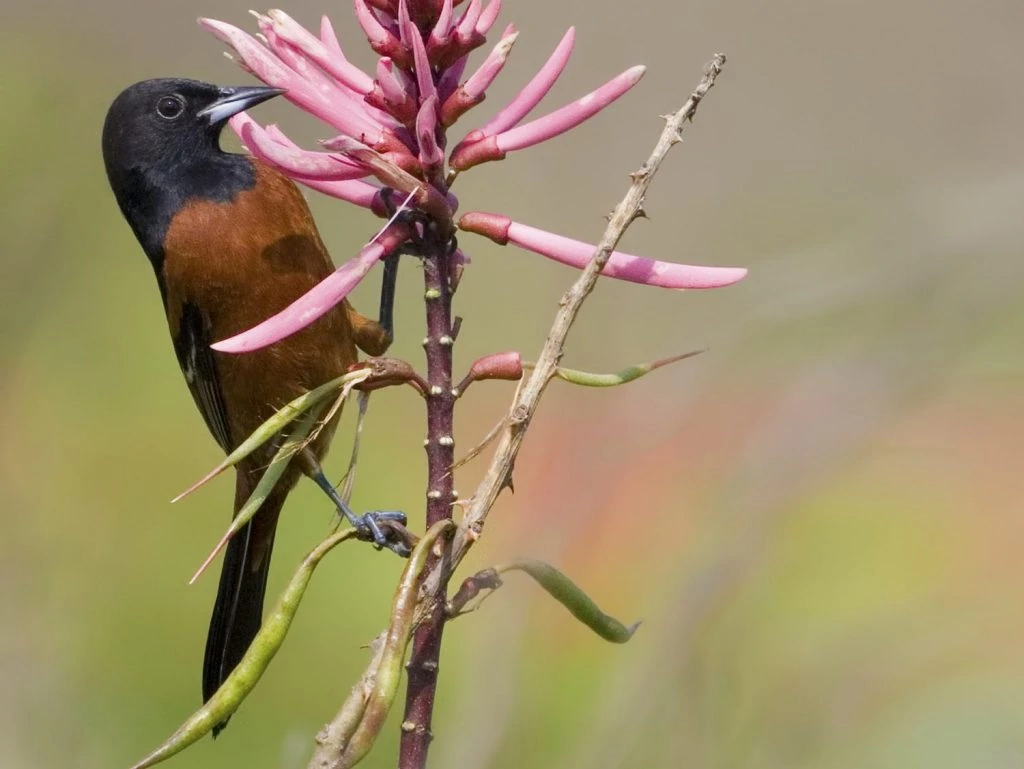 Orchard Oriole males have black heads and backs and reddish undersides. Females look pretty different and are greenish-yellow overall, paler underneath and darker on the back, with darker wings and white wingbars.
Icterus spurius
Length: 5.9-7.1 in (15-18 cm)
Weight: 0.6-1.0 oz (16-28 g)
Wingspan: 9.8 in (25 cm)
In summer, Orchard Orioles breed in central and eastern US states before migrating south to Mexico and Central America.
You can find Orchard Orioles in open woodland, along river banks, open shrubland, farms, and backyards. They build hanging pouch-like nests.
Orchard Orioles' diet is mostly insects such as ants, caterpillars, beetles, grasshoppers, and spiders. They will also drink nectar from flowers and eat fruit like mulberries and chokeberries.
Orchard Oriole Song:
Attract Orchard Orioles to your yard with hummingbird feeders or platform feeders with cut oranges or mango. Also, plant native berry plants such as mulberries or chokeberries.
21. Summer Tanager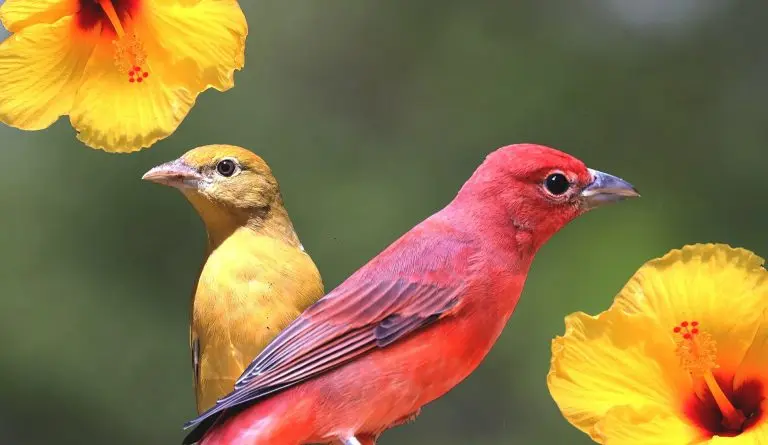 Summer Tanager males are bright red birds with large chunky beaks. Females and juveniles are mainly yellow with hints of green on their backs.
Piranga rubra
Length: 6.7 in (17 cm)
Weight: 1.1 oz (30 g)
Summer Tanagers breed in southern and eastern states before heading to Central and South America for winter.
You can find Summer Tanagers in open woodlands and they feed on bees and wasps in mid-flight. They catch them and kill them by beating them against a branch and rubbing the stinger off before eating them.
Summer Tanager Song:
Nests of Summer Tanagers are made by the females from grass and other plant material towards the end of overhanging branches. The nest is not very well constructed, but they hold around four eggs. The eggs hatch in about ten days, and the young take another ten days to leave the nest.
Attract Summer Tanagers to your backyard with berry bushes and fruit trees.
Fun fact: Young Scarlet Tanagers are fed by their parents for another three weeks after leaving the nest, as they are cannot fly very well for a few more weeks.
22. Varied Thrush
Varied Thrush males are birds with orange breasts and throats and black backs and with a black 'necklace' around the throat. The males also have orange bars on the wings and orange stripes on the sides of their black heads. Females are paler and have more brown tones on the back.
Length: 7.5-10.2 in (19-26 cm)
Weight: 2.3-3.5 oz (65-100 g)
Wingspan: 13.4-15.0 in (34-38 cm)
Varied Thrush can be found along the Pacific Coast and Breed in Alaska and Northwestern Canada. Some remain all year in British Columbia and Northwestern US states along the coast. In winter, birds from Alaska and inland in Canada move south as far as California.
They are shy birds that hide in the forest looking for insects in the summer and berries and seeds in the winter.
23. White-crowned Sparrow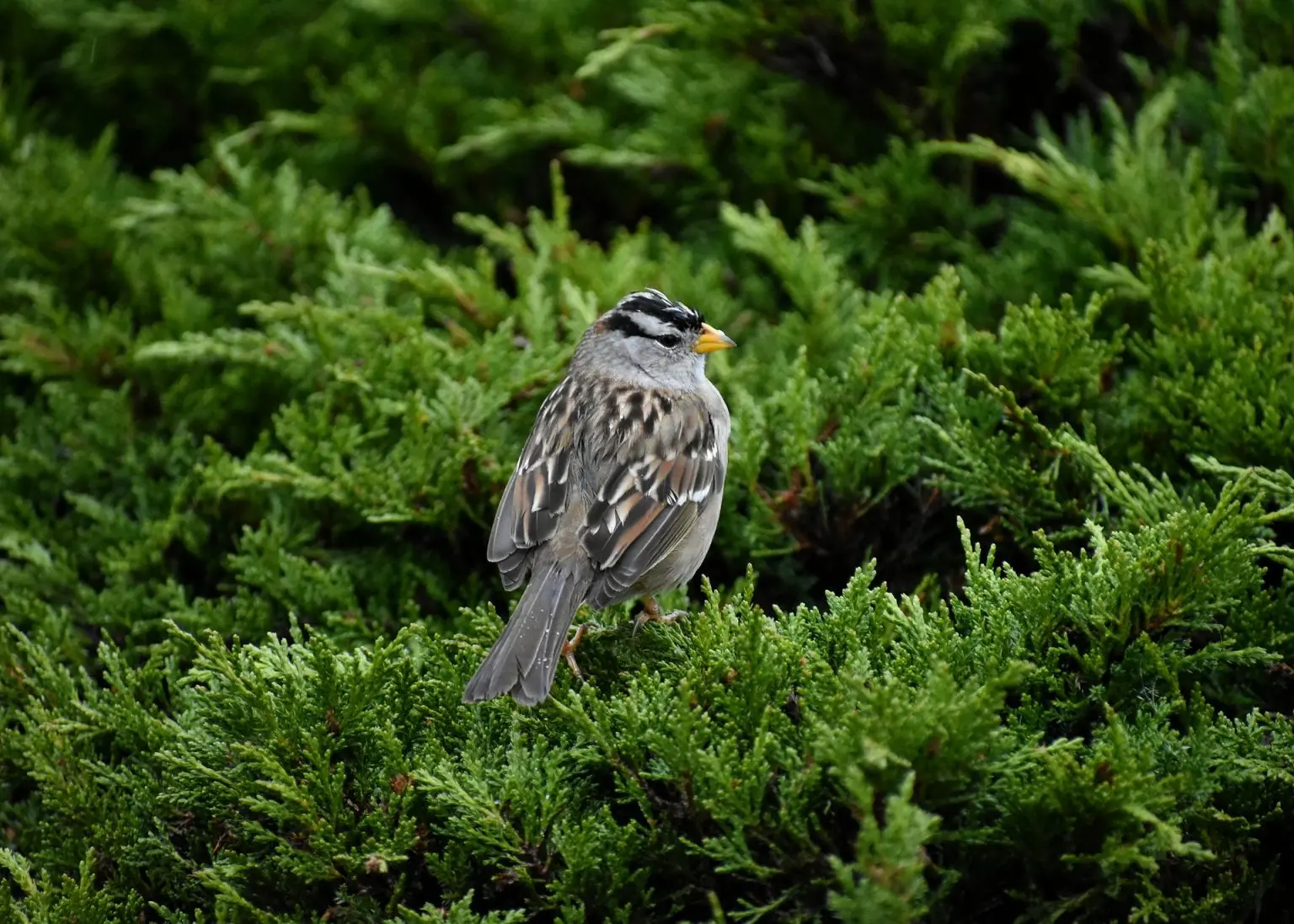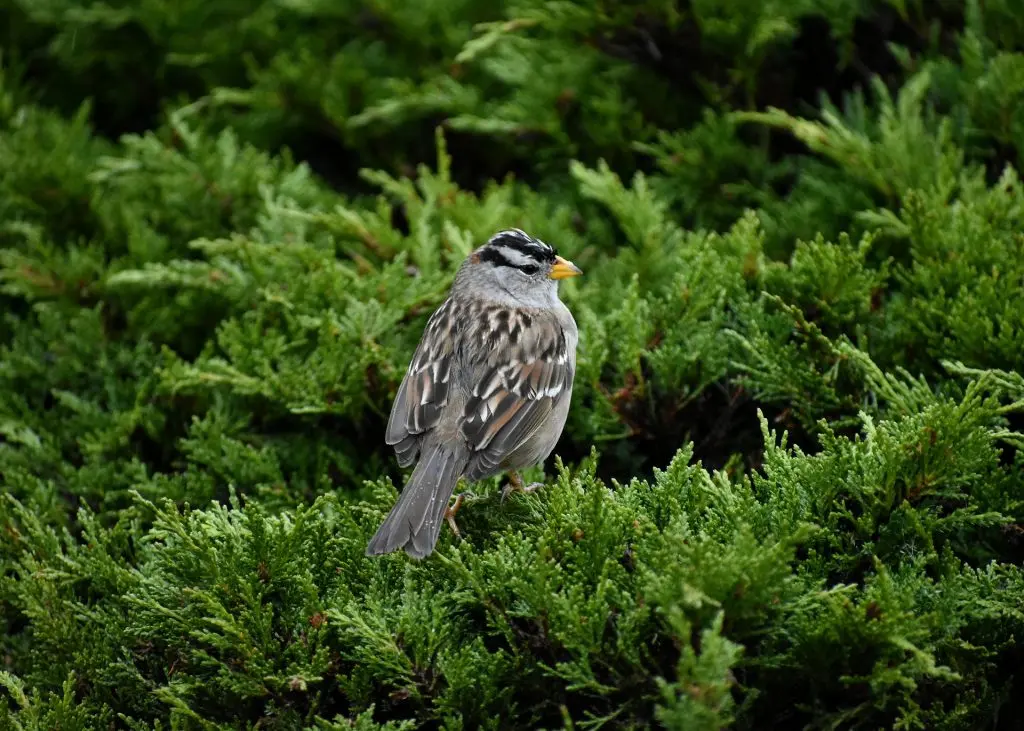 White-crowned Sparrows are large grayish sparrows with long tails, small bills, and bold black and white stripes on their heads.
Zonotrichia leucophrys
Length: 5.9-6.3 in (15-16 cm)
Weight: 0.9-1.0 oz (25-28 g)
Wingspan: 8.3-9.4 in (21-24 cm)
White-crowned Sparrows breed in Alaska and arctic Canada before heading south to the lower 48 and Mexico for winter. However, some may remain along the Pacific Coast and the mountainous west all year.
You can find White-crowned Sparrows in weedy fields, along roadsides, forest edges, and in yards foraging for seeds of weeds and grasses or fruit such as elderberries and blackberries.
White-crowned Sparrow Song:
Attract White-crowned Sparrows to your backyard with sunflower seeds, and they will also eat seeds that other birds drop at feeders.
24. Pine Grosbeak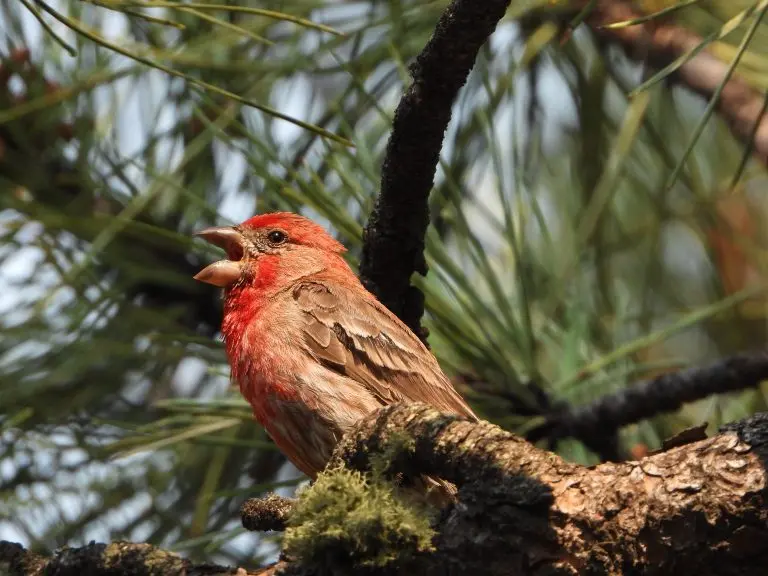 Pine Grosbeaks males are red birds with gray on the wings and tail and two white wingbars. Females are gray with dull orange heads and rumps. They are large for finches and relatively slow.
Pinicola enucleator
Length: 7.9-9.8 in (20-25 cm)
Weight: 2.01 oz (57 g)
Wingspan: 13.0 in (33 cm)
Pine Grosbeaks are mostly found in Canada, but some can be spotted along the US border, the mountainous west, and the Sierra Nevada in California.
You can find Pine Grosbeaks in forests of pine, spruce, and fir, feeding on seeds, fruit, and buds from these trees. They will also eat some insects in the summer.
Pine Grosbeak Call:
Nests of Pine Grosbeaks are commonly found ten to twelve feet above the ground on a low tree. The nests are made of twigs, barks, weeds, moss, and lichen and hold two to five eggs. The female incubates these eggs for about two weeks until they hatch.
Attract Pine Grosbeaks to your backyards with black oil sunflower seed feeders or suet feeders.
Fun Fact: Pine Grosbeaks are aptly named. Their scientific name, "Pinicola," is Latin for "pine dweller."
25. Western Tanager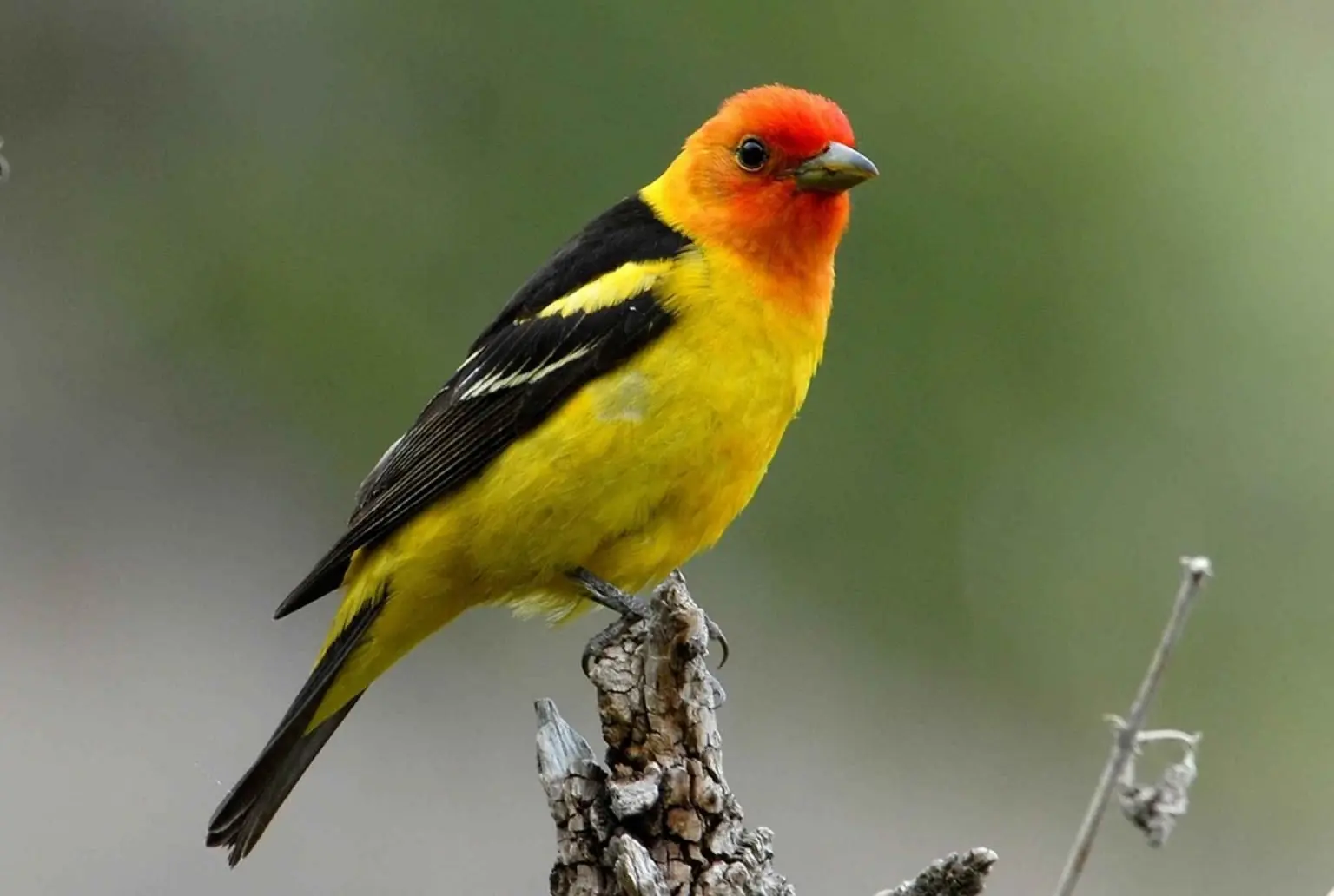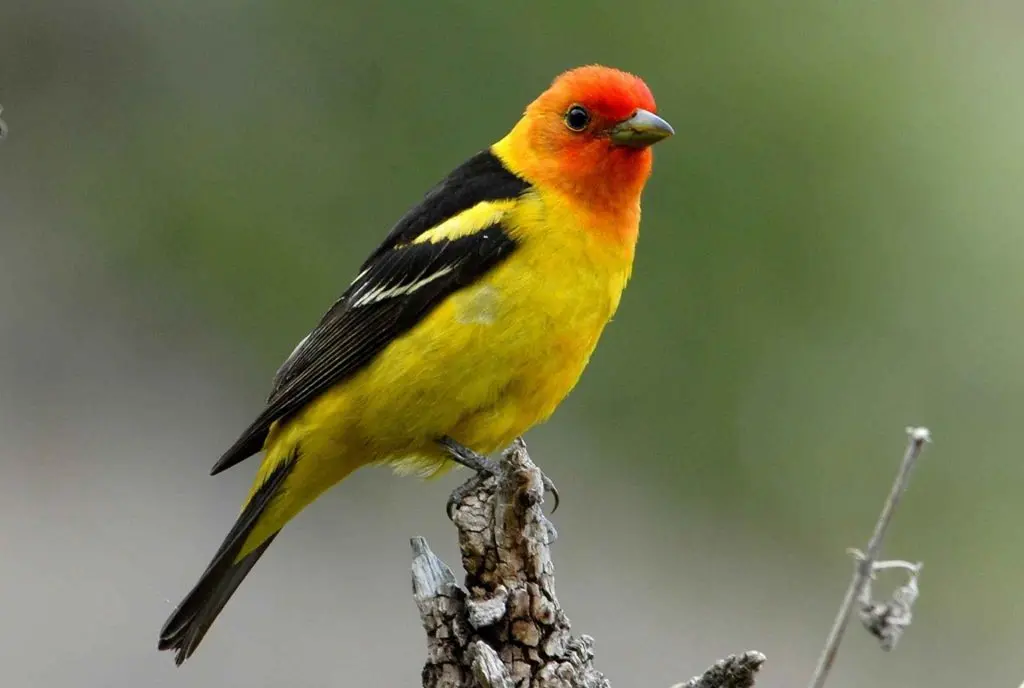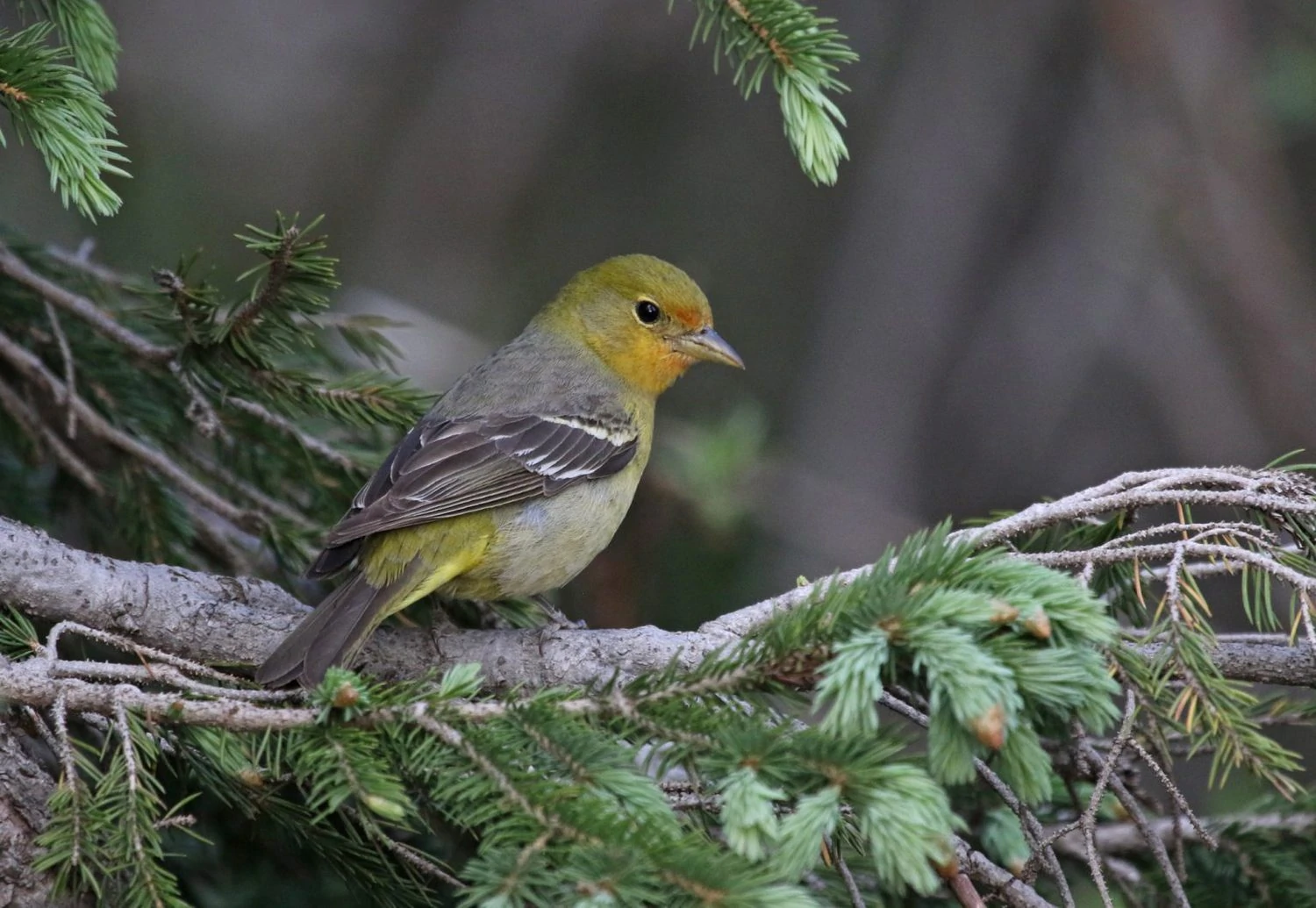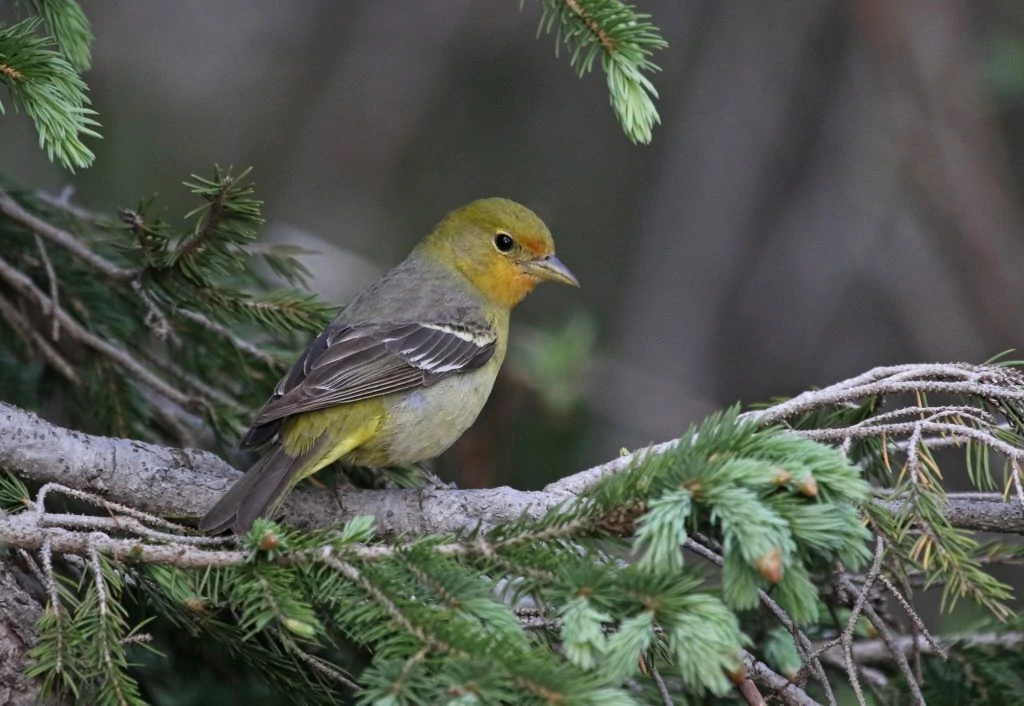 Western Tanagers have a flaming orange-red head, yellow body, and black wings. Females have only red faces, and their bodies are yellow-green.
Piranga ludoviciana
Length: 6.3-7.5 in (16-19 cm)
Weight: 0.8-1.3 oz (24-36 g)
Western Tanagers breed in western US states and western Canada. They can be seen during migration in the east and south of this range. Winter is spent in Mexico and Central America.
You can find Western Tanagers in open conifer forests, but they stay hidden in the canopy, despite their bright coloring. Their numbers are actually increasing in the last forty years.
They eat mainly insects in summer, such as wasps and grasshoppers, and in the fall and winter, they also eat fruit.
Western Tanager Song:
Nests of Western Tanagers are built by females in open areas of trees and are made from large twigs and then roots and smaller twigs to weave them into a sturdy cup shape. The nest is lined with soft grass, pine needles, hair, and other plant materials. They lay around four eggs which take around two weeks to hatch.
Attract Western Tanagers with dried fruit, cut oranges, and other fruits from bird feeders.
Fun fact: Western Tanagers' red coloring probably comes from eating insects that produce a pigment that they cannot produce themselves.
26. Pinyon Jay
Pinyon Jays are blue all over, with darker backs and paler bellies. They also have white throats, shorter tails, and do not have crests like other Jays, like Stellar's Jays. Males and females look the same, but juveniles can look more grayish-blue.
Gymnorhinus cyanocephalus
Length: 10.2-11.4 in (26-29 cm)
Weight: 3.2-4.2 oz (90-120 g)
Wingspan: 18.1 in (46 cm)
Pinyon Jays are resident inland in western US states in pinyon-pine forests.
As well as seeds from pinyon-pine, Pinyon Jays will eat juniper berries, acorns, and other animals such as lizards, baby birds, and insects. They are opportunity feeders who will take most things and forage in large, noisy groups.
Pinyon Jay sounds: They make 3 'kaw' like calls close together that rise and then fall and sometimes shake or tremble.
Nests of Pinyon Jays are built of sticks and grass in pine trees and lined with feathers and animal hair.
Fun fact: Pinyon Jays do not have feathers over their nostrils to prevent the sticky pine pitch from making them dirty.
27. Pyrrhuloxia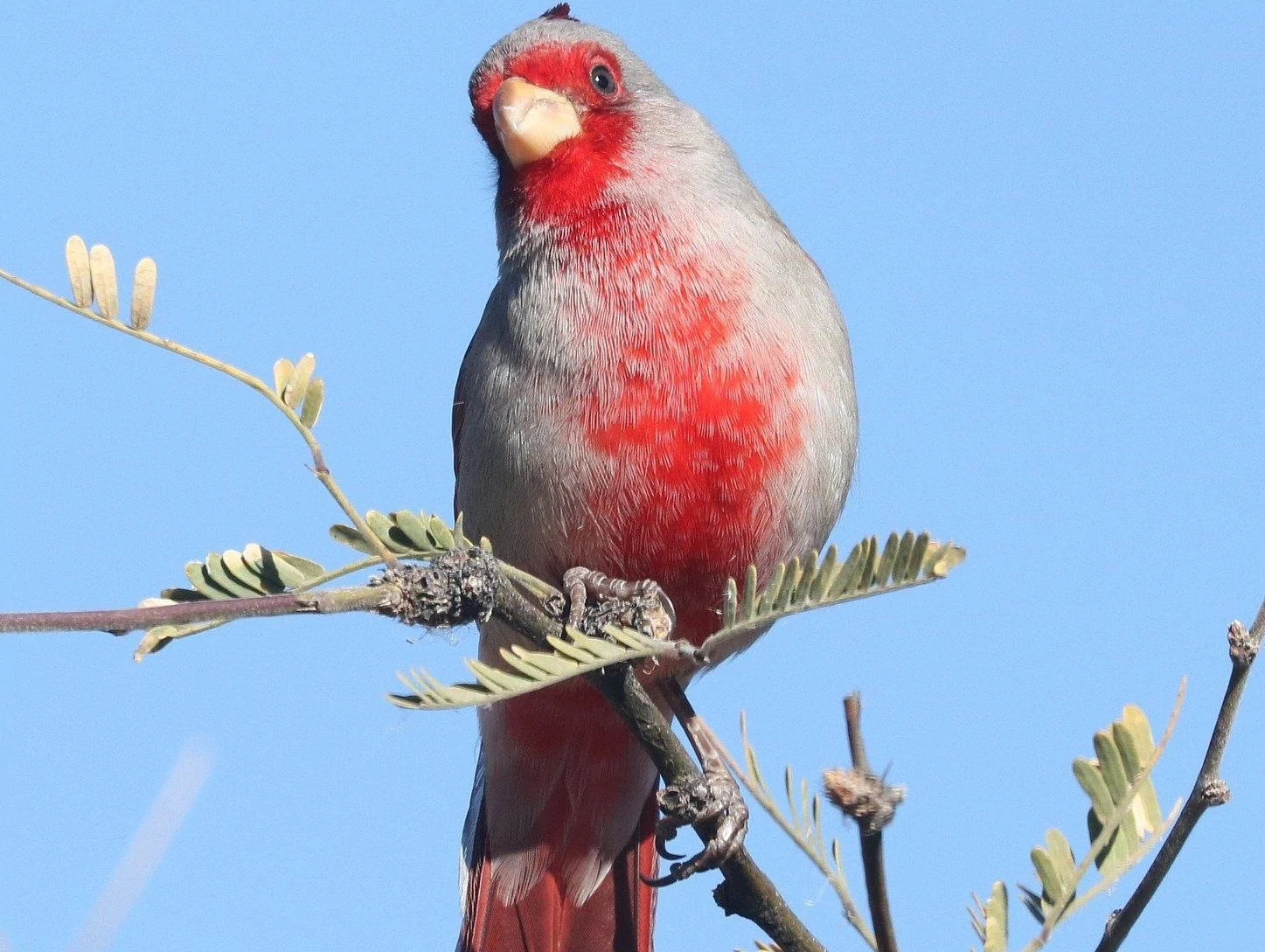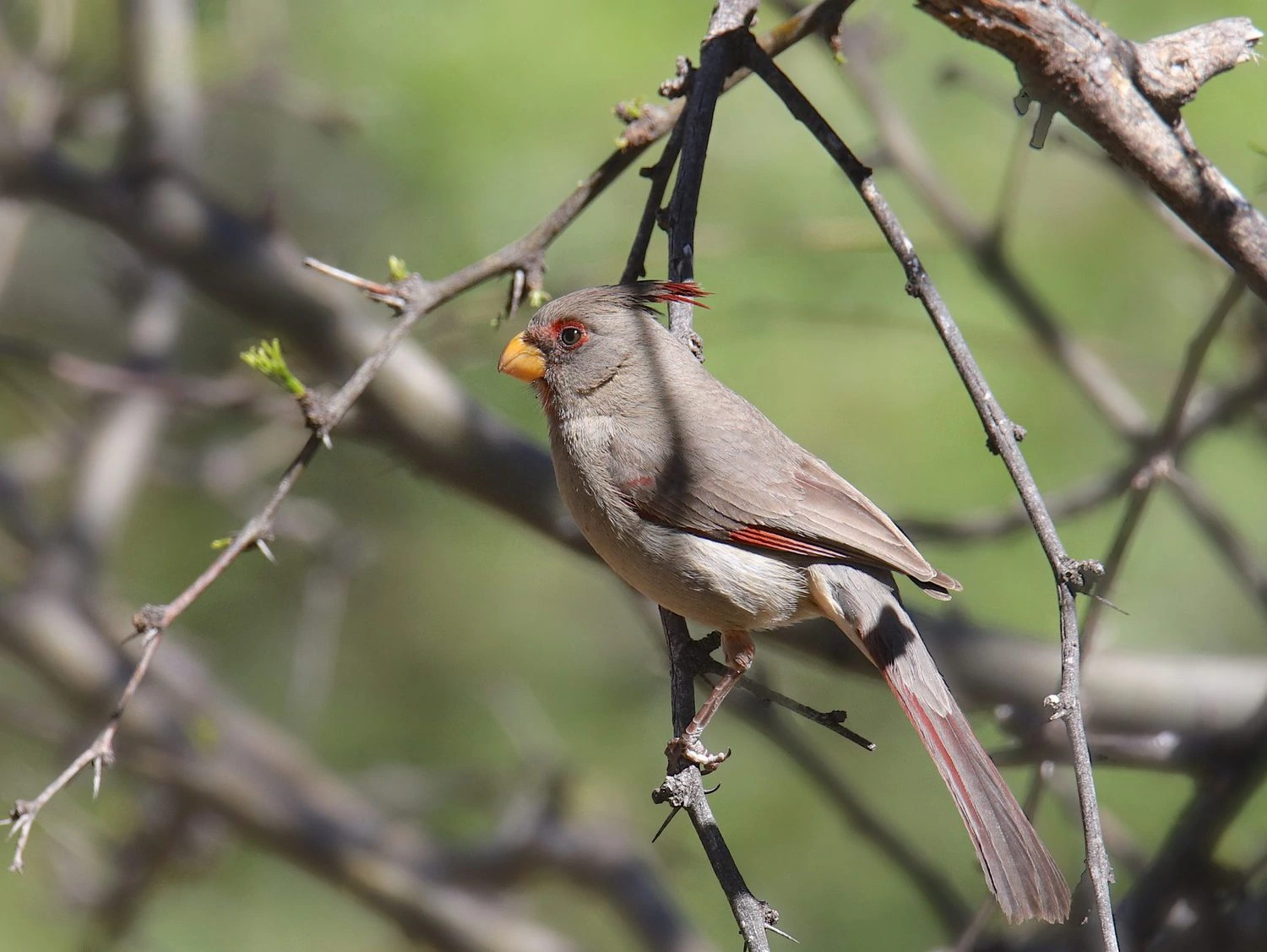 Pyrrhuloxia males are grey with lots of red coloring to the face, crest, breast, and tail. Females are dull gray with less red coloring.
Cardinalis sinuatus
Length: 8.3 in (21 cm)
Weight: 0.8-1.5 oz (24-43 g)
They are residents of the hot deserts in Texas, New Mexico, Arizona, and Mexico.
During the breeding season, they fiercely defend their territory, but in winter, they can be found in flocks of up to 1000.
Pyrrhuloxia feed mostly on seeds but also insects. They can be found at feeders with sunflower seeds but more often prefer them scattered on the ground.
Pyrrhuloxia Song:
Nests of Pyrrhuloxias are built by females from twigs, bark, and grass and line them with softer material, such as hair, plant material, and feathers. The nests are in trees or shrubs at the end of branches. They lay around three eggs, which take two weeks to hatch and around a further twelve days for the young to leave the nest.
Attract Pyrrhuloxias to your backyard with sunflower seeds and native fruiting shrubs.
Fun fact: Pyrrhuloxias rarely drink water, which is good as it is so scarce in their desert habitat. Instead, they get moisture from eating their insect prey.
28. Hooded Oriole
Male Hooded Orioles range from bright yellow to bright orange, with black throats and backs. Females and immatures are more yellow with grayish wings. Females also lack the black face markings that males have.
Icterus cucullatus
Length: 7.1-7.9 in (18-20 cm)
Weight: 0.8 oz (24 g)
Wingspan: 9.1-11.0 in (23-28 cm)
Hooded Orioles breed in the southern US states, making hanging nests on the undersides of palm fronds. They winter in Mexico, and some remain all year on the Gulf Coast of Mexico and Central America.
Some Hooded Orioles have stopped migrating from southern US states because of the ready food supply from nectar feeders and fruit left out by birdwatchers. They live in dry open areas, especially near palm trees.
Hooded Oriole sounds: The males' song is a jumbled mix of whistles and warbles. Females' songs are less complex, and they both have sharp calls.
Nest of Hooded Orioles are high at around 20 feet off the ground and are hanging baskets weaved from grass and plant material.
Attract Hooded Orioles to your backyard with sugar water, jelly, and oranges.
Fun fact: Hooded Oriole males in Texas tend to be orange in color, but those further west are yellow.
29. Canada Jay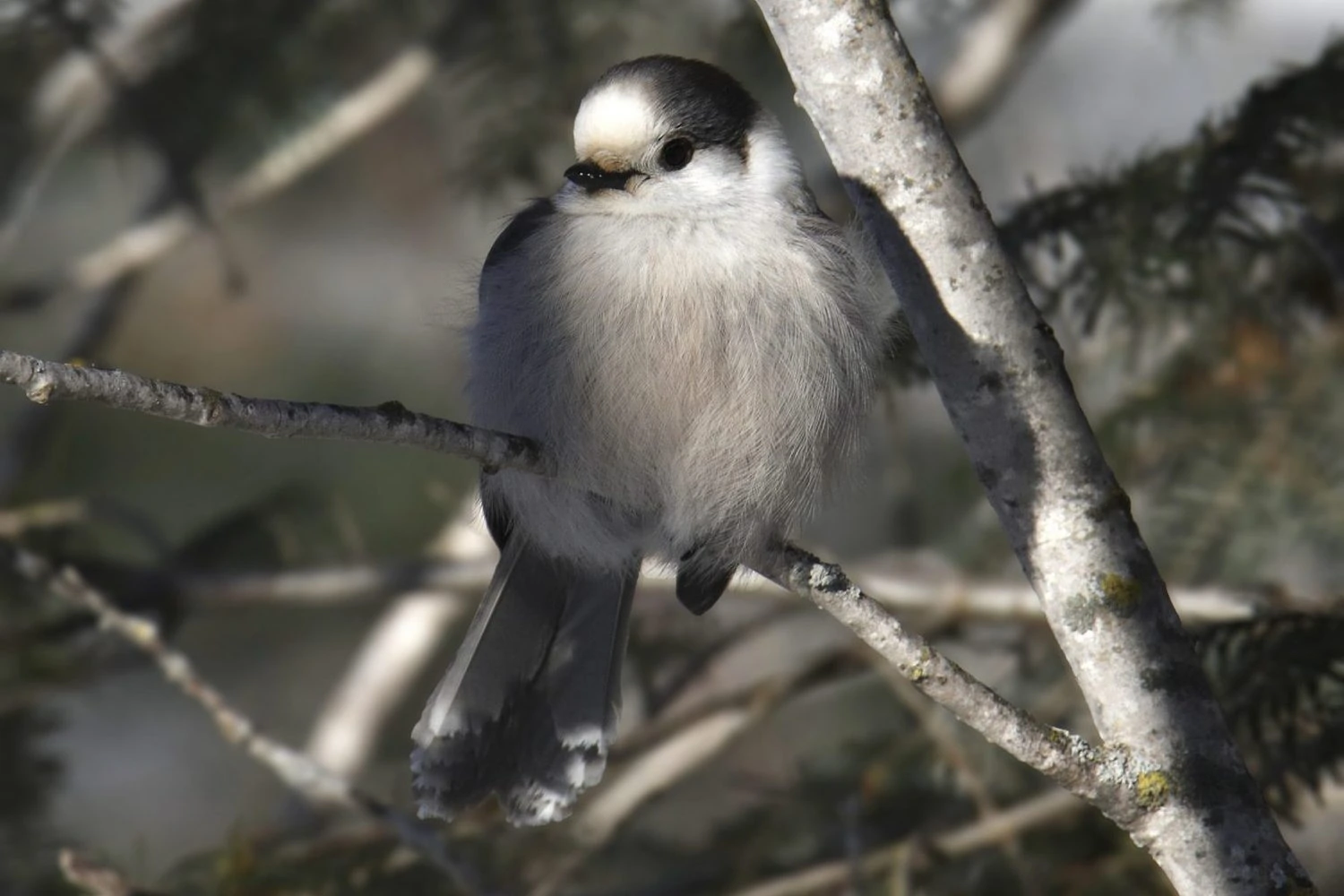 Canada Jays are dark gray on the back and a soft pale gray below. They have white heads and throats, with a black band running around the back of the head.
They are sometimes known as Grey Jays. Females look the same as males, but juveniles are darker gray all over.
Length: 9.8-11.4 in (25-29 cm)
Weight: 2.0-3.0 oz (58-84 g)
Canada Jays are resident in Canada, Alaska, and the high mountains of the northwest US. Some color differences occur with Canada Jays from different areas. With those in the Rockies being paler than those in Canada.
You can find Canada Jays in boreal forests where spruce trees are common. They are not as loud as other Jays and are opportunity feeders, eating a wide variety of food, including insects, berries, and dead animals. They will also come close looking for food dropped by hikers.
Although they look sweet, Canada Jays have a deadly side, and they will kill baby birds for food and even hunt smaller species such as chickadees and warblers.
Canada Jay sounds: They have a gentle whispered song but often make harsher calls and clatters. Canada Jays can also imitate other species.
Nests of Canada Jays are built early in conifers when there is still snow around. The nest is made from dead twigs and is lined with feathers, and built on the south side of the tree for warmth.
Attract Canada Jays to your backyard with most kinds of bird food, such as seeds and suet, and they will readily eat from tube or platform feeders.
Fun fact: Canada Jays produce special saliva, which they use to mold food into a sticky blob, and then they stick it in a hiding place like gum under a desk.
30. Bullock's Oriole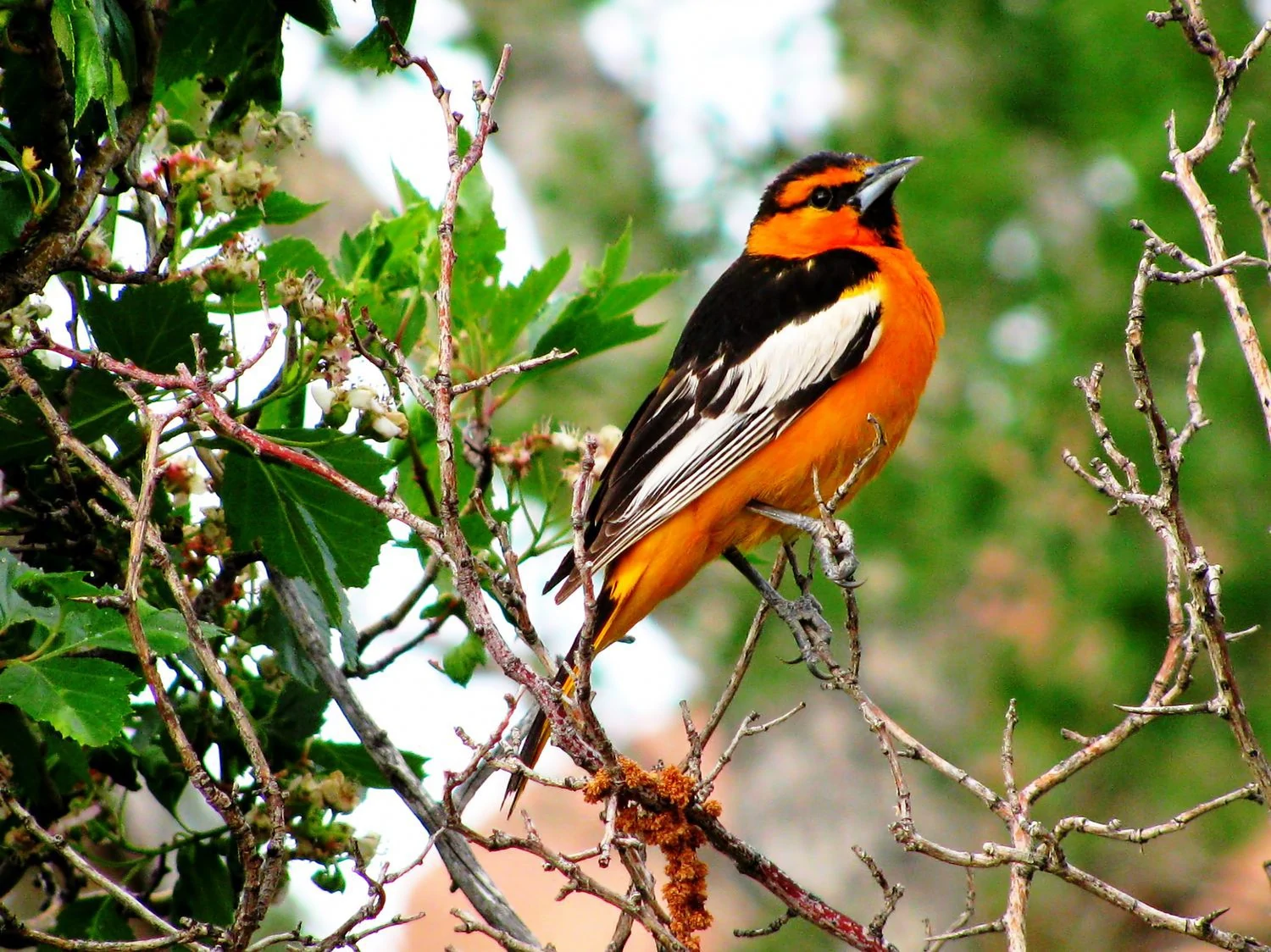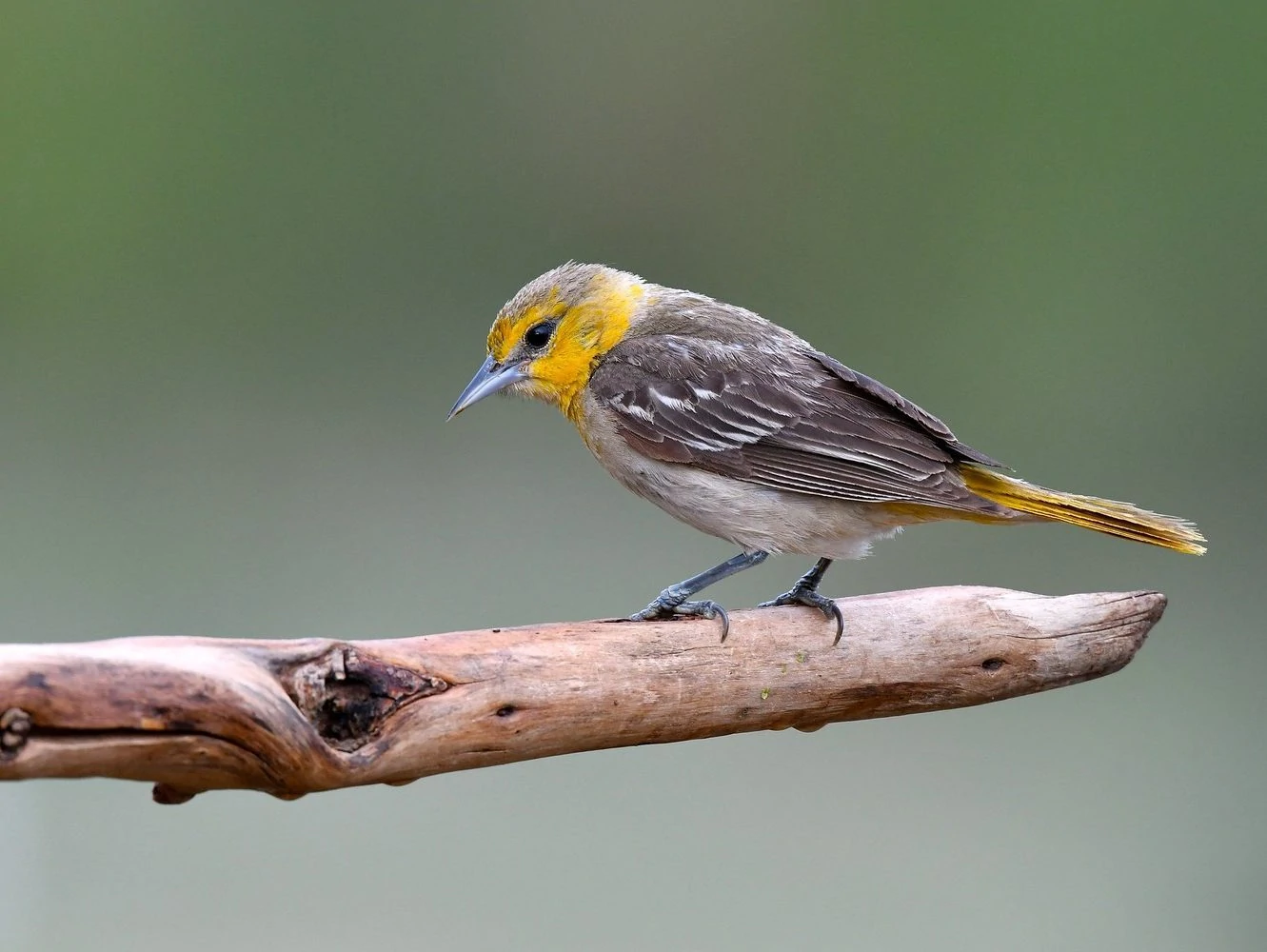 Bullock's Orioles males are bright orange with black and white wings and black markings on their heads.
Females and immature are duller with gray backs and yellow heads, tails, and chests.
Icterus bullockii
Length: 6.7-7.5 in (17-19 cm)
Weight: 1.0-1.5 oz (29-43 g)
Wingspan: 12.2 in (31 cm)
Bullock's Orioles breed in the western half of the US and spend the winter in Mexico.
You can find Bullock's Orioles in open woodlands and parks foraging for insects, fruit, and nectar.
Bullock's Oriole sounds: They make a series of cheeps and whistles that last a few seconds.
Attract Bullock's Orioles to your backyard with sugar water, jelly and fruit.
Fun fact: Their nests are woven from hair, grass, and wool into a gourd shape and take up to 15 days to complete.