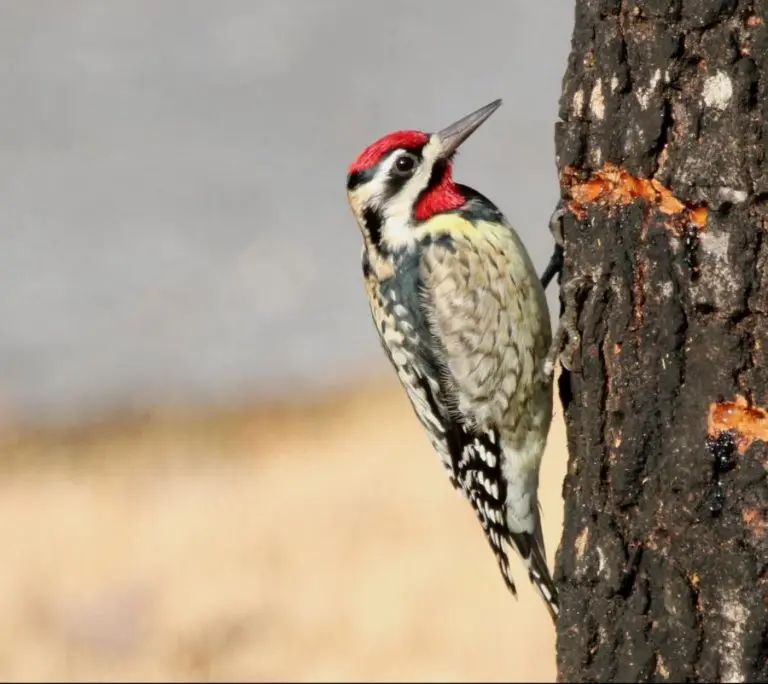 Yellow-bellied Sapsuckers are relatively small and are about the size of a robin. They are mostly black with red foreheads, and the male has a red throat.
Length: 7.1-8.7 in (18-22 cm)
Weight: 1.5-1.9 oz (43-55 g)
Wingspan: 13.4-15.8 in (34-40 cm)
Range
They migrate from Canada and Northeastern US states after breeding in the summer and spend the winter in the Southern US and Mexico.
Habitat And Diet
Yellow-bellied Sapsuckers prefer young deciduous forests often with birch or maple trees where they make neat rows of sapwells to feed.
Yellow-bellied Sapsuckers make holes in trees and use their brush-tipped tongues to get the sap out. They make neat rows of holes in horizontal rows, so look out for these in young paper birch, yellow birch, red or sugar maple, and hickory trees.
Nests
The holes need to be maintained to ensure a flow of sap. They make a loud mewing call, and they nest in tree cavities and usually have 5-6 white eggs.
Attract Yellow-bellied Sapsuckers
Although not usually found at bird feeders, Yellow-bellied Sapsuckers sometimes will come for suet.