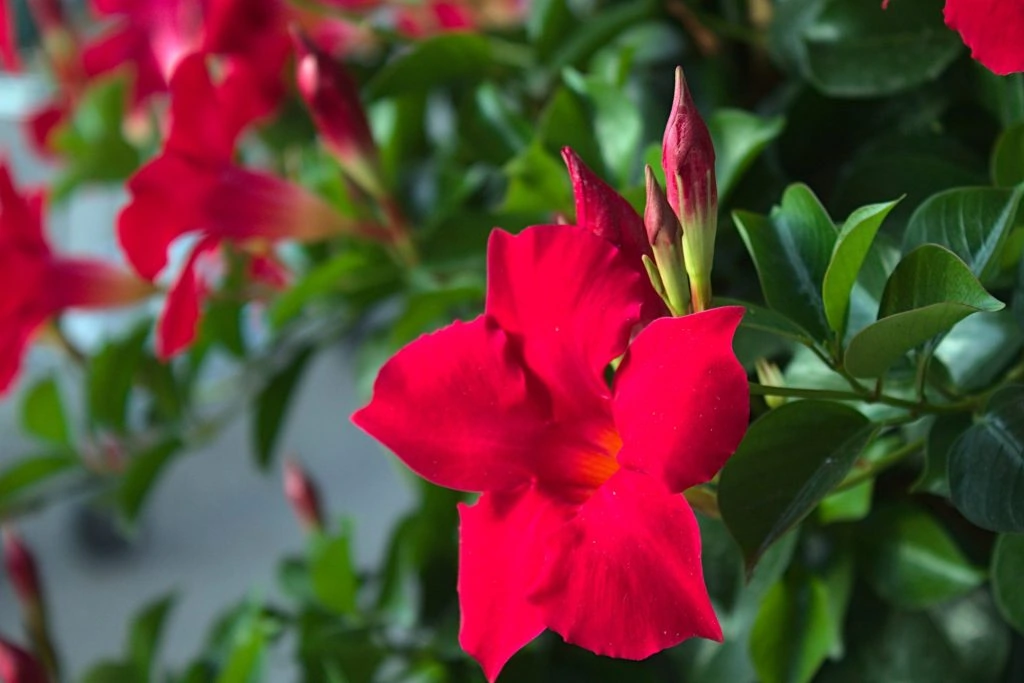 Climbing vines are excellent for providing a beautiful screen and adding height to any yard, and even better if they attract hummingbirds. They usually need support to look their best, and that could be a trellis or fence or other plants, but they may need to be loosely tied to help them hold on.
Vines can create a wall of flowers that brighten up your yard and can create shade and interest over seating areas. Some vines die back in the winter or lose their leaves, but in spring and summer, they are at their best for when hummingbirds are visiting.
These vines that we've listed below offer brilliant-colored flowers that are sure to attract hummingbirds to your yard.
10 Vines To Attract Hummingbirds:
1. Trumpet Honeysuckle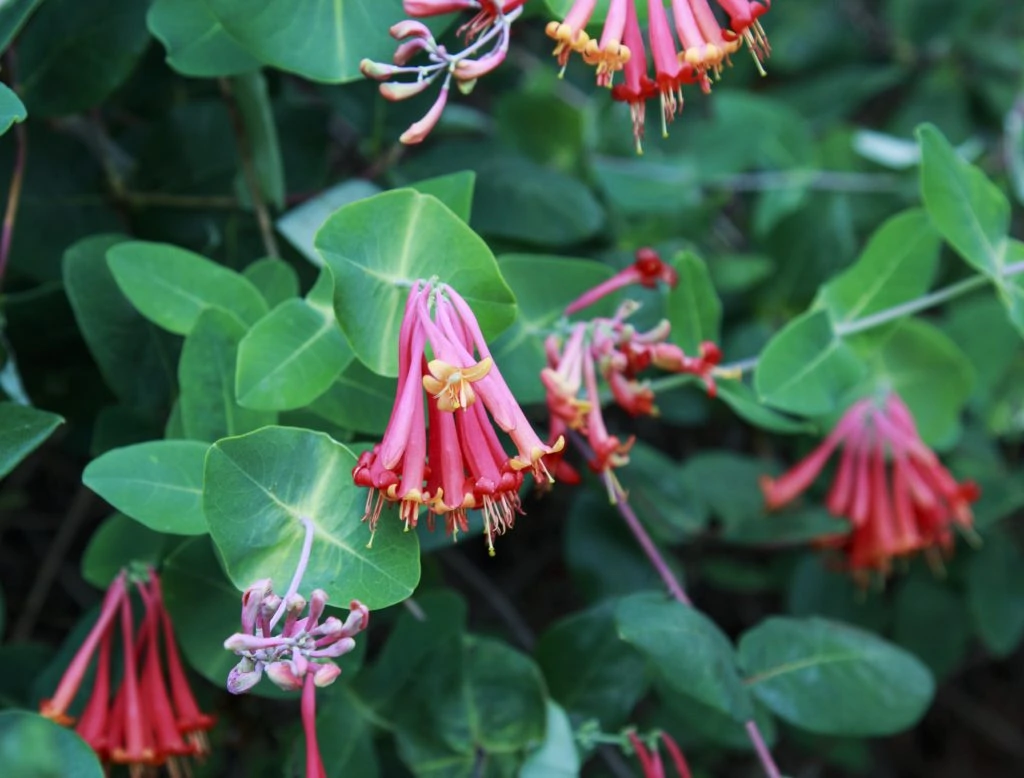 The Trumpet Honeysuckle, Latin name Lonicera sempervirens, is a fast-growing, twining vine from the Caprifoliaceae family, perfect for fences, arbors, or trellises. It may also be left to crawl on the ground, perfect for sprawling on concrete.
This honeysuckle is not invasive as it is a native vine that keeps the hummingbirds happy.
The Trumpet Honeysuckle is a favorite vine for attracting hummingbirds because of its bright orange-red flowers. When these flowers open, they reveal bright yellow stamens. They grow at the end of the stems in clusters of 10-20 flowers, and they flower from spring to fall. They look especially stunning amid the dark green, oblong leaves.
Aside from its long flowering season, the Trumpet Honeysuckle appreciates being in full sunlight to show off its beautiful flowers. It may still grow in partial shade, but the flowers won't be as plentiful as when they're given a full dose of sunlight.
Growing Zones: 4 – 9
Sun: Full sun, partial shade
Soil: Medium moisture, organically-rich, well-drained soil
Colors: orange-red
Height: 8 – 15 feet
Spread:3 – 6 feet
Plant type: Semi-evergreen, Deciduous, Evergreen Vine
2. Hyacinth Bean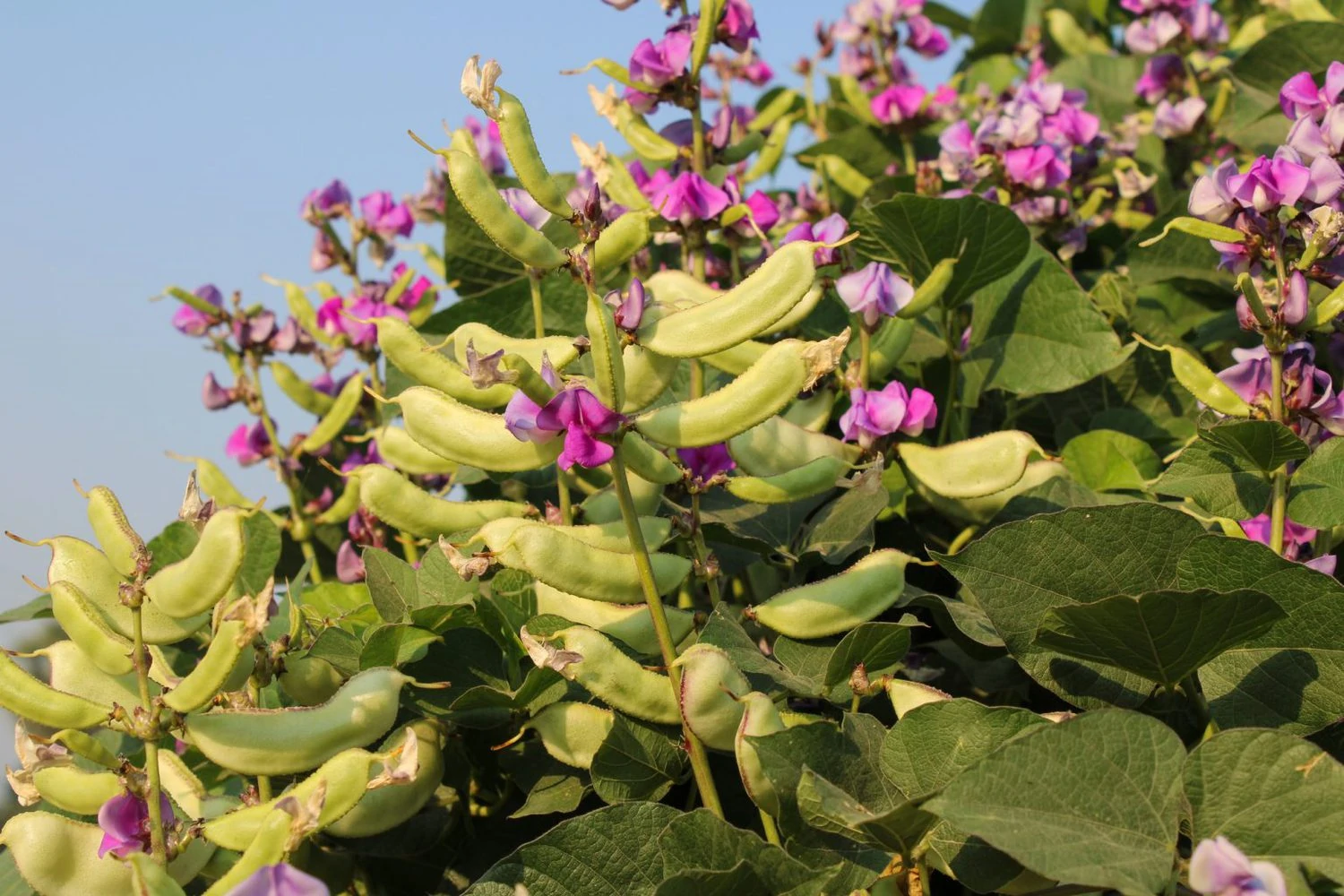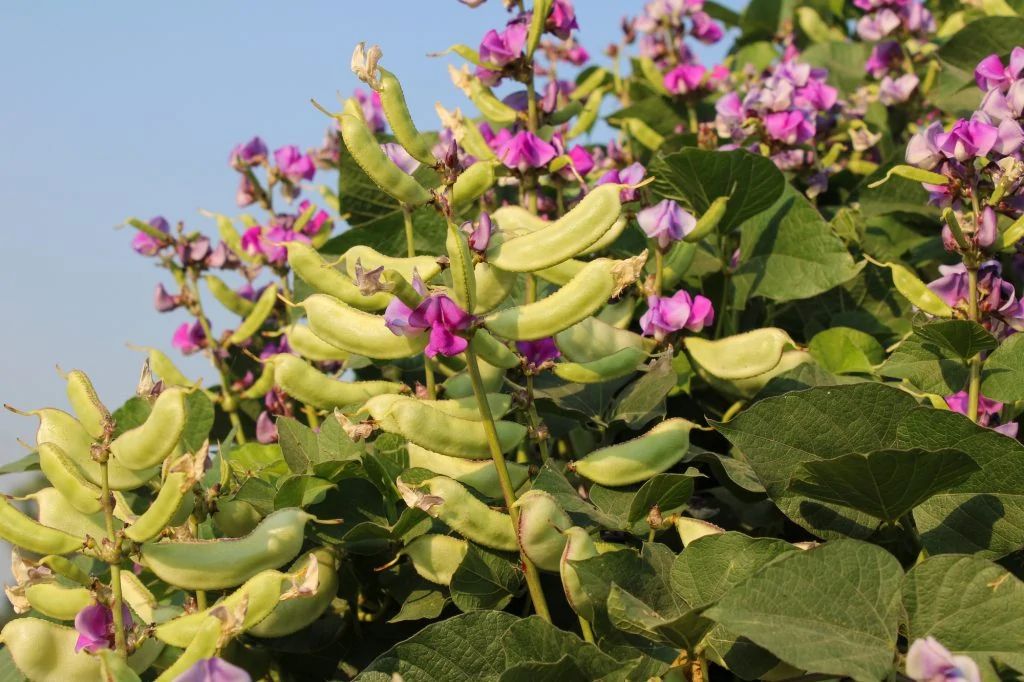 The Hyacinth Bean, or Lablab Purpureus, is a bean vine from the Fabaceae family. It is also known as Indian Bean, Egyptian bean, bataw, and Australian pea because although it is native to Africa, it is cultivated and used for food in Asia.
In the United States, it is commonly used as an ornamental plant because of its pinkish-lavender blossoms and equally captivating purple seed pods. It is also called the Jefferson Bean because Bernard McMahon, Thomas Jefferson's nurseryman, apparently sold it to him in 1804.
To get the best quality flowers from the Hyacinth Bean, it is best to plant them as seeds in the backyard when the climate is warm in the spring. This will yield more flowers and grow more vines. Hyacinth bean vines can grow as tall as 25 feet when securely anchored to trellises and other types of support.
Flowers begin to bloom in summer through fall. They form clusters along the stalks, and they're colored white, pink, lavender, or purple. Once the flowers are gone, the seedpods take over, and they're also as pretty as the flowers. They're purple, elongated, and have 2 -3 seeds per pod, but these are poisonous and not to be ingested.
Hummingbirds love these purple flowers, and it's surprisingly easy to take care of. All you need is to give it a full dose of sunlight, just the right type of support to guide the vine on its path, and to provide regular watering for young plants before they're established.
They can be perennial if the weather is mild, but if not, better treat it as an annual and make sure to keep some of the seeds so you can plant them during the next season.
Growing Zones: 4 – 9
Sun: Full sun (no partial shade)
Soil: Well-draining soil
Colors: white, pink, lavender, purple
Height: 10 – 25 feet
Spread: 3 – 6 feet
Plant Type: Annual or Perennial Vine
3. Figwort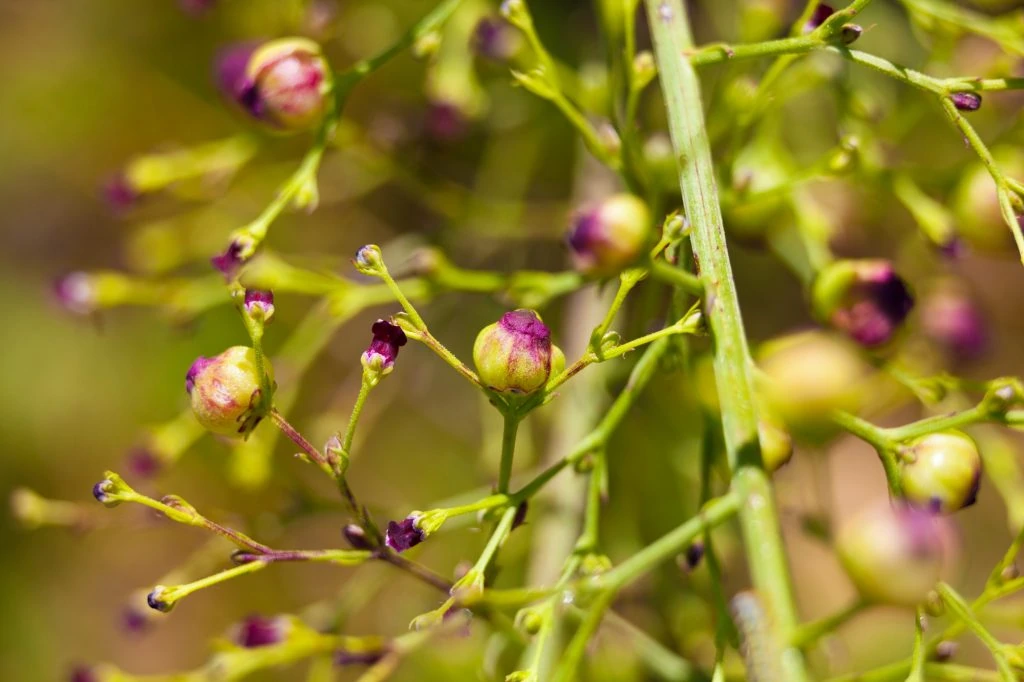 Figwort is the collection of about 200 species of herbaceous flowering plants belonging to the genus Scrophularia. There are 17 figwort species in the United States, and among them, Mimbres Figwort, or Scrophularia macrantha, is pollinated by hummingbirds.
It was originally known as Mimbes Figwort, but nursery growers didn't think it aptly described the beauty of this plant. So, they named it "Red Birds in a Tree", because that's what the flowers resembled. They looked like tiny redbirds on a tree!
Though rare, flower enthusiasts became interested in growing Red Birds in a Tree because they were drought-tolerant, have a long flowering period, and attract hummingbirds.
The red, two-lipped flowers that grow on the ends of the stems bloom from summer into fall. The tubular shape of the flower, plus its vivid red color, is a surefire way to attract hummingbirds. Since they're rare, you may want to visit a nursery that specializes in rare or unusual plants.
Since it's native to high plains, it needs full sun to really thrive. It needs regular watering when it's young, but once it's established, you won't need to water it as much. Just don't overwater it, or the roots will rot.
When they grow, they tend to twine around neighboring plants, so it's best to pair them with tall and strong plants or provide them with something to support them, like a trellis or an arbor.
Growing Zones: 5 – 10
Sun: Full sun or Morning sun and afternoon shade
Soil: Any soil type, except clay, with some compost if the soil is poor
Colors: red
Height: 3 to 4 feet tall
Spread:18 inches wide
Plant type: Perennial Vine
4. Trumpet Vine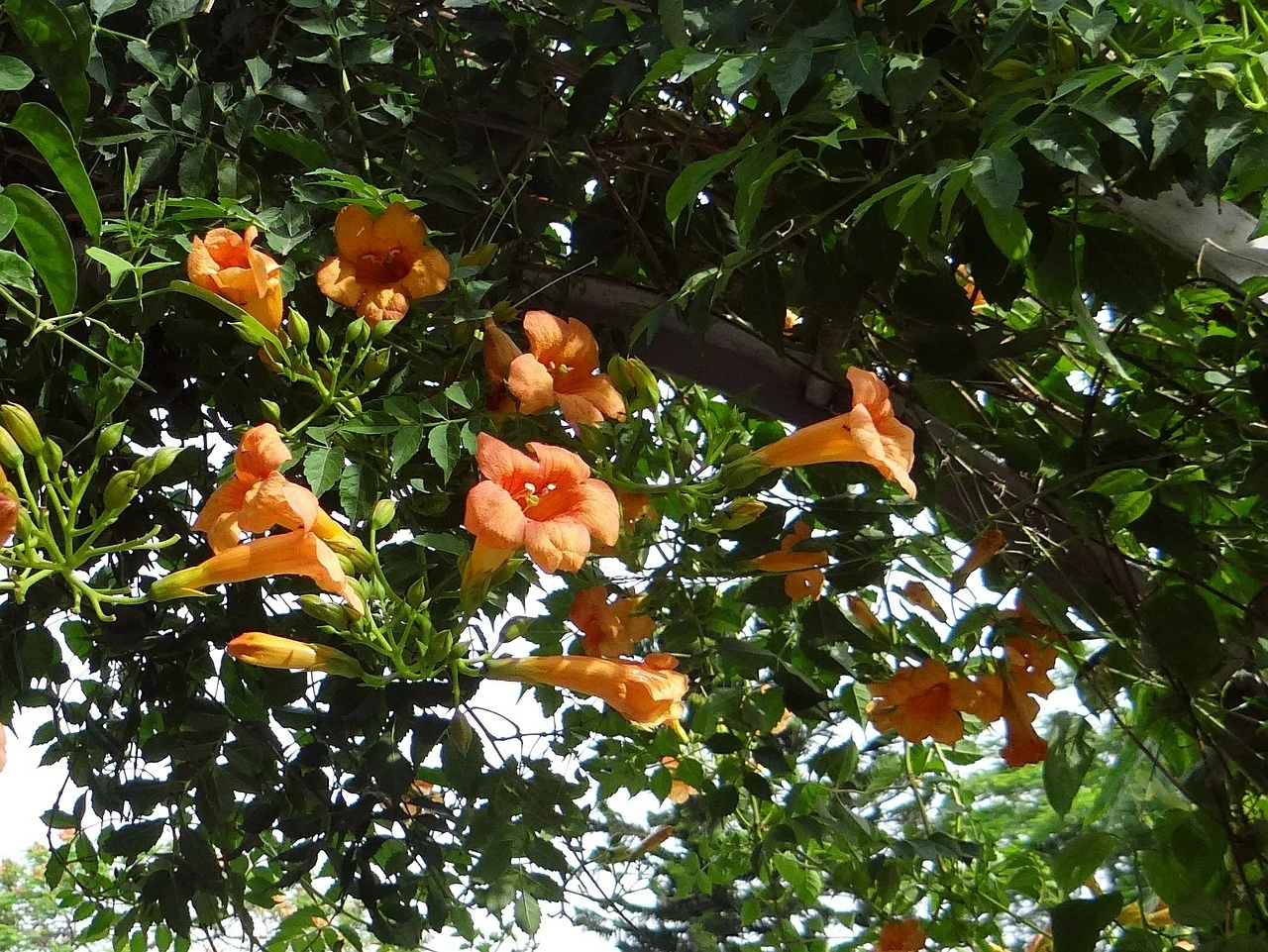 Trumpet vine, Latin name Campsis radicans, is from the family Bignoniaceae and a native of the eastern United States. It is a species of fast-growing and fast-spreading flowering vines, which can become invasive in western states if not controlled effectively through aggressive pruning. Look for hybrids if in western states.
Otherwise known as hummingbird vine, it lives up to its name because the flowers are too attractive for hummingbirds and make them come back repeatedly when they're in bloom.
Some also call it the Trumpet Creeper because they can creep into crevices and shingles. Some find them valuable for covering rock piles and tree stumps. Their woody stems are strong enough to survive winter, but they're also capable of destroying foundations, fences, and trees.
The Trumpet Vine is a plant that requires hardly anything to survive. It will thrive under full sunlight, with profuse flowers, when it gets at least 6 hours of direct light. It can also survive in partial shade but with fewer flowers. Regular watering is not necessary. Just keeping the soil moist is fine.
But regular pruning is necessary for the Trumpet Vine to keep it in check and prevent it from spreading too much. The best time is in late fall when you can cut it to nearly ground level. They will grow back sooner than you think, especially with full sunlight.
Growing Zones: 4 – 9
Sun: Full sun, partial shade
Soil: Average, moist but well-drained
Colors: orange, red, and yellow
Height: 25 – 40 feet long
Spread:5 – 10 feet wide
Plant Type: Deciduous woody vine
5. Canary Creeper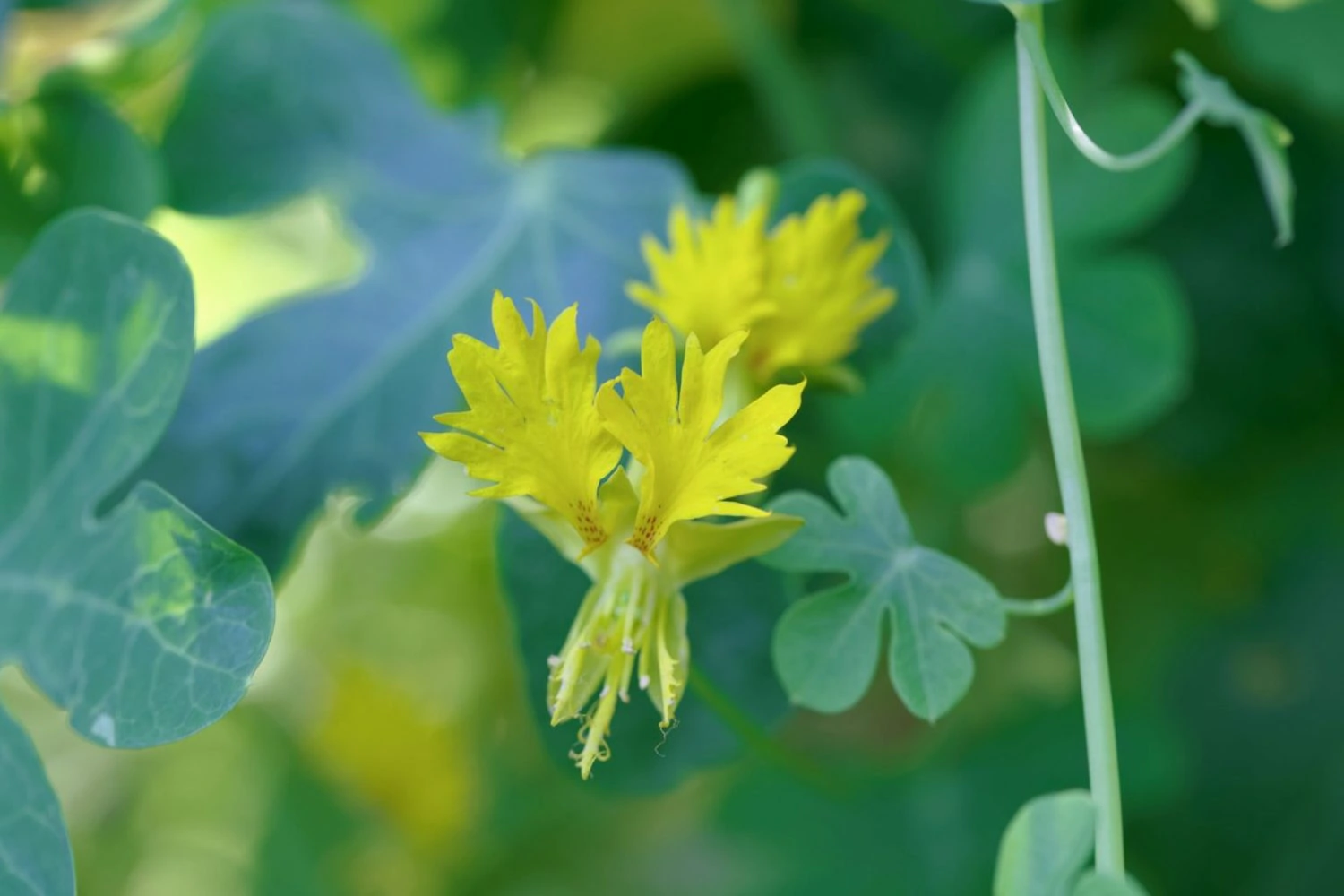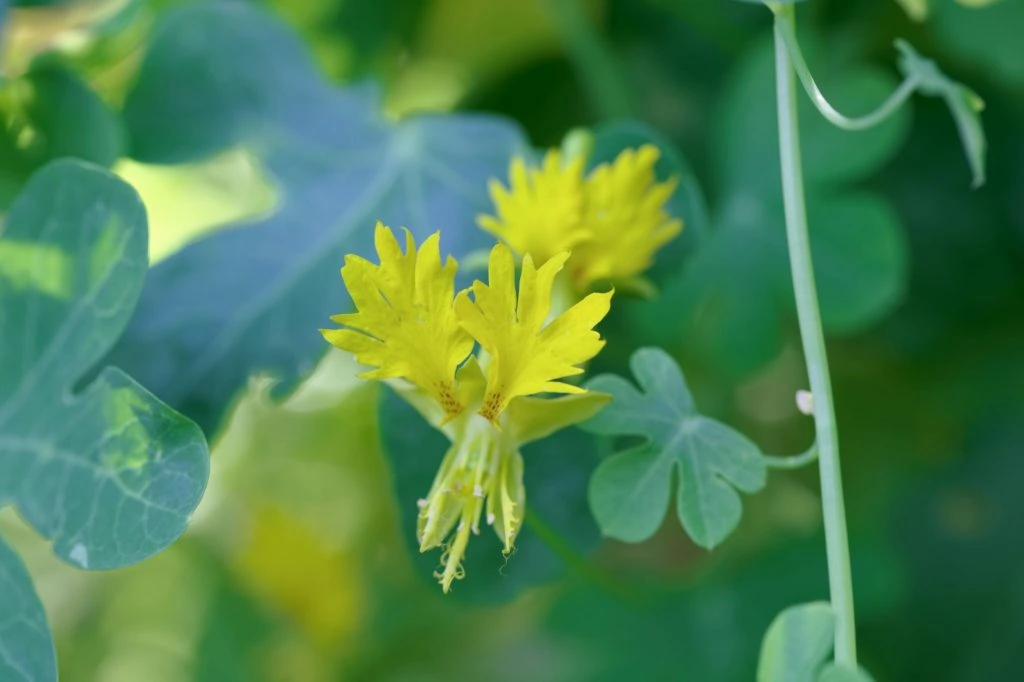 The Canary Creeper, Latin name Tropaeolum peregrinum, is a flowering vine native to Peru and Ecuador from the family of Nasturtiums. Hence it is also referred to as Canary nasturtium. It is grown as an annual ornamental plant because it is frost-tender, particularly in temperate regions.
While its name may indicate that it's a slow-moving or slow-growing plant, it is the exact opposite. When given full sunlight, the Canary Creeper can grow up to 12 feet in length in just a year.
Another interesting thing about the Canary Creeper, which makes it one of the best vines for hummingbirds, is its flowers. They're unique because they have two big, yellow, upper fringed petals that are like canary's wings (hence the name) and three smaller, lower, spurred petals below. The base of the petals has reddish spots. Their leaves are also pretty – small, green, and 5-lobed like fingers on a hand.
These Canary Creeper flowers bloom in mid-summer and last until fall, as long as they're getting their required full sunlight and adequate water. If you provide them with a trellis or arbor, they will easily climb it. They also grow well in hanging baskets. You may also plant them near other plants without the fear of killing them off, as with other climbing vines.
Growing Zones: 10 – 11
Sun: Full sun
Soil: Moist but well-drained
Colors: Yellow
Height: 10 – 12 feet tall
Spread:1 – 2 feet wide
Plant Type: Perennial, Annual Vine
6. Cypress Vine
Cypress Vine, Latin name Ipomoea quamoclit, is a member of the bindweed Convolvulaceae family whose origins include tropical South America. It has since been naturalized in other parts of the world, particularly in tropical areas.
The Cypress Vine is cultivated as an ornamental plant that can be a perennial in the tropics but is grown as an annual vine in wintery regions. It looks like a delicate plant with its dainty flowers and fragile-looking leaves, but it is considered an invasive species in some states because it grows fast and can overcrowd other plants and overwhelm nearby structures. Ensure you cut back the plant every year and stop the plant from seeding.
Despite that, it is still one of the best vines for attracting hummingbirds. The Cypress Vine is also called the "Star of Bethlehem" because its flowers are shaped like a star and are also referred to as "hummingbird vine" because their bright red, trumpet-like, nectar-rich flowers are a magnet for hummingbirds.
The red flowers shine beautifully against the Cypress Vine's thin, thread-like leaves. They grow and spread by twining themselves around structures like arbors, pergolas, chain-link fences, and deck posts that face the sun.
You have to be mindful when growing Cypress Vines because they may overtake other plants when you're not looking. Instead of moving up, they may grow out, particularly if they latch on to nearby plants.
The trick is to prune them or direct them where you want them to go by carefully wrapping the stems around the support. They do, however, break easily if they lose their support structure.
Another danger to look out for is that all parts of this plant, especially the seeds, are poisonous if eaten by people and pets.
Growing Zones: 6 – 9, 10 – 11
Sun: Full sun
Soil: Fertile, well-drained, and kept evenly moist
Colors: white, pink, red
Height: 3 – 20 feet tall
Spread: climbs to 20 feet
Plant type: Perennial vine in tropics, Annual vine in temperate regions
7. Bougainvillea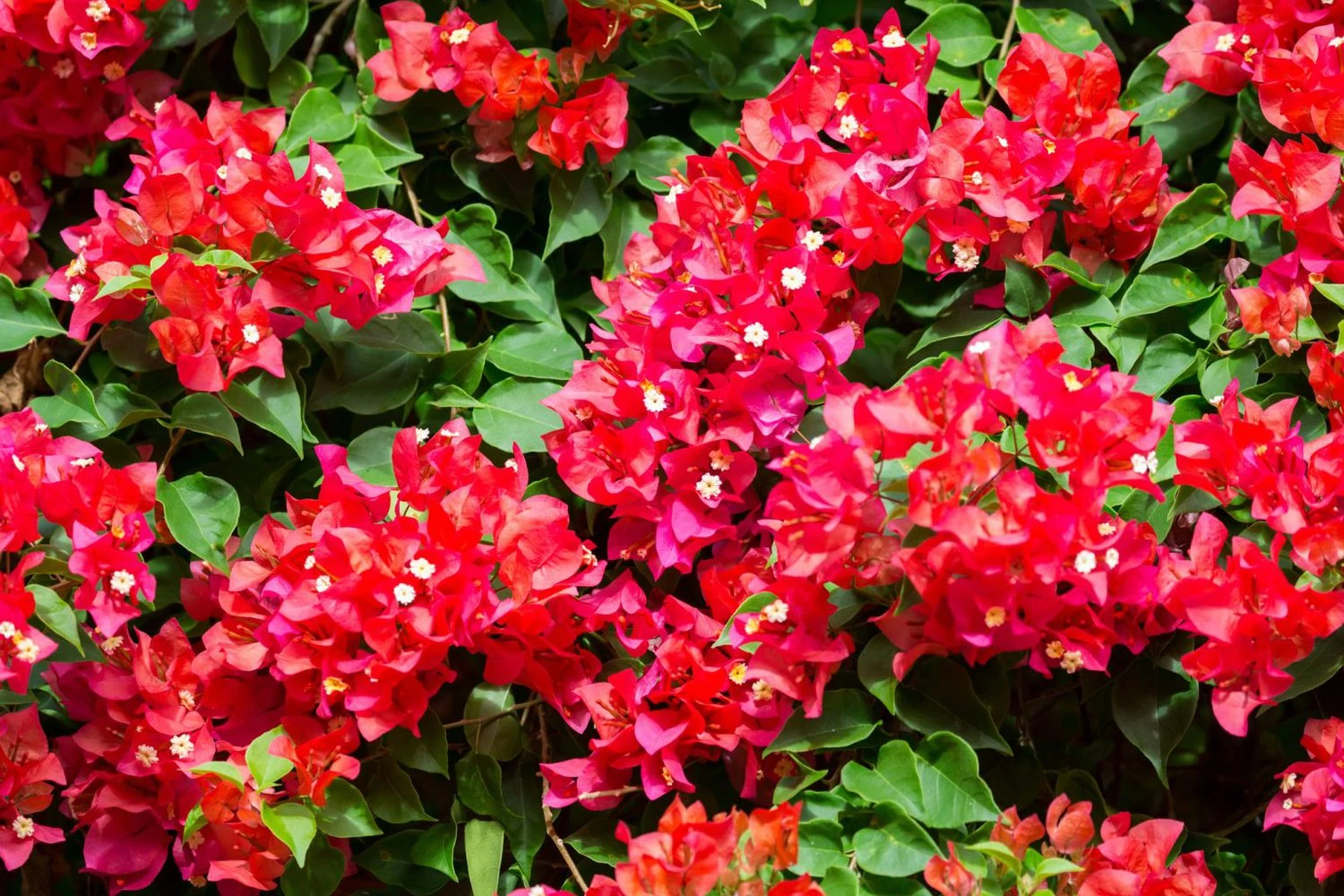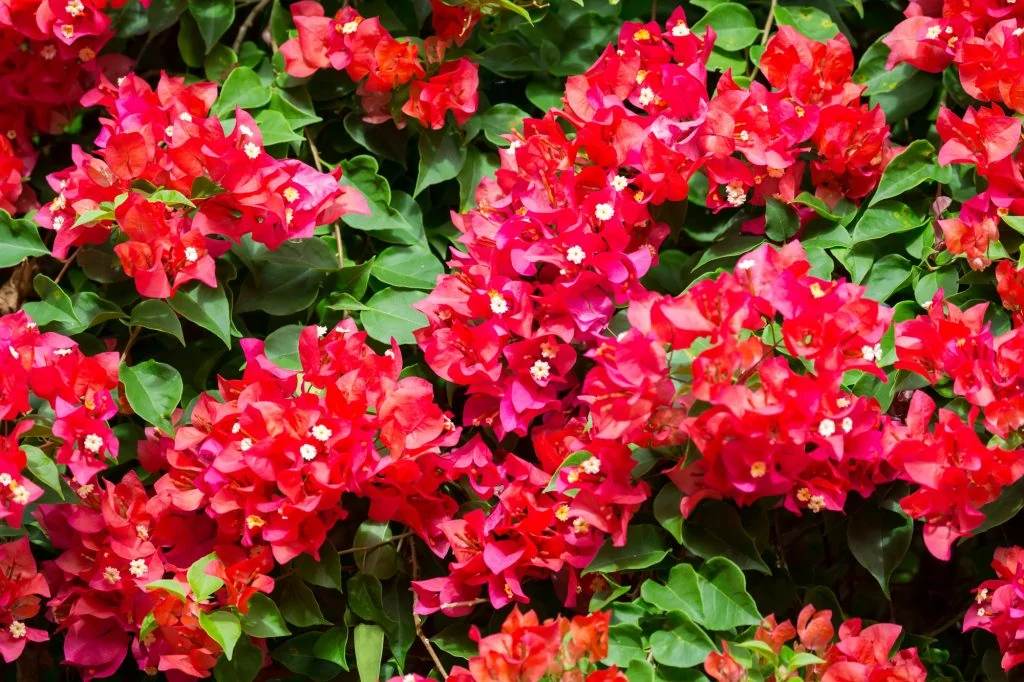 Bougainvillea is a genus of thorny, woody, ornamental vines that belong to the family Nyctaginaceae or the 4 o'clock family. They're called the 4 o'clock family because they have a typical habit of their flowers opening at 4'oclock in the afternoon and closing them by morning.
Bougainvillea flowers are unique because what you see as "flowers" aren't, in fact, the flowers themselves. The large, showy, colorful, paper-thin "flowers" are actually leaves or bracts. The flowers are the tiny, white ones in the middle of these leaves. The bracts act as protectors for the tiny flowers and help in attracting hummingbirds and other pollinators to the plant.
Hummingbirds truly appreciate bougainvillea flowers because they repeatedly bloom year-round, especially in zones 9-11. However, you need to bring them inside during winter because their roots may freeze if left outside. That's why it's better to grow them in containers when you live in regions with colder temperatures so you can quickly bring them inside.
Thorny bougainvillea flowers may be trained to cover fences and as security hedges. You may also let them crawl along the walls of houses, but caution must be taken when you have kids or pets that may accidentally graze themselves on the thorns.
Growing Zones: 9 – 11
Sun: Full sun
Soil: loamy, well-draining soil
Colors: yellow, orange, crimson, purple bracts, white flowers
Height: up to 40 feet tall
Spread: up to 40 feet wide
Plant Type: Deciduous or Evergreen Vine
8. Clematis
Clematis belongs to a large group of about 300 species of flowering vines under the buttercup family, Ranunculaceae. Originally from Japan and China, Clematis are among the most popular ornamental plants because they come in a variety of colors, there are many varieties suitable for your type of climate, and they never fail to attract hummingbirds and other pollinators to your backyard.
If you're thinking of filling your trellis, arbor, or fence with beautiful and colorful flowers, then Clematis are your best vine choice. They are mostly star-shaped flowers that come in large and small sizes. They have a wide range of colors – white, yellow, pink, blue, purple, and some are dual-colored, that bloom in spring or late summer, depending on the variety.
Aside from color, Clematis also feature different flower types. There are flowers in loose clusters, bell-shaped flowers, and flat or open flowers. The large flowers are about 6-10 inches across and, with their color, are bound to attract hummingbirds and butterflies alike. Smaller varieties often have fragrances.
Clematis generally thrive under full sun, at the latest 6 hours of direct sunlight. What makes them different is that while they need that much sunlight, their soil needs to be constantly moist and must never dry up if you want gorgeous and plentiful flowers.
Depending on how tall you want your clematis to grow, pick a suitable support system for it. Larger Clematis will be more suited for arbors, while smaller varieties can be grown on poles, fences, and trellises.
Give them space for their sunlight and shade for their roots. When they're in flower, you'll have a feast for your eyes, not just with the flowers but with all the hummingbirds that will visit your garden.
Growing Zones: 4 – 8
Sun: Full sun
Soil: Moist, well-drained soil
Colors: white, yellow, pink, blue, purple
Height: 2 – 5 feet, 8 – 12 feet, 20 – 30 feet
Spread:2 – 6 feet wide
Plant type: Woody deciduous, herbaceous, and evergreen vines
9. Mandevilla
Mandevilla is a group of tropical and subtropical flowering vines from the family Apocynaceae. Mandevilla is also referred to as rocktrumpet, dogbane or dipladenia, and these plants are native to South America, southwestern United States, and Mexico.
There are many species of Mandevilla, and most of them are climbers with large, showy, fragrant flowers that bloom between late spring to late summer, even up to fall if the weather is mild.
They may have white, pink, red flowers that look great against fences, trellises, and arbors. The tube-shaped structure of the flowers, plus their bright colors, make them attractive to hummingbirds and other pollinators.
Mandevillas can be grown in pots on the ground or in hanging gardens. They may also be planted directly onto soil with a support structure for them to climb and twine around. They prefer full sunlight, moist soil unless the climate has turned colder, where you have to water them less to keep their roots from rotting.
Another thing to do with Mandevilla to keep them growing and flowering is to re-pot them every year. A good change of soil and pot to accommodate for new growth is essential to keeping Mandevilla healthy. Just be mindful during the process, as Mandevilla is considered toxic. Their milky sap can irritate the skin upon contact, and while they're not totally poisonous, pets may have a reaction when they ingest any part of the plant.
Growing Zones: 9 – 11
Sun: Full Sun, partial shade
Soil: Moist but well-drained
Colors: white, pink, red
Height: 3 – 10 feet tall
Spread: 3 – 4 feet wide
Plant type: Perennial vine, an annual vine in colder climates
10. Passionflower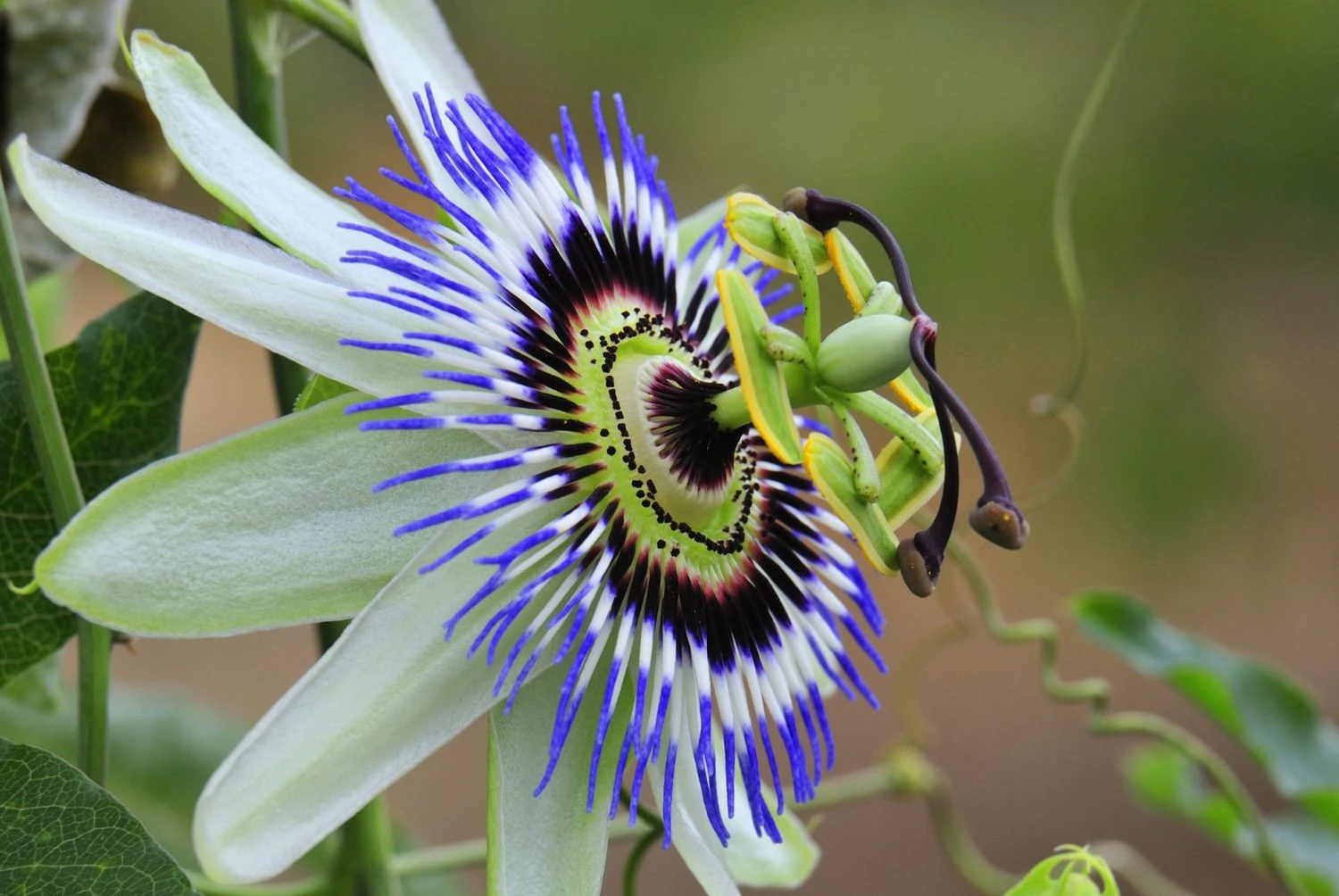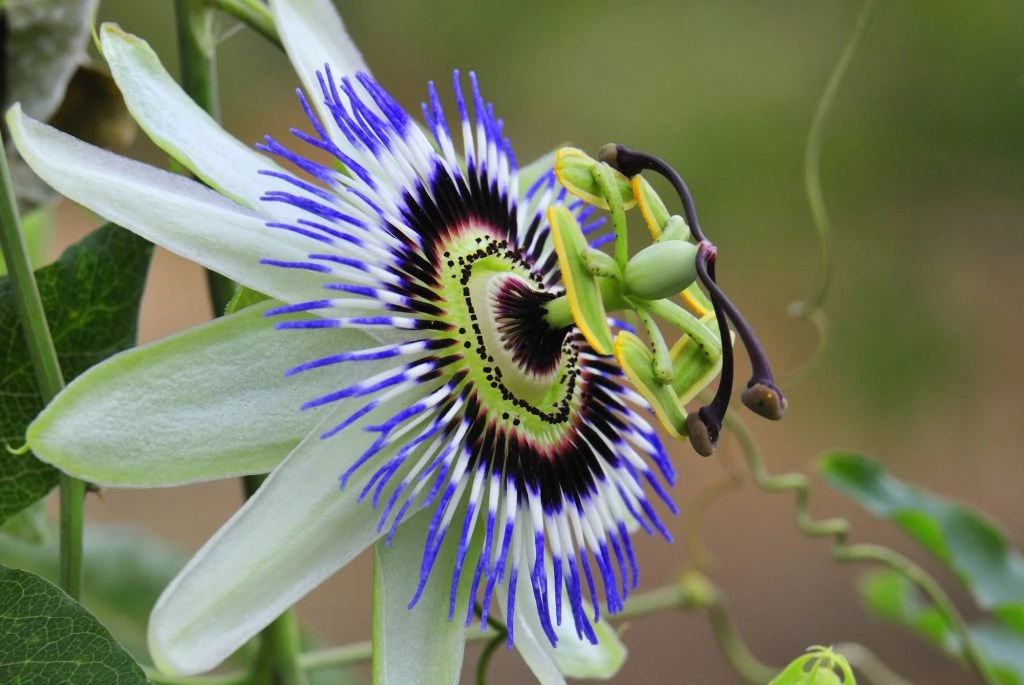 Passionflowers, or passion vines as they're sometimes called, belong to the Passiflora genus with about 550 species of flowering plants. They're characterized by having tendril vines and an exotic-looking floral structure that attracts pollinators like bees and hummingbirds. In fact, the Sword-billed Hummingbird evolved with the Passiflora mixta in order to extract nectar from its long corollas.
Passionflowers are unforgettable because they look exotic and alien. They are even named Passion flowers because their strange structure supposedly symbolizes the Passion of Christ.
Passionflowers are truly unusual creations that will look astounding in a pot or on trellises, walls, and fences. They have a variety of colors (white, pink, red, purple, blue) that thrive under full sunlight or at least 4 hours of it. Moist, well-drained organic soil also helps them grow fast and tall.
When a hummingbird successfully pollinates the flower the fruit will start growing. The fruits are round or elongated and depending on the variety of the Passionflower, they are edible. One passionflower, Passiflora incarnata, is commonly known as "Maypop" because it's the sound of the fruit popping when crushed.
Growing Zones: 5 – 9
Sun: Full sun (at least 4 hours)
Soil: well-drained, organic soil
Colors: white, pink, red, purple, blue
Height: 6 – 30 feet tall
Spread:3 – 6 feet wide
Plant type: Perennial vine