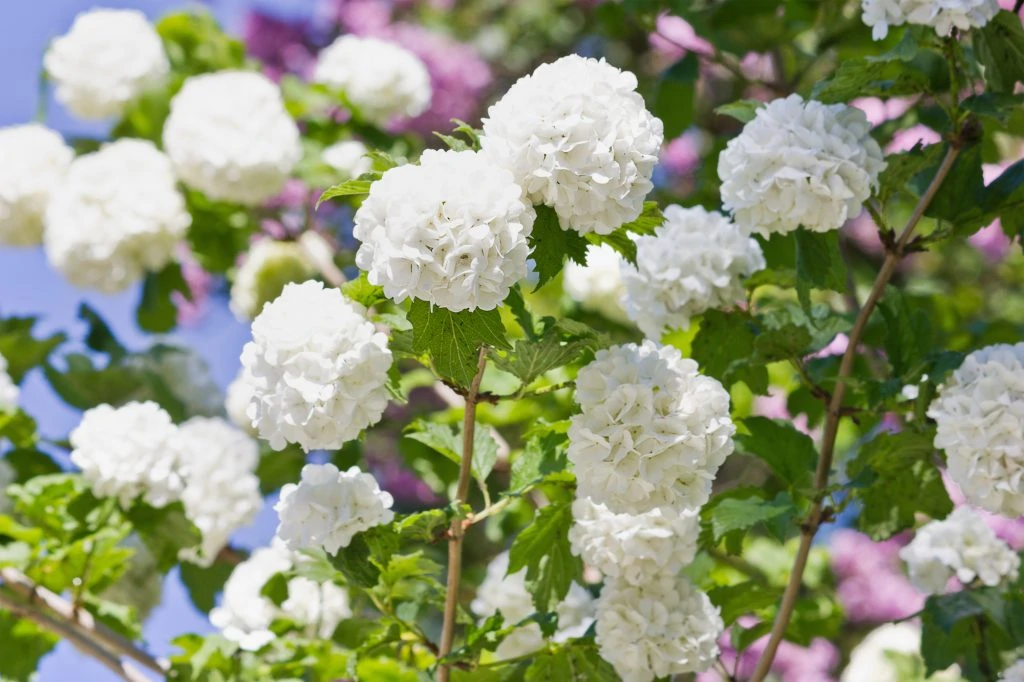 Roses do not produce nectar that hummingbirds need, so they are not attracted to them. Although they might come in bright red colors and smell great, hummingbirds soon realize they do not have any nectar and move on to better-suited flowers.
However, don't despair, as there are many fantastic showy alternatives to try that will attract hummingbirds to your yard.
Roses only produce pollen, which will attract bees but not hummingbirds and a good tip is flowers that have a strong sweet fragrance actually have no nectar.
So pick one of these showy blooms instead of roses to get the hummingbirds visiting your yard.
9 Showy Flowers To Attract Hummingbirds Instead Of Roses:
1. Bougainvillea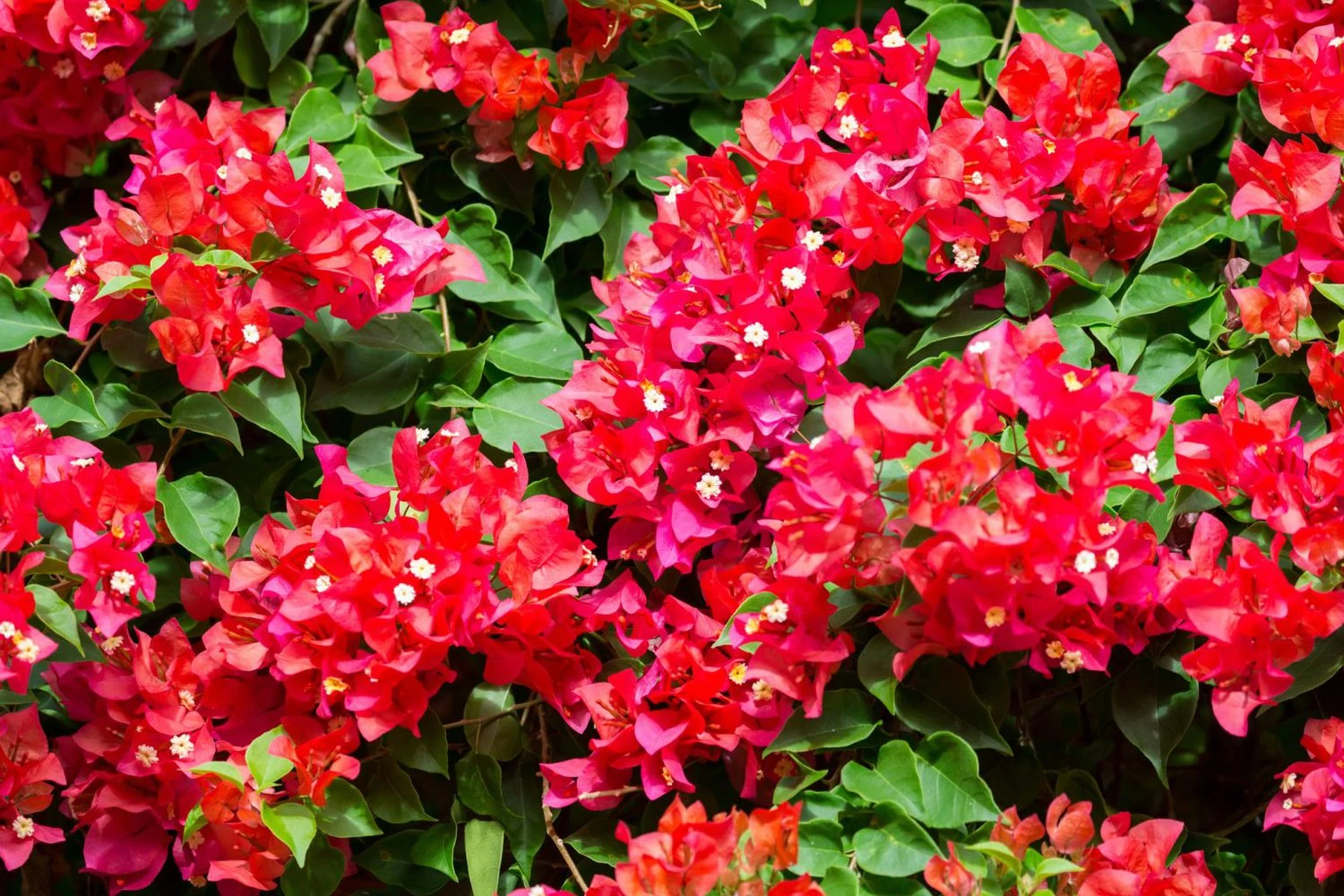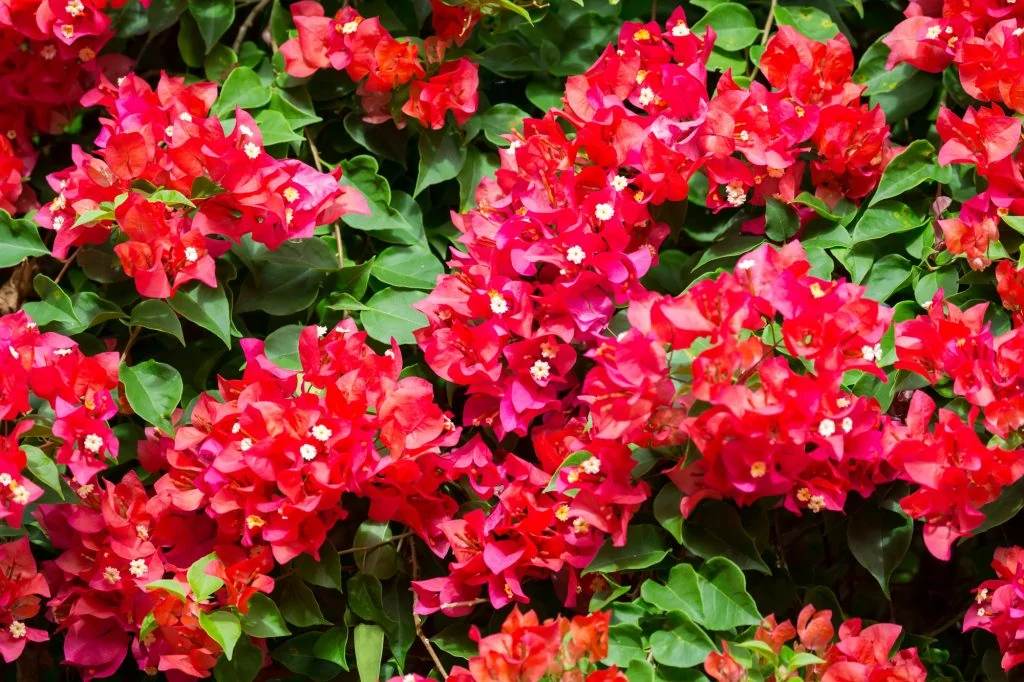 Bougainvillea is a genus of thorny, woody, ornamental vines that belong to the family Nyctaginaceae or the 4 o'clock family. They're called the 4 o'clock family because they have a typical habit of their flowers opening at 4'oclock in the afternoon and closing them by morning.
Bougainvillea flowers are unique because what you see as "flowers" aren't, in fact, the flowers themselves. The large, showy, colorful, paper-thin "flowers" are actually leaves or bracts. The flowers are the tiny, white ones in the middle of these leaves. The bracts act as protectors for the tiny flowers and help in attracting hummingbirds and other pollinators to the plant.
Hummingbirds truly appreciate bougainvillea flowers because they repeatedly bloom year-round, especially in zones 9-11. However, you need to bring them inside during winter because their roots may freeze if left outside. That's why it's better to grow them in containers when you live in regions with colder temperatures so you can quickly bring them inside.
Thorny bougainvillea flowers may be trained to cover fences and as security hedges. You may also let them crawl along the walls of houses, but caution must be taken when you have kids or pets that may accidentally graze themselves on the thorns.
Common Name: Bougainvillea, paper flower
Scientific Name: Bougainvillea glabra
Growing Zones: 9 – 11
Sun: Full sun
Soil: loamy, well-draining soil
Colors: yellow, orange, crimson, purple bracts, white flowers
Height: up to 40 feet tall
Spread: up to 40 feet wide
Plant Type: Perennial, Deciduous, or Evergreen Vine
2. Rhododendron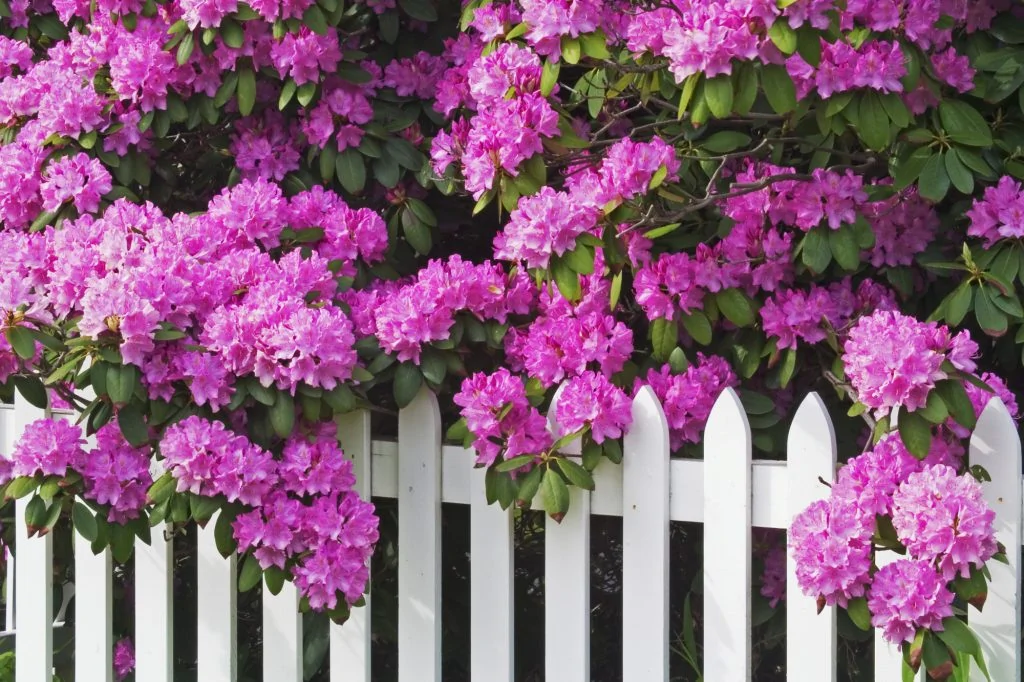 Rhododendrons are a large group of woody plants belonging to the heather family, Ericaceae. There are about 1,000 species of rhododendrons ranging from tiny shrubs to large trees. These evergreen shrubs are often used in ornamental landscaping because most hardy plants lose their leaves or die from the frost. They also have bright and colorful flowers.
It is easy to differentiate rhododendrons from azaleas, their most similar species. Most rhododendrons have bell-shaped, colorful flowers with ten stamens, while azaleas have one funnel-shaped flower with five stamens per stem. Rhododendrons have many flowers per stem, azaleas only have one, but since there are many stems to a shrub, this difference is hard to see.
With many varieties of rhododendrons, it is possible to plant and cultivate them all year long, especially if you have mild climates. However, early spring planting is your best choice when you live in an area with cold temperatures.
When you have hotter weather, early fall is the right time. Rhododendrons thrive better in environments that are not too hot and not too cold. You have to give them time to acclimate to the temperatures when you plant them.
Soil preparation for rhododendrons is important. You have to keep soil acidity between a pH of 4.5 – 5.5. Do a soil test to make sure. If the pH is too high, apply a small amount of agricultural sulfur or iron sulfate. However, if the pH is too low, apply ground limestone.
Allow rhododendrons to receive 6 hours of full sunlight when you live in colder climates (Zones 4-6) but give them ample shade when you live in hotter regions (Zones 7-11). Make sure they have well-irrigated soil and avoid getting the roots soaked in water.
Hummingbirds are attracted to rhododendrons because they have a variety of colors like pink, purple, red, white, and yellow.
Common Name: Rhododendron
Scientific Name: Rhododendron
Growing Zones: 4 – 11
Sun: Partial shade
Soil: Well-drained, Acidic
Colors: Pink, Purple, Red, White, and Yellow
Height: 18 inches to 50 feet
Spread: 2 – 3 feet
Plant Type: Perennial
3. Hibiscus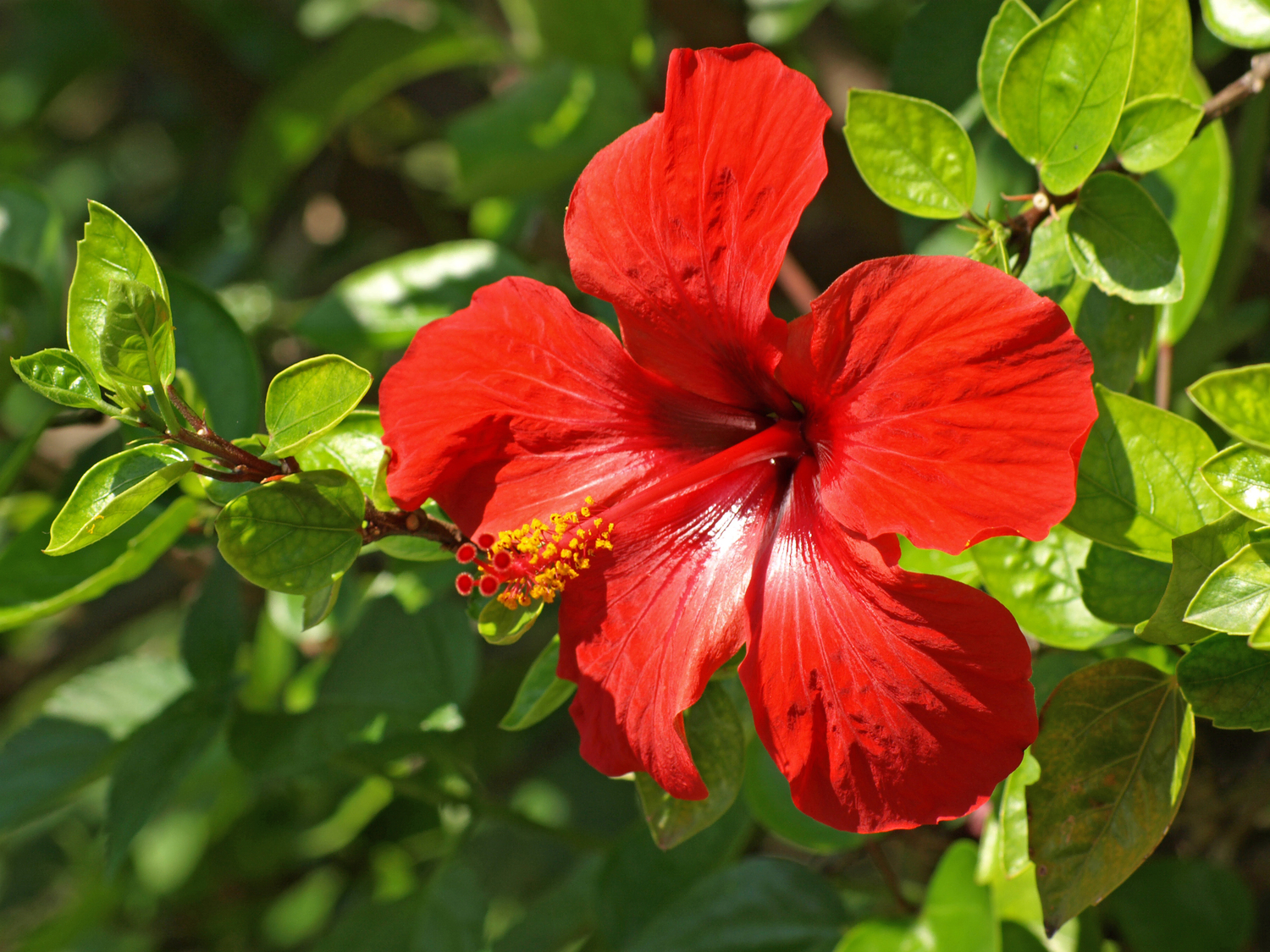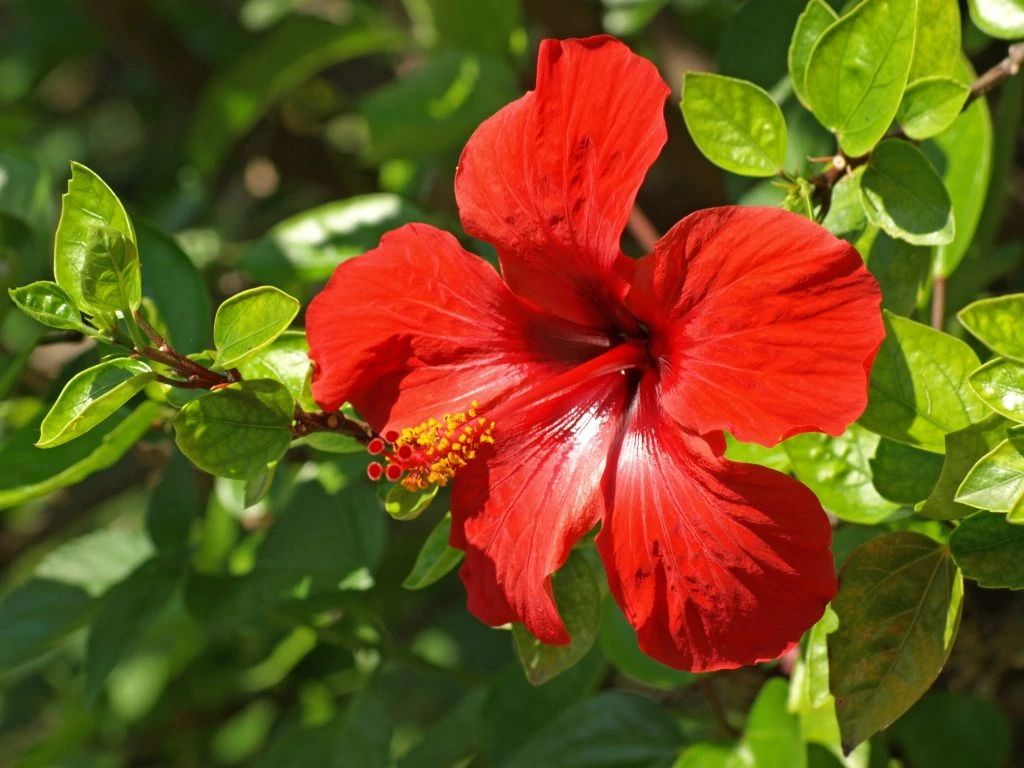 Hibiscus plants are from the mallow family, Malvaceae, and there are hundreds of varieties, including perennials and evergreens. Some perennials, like the Hibiscus coccineus, can grow in Zones 6 to 9, while some evergreens, like the Hibiscus rosa-sinensis, can grow year-round in Zones 9 and 10.
Hibiscus plants are characterized by large, trumpet-like flowers that may be colored red, yellow, pink, orange, and white. They may have five or more petals, and some single-bloom varieties flower for only one to three days. However, some tropical hibiscus species can repeatedly flower during their season.
Most Hibiscus plants start to flower from mid to late spring or mid to late summer, depending on the region. Some have also been known to flower until fall, but that may only be possible if the climate is mild.
If you want your hibiscus plants to flower, make sure they receive up to 6 hours of full sunlight daily. Watering your hibiscus depends on the weather. If it's too hot, give it water daily. If it's average, a couple of times a week will be enough, as long as the soil is moist. If it gets cold, hold off on watering until the soil is dry, and make sure to keep the plant indoors because they don't really tolerate cold weather.
Hibiscus plants are a sight to behold when they're in full bloom, and it's understandable why they can attract hummingbirds. Taking care of your hibiscus will keep hummingbirds coming to your backyard for sure.
Common Name: Hibiscus
Scientific Name: Hibiscus
Growing Zones: 6 – 10
Sun: Full Sun
Soil: Well-drained,
Colors: Red, Yellow, Pink, Orange, and White
Height: 3 – 8 feet
Spread: 3 – 5 feet
Plant Type: Perennial, Evergreen
4. Viburnum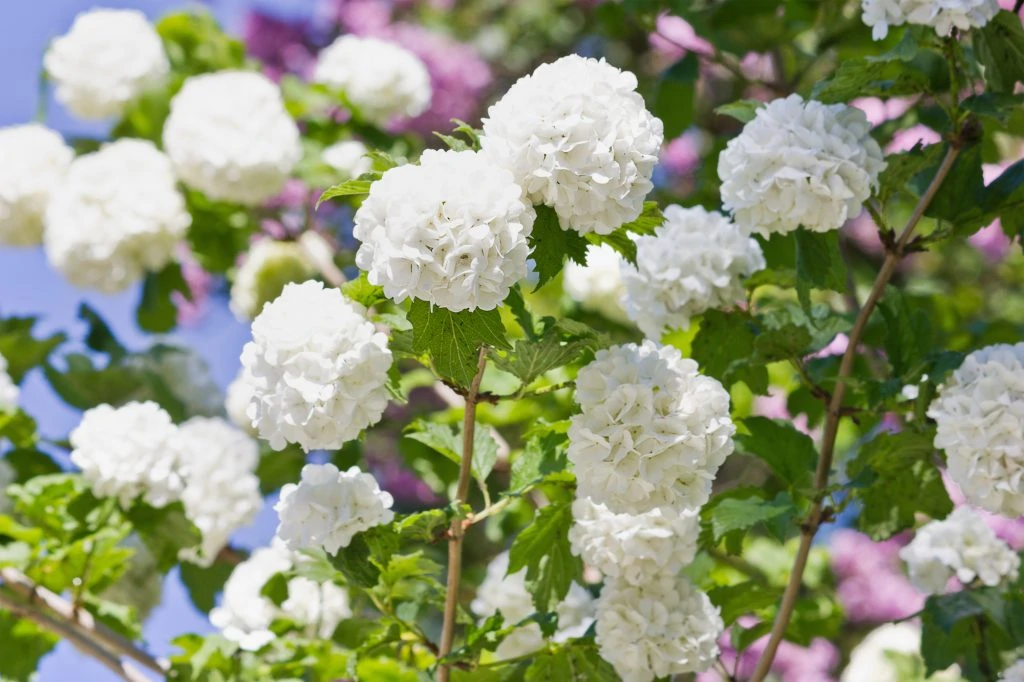 Viburnum now belongs to the family Adoxaceae with over 150 species of flowering plants. It used to be classified under the honeysuckle family, Caprifoliaceae. Deciduous shrubs and trees are native to temperate North America, while some varieties are evergreens from the tropical regions of Southeast Asia.
Viburnum flowers are attractive to hummingbirds and butterflies because they have a variety of nectar-rich shapely flowers. You will also love them because some of them have intoxicating fragrances, like Cayuga and Burkwood. They also have very interesting leaf colors, like purplish-red or blue-green. Finally, their berries also have eye-catching colors, like red, pink, purple, blue, and black.
Early spring to late summer is the flowering season for Viburnum for most varieties. However, there are some like the Bodnant Viburnum that flower in winter. After these flowers bloom, get ready for the showcase of brilliantly-colored fruits and captivating fall foliage.
Most viburnums prefer to grow with their fill of sunlight, about 6 hours worth, and this will ensure the best flowers, bountiful fruits, and fall foliage. There are some varieties that will also thrive with partial shade. While they may vary in sunlight needs, they all prefer well-draining soil and a bit of pruning after flowering to remove old, dead, and broken branches.
Viburnums are a perfect asset to your backyard – they have fragrance, colorful flowers, and foliage, and they even have eye-catching fruits. Hummingbirds will surely find their way toward your viburnums.
Common Name: Viburnum
Scientific Name: Viburnum
Growing Zones: 2 – 9
Sun: Full sun, Partial sun
Soil: Moist but well-drained soil
Colors: white, pink
Height: 3 – 8 feet, 8 – 20 feet
Spread: 3 to 12 feet wide, depending on the type
Plant Type: Perennial, Evergreen, Deciduous shrub
5. Weigela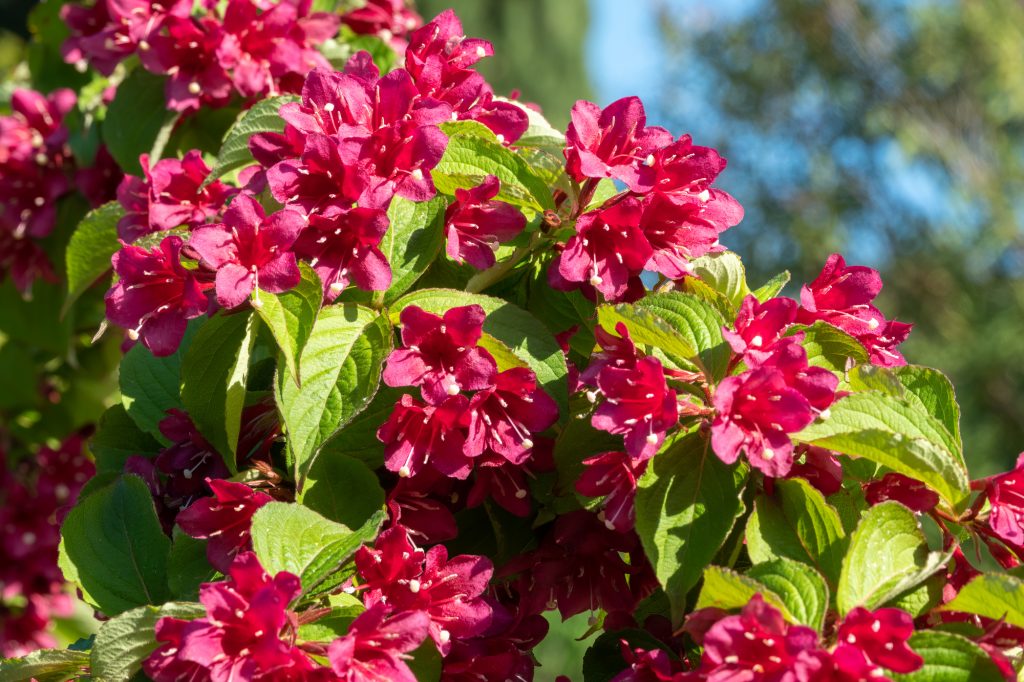 Weigela are a favorite flower of hummingbirds and butterflies because of their pink and reddish colors, although there are varieties of Weigela that are yellow and lavender. The flowers are tubular-shaped, about 2 cm long, and form clusters. They flower from early spring to late summer.
Weigela are a group of 6 to 38 species of flowering deciduous shrubs from the family Caprifoliaceae. All of the flowers are natives of East Asia, the most popular variety is the Weigela florida. The "florida" does not represent the state of Florida but instead stands for "florid" or "covered with flowers".
The leaves of Weigela are also as interesting as the flowers. They come in different shapes – some are long, some are oblong, and some have a serrated edge. Normal colors are green, but there are others that are variegated (dual-colored), gold, and burgundy.
These Weigela plants are perfect ornamental plants, whether you use them as specimen plants when they bloom or as hedge plants because of their dense foliage. The key is to put them in moderately acidic soil that is well-draining. They flower best when receiving full sunlight, but they can still grow in partial shade.
Weigelas are easy plants to take care of and have the advantage of being drought-tolerant too. They hardly need water unless the weather has been exceptionally hot, so they may need just enough to keep their soil moist.
Common Name: Weigela
Scientific Name: Weigela
Growing Zones: 4 – 8
Sun: Full sun, partial shade
Soil: Well-drained, moderately acidic soil
Colors: red, pink, white, yellow, and lavender
Height: 3 – 10 feet tall
Spread: up to 12 feet
Plant Type: Perennial, Deciduous
6. Cleome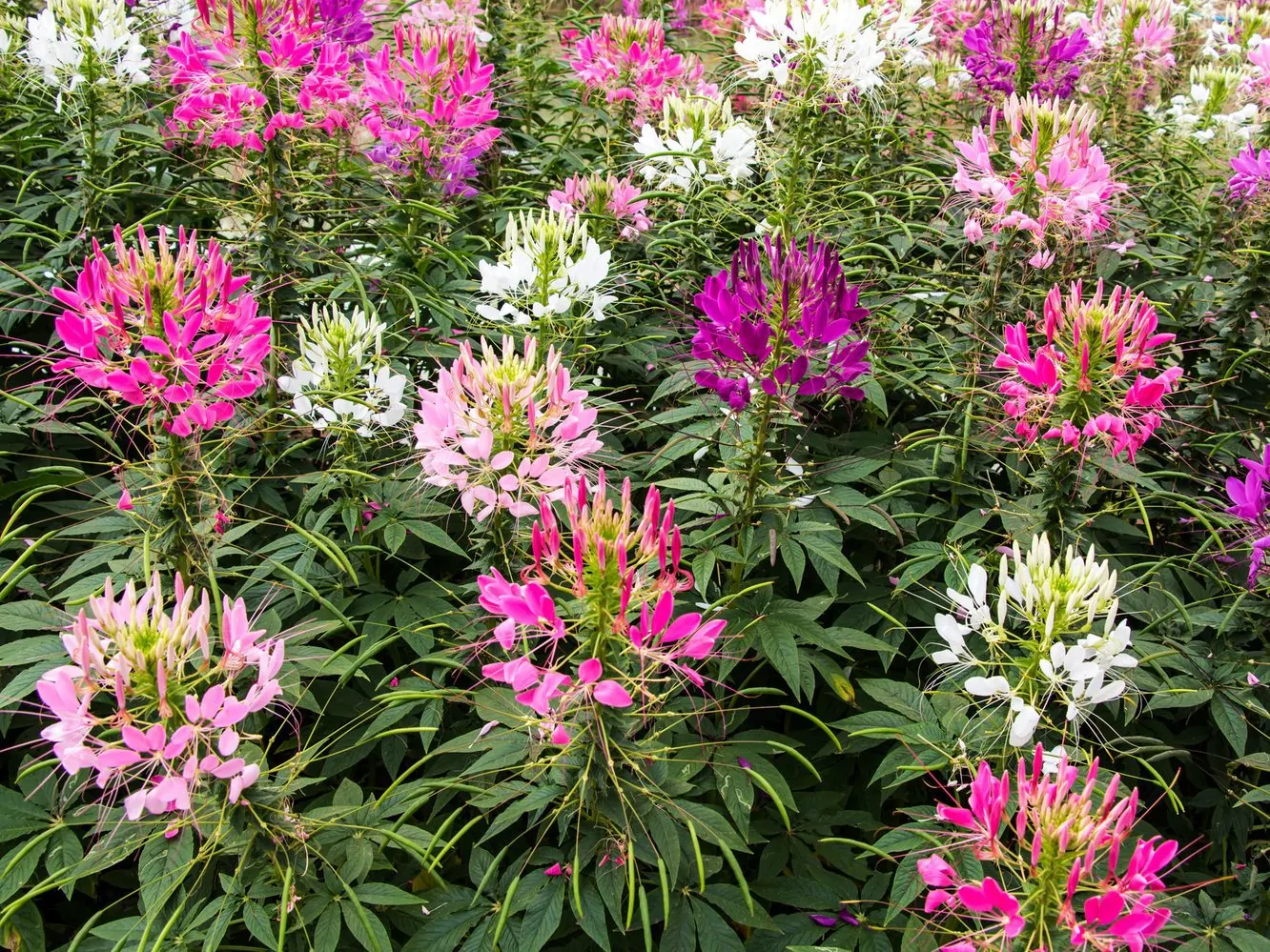 Cleomes, commonly known as spider flowers or spider plants, are herbaceous annual or perennial plants, depending on the climate where they're grown. They are called spider flowers because their blossoms have stamens that look like multiple "spidery legs".
With many different varieties, you can find cleomes that are suited to your backyard. For instance, there are cleomes that have thorns, and some don't. Some grow tall, as much as five feet, while some reach only 2 feet.
What they have in common is the pink, purple and white flowers, some with or without any scent, that are attractive to hummingbirds and bees.
It's not hard to take care of cleomes. All you need is well-drained soil and to let them have full sunlight. Watering may be done sparingly, especially when the plants are already established.
Cleomes bloom from early summer until frost. Dead flowers will simply disappear to make way for the thin green seedpods. When they ripen, they turn brown and disperse the seeds. You can leave them to self-seed if you want, or you can keep the seeds and use them to plant Cleomes in other parts of your backyard.
Common Name: Cleomes, spider flower, Rocky Mountain bee plant, stinking clover
Scientific Name: Cleome, from the Cleomaceae family
Growing Zones: 10 – 11
Sun: Full sun, partial sun
Soil: Average, well-drained
Colors: white, pink, rose, lavender
Height: 1.5 – 5 feet tall
Spread: 1 to 2 feet wide
Plant Type: Annual
7. Zinnia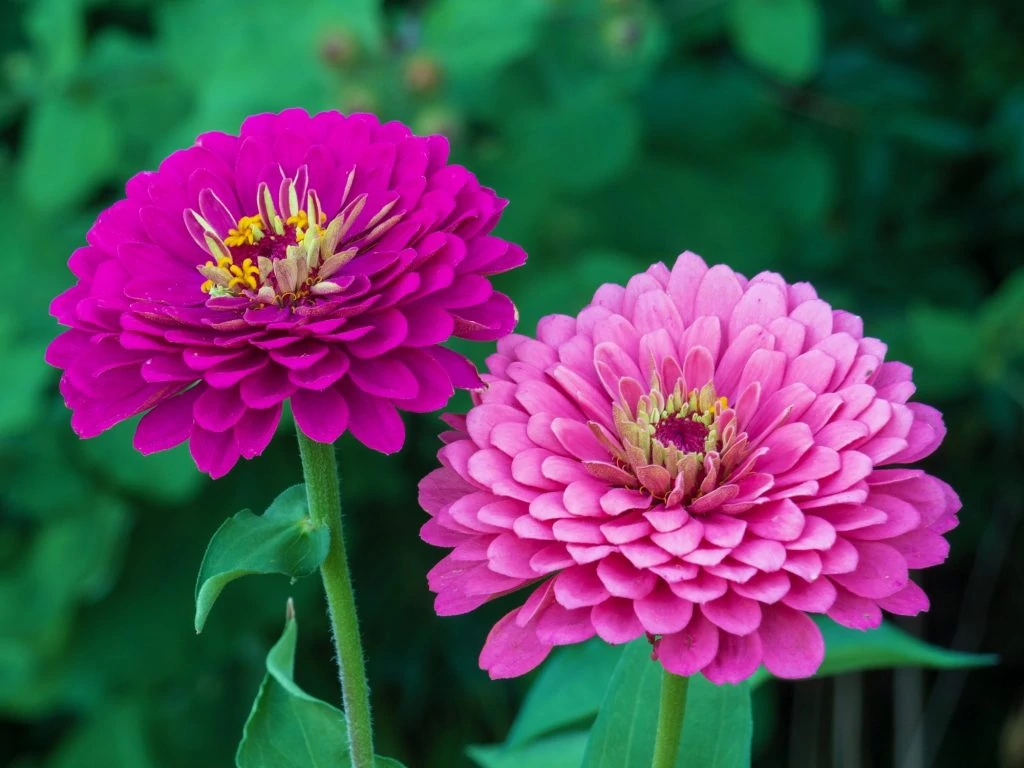 Zinnias are flowering shrubs native to the scrub and dry grasslands of North America. They belong to the genus Heliantheae or the sunflower tribe and to the much larger daisy family, Asteraceae.
There are three main types of zinnias based on the kind of petals that they have. Single-flowered zinnias have a single row of petals with a visible center. Double-flowered zinnias have numerous rows of petals with no visible center. Semi-double-flowered zinnias have numerous rows and visible centers.
The Zinnia elegans, with its tall stems and bright colors, is considered a classic and is most popular for backyards and gardens. It reaches 4 feet tall, has many brilliantly-colored flowers, has a long blooming period from early summer to frost, and attracts pollinators like butterflies and hummingbirds.
Growing zinnias is easy, but you have to plant them directly where you want them because they don't like being transplanted. But once they become established under full sun and well-draining soil, you will be able to enjoy their bright blooms for a long time.
Common Name: Zinnea, Zinnia
Scientific Name: Zinnia elegans
Growing Zones: Annuals in 2-8, Perennials in 9-11
Sun: Full sun
Soil: neutral to slightly alkaline, well-draining
Colors: white, yellow, orange, pink, red, purple
Height: 1 – 4 feet tall
Spread:12 – 18 feet wide
Plant Type: Annual, Perennial Shrubs
8. Daylily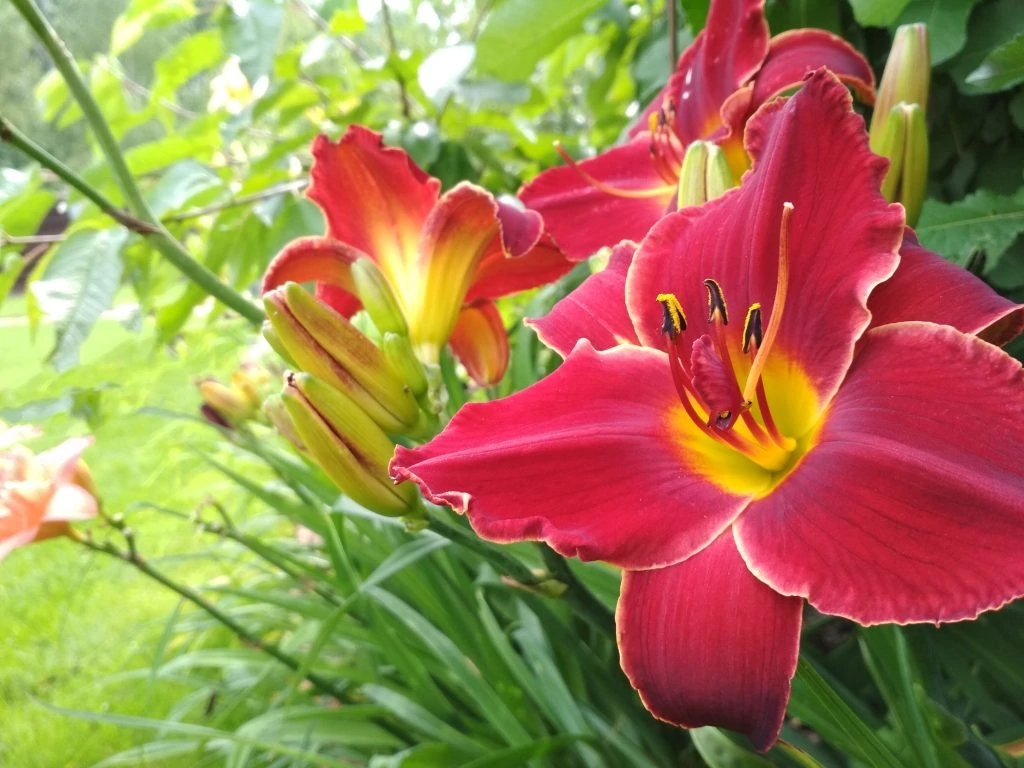 Daylilies are perennial plants from the family Asphodelaceae, popular among gardeners because of their attractive flowers. As many as 35,000 cultivars have been developed in order to create more variants with varying colors, plant hardiness, plant disease resistance, and plant sturdiness.
Daylilies are not true lilies, despite their name. They grow from fleshy roots, not from onion-like bulbs. Their flowers also form on "scapes" or leafless stems that can have as many as 12-15 buds on them. Each mature daylily plant can have 4 to 6 scapes, so you can have plenty of blooms for many seasons.
But, true to their name, daylily flowers only last a day. The good news is that a new flower grows after so that each plant, with its many scapes, can have a lot of blooming flowers from mid-spring to fall.
In order to keep the Daylily plant blooming its brilliantly-colored flowers, they have to be placed in an area that will receive at least six hours of sunlight. While they are drought-tolerant, it's important to keep them hydrated with water, especially when the scapes and buds are still forming.
Hummingbirds are easily attracted to daylilies because of their bright colors, particularly the reds and purples. They are drawn to the tubular varieties, too because those are the flowers that hold the most nectar.
Common Name: Daylily
Scientific Name: genus Hemerocallis
Growing Zones: 4 – 9
Sun: Full sun
Soil: Slightly acidic to neutral
Colors: white, yellow, orange, pink, red, purple
Height: 3 to 4 feet tall
Spread: 2 to 4 feet wide
Plant Type: Perennial
9. Phlox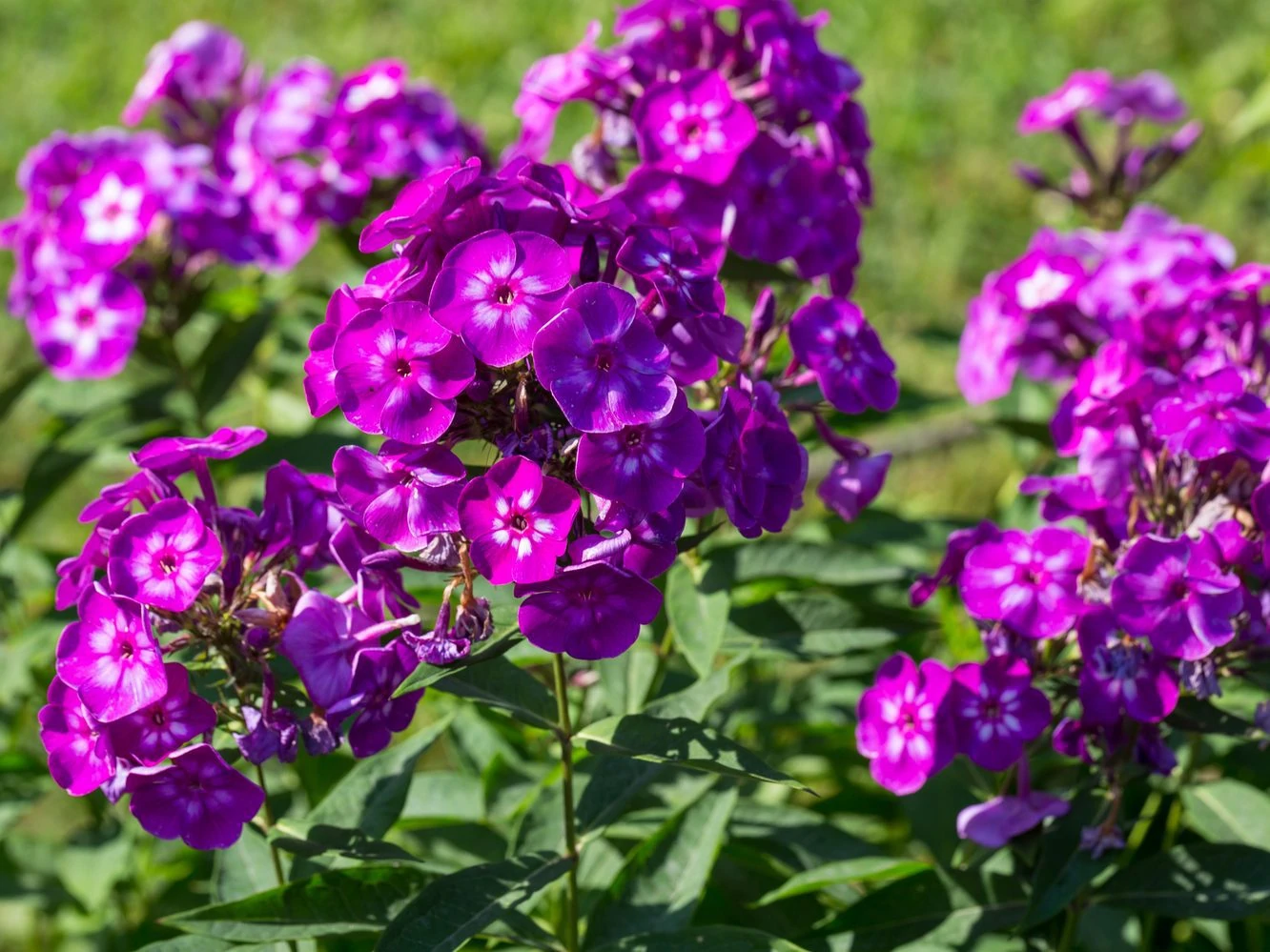 Phlox is a genus of flowering plants whose name is from a Greek word for "Flame" because of its intensely-colored flowers. While there are many varieties, it commonly has three types: Creeping Phlox (Phlox subulata), Woodland Phlox (Phlox stolonifera/divaricata), and Garden Phlox (Phlox paniculata).
Creeping Phlox grow low and wide, close to the ground, which is why they're perfect as ground covers. Woodland Phlox are of medium height, so they're usually best for filling gaps. Garden Phlox plants grow tall and erect, so even if they're at the back, they usually stand out.
Phlox flowers are dainty and grow in clusters of twelve at the top of hardy stems. Most of the flowers are fragrant. Some flower in the spring, others in summer until fall. With many varieties, there are also many colors to choose from, like shades of white, pink, red, purple, and blue.
Since they flower profusely, sometimes it's hard to appreciate their leaves because you hardly see them. But their leaves are also worthy of your attention. Some are oblong, pointed, and lance-shaped. Some even have border colors, but they're mostly bright or deep green.
Regardless of their differences, they all attract hummingbirds and other pollinators. Luckily, they're also easy to grow, and some can spread by self-seeding, so you really have nothing to do except give them the occasional water and let them have a full dose of sunlight.
Common Name: Garden Phlox, Creeping Phlox, Woodland Phlox
Scientific Name: Phlox
Growing Zones: 2 – 9
Sun: Full sun, part sun, shade
Soil: Moist, fertile soil with a layer of compost
Colors: white, pink, red, purple, blue
Height: 4 to 6 inches, 8 to 12 inches, 2 to 4 feet tall
Spread: 4 to 6 inches wide, 8 to 12 inches wide, 2 to 3 feet wide
Plant Type: Perennial