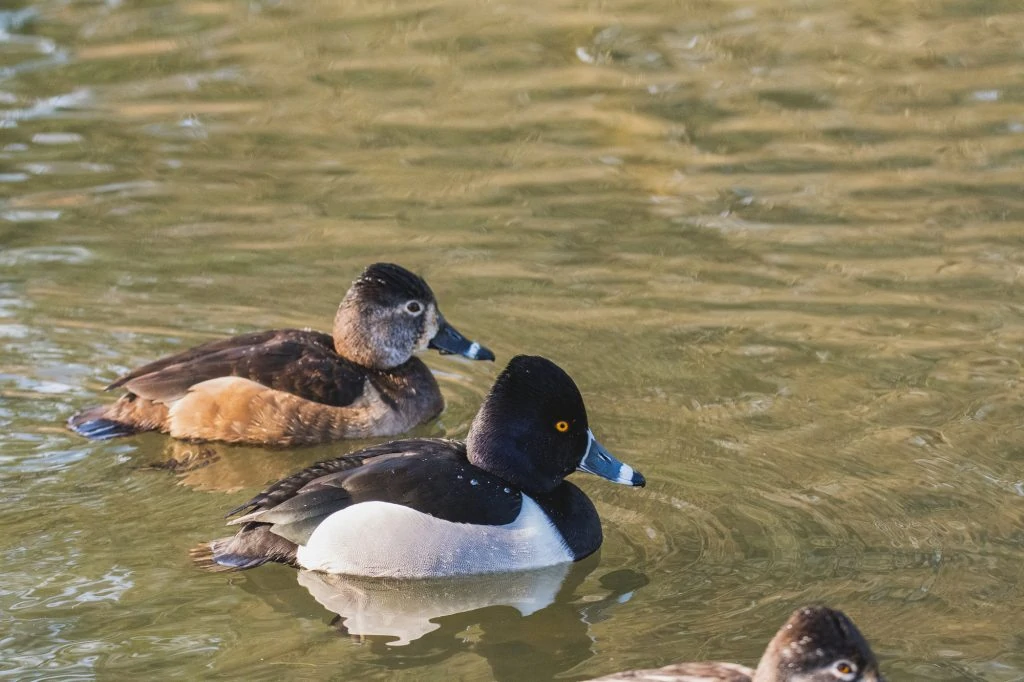 Ring-necked Ducks are medium-sized ducks that have a steep black forehead, a gray bill fringed with white and a black tip, a black chest and back, and a white breast and belly. They have a cinnamon collar around their neck.
Females don't show the ring and are mostly brown everywhere except for their gray faces and white outline around their eyes. Their bills also don't have the white outline the males have, but they do have a white band near the black tip of their bill.
Aythya collaris
Length: 14 – 18 in (36 – 46 cm)
Weight : 32.09 oz (909 g)
Wingspan: 24 – 30 in (61 – 76 cm)
Range
Ring-necked Ducks breed in Canada and northeastern US states before migrating to southern and western US states, Mexico, northern Central America, and the Caribbean.
Habitat And Diet
You can find Ring-necked Ducks in small, shallow ponds and rivers. Breeding habitats may include wooded lakes in forests.
You can find Ring-necked Ducks foraging on the surface and only occasionally diving below the water in small, shallow ponds and rivers. Even though they are diving ducks, they behave more like dabbling ducks.
They eat plants on the surface of the water and submerged plants like pondweed. They also eat wild rice and animals such as earthworms, leeches, and snails.
Ring-necked Duck Calls:
A series of barking grunts
Nests
Nests of Ring-necked Ducks are bowl-shaped and built on shallow water with a lot of vegetation for cover. They are made with plant materials and can hold as many as ten eggs. The females incubate these eggs for about a month and stay with the young until they're ready to fly.
Fun Fact:
Though you may think that the ring around the Ring-necked Duck is used to easily distinguish them from other birds, you'd be mistaken. It's hardly noticeable. Better to look for their steep, black forehead and blue-gray bill with the white band.