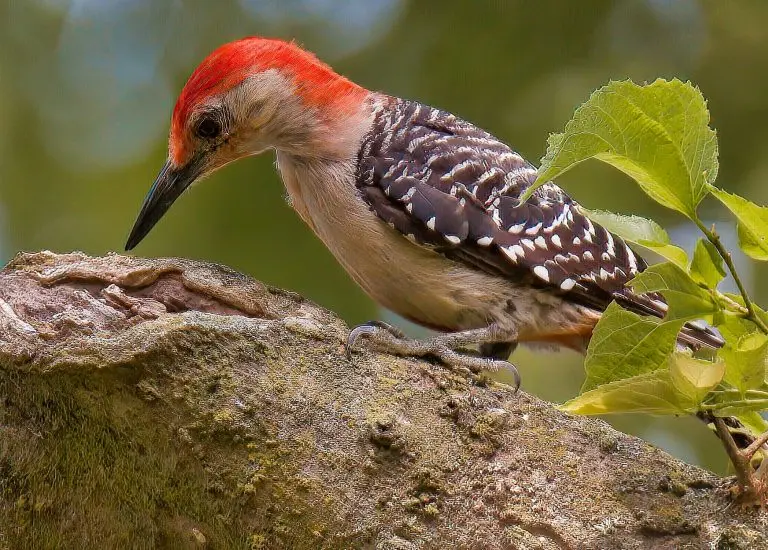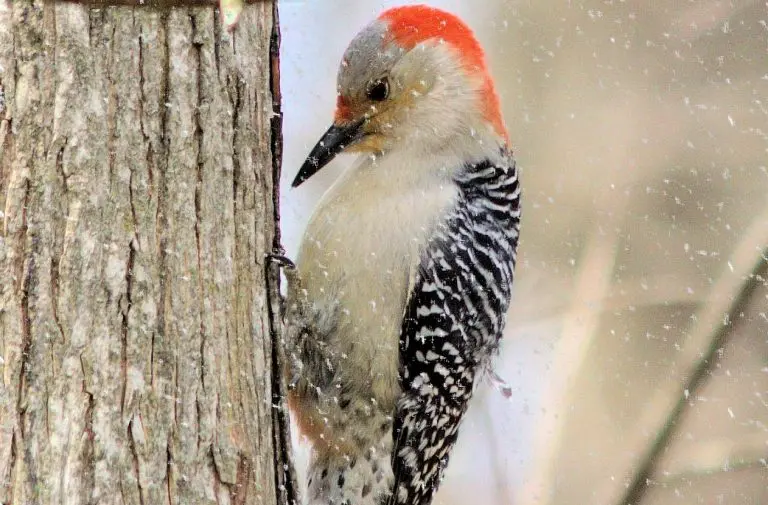 Red-bellied Woodpeckers can be mistaken for Red-headed Woodpeckers as they have red caps, but they are much smaller than the Red-headed Woodpecker. Female Red-bellied Woodpeckers lack the red cap and only have red napes.
They have a very pale red belly that can be hard to spot but have the typical black and white markings over their backs.
Length: 9.4 in (24 cm)
Weight: 2.0-3.2 oz (56-91 g)
Wingspan: 13.0-16.5 in (33-42 cm)
Range
Red-bellied Woodpeckers can be found in the Eastern US and they do not migrate.
Habitat And Diet
Red-bellied Woodpeckers are common in woodlands and forests in the eastern US but can be seen on bird feeders. They make a distinctive loud rolling call which means you will often hear them before you see them.
Red-bellied Woodpeckers eat insects, spiders, seeds from grasses, fruit, and nuts. They will also sometimes eat nestlings.
The tongue of the Red-bellied Woodpecker sticks out 2 inches past the beak and is barbed at the tip, along with sticky spit. This helps catch prey from deep crevices.
Red-bellied Woodpecker Call and Drumming
They make a shrill call and drum against trees at about 19 beats per second.
Nests
They nest in dead trees and may use the same nest year after year. They lay 4-5 white eggs on a bed of wood chips.
Attract Red-bellied Woodpeckers
Red-bellied Woodpeckers will come to backyards for suet and black oil sunflower seeds. They can also be seen on hummingbird feeders and will feed on fruit. Also, plant native berry trees such as hawthorn or mountain ash.