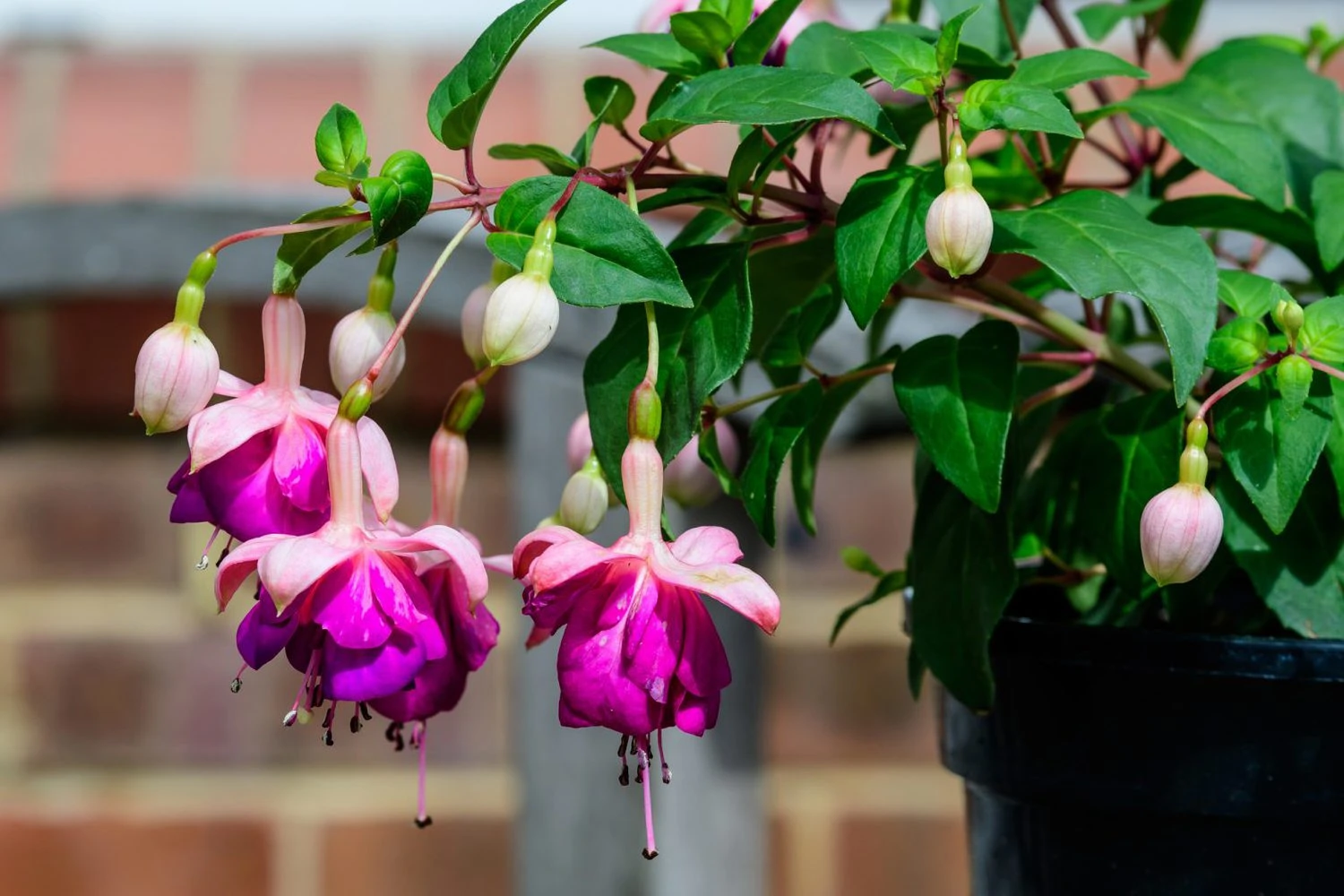 Potted or container planting is a great way to add impact and attract lots of hummingbirds exactly where you want them.
They need more maintenance by watering regularly, but container planting is excellent in small spaces for attracting hummingbirds to a patio or balcony.
You can keep it simple and have one species of plant in the pot, or you can mix different plants from the list below for maximum effect.
Go wild and have fun creating your beautiful potted flowering garden for hummingbirds.
5 Potted Plants to Attract Hummingbirds:
1. Petunias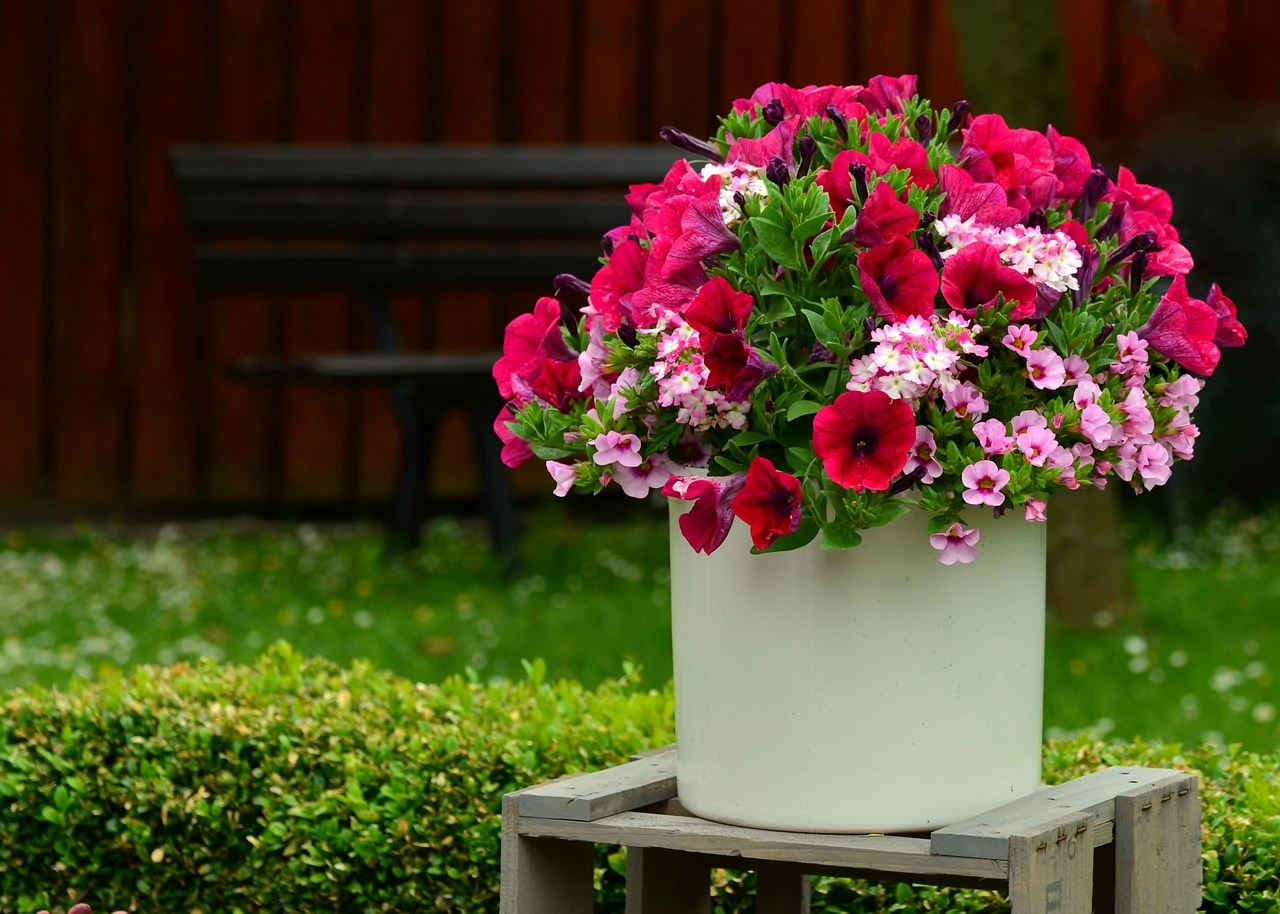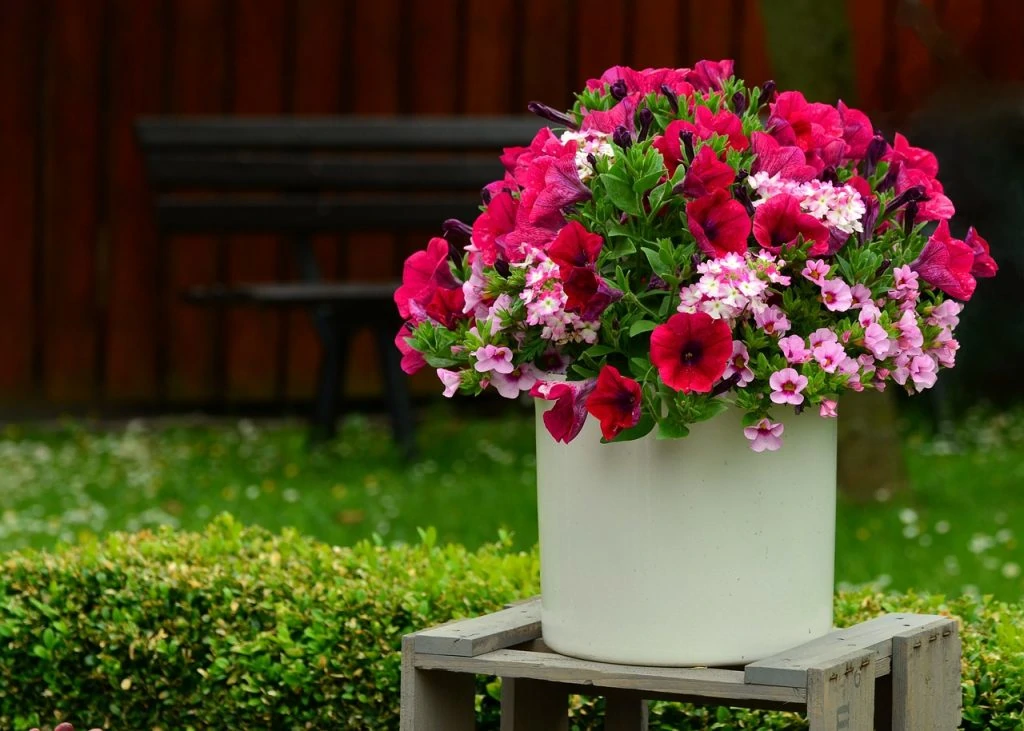 Petunias are colorful and inexpensive annuals that are easy to grow in a sunny location, and they work great in a container. They create abundant flowers that look great tumbling out of pots and containers.
They are often sold as young plants in flats at a nursery, but you can also grow them from seed. If growing from seed, grow them ten weeks before your last frost date and then plant out once this risk has passed.
Petunias are quite heat-tolerant, but they should get a good soaking about once a week.
Prune them to about half the height to prevent them from getting thin and leggy.
Try planting the brighter colors in the reds and pinks for hummingbirds.
Growing Zones: 9 to 11
Sun: Full Sun
Soil: Well-drained moist soil
Colors: Red, pink, white, blue, purple
Height: 6 – 18 inches
Spread: 18 inches to 4 feet
2. Salvia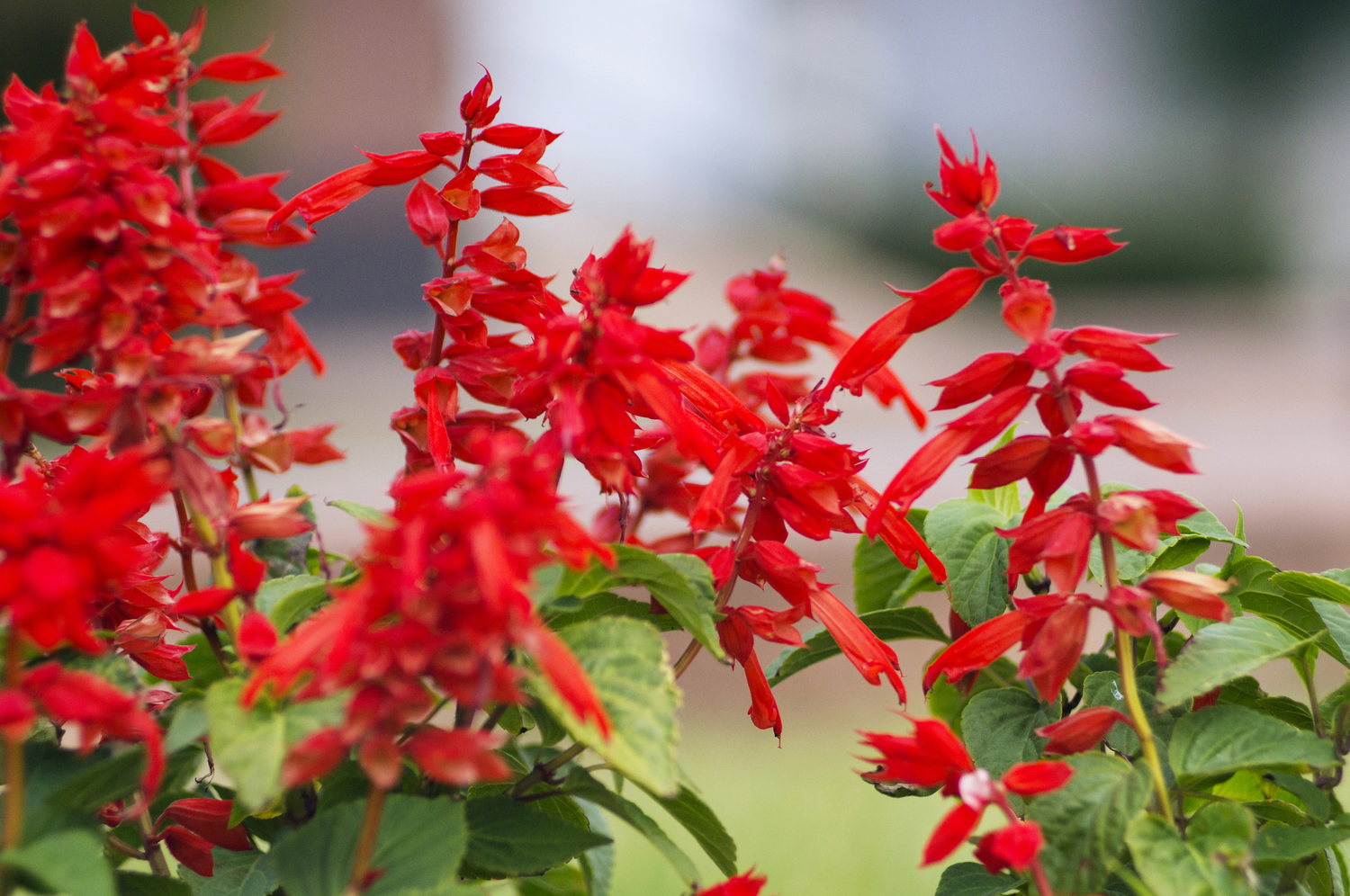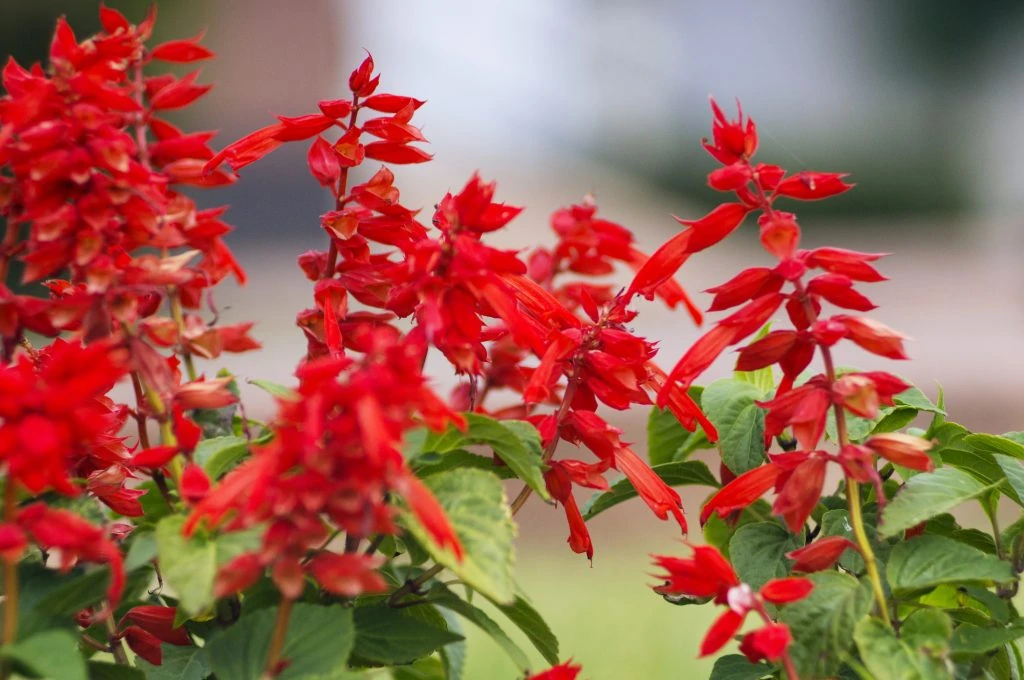 With over 1000 species of these members of the mint family, salvias are a great perennial to choose for hummingbirds. They are also drought-resistant and easy to care for.
Salvias evolved alongside hummingbirds in the Americas and use the hummingbirds' long bills to enter the flower and open a trapdoor that deposits pollen on their heads and rewards them with rich nectar.
They put on a rich display of flowers and tubular blossoms all summer that keep the hummingbirds coming back.
Many native species of salvia are drought tolerant and grow happily in the heat of the South.
Sometimes known as sage plants, they can be grown as annuals, but also perennial varieties are available.
Salvias are heat and drought tolerant, but if very dry, then water thoroughly once a week.
Deadhead during the summer to encourage more flowers but leave flowers on at the end of the season, so they reseed.
Choose Salvias with red, pink, and orange-colored flowers. Native species are best, but Salvias from Europe are hardier and will grow further north, extending the range and nectar availability for hummingbirds.
Growing Zones: 4 – 10
Sun: Full sun, but some will tolerate partial shade
Soil: Well-drained
Colors: Red, pink, purple, blue, white, yellow.
Height: 1 – 6 feet
Spread: 1 – 6 feet
3. Cardnial Flower – Lobelia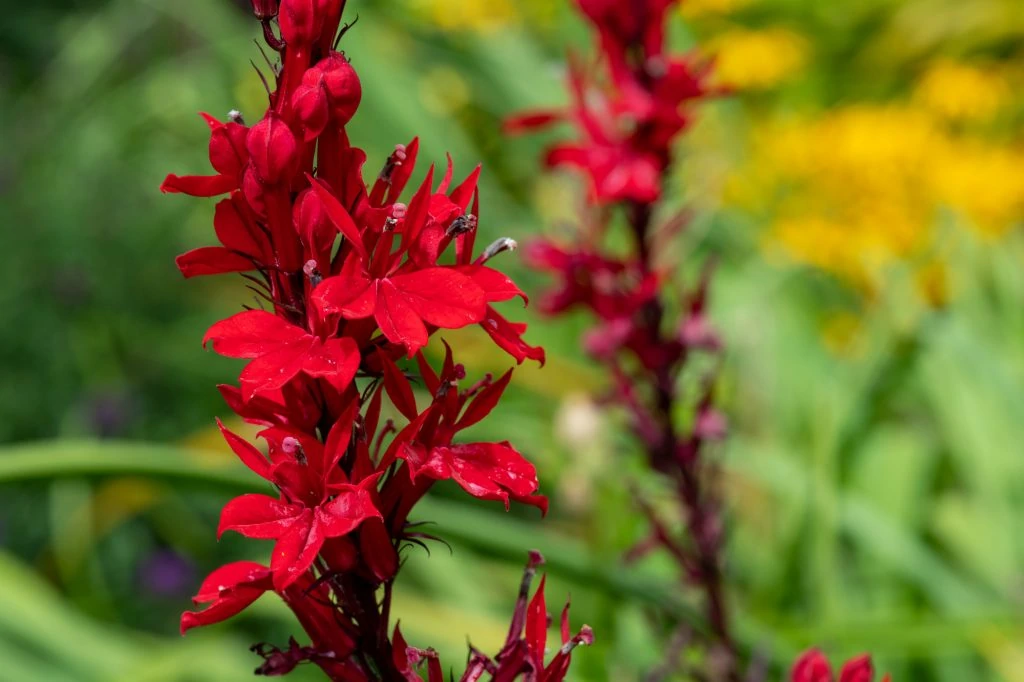 The long bright red tubular flowers of Cardinal flowers are designed for hummingbirds' long bills.
These herbaceous perennials flower in late summer. The bright red flowers appear on terminal spikes.
Cardinal flowers are not drought tolerant and prefer moist soil that does not dry out.
When planting cardinal flowers in pots, ensure they are set in a tray of water that can be topped up easily.
Growing Zones: 3 – 9
Sun: Full sun to partial shade
Soil: Rich, moist
Colors: Red, pink, white
Height: 2 – 4 feet
Spread: 1 – 2 feet
4. Fuchsia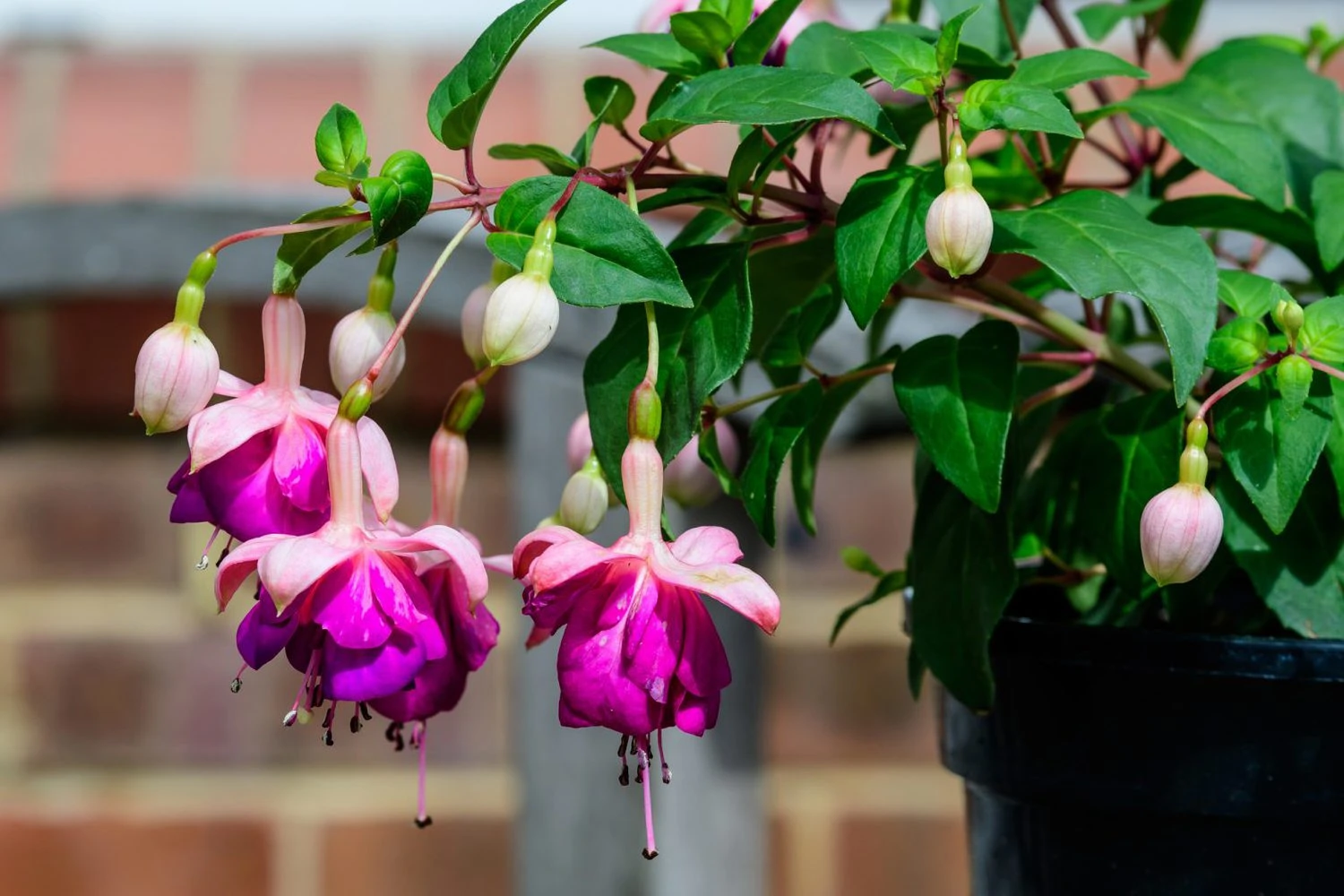 Fuschias are bright hardy perennials that provide nectar for hummingbirds all through the summer.
They look especially great in pots and containers with their beautiful flowers abundantly drooping over the sides.
Fuschias come in hardy varieties and are easy to grow in most soils. They require very little maintenance and are a great addition to your potted garden.
They prefer dappled shade and not too much heat and will brighten up a more shady area of your patio.
Pinch off growing tips after flowering and fertilize every two weeks in the growing season.
They may need to be brought inside in the winter in colder areas.
Growing Zones: 6 – 11
Sun: Partial sun to shade
Soil: well-drained moist soil
Colors: Pink, purple, white, orange, and blue
Height: 1 – 3 feet
Spread: 1 – 5 feet
5. Lantana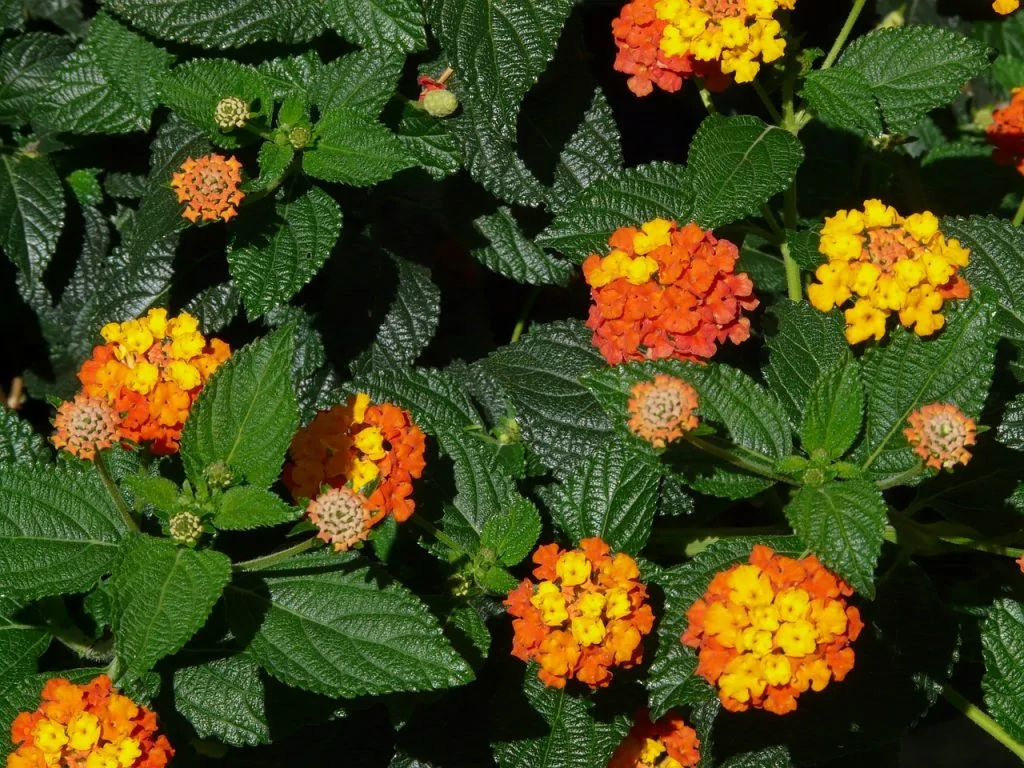 Lantanas are a great way to add interest to pots and containers, and hummingbirds are attracted to their small clustered flowers.
Due to their vine-like growing nature, they look great spilling over pots and baskets.
They can be grown as an annual in colder regions and as an evergreen shrub in frost-free areas.
They are considered invasive in frost-free areas, so check if there are restrictions but growing them in pots will help to stop any spread.
Growing Zones: 8 – 11 or grow as annual
Sun: Full sun
Soil: Well-drained, slightly acid
Colors: Red, orange, yellow, blue, pink, and white
Height: 6 feet
Spread: 6 feet