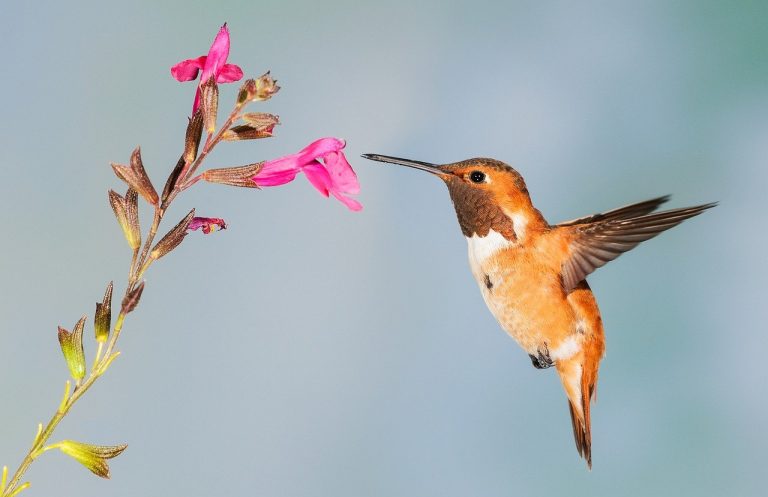 There are so many plants and flowers that attract hummingbirds.
You can easily find the perfect selection from these lists to create an amazing colorful yard that attracts lots of hummingbirds and looks great.
Potted plants that attract hummingbirds
Potted or container planting is a great way to add impact and attract lots of hummingbirds.
They need more maintenance with watering regularly but in small spaces or attracting hummingbirds to a patio, container planting is great.
Some of hummingbirds favorite flowers that do well in a container are:
Petunias
Salvia
Lobelia (cardinal flower)
Fuchsia
Lantana
Shrubs that attract hummingbirds
There are lots of shrubs that are great for attracting hummingbirds and they do not require much maintenance.
Shrubs can add height and drama to your yard and create a backdrop for other lower planting in front.
Shrubs that hummingbirds love are:
Rhododendron
Hibiscus
Buddleia
Abelia
Azelia
Weigela
Butterfly bush
Crape Myrtle
Summersweet
Viburnum
Hanging plants that attract hummingbirds
Hanging plants provide a great viewing opportunity for you to see your hummingbirds as they add height to your plants.
Hanging baskets look great abundantly filled with flowers training and tumbling down.
Here are some of hummingbirds favorite flowers for hanging baskets:
Petunias
Lantana
Fuchsias
Nasturtiums
Trumpet flower
Bleeding heart
Impatiens
Shade tolerant plants that attract hummingbirds
Just because an area of your yard is shaded does not mean you cannot create the perfect planting scheme for hummingbirds.
These shade-tolerant plants will get the hummingbirds in your yard:
Fuchsia
Columbine
Bleeding heart
Foxglove
Cardinal flower
Honeysuckle
Impatiens
Hydrangea
Ligularia
Drought tolerant plants that attract hummingbirds
Heat and drought-tolerant plants can attract lots of hummingbirds but stand up to dry conditions.
Some of these plants will do better once established so if planting they will need to be watered more regularly until then.
These drought-tolerant plants are hummingbird favorites:
Butterfly bush (buddleia)
Agastache
Salvia
Desert willow
Flowering currant
Penstemon
Catmint
Hummingbird mint
Cape fuchsia
Weigela
Perennials that attract hummingbirds
Coming back year after year, perennials are an easy way to bring lots of color and impact to your yard. There is a vast number to choose from so it's easy to find a few that will work in your yard.
These perennials are great for adding interest and attracting hummingbirds:
Hibiscus
Bee Balm
Daylily
Salvia
Phlox
Cardinal flower
Foxglove
Coneflower
Hosta
Lupin
Crocosmia
Delphinium
Vines for hummingbirds
Trailing over fences and pergolas vines creates shade and atmosphere in any yard.
These are vines that attract hummingbirds:
Trumpet honeysuckle
Hyacinth Bean vine
Figwort
Trumpet vine
Canary creeper
Cypress vine
Bougainvillea
Clematis
Mandevilla
Passionflower
Trees for hummingbirds
If you need some height and shade in your yard then trees can be a great way to provide this and also attract hummingbirds.
Trees that attract hummingbirds:
Crabapples
English Hawthorn
Eucalyptus
Northern Catalpa
Red Buckeye
Cherry
Silk tree
Tulip tree