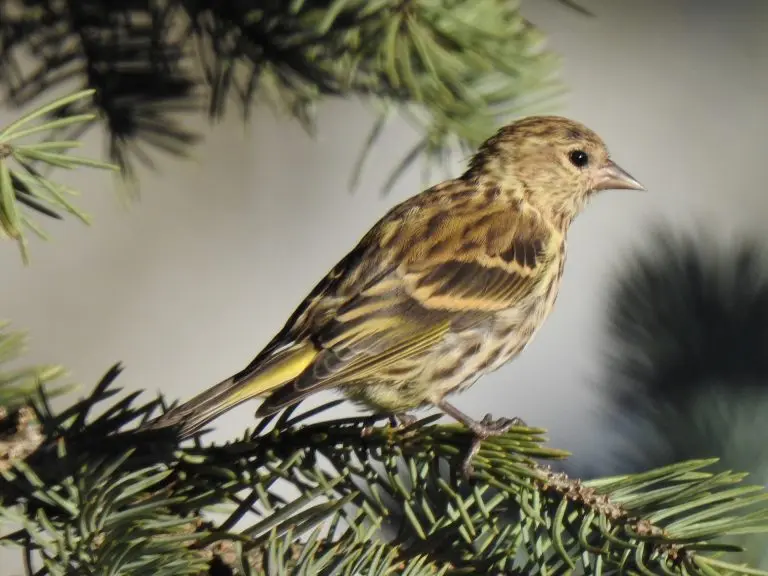 Pine Siskins are small brown finches with yellow streaks in the wing and tail. They have a forked tail and pointed wings, with a short pointed bill.
Spinus Pinus
Length: 4.3-5.5 in (11-14 cm)
Weight: 0.4-0.6 oz (12-18 g)
Wingspan: 7.1-8.7 in (18-22 cm)
Range
Pine Siskins remain all year in the pine forests in the western states and along the Canadian Border. Some also breed in Canada before heading south for winter.
Habitat And Diet
Depending on pine cone crops, they can be found over much of North America. As their name suggests, Pine Siskins predominantly eat seeds from conifers, but they also eat young buds and seeds from grasses and weeds.
Pine Siskin Song:
Nests
Nests of Pine Siskins are built ten to fifty feet high above the ground, away from the tree trunk. They are usually made of twigs, barks, and moss and are home to three to five eggs. It takes about thirteen days for the eggs to hatch.
Attract Pine Siskins
Attract them to your backyards with thistle and nyjer feeders but also black oil sunflower seeds and suet.
Fun Fact:
The name "Siskin" comes from the Pine Siskin's chirp. So, it's basically a "pine chirper."