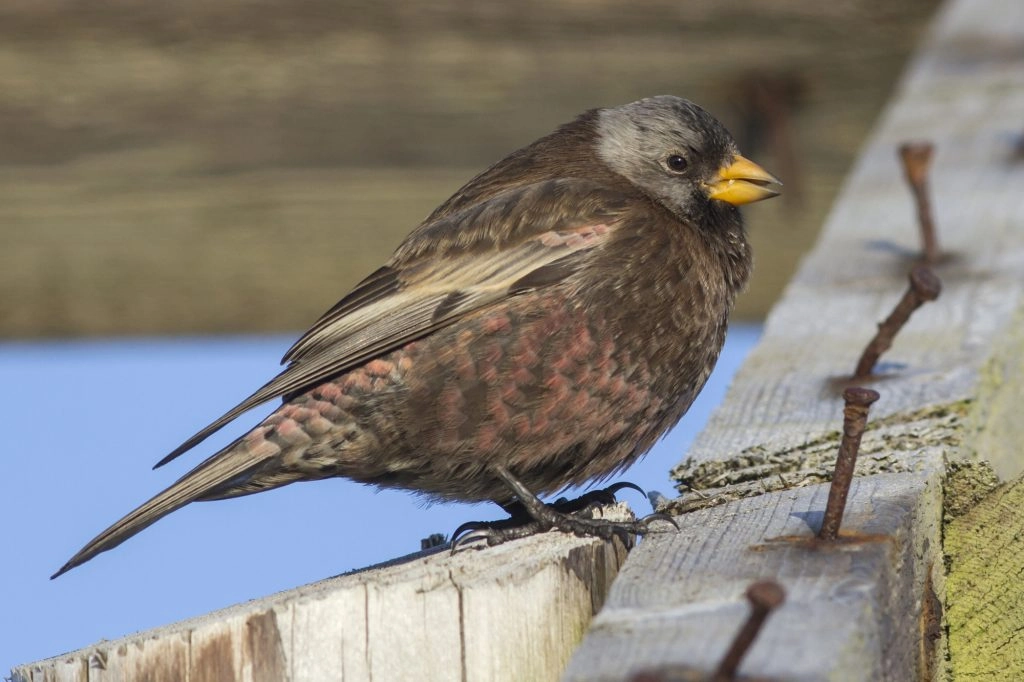 Gray-crowned Rosy-Finches are medium-sized, chunky birds. Adults are identifiable by their black forehead and throat, gray crown, and brown body with pink highlights in their bellies.
In winter, their bill is yellow then turns black during the breeding season. Juveniles are brown with none of the pink highlights.
Leucosticte tephrocotis
Length: 5.5-8.3 in (14-21 cm)
Weight: 0.8-2.1 oz (22-60 g)
Wingspan: 13.0 in (33 cm)
Range
Gray-crowned Rosy-Finch breed in Alaska and western Canada before migrating to western US states in winter.
Habitat And Diet
You can find Gray-crowned Rosy-Finch in alpine snowfields, barren tundra, and on rocky islands in summer. In winter, they descend into open plains, valleys, and towns, especially when there are bird feeders.
Gray-crowned Rosy-Finch forage for worms and insects that are frozen in snowfields, glaciers, and meadows during the summer. In the winter, they eat mustard and sunflower seeds and weeds.
Gray-crowned Rosy-finch Call:
Nests
Nests of Gray-crowned Rosy-Finch are usually found hidden away in crevices between boulders and cliffs, under a rock, or even in mine shafts and holes in abandoned buildings.
Their nests are made from grass, roots, moss, and sedge and lined with fine grass, animal hair, and feathers. The female usually lays around four eggs which hatch after two weeks, and the young are ready to leave the nest after another two weeks.
Attract Gray-crowned Rosy-Finches
Attract them to your backyard by feeding them black oil sunflower seeds. You can scatter the seeds on the ground or platform feeders. 
Fun Fact:
Gray-crowned Rosy-Finches will probably win the award for "Highest Altitude Breeding Bird in North America" since they nest on the slopes of Denali, known for being the continent's highest peak.