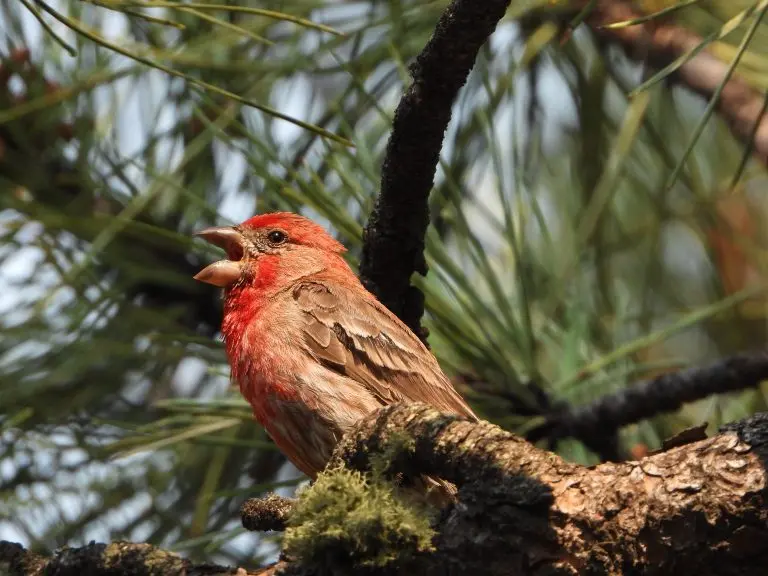 Pine Grosbeaks males are red birds with gray on the wings and tail and two white wingbars. Females are gray with dull orange heads and rumps. They are large for finches and relatively slow.
Pinicola enucleator
Length: 7.9-9.8 in (20-25 cm)
Weight: 2.01 oz (57 g)
Wingspan: 13.0 in (33 cm)
Range
Pine Grosbeaks are mostly found in Canada, but some can be spotted along the US border, the mountainous west, and the Sierra Nevada in California.
Habitat And Diet
You can find Pine Grosbeaks in forests of pine, spruce, and fir, feeding on seeds, fruit, and buds from these trees. They will also eat some insects in the summer.
Pine Grosbeak Call:
Nests
Nests of Pine Grosbeaks are commonly found ten to twelve feet above the ground on a low tree. The nests are made of twigs, barks, weeds, moss, and lichen and hold two to five eggs. The female incubates these eggs for about two weeks until they hatch.
Attract Pine Grosbeaks
Attract them to your backyards with black oil sunflower seed feeders or suet feeders.
Fun Fact:
Pine Grosbeaks are aptly named. Their scientific name, "Pinicola," is Latin for "pine dweller."