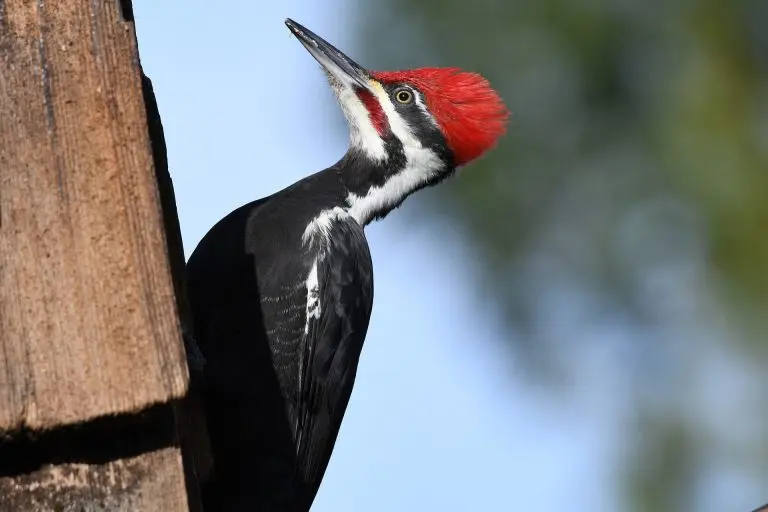 The Pileated Woodpecker is the biggest Woodpecker in North America, and with its' flaming-red triangular crest, it is very striking.
It is one of the biggest woodpeckers being nearly the size of a crow. It is mostly black with a white stripe, and when flying, the white underside of the wings can be seen. Males have an additional red stripe on the cheek.
Length: 15.8-19.3 in (40-49 cm)
Weight: 8.8-12.3 oz (250-350 g)
Wingspan: 26.0-29.5 in (66-75 cm)
Range
They live all year in Eastern US states, across Canada, and into Northwestern US states.
Habitat And Diet
They are usually found in mature forests or drowned forests with lots of dead trees, but they also visit backyard feeders, especially for suet. They make distinctive rectangular holes in trees, so look out for these.
Pileated Woodpeckers mostly eat carpenter ants from dead trees and fallen logs, but they also eat beetle larvae, termites, and other insects as well as fruit and nuts such as blackberries, sumac berries, dogwood, and elderberry. They make a loud shrill, whinnying call and deep, loud drumming.
Pileated Woodpecker Call and Drumming:
Pileated Woodpeckers drum is loud and booming due to their size. They also make a 'wuk-wuk-wuk' call and one that sounds like laughing.
Nests
Dead trees are used for nesting sites for Pileated Woodpeckers, and they usually make a new one each year, so the old nest site is often used by other species of birds. They usually lay 3-5 white eggs.
Attract Pileated Woodpeckers
Pileated Woodpeckers come to backyard bird feeders, especially for suet. They also eat black oil sunflower seeds, hulled sunflower seeds, suet, peanuts, and mealworms. Also, try putting up a nest box to attract a breeding pair.
Pileated woodpeckers prefer suet feeders with tail props and enjoy suet with added mealworms.