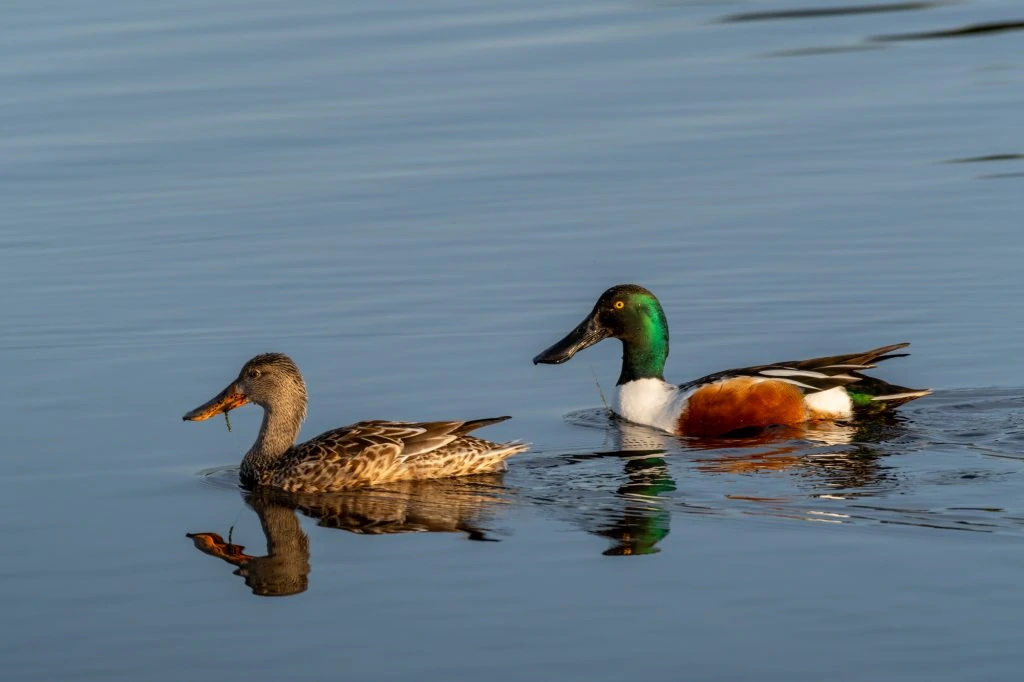 Northern Shovelers are dabbling ducks, and males have green heads and large spoon-shaped black beaks that make them easy to spot. They have reddish-brown sides, white chests, and black backs. Males also have blue patches on their wings.
Females are mottled brown with a blue shoulder patch and large orange beaks.
Spatula clypeata
Length: 17.3 – 20.1 in (44 – 51 cm)
Weight: 14.1 – 28.9 oz (400 – 820 g)
Wingspan: 27.2 – 33.1 in (69 – 84 cm)
Range
Northern Shovelers spend the winter in the southern half of the US and along the Pacific and Atlantic Coasts up to Canada. They migrate to the western half of Canada and northwestern US states for breeding in the summer. Some also breed around the Great Lakes.
Habitat And Diet
You can find Northern Shovelers in sociable groups in shallow, stagnant water.
Crustaceans, invertebrates, and some seeds make up the diet of shovelers, and they filter them out by stirring up the bottom and swinging their bills from side to side through the water. They then push the water out through comblike projections called lamellae along the edge of their bills, catching any food.
Northern Shoveler Calls:
Male Northern Shoveler calls sound like 'hook-hook' or 'took-took'. Females have a nasal quack.
Male Northern Shoveler call
Female Northern Shoveler call
Nests
Northern Shovelers nest on the ground in short vegetation close to water. They lay around ten eggs, which take 3 to 4 weeks to hatch. The ducklings are able to walk and swim immediately.
Fun Fact:
Northern Shovelers will sometimes form large groups that swim in circles to help stir up the bottom for feeding.