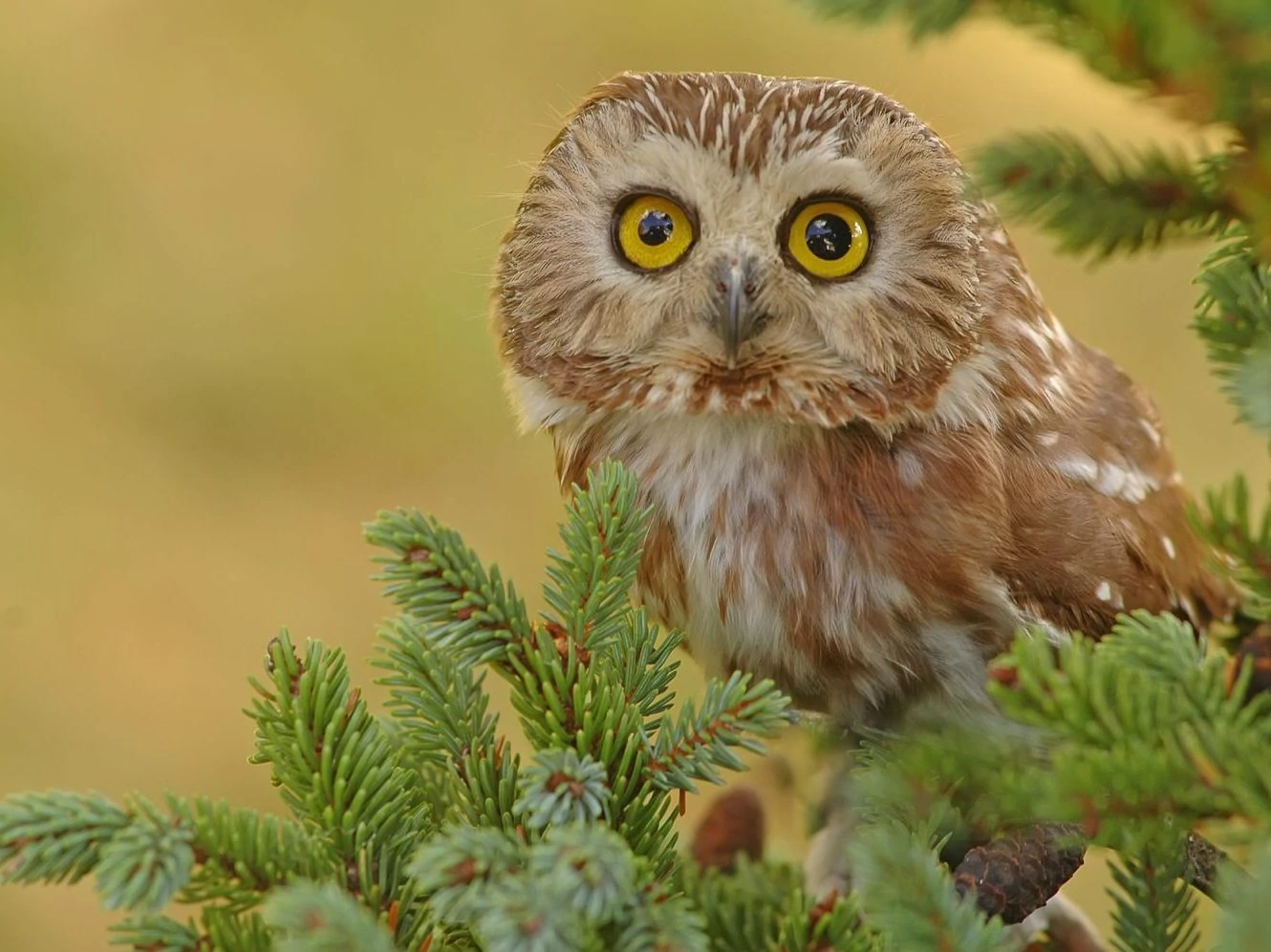 Northern Saw-whet Owls are one of the smallest owls in North America, with them being about the size of a robin.
They have tiny brown bodies but large round heads with fine white streaks. Their eyes are bright yellow with thick white feathers forming a "Y" in between them.
Their backs and wings are brown with white spots. Their chests and bellies are white with brown streaks.
Juveniles have plain brown heads and very visible white eyebrows on brown facial discs. Their underparts are plain cinnamon brown, and they also have no spots on their backs.
Aegolius acadicus
Length: 7.1 – 8.3 in (18 – 21 cm)
Weight: 2.3 – 5.3 oz (65 – 151 g)
Wingspan: 16.5 – 18.9 in (42 – 48 cm)
Range
Northern Saw-whet Owls are usually resident all year in Canada, northern US states, and western US states. However, they may migrate to lower areas in winter to the rest of the US.
Habitat And Diet
You can find Northern Saw-whet Owls in dense coniferous forests where they roost hidden among the thick branches and foliage. However, they like it near an open area and water source where they hunt.
They are nocturnal, so they hunt mostly mice from a perch at night. They may also
Northern Saw-whet Owls Calls:
A long series of urgent hoo calls.
Nests
Nests of Northern Saw-whet Owls are tree cavities that have been left from other species, such as Pileated Woodpeckers. They do not add any other nesting material and instead lay their eggs directly on the debris.
The female lays four to seven eggs that take four weeks to incubate. The male's job is to bring the female food while she's incubating.
Attracting Northern Saw-whet Owls to your backyard is possible with a nest box if you are in range and have lots of trees.
Fun Fact:
The Northern Saw-whet Owl got its name from its repeated tooting whistle, or the "skiew" sound that it makes when it's alarmed or threatened. The sound is similar to the whetting of a saw.