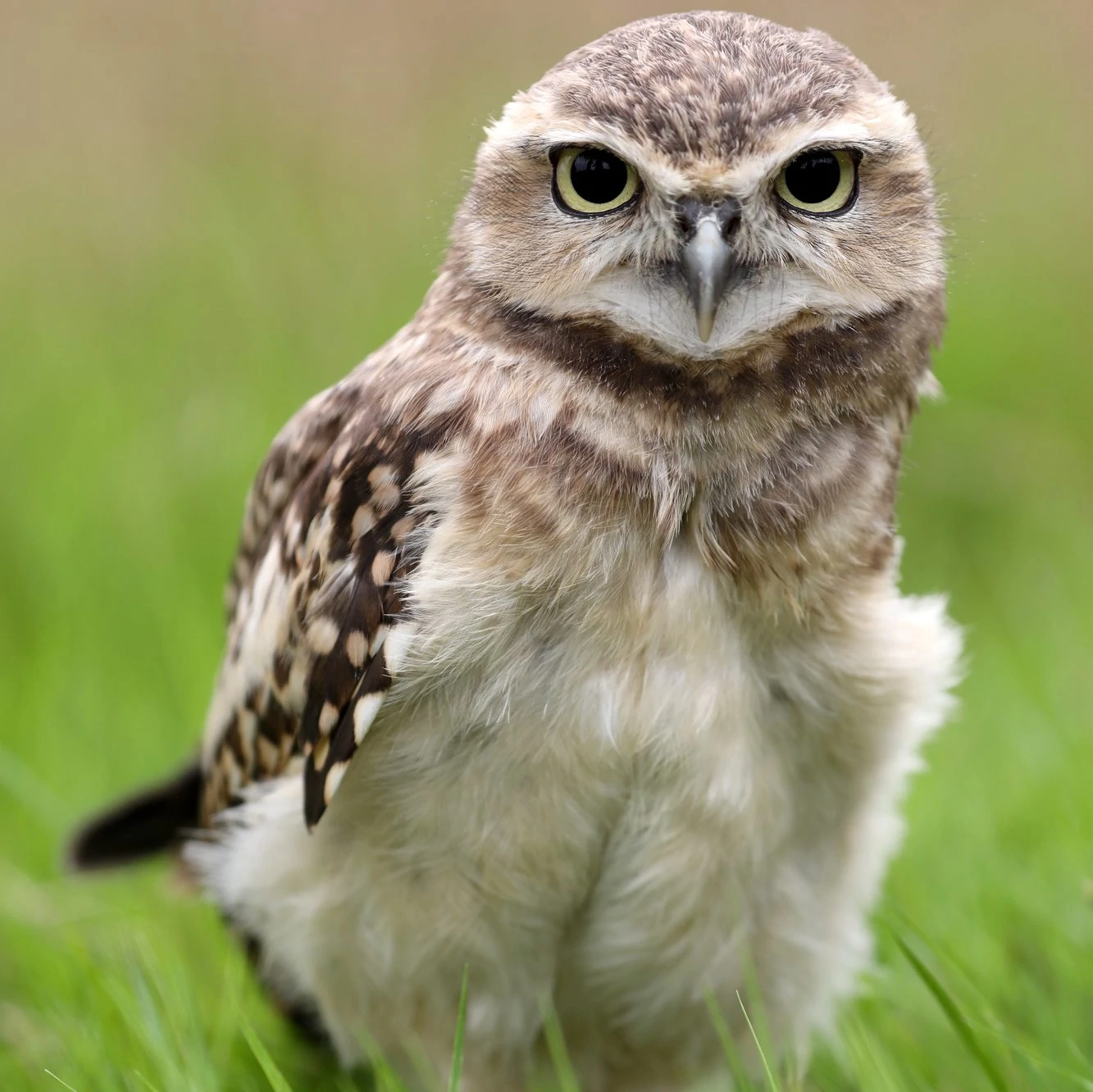 Burrowing Owls are small, long-legged owls that typically lives in prairie dog burrows (hence its name).
Adult Burrowing Owls generally have brown feathers with numerous white spots and no ear tufts.
They have yellow eyes and bills and a white patch on their chins which becomes visible when they bob their heads or when they become agitated.
Juveniles are also generally brown, they have no white spots on their heads, and they have plain white bellies.
Athene cunicularia
Length: 9 – 11 in (23 – 28 cm)
Weight: 5.3 oz (150 g)
Wingspan: 20 – 24 in (51 – 61 cm)
Range
Burrowing Owls breed in western US states and migrate south to Mexico for winter. Those in southwestern US states and Florida remain all year.
Habitat And Diet
You can find Burrowing Owls in deserts and open grasslands, prairies, and agricultural areas. Rather than looking for them in trees, look for them hunting on the ground, nesting in underground dens, and perching on fence posts.  
Burrowing owls hunt both day and night.
They rest in their burrows in between hunting. They sit and wait from their perch and then silently glide to their prey. They catch mice, small rabbits, rats, gophers, bats, lizards, and small birds.
They can run and fly low when hunting on land, but they can also wade through shallow water to catch other animals.
Burrowing Owls Calls:
They are relatively quiet owls. Males make a coo call, and the young are able to mimic a rattlesnake rasp.
Nests
Nests of Burrowing Owls are old, underground holes dug by prairie dogs, badgers, and other burrowing animals. Florida Burrowing Owls dig their own burrows, and Cape Coral has at least 1,000 nesting pairs. They may also use old pipes or nest boxes.
The female lays seven to twelve eggs which she incubates for three to four weeks. The male supports her by bringing food. When the eggs hatch, both parents feed their young and will continue to do so until they're about three months.
Fun Fact:
Burrowing Owls use animal dung or manure to attract insects to the burrow and control the microclimate! The dung or manure that is often used in nest building was originally thought to mask the scent of juvenile owls.