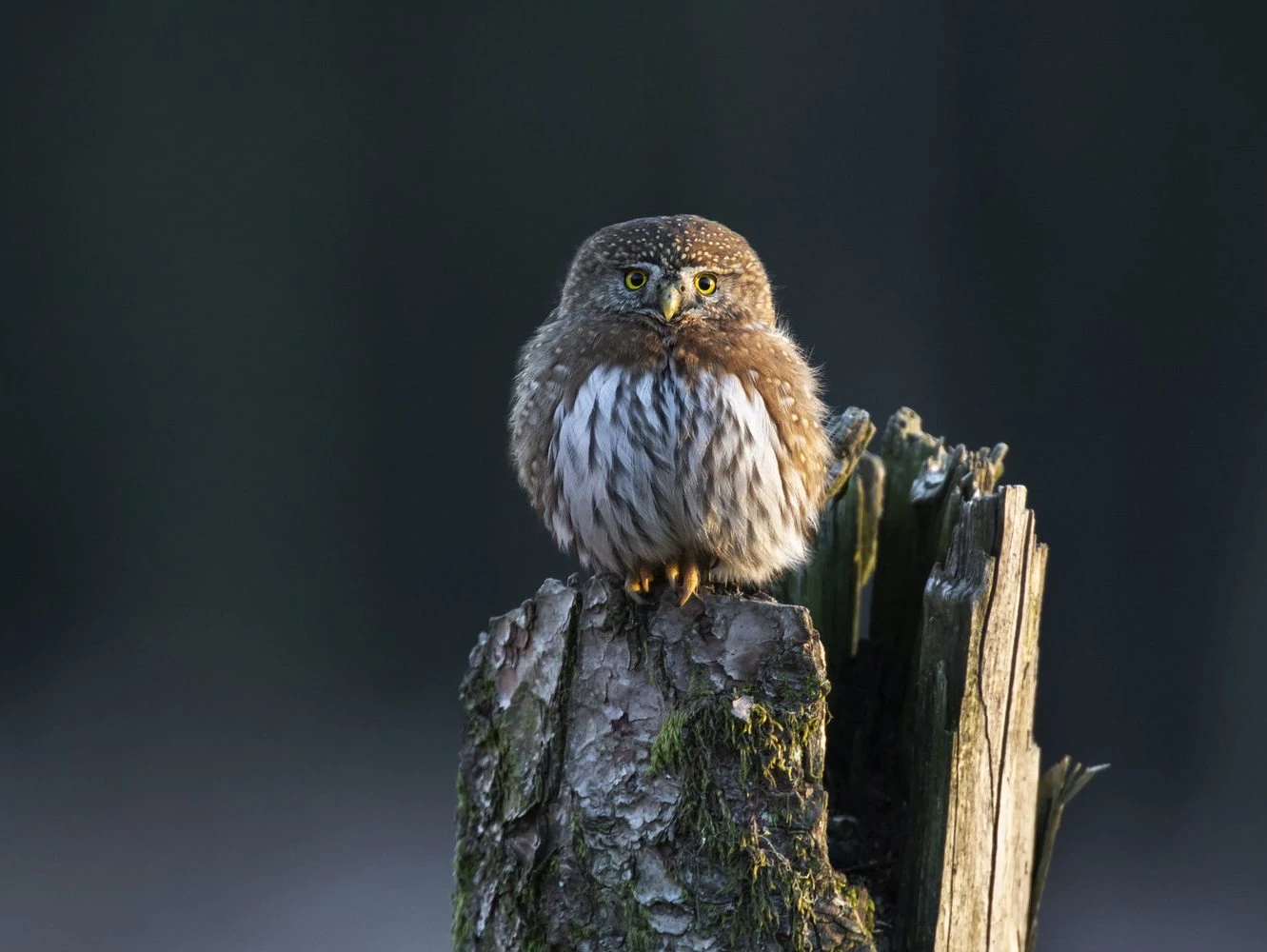 Northern Pygmy-Owls are small and compact, with large round brown heads. Their eyes are yellow, as are their bills. Their backs, wings, and breasts all have white spots on brown feathers, but their bellies are white with dark brown vertical stripes.
One unique feature of Northern Pygmy-Owls is that they have white-bordered black spots at the back of their heads that kind of look like an extra pair of eyes. There are also red morphs and gray morphs.
Glaucidium californicum
Length: 7 – 7.5 in (18 – 19 cm)
Weight: 2/2 oz (62 g)
Wingspan: 12 in (30 cm)
Range
Northern Pygmy-Owls do not migrate and are resident in western regions from British Columbia down to Mexico.
Habitat And Diet
You can find Northern Pygmy-Owls mostly in forests along streams with fir, spruce, cottonwood, aspen, and other mixed trees.
During winter, it's possible that Northern Pygmy-Owls may be seen in towns and backyards, hunting songbirds flocking at bird feeders.
Northern Pygmy-Owls are active hunters during the day, adopting a "wait and see" strategy when choosing and tracking their prey.
They feed on small mammals, birds like hummingbirds, chickadees, warblers, and sparrows, and insects like beetles, butterflies, crickets, and dragonflies, which they can sometimes catch in mid-flight.
Northern Pygmy-Owls Calls:
A series of high 'toots'.
Nests
Nests of Northern Pygmy-Owls are often the abandoned nests of woodpeckers or empty cavities in trees. The female lays up to seven eggs and incubates them for about a month. The male takes care of feeding the female and the chicks once they hatch.