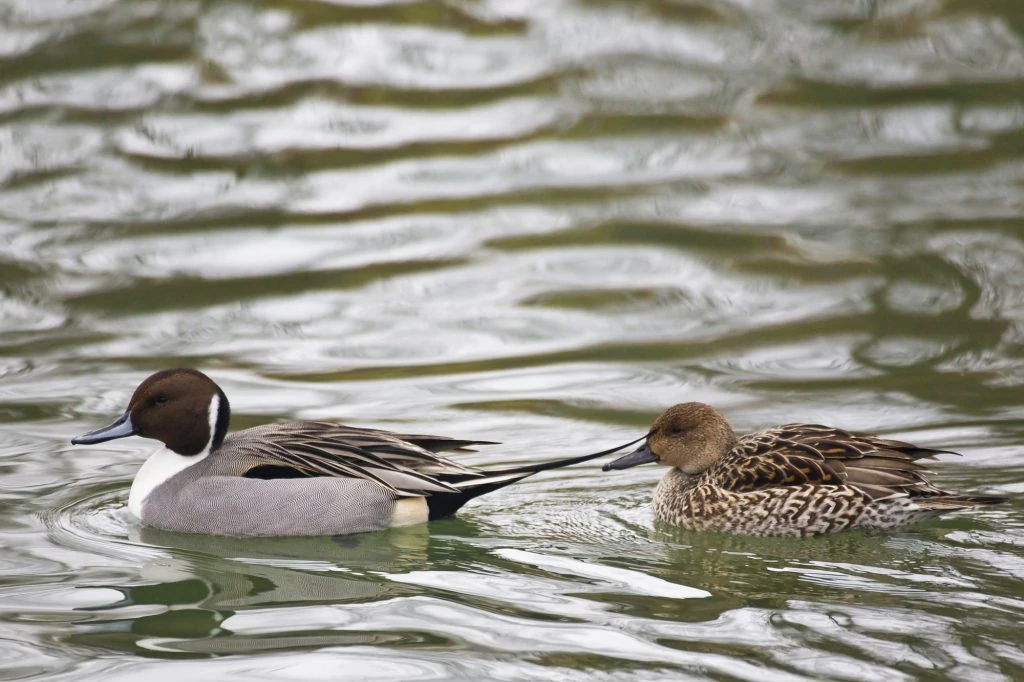 Northern Pintails are ducks known for their long pointy tails. Males have beautiful brown heads, with contrasting white vertical stripes down their necks. Their bodies are white, and they have gray, white, and black patterns on their back. When in flight, their wings display a green patch.
Females are brown with intricate scaled patterns on their bodies. They also have a brown patch on their wings.
Anas acuta
Length: 20 – 26 in (51 – 66 cm)
Weight: 36.33 oz (1030 g)
Wingspan: 29 – 35 in (74 – 89 cm)
Range
Northern Pintails breed in Canada, Alaska, and the Midwest before migrating to southern and coastal US states.
Habitat And Diet
You can find Northern Pintails living with other duck species in open wetlands, marshes, prairies, and even in agricultural fields. They forage on the edges of lakes and ponds but are known to dabble in open water with other ducks.
During winter, they will migrate to coastal lagoons, sheltered estuaries, and brackish marshes. 
Northern Pintails have a distinct advantage over ducks when dabbling for food. With their long necks, they can reach 12 inches deep into the water, much further than other ducks. They feed on seeds and roots of aquatic vegetation.
They also eat seeds and grain from agricultural fields. During the breeding season, they eat more animals for protein, like aquatic insects and mollusks such as snails.
Northern Pintail Calls:
Nests
Nests of Northern Pintails are usually found in shallow hollows on the ground, close to a water source. They are made with grasses and feathers and serve as home to at least twelve eggs.
The female incubates them for as many as twenty-five days and will lead the young to the water as soon as they're hatched so they can feed on insects by themselves. They can fly in about fifty days but will not leave the nest until the female has completed molting.
Fun Fact:
Because Northern Pintails are agile and speedy birds, they are often hunted as a challenge in game shooting.