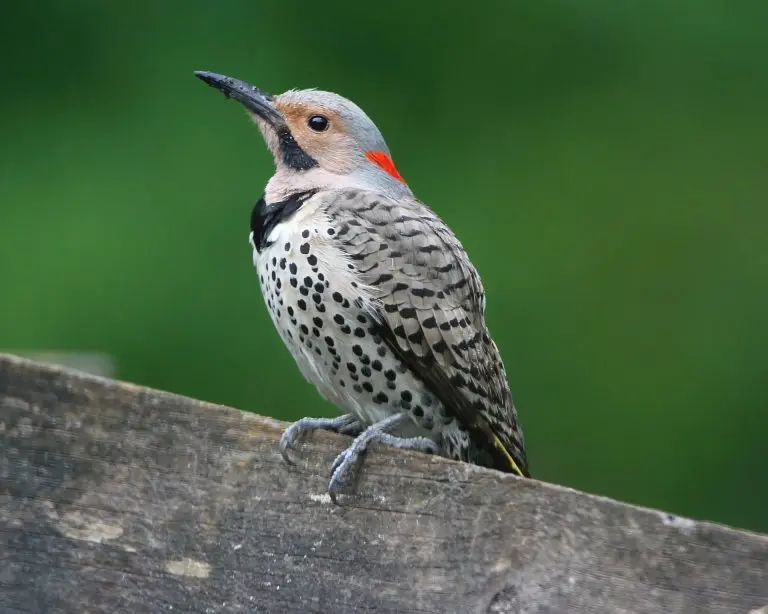 Northern Flickers are large brown woodpeckers with colorful black-spotted plumage with a white patch on its rump in flight plus a red nape of the neck in the males.
Northern Flickers have red or yellow flashes in the wings and tail depending on where they originate. Red-shafted birds live in the west, and yellow-shafted birds live in the east.
Length: 11.0-12.2 in (28-31 cm)
Weight: 3.9-5.6 oz (110-160 g)
Wingspan: 16.5-20.1 in (42-51 cm)
Range
They can be spotted across all of the US and Canada, but those that breed in Canada migrate south for the winter.
Habitat And Diet
Northern Flickers can be seen in open woods, forest edges, and parks, and suburbs. They are often on the ground foraging for food.
Northern Flickers make a loud ringing call with a piercing yelp. They mainly eat ants and beetles and fruits and seeds and can often be seen on the ground digging them up with their curved bill.
Northern Flickers Call and Drumming:
Northern Flickers are quite large woodpeckers, and so their drumming is loud compared to smaller woodpeckers. They also make a long call that sounds like 'flick – flick-flick'.
Nests
They nest in tree cavities, and they lay 5-8 white eggs.
Attract Northern Flickers
Northern Flickers do not come as often to bird feeders, but they can be seen at a birdbath, so adding an attractive pedestal birdbath or a heated birdbath for the winter is your best bet. You can try to encourage them by having black oil sunflower seeds, hulled sunflower seeds, safflower seeds, suet, cracked corn, peanuts, and millet on suet cages, large hoppers, or platform feeders.
You can also put up a nest box suitable for flickers to attract a breeding pair and plant berry-producing plants like grapes, bayberries, hackberries, or elderberries.