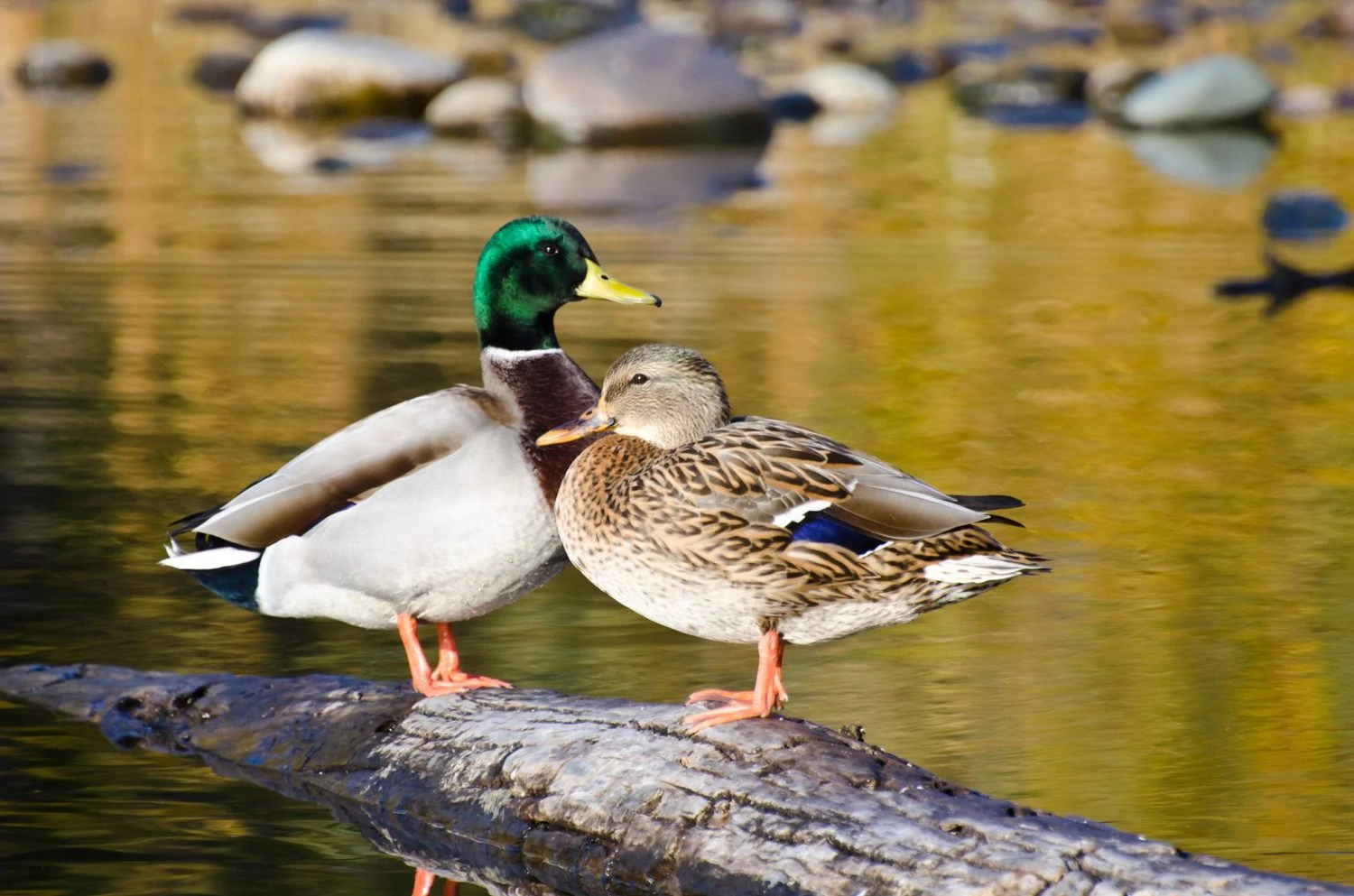 Mallards are large ducks, and the males have striking green heads. They also have bright yellow bills and gray bodies with brown breasts and black towards the tail. They have a curl of tail feathers and a blue patch on the wings bordered with white which is called a speculum.
Females and juveniles are mottled brown with orange bills but still have the blue speculum.
Anas platyrhynchos
Length: 19.7 – 25.6 in (50 – 65 cm)
Weight: 35.3 – 45.9 oz (1000 – 1300 g)
Wingspan: 32.3 – 37.4 in (82 – 95 cm)
Range
Mallards remain all year in most of the lower 48 and the western coast of Canada and Alaska. Those that breed in Canada and Alaska head south to the southern United States and northern Mexico.
Habitat And Diet
Mallards are one of the most commonly spotted and recognizable ducks that will happily be fed on ponds and rivers. They are dabbling ducks that feed on water plants and do not dive. They are very long-lived, and they have been recorded at 27 years old.
Mallard Calls:
Male Mallards don't quack, only females do. Instead, the male makes a rasping sound.
Nests
Nests of Mallards are on the ground on land but close to the water. They are usually hidden under overhanging grass and made in a depression on the ground, filled with vegetation pulled from the surrounding area.
They lay up to thirteen eggs which take about 3 to 4 weeks to hatch, and the ducklings are ready to leave the nest almost immediately.
Fun Fact:
Most domesticated ducks are descended from Mallards, and they have been hunted and bred for food.