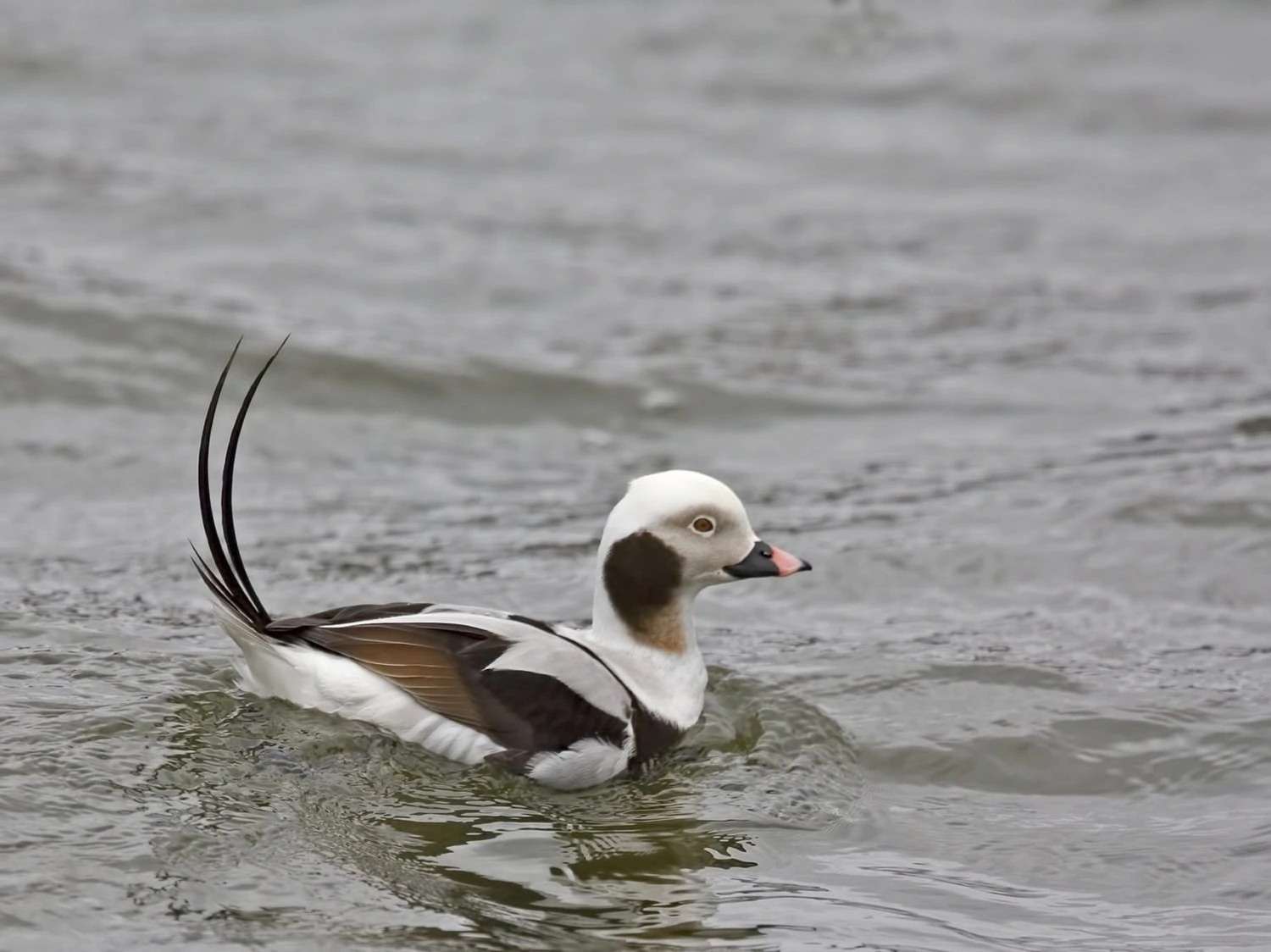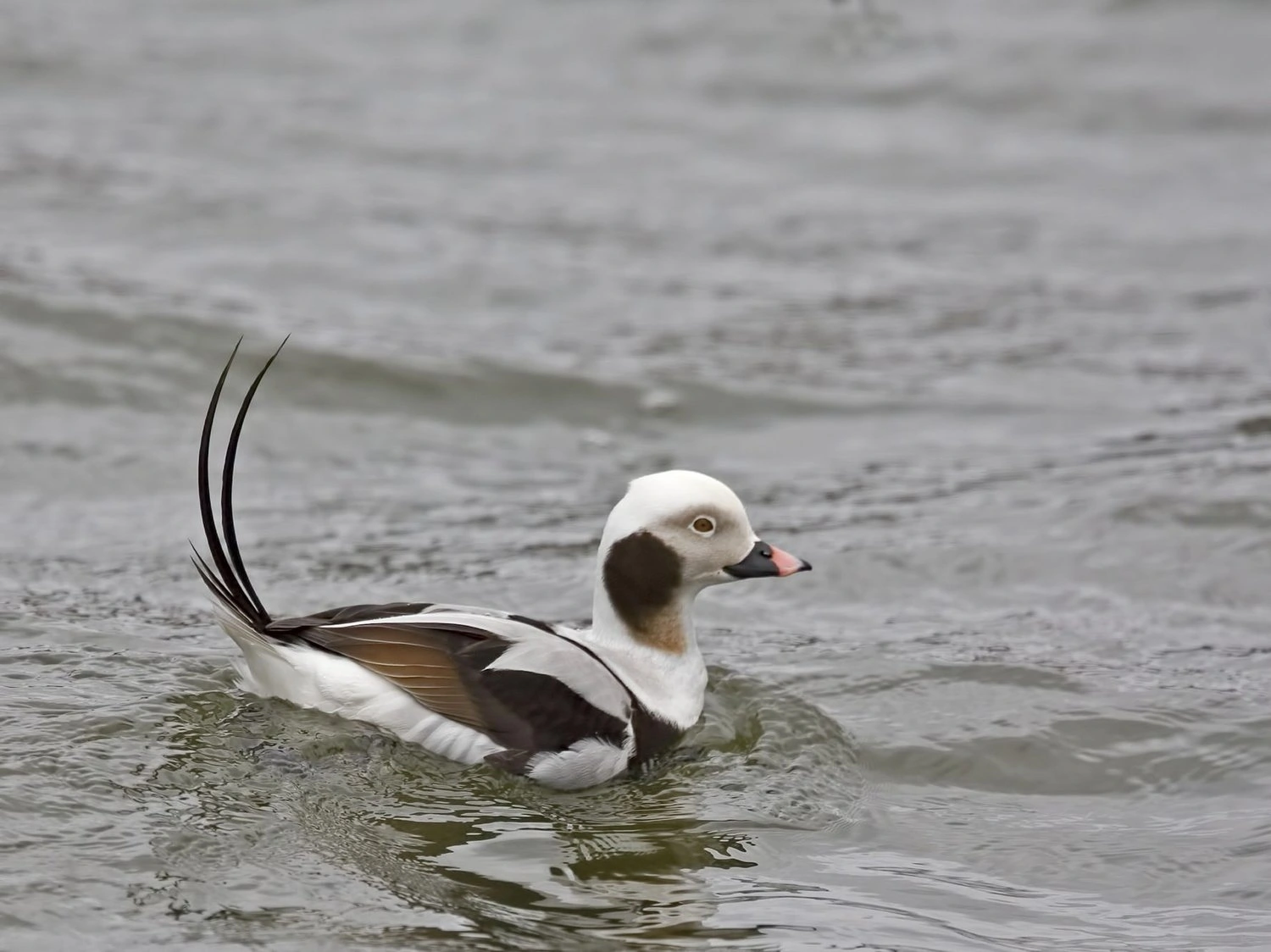 The Long-tailed Duck is a small diving duck that has rather obvious slender, long and black tail feathers, hence the name. What's interesting about the Long-Tailed Duck is that its coloring reverses between the breeding (summer) and non-breeding (winter) seasons. 
Adult non-breeding males have white crowns, foreheads, necks, backs, sides, and bellies. They have a gray mask and a dark cheek patch, a pink band across their black bill, and black breasts and wings with white shoulder blades. Their tails are long and black.
Their coloring reverses during the breeding season or in summer. Everything that was white is now dark-colored. Their crown, foreheads, necks, backs, sides, and bellies are now dark. Their cheek patch is now white, and the band on their dark bill is now gray.
Adult non-breeding females have dark crowns, white heads with a dark patch on the cheek, and gray bills. They have white necks and bellies. They have brown throats, backs, wings, and relatively shorter tails.
Like the males, their coloring reverses during the breeding season. They become browner overall but with a white patch around the eye and neck. 
Juveniles resemble adult non-breeding females, particularly in coloring and with a shorter tail. But they have a darker patch on the cheek and a yellow-orange band on the gray bill like the adult males.
Clangula hyemalis
Length: 15 – 22 in (38 – 56 cm)
Weight: 31.74 oz (900 g)
Wingspan: 26 – 31 in (66 – 79 cm)
Range
Long-tailed Ducks breed in the far north of Canada and Alaska and across northern Europe and northern Asia. In winter, they migrate south to the US, and those in Europe and Asia move south in these regions.
Habitat And Diet
You can find Long-Tailed Ducks in many coastal water habitats. They are often in bays, harbors, fjords, estuaries, straits, and mudflats. During the breeding season, you can find them along ocean coasts and large freshwater lakes. They are known to join large flocks in areas with extensive sea ice.
Long-tailed Ducks usually dive for mollusks, crustaceans, and small fish in the oceans during winter. They are known to dive as deep as 200 feet to reach zooplankton which is usually at the bottom of water columns. They use their wings to propel them through the water. On the tundra, during summer, they mostly eat insects, fish eggs, and plants. 
Long-tailed Duck Calls:
Nests
Nests of Long-tailed Ducks are usually shallow depressions on the ground made by females. They are grouped together in small, tight clusters with other females' nests. The first egg is covered with a layer of grasses, and with the addition of a second egg, the females add their own down to the nest.
Females can lay anywhere from six to nine eggs. They alone incubate the eggs for up to twenty-nine days. Males leave for their post-breeding molting site. The young are able to feed when they hatch.
Fun Fact:
The Long-tailed Duck used to be known as "oldsquaw."