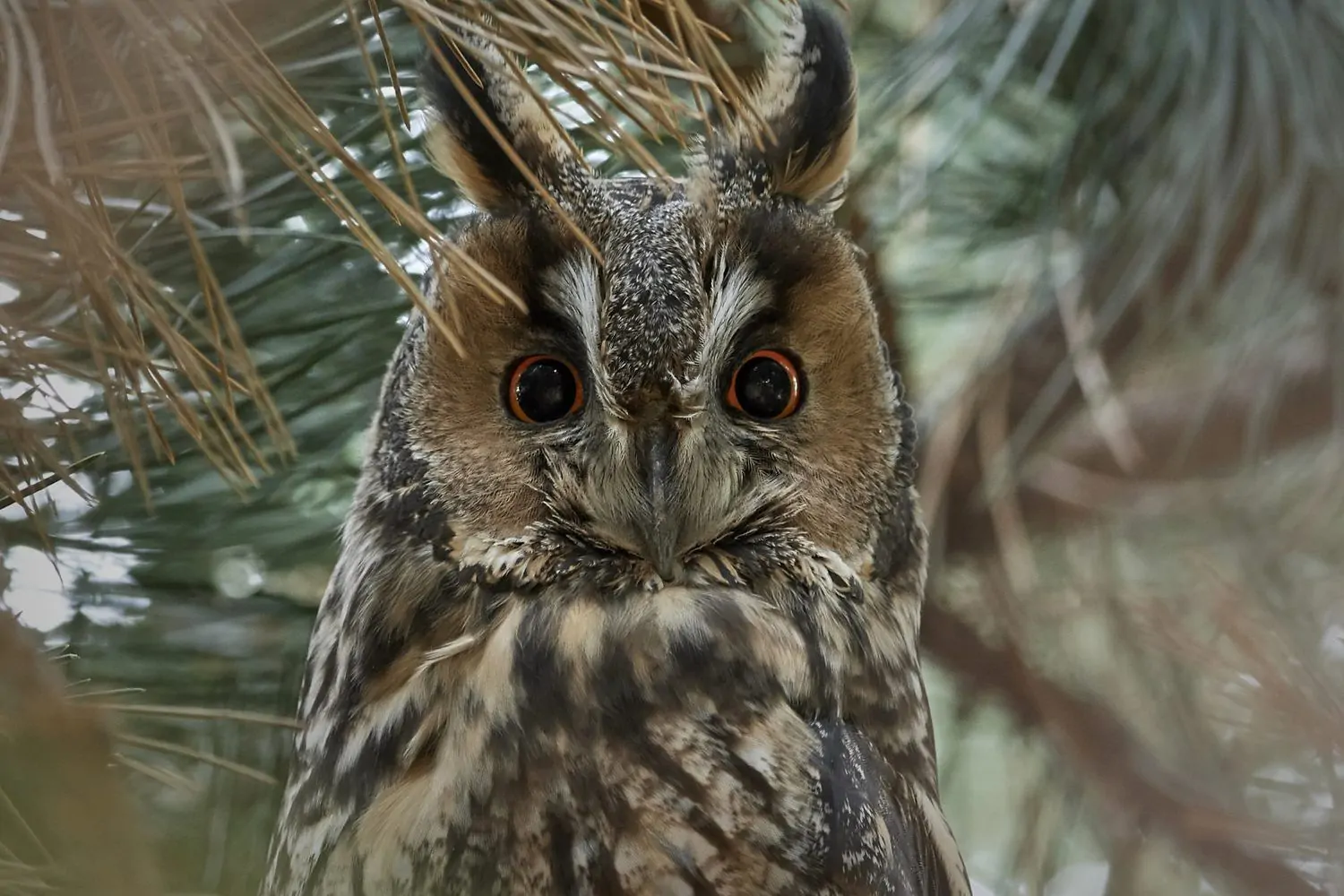 Long-eared Owls are slender, medium-sized owls known for their obvious ear tufts, hence their name. They look similar to Great Horned Owls but are much smaller, and the ear tufts are closer together.
They have a surprised expression due to their facial disc and mustache-like feathers around their bill.
Their upperparts are mottled gray, brown, white, and buff. Their underparts have a unique cross-barred pattern of varying orange, brown, black, and white. Their tails are white with dark brown barring.
They are darker in eastern US states and lighter in the west.
Asio otus
Length: 13.8 – 15.8 in (35 – 40 cm)
Weight: 7.8 – 15.3 oz (220 – 435 g)
Wingspan: 35.4 – 39.4 in (90 – 100 cm)
Range
Long-eared Owls breed in Canada and northern US states and migrate to the rest of the US and Mexico for winter. However, some remain resident all year, especially in inland western US states.
Habitat And Diet
You can find Long-eared Owls in wooded areas with dense coniferous or deciduous trees for roosting and near open grasslands for hunting. The thick foliage of these trees helps camouflage them from potential predators.
Small mammals such as voles, mice, young rats, and rabbits are the main prey of Long-eared Owls, but they may also eat small birds
They fly just a few feet off the ground, listening for movement of prey.
Long-eared Owls Calls:
They are relatively silent owls but make slow, steady 'whoo' calls during the breeding season.
Nests
Nests of Long-eared Owls are often nests made of sticks that are abandoned by other species, or they use tree cavities or hollows.
The female lays up to ten eggs and incubates them for about four weeks. It takes around three weeks for the chicks to start "branching" out even though their parents will still feed them at this point.
Fun Fact:
Long-eared Owls are rarely heard except during breeding time. They make soft low hoots and whistles, whines, shrieks, and cat-like meows.