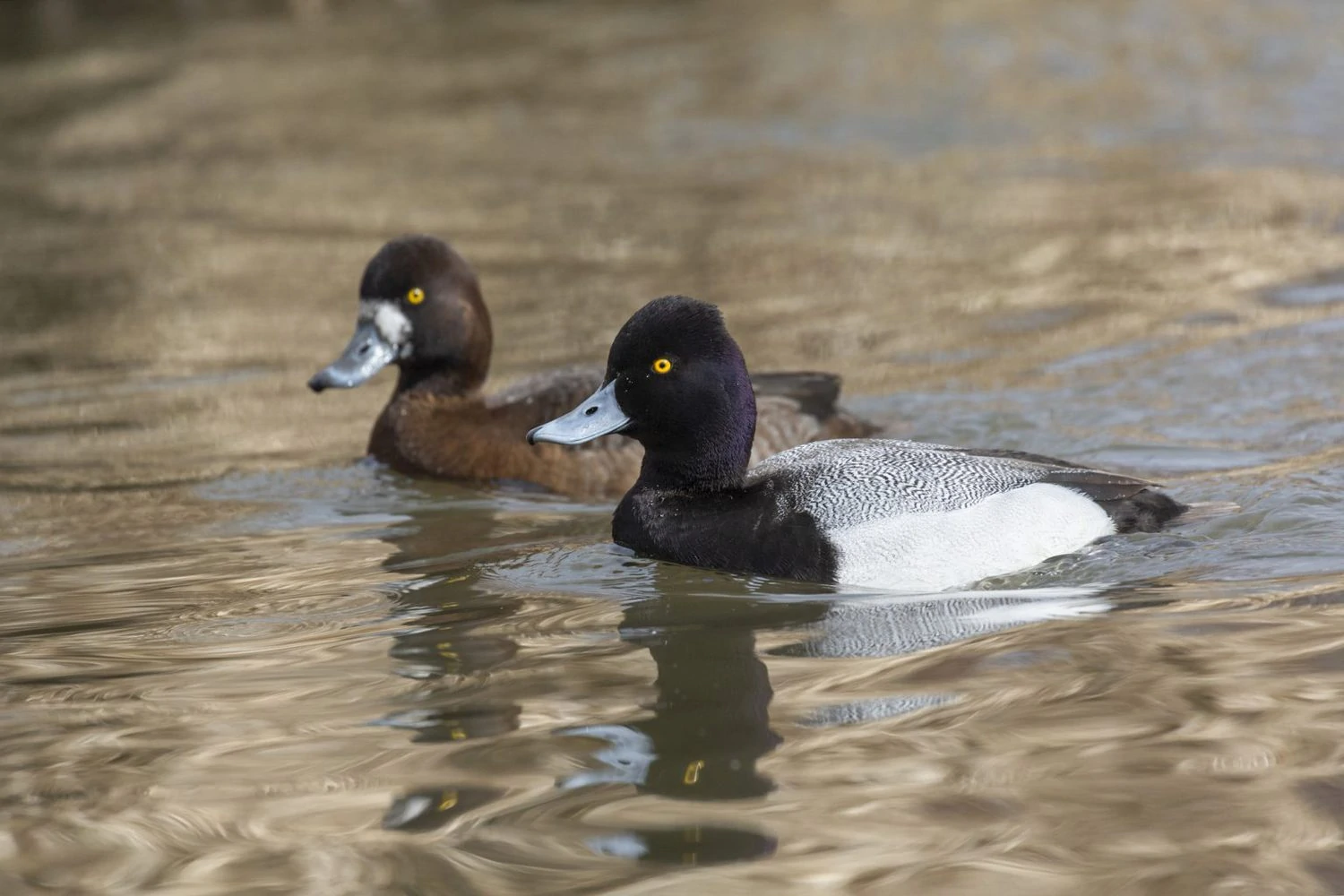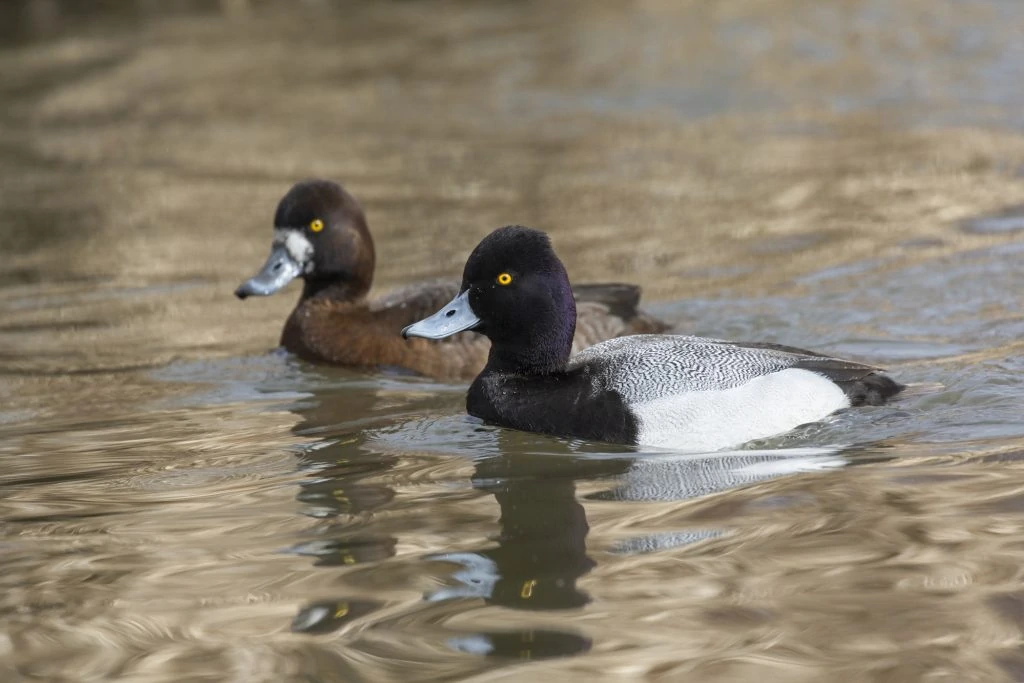 Lesser Scaups are medium-sized diving birds that are pretty similar and often mistaken for Greater Scaups. What makes them different is that Lesser Scaups have a small group of hairs at the tip of their heads. It makes their head look steeper than Greater Scaups.
Their heads, chests, and bottoms are all black with a purple sheen. Their eyes are golden yellow. Their sides are white, and their backs are grayish with an intricate pattern.
Females have dark-brown heads, a white patch on their face next to their bills, gray sides, and are brown all over, and no extra tuft of hair on the head like the males.
Aythya affinis
Length: 15 – 18 in (38 – 49 cm)
Weight: 40.77 oz (1155 g)
Wingspan: 24 – 33 in (61 – 84 cm)
Range
Lesser Scaups breed in northwestern US states, western Canada, and Alaska before migrating to southern US states, Mexico, and the east and west US coasts. They can be seen during migration across the rest of the US and Canada.
Habitat And Diet
You can find Lesser Scaups in large lakes, rivers, ponds, and reservoirs. They usually flock together by the thousands during winter, and they often look like floating vegetation when viewed from afar.
Lesser Scaups feed primarily on mollusks and clams that they find after diving into the water and sifting through the bottom. They also dabble in the water for plant vegetation like bulrushes, wild celery, wild rice, and pondweeds.
Recently, they have begun to feed on zebra mussels in Lake Erie, which may endanger their health because these animals are filter feeders and contain environmental contaminants.
Lesser Scaup Calls:
Male Lesser Scaups are quiet and only make soft gurgle calls. However, females are much louder and make harsh grunts.
Nests
Nests of Lesser Scaups are usually found on the ground very close to the water. Females may share their nests with others, so one nest may contain eggs from more than one female. The nests themselves are scraped and lined with plants and feathers.
One female may lay up to eleven eggs, but the nest may contain up to twenty-six eggs, including those from other females. Incubation lasts only three weeks, and the young immediately head to the water after hatching.
The young are cared for by the females, but they can feed themselves. In about fifty days, they are able to fly and migrate with the others.
Fun Fact:
An adult Lesser Scaup may pretend to be dead when in the jaws of a predator like the Red Fox.