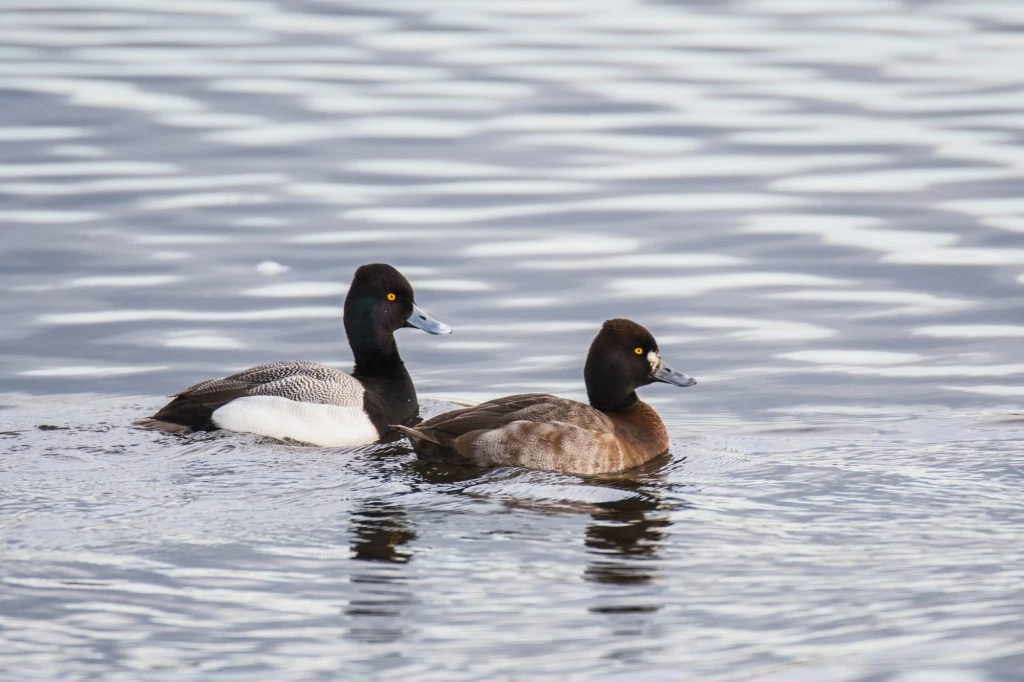 Greater Scaup males are ducks with iridescent dark green heads with blue bills, gray barred backs, and white sides. From a distance, they look black and white. Males molt after the breeding season and have mottled brown and gray bodies with darker heads.
Females are brown with a white patch between each eye and the bill. Both males and females have yellow eyes. Greater Scaups look very similar to Lesser Scaups except with rounder heads.
Aythya marila
Length: 15.3 – 22.1 in (39 – 56 cm)
Weight: 25.6 – 48.0 oz (726 – 1360 g)
Wingspan: 28.4 – 31.1 in (72 – 79 cm)
Range
Greater Scaups breed in the north of Canada and in Alaska before migrating to the Pacific and Atlantic Coasts for winter, but more on the Atlantic side.
Habitat And Diet
You can find Greater Scaups in shallow lakes and ponds during the breeding season. In winter, they migrate towards the coast and can be found in bays and shores, but also on the Great Lakes. They form huge 'rafts' of birds out at sea.
Greater Scaups are diving ducks that eat invertebrates and plants at the bottom of lakes and the sea. They will push their open bills into the soft mud while swimming forward and quickly close it on any prey.
Greater Scaup Calls:
Greater Scaup flight call
Nests
Nests of Greater Scaup are on the ground, near water, and they add grass and down feathers to the small depression. They sometimes lay their eggs on floating mats of vegetation. They lay up to thirteen eggs which take around twenty-five days to hatch. The young leave the nest almost immediately.
Fun Fact:
Greater Scaups can dive up to 23 feet underwater to hunt on the bottom for food.