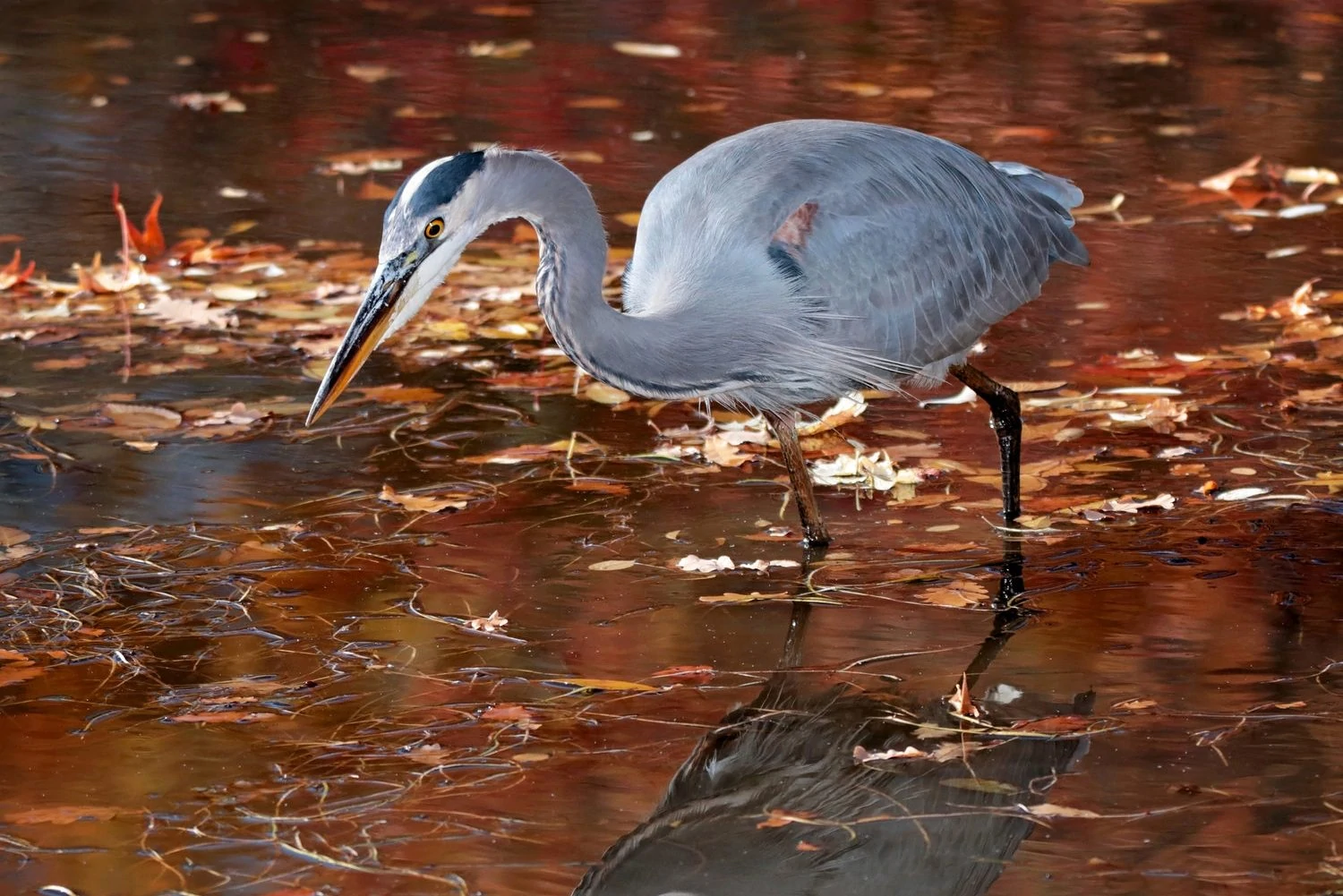 Great Blue Herons are very large, majestic birds that are the largest heron native to North America.
They have a white face with a black crest or plume that extends from the front of their eyes to the back of their heads. Their bills are yellow-orangish.
They have long gray necks with black and white streaking in the front, grayish-blue bodies, and long gray legs.
Ardea herodias
Length: 46 – 52 in (117 – 132 cm)
Weight: 128 oz (3628 g)
Wingspan: 77 – 82 in (196 – 208 cm)
Range
Great Blue Herons remain in most US states all year, but those that breed in the Mid-West and Canada migrate south.
The Great Blue Heron has a white morph subspecies called the Great White Heron in Florida.
Habitat And Diet
You can find Great Blue Herons in many wetland environments. They can be present in fresh and saltwater marshes, mangrove swamps, flooded marshes, lake edges, or shorelines.
Great Blue Herons' main diet consists of fish, frogs, salamanders, shrimps, crabs, dragonflies, grasshoppers, and other aquatic insects.
They capture their prey when wading or standing in water. They may also hover over water, dive into the water, jump feet-first from perches, or float on the water's surface.
Great Blue Heron Call:
Nests
Nests of Great Blue Herons are found in colonies, high up in trees close to water. The nests are made with twigs and sticks lined with softer material.
Since Great Blue Herons reuse their nests, they may repair and add more to the nests over time, growing them in size.
The female then lays two to seven eggs. Both parents take turns incubating the eggs for around four weeks.
Fun Fact:
Great Blue Herons defend their feeding territory with dramatic wing outstretched displays, with their heads thrown back.