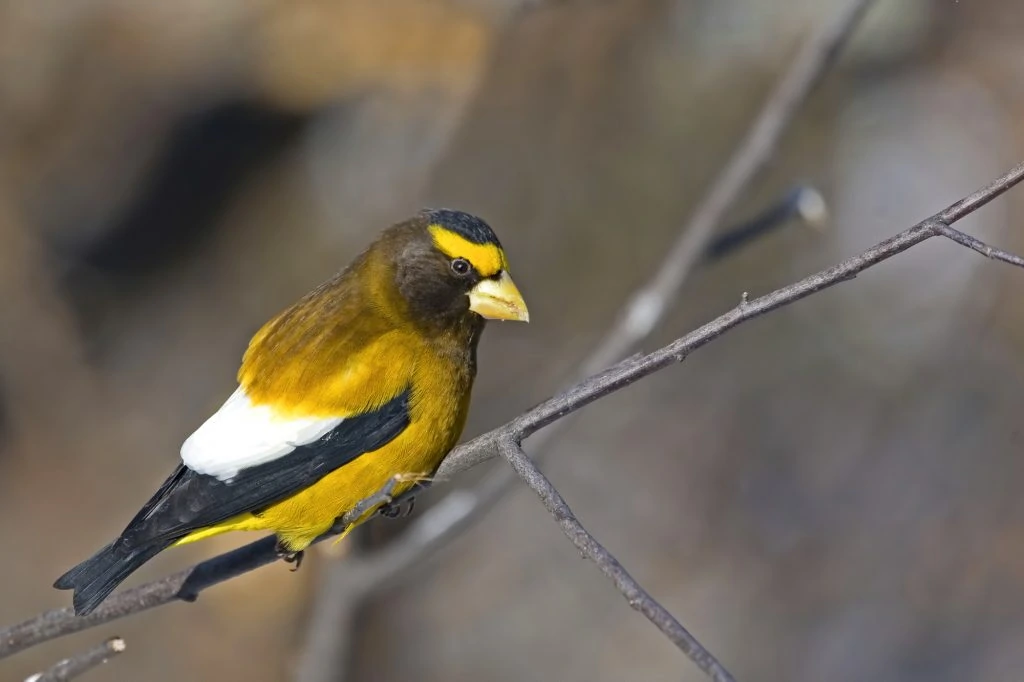 Evening Grosbeaks are chunky birds with big bills and a striking yellow and black pattern. Adult males have a bright yellow stripe over their eyes, making them look fierce. Their heads are black, with gray necks, and their chest and belly are yellow. They also have a white patch on their wings.
Females and juvenile males have greenish bills, mostly gray bodies, black and white wings, and a yellow tinge to the neck.
Hesperiphona vespertina
Length: 16 to 22 cm (6.3 to 8.7 in)
Weight: 38.7 to 86.1 g (1.37 to 3.04 oz)
Wingspan: 30 to 36 cm (12 to 14 in)
Range
Evening Grosbeaks remain all year in southern Canada and down the west coast to northern California. However, when cone crops are poor, they will migrate south to most US states.
Habitat And Diet
You can find Evening Grosbeaks in forests and mountain regions. During the winter, they're often attracted to bird feeders in backyards, most often because it's an easy food supply.
Evening Grosbeaks naturally feed on flower buds during spring; insect larvae from treetops during the summer; and in the winter, they flock to backyard feeders or feast on seeds, berries, and small fruit.
Evening Grosbeak Song:
Nests
Nests of Evening Grosbeaks are usually found up to 100 feet above ground in pine trees. The nests are loosely made, and composed of twigs, rootlets, grass, moss, and pine needles. There are usually up to five eggs laid by the female, and she incubates them for two weeks until they hatch.
Attract Evening Grosbeaks
Attract them to your backyard during winter with sunflower seeds, berries, and maple buds. 
Fun Fact:
Evening Grosbeaks have such powerful bills that they can crush seeds that are too hard to open for other smaller birds, so these birds hang around to eat whatever is left behind.