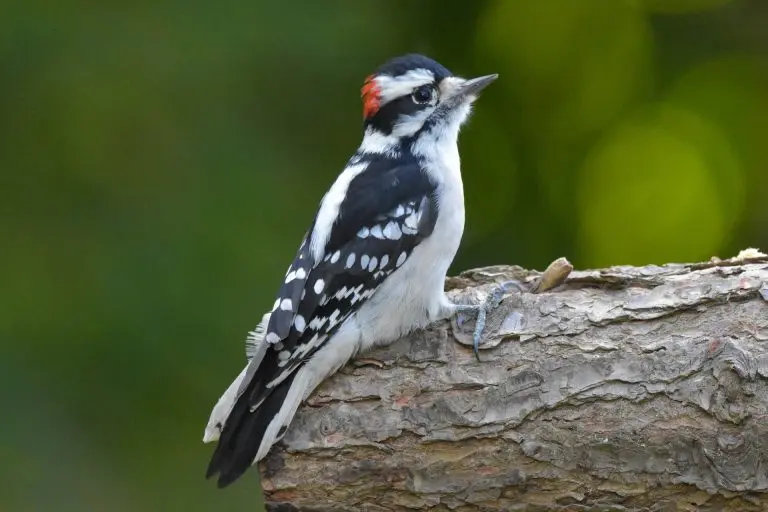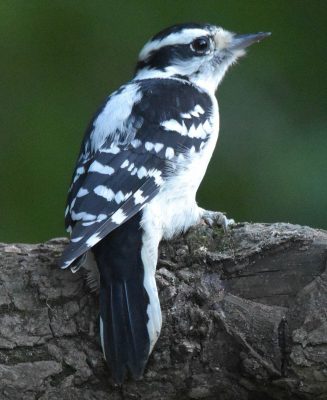 The Downy Woodpecker has black and white patterning, mostly black with a white patch on their backs. The males also have a red patch on the back of their heads.
Length: 5.5-6.7 in (14-17 cm)
Weight: 0.7-1.0 oz (21-28 g)
Wingspan: 9.8-11.8 in (25-30 cm)
Although visually very similar to the Hairy Woodpecker, it is a third smaller and with a smaller beak compared to other woodpeckers. It is usually a Downy Woodpecker that you see at feeders as they are more common.
Range
Downy Woodpeckers are very common throughout the US and Canada. They are not found along the southern border with Mexico or the North of Canada.
Habitat And Diet
Downy Woodpeckers can be found on backyard bird feeders. They make a high-pitched pik sound and the descending whinny call and are very active, so fun to watch. Downy Woodpeckers are often seen mixed in with other small birds such as nuthatches and chickadees.
They can be found in open woodlands and parks, orchards, and backyards and are commonly seen at feeders.  They can also be seen amongst tall weeds.
Downy woodpeckers eat mainly insects, especially larvae, nuts and they also eat berries, acorns, and grains. They will sometimes be seen drinking from hummingbird feeders.
Downy Woodpecker Sound
Downy Woodpeckers are the most common woodpecker. They make a slightly slower drumming sound, so you can hear more of the individual drums than the Hairy Woodpecker, to which they look and sound similar.
Nests
Downy Woodpeckers nest in dead tree cavities and lay between 3-8 small (0.8 in) white eggs.
Attract Downy Woodpeckers 
An upside-down suet feeder is excellent for smaller woodpeckers such as Downy Woodpeckers as they offer protection from the rain and help stop bully birds. A bulk pack of suet cakes is a more economical way of buying them.
Also, black oil sunflower seeds attract more Downy Woodpeckers to your yard, and if you combine them with suet in great combination suet and hopper feeder, you get two feeders in one.