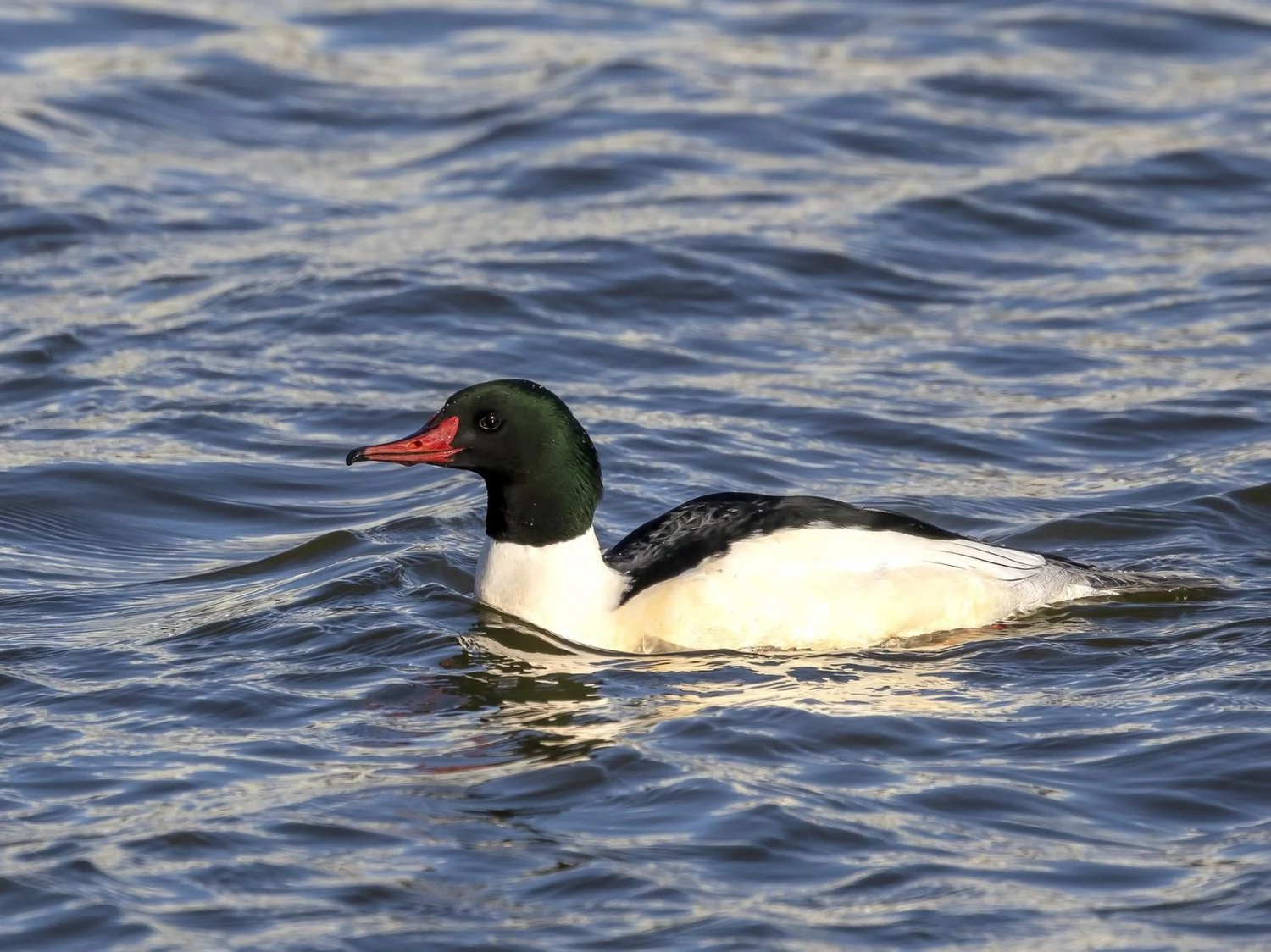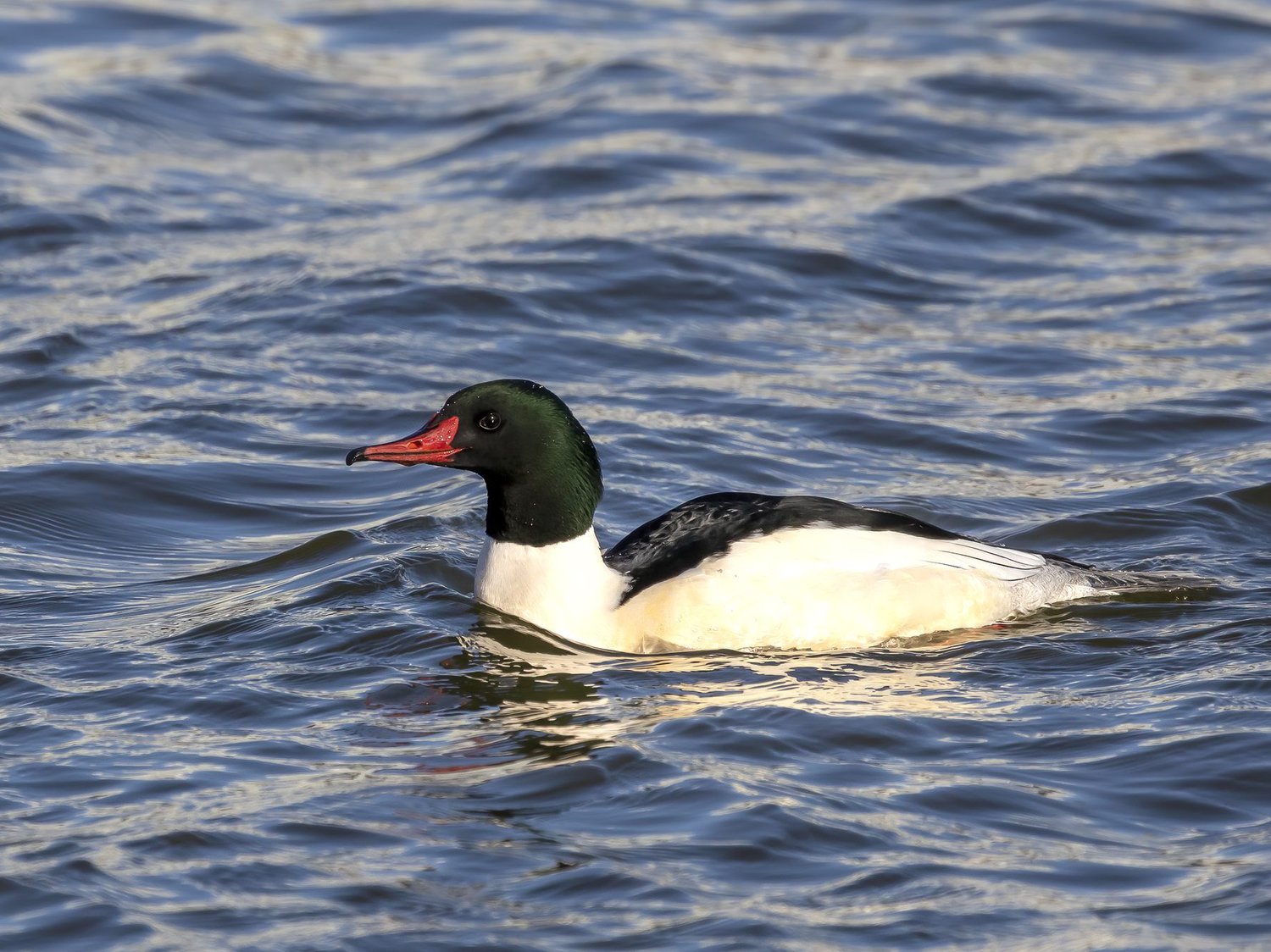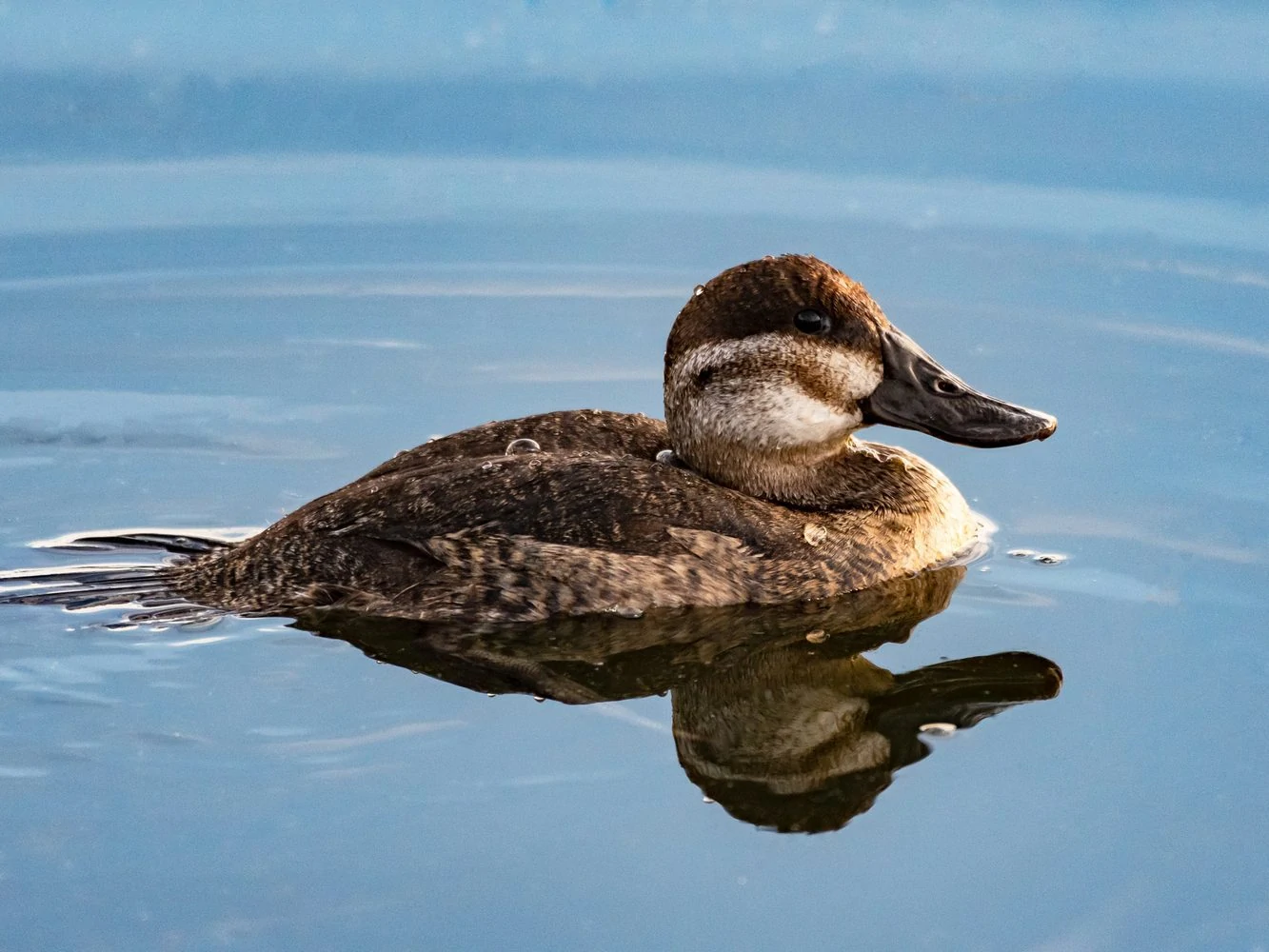 Male Common Mergansers are simple-patterned birds but striking nonetheless. They have black heads with a glossy green sheen, dark eyes, bright-red, long, serrated bills, white bodies, and black backs. While they do have a crest, it's not often visible.
Females have a more prominent reddish-brown crest. They have the same red, serrated bill as the males. They also have a white chin patch, and their breast and bellies are white, and their backs are gray. Juveniles resemble females. 
Mergus merganser
Length: 22 – 27 in (56 – 69 cm)
Weight: 60.8 oz (1723 g)
Wingspan: 31 – 37 in (79 – 94 cm)
Range
Common Mergansers breed in Canada and migrate to the US. Some remain all year in northeastern and northwestern US states.
Habitat And Diet
You can find Common Mergansers in freshwater lakes and ponds. They are also found in small rivers and shallow shorelines and even sitting on rocks in the middle of a stream. While they prefer freshwater habitats, they sometimes visit saltwater regions too, like coastal estuaries and harbors.
Common Mergansers are diving ducks, and they love to eat fish, particularly the adults. Their serrated bills make it easy for them to capture and hold these fish as well as mussels, crustaceans, and other aquatic creatures. Gulls often follow them when hunting to steal fish from them. 
Common Merganser Calls:
They are usually fairly quiet, but Male Common Mergansers give alarm calls, and females make a series of grunting calls to their young.
Male Common Merganser call
Female Common Merganser call
Nests
Nests of Common Mergansers are usually found in a tree cavity in mature forests. They often use abandoned tree holes and line them with down feathers. They also use nest boxes where available. If there are no tree cavities, they use crevices on cliffsides.
Females lay six to seventeen eggs and have been known to lay eggs in other nests of the same species. They incubate these eggs for around thirty days. When the young hatch, they immediately head for the water to feed themselves.
The female may assist them in finding food, but otherwise, they fend for themselves. 
Fun Fact:
Common Mergansers are also called "sawbills," "fish ducks," or "goosanders."