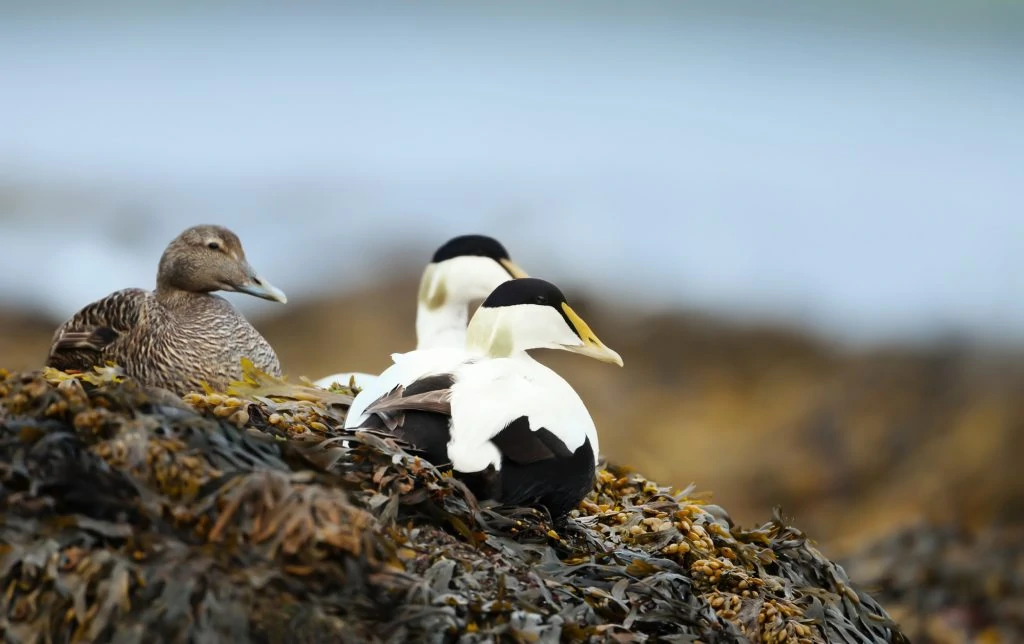 Common Eiders are large sea ducks with sloping foreheads. Breeding males generally have white cheeks and backs, black caps, sides, and bellies, and pistachio-colored napes (back of the neck).
Females are reddish-brown all-over with black barring on their breasts, backs, and wings. Juveniles and non-breeding males are chocolate brown with varying degrees of white coloring on their breasts and backs.
Somateria mollisima
Length: 23 – 27 in (58 – 69 cm)
Weight: 78.4 oz (2222 g)
Wingspan: 35 – 42 in (89 – 107 cm)
Range
Common Eiders have six subspecies, four of which breed in North America and have slight differences between them.
Common Eiders breed in Canada and Alaska and parts of northern Europe and Asia. Some remain in those areas in winter all year, but others migrate south.
Habitat And Diet
You can find Common Eiders in marine or saltwater habitats that are near rocky coastlines. During the breeding season, you can find them in large colonies on coastal islands, islets, and shorelines with vegetation, shrubs, and stunted trees.
In winter, they settle in locations with rocky seafloors to easily forage for mollusks.
Common Eiders mainly eat mollusks, crustaceans, marine worms, and fish eggs. They forage at low tides and pry these mussels from rocks underwater with their strong, chisel-like bills.
They are able to swallow the mussels whole despite their shells. When eating crabs, they only eat their bodies and remove all of their legs and claws prior to eating. 
Common Eider Calls:
Nests
Nests of Common Eiders are made by the females by creating a depression on the ground with their feet and belly. They usually choose a site that's sheltered and mostly used in previous years.
They lay three to eight eggs and line the nest with their own down after laying the third egg. When they have to leave the nest, they cover the eggs with the down. The females incubate the eggs for about twenty-four to twenty-six days, with the males staying close for protection.
Fun Fact:
The Common Eider is also called St. Cuthbert's Duck or Cuddy's Duck because they were one of the first birds ever to gain protection laws as established by Saint Cuthbert in the year 676.