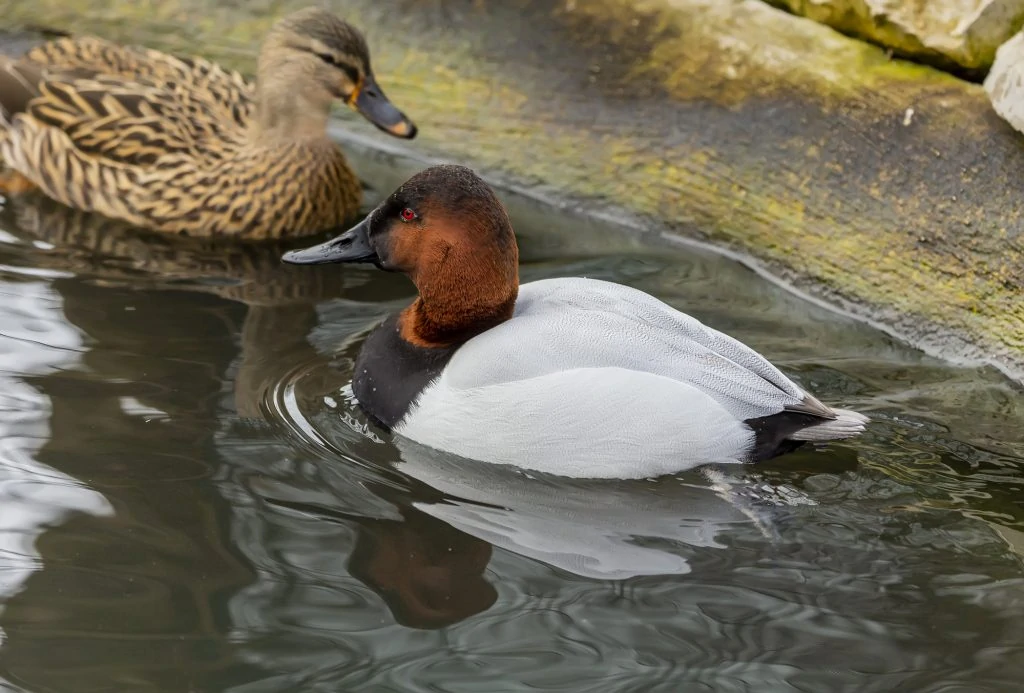 Male Canvasbacks are easily recognizable ducks from the Anatidae family because of their red eyes and sloping reddish-brown heads and throats. Their chest is black, but their bellies and backs are white or grayish. Their bottom is black too.
Females are mostly brown in the head, throat, and chest, but their backs and bellies are brown and gray. 
Aythya valisineria
Length: 19 – 24 in (48 – 61 cm)
Weight: 58.48 oz (1657 g)
Wingspan: 28 – 36 in (71 – 91 cm)
Range
Canvasbacks breed in western Canada and some areas in northcentral states before migrating to southern US states, Mexico, and the east and west coasts of America.
Habitat And Diet
You can find Canvasbacks in prairie marshes, deep-water marshes, lakes, bays, and ponds. They usually join large flocks with other birds, but their white bodies and sloping heads easily make them stand out. In winter, they prefer to live in freshwater lakes and coastal waters.
Canvasbacks are diving ducks, so they typically forage for food in open water. Their webbed feet are perfect for diving as they root out tubers and other plant food at the bottom of marshes, lakes, and ponds.
They may occasionally dabble for seeds, buds, roots, snails, and insect larvae, too. Their favorite food is the tubers of Sago Pondweed.
Canvasback Calls:
Nests
Nests of the Canvasbacks are bulky and strong, made of reeds and grass that may be found on open water or on marshes with lots of plant vegetation and protective cover. The female lays five to twelve eggs that take about a month to hatch.
It takes about sixty to seventy days for the ducklings to be able to fly and fend for themselves. 
Fun Fact:
The word "valisineria" in the Canvasbacks' scientific name comes from Vallisneria americana, or wild celery, which is their favorite food during the non-breeding period.