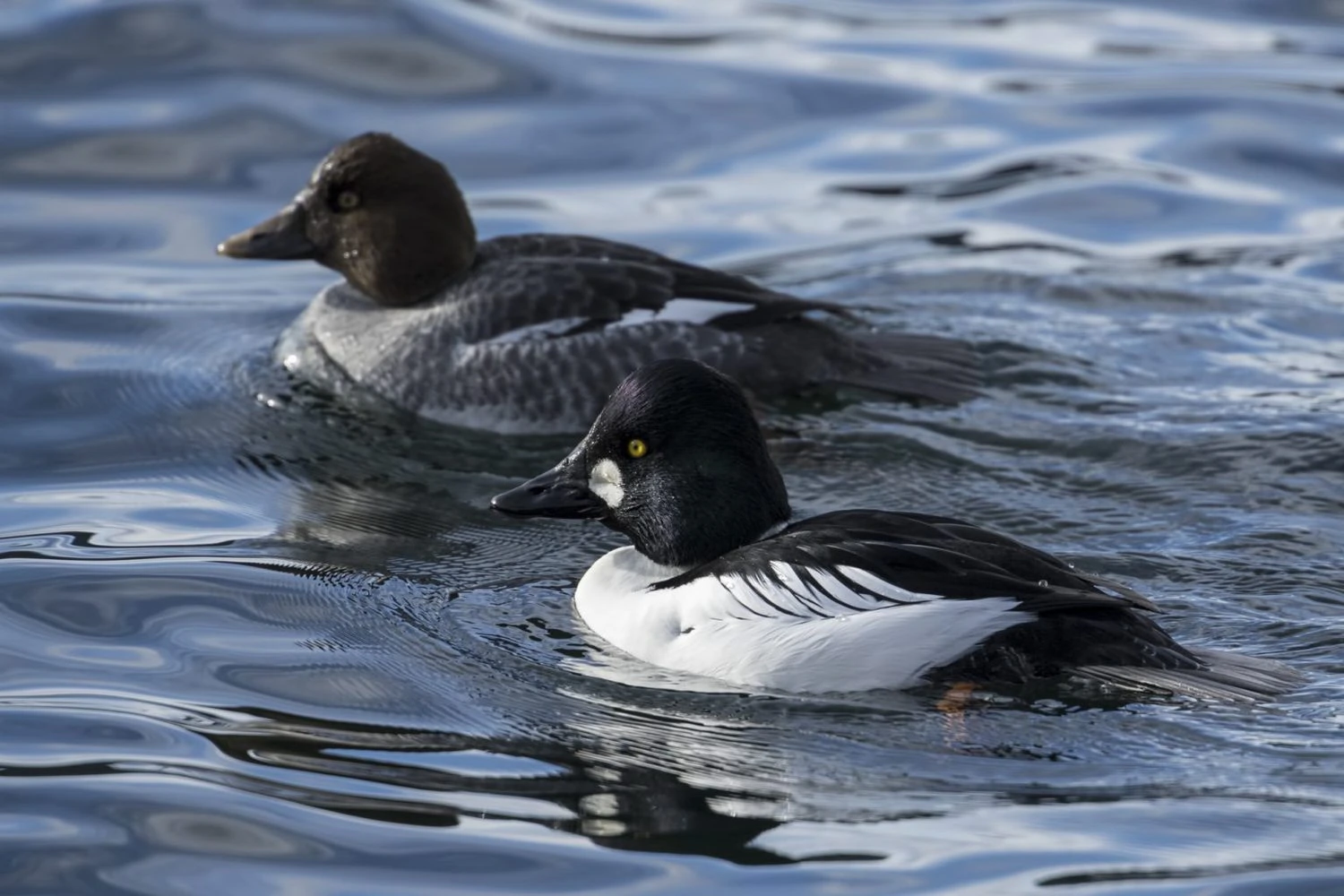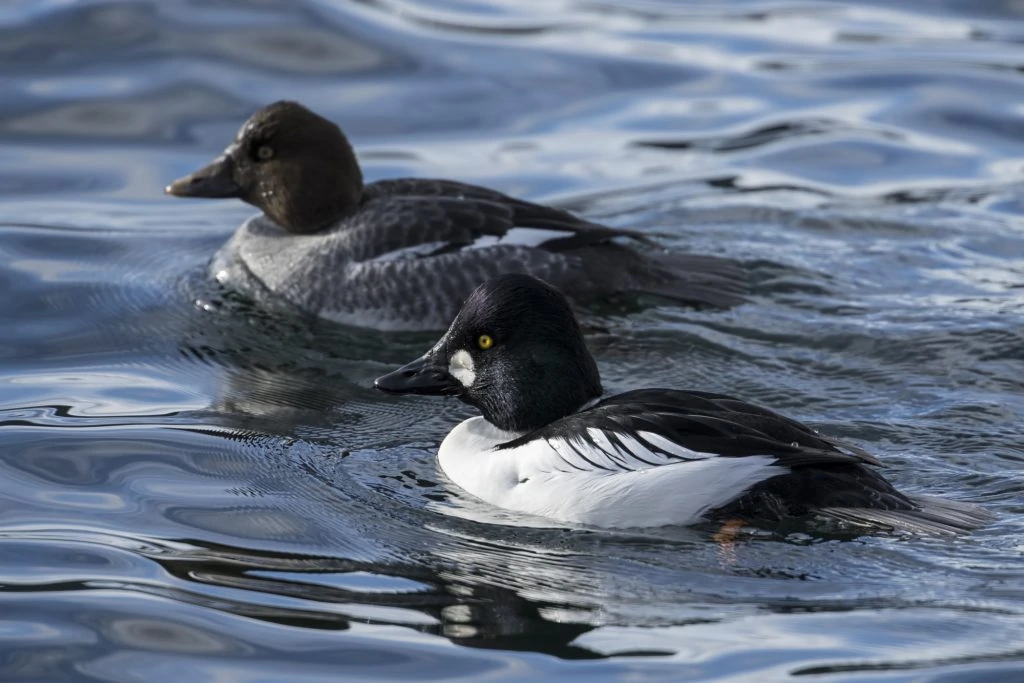 Barrow's Goldeneyes are medium-sized ducks that are commonly mistaken for Common Goldeneyes because they have very similar features. Male Barrow's Goldeneyes have black heads with a glossy purplish sheen. They have a white crescent-like patch behind their black bill.
They have golden yellow eyes and white chests and bellies. Their top half is black with distinct white shoulder bars.
Female Barrow's Goldeneyes have gray bodies, a white collar around their necks, dark brown heads, yellow-orange bills, and the typical golden-yellow eyes. They also have white wing patches like the males.
Juveniles are similar to females, except they have a faint white crescent mark of the adult males.
Bucephala islandica
Length: 16 – 20 in (41 – 51 cm)
Weight: 38.4 oz (1088 g)
Wingspan: 30 – 32 in (76 – 81 cm)
Range
Barrow's Goldeneye breed in western Canada, Alaska, and a few areas of eastern Canada near the coast before migrating to northwestern US states and the west coast of Canada.
Habitat And Diet
You can find Barrow's Goldeneyes in small mountain lakes and small ponds with nearby mature trees with nesting cavities. During migration, they stop at estuaries, bays, and inlets. In winter, you'll find them along rocky ocean coasts or inland lakes.
During the breeding season, Barrow's Goldeneyes favor aquatic insects and, in fact, will head to habitats that have no insect-eating fish around so they won't have any competition for this type of prey. In winter, they will feast on crustaceans, mollusks, and small fish.
Barrow's Goldeneye Calls:
Nests
Nests of Barrow's Goldeneyes are usually in cavities in cliffs and trees, or they use old woodpecker holes. They may nest on the ground under a bush if there are no available cavities. The female lays six to twelve eggs and incubates them for about a month.
When they hatch, the female leads their young to where the food is so they can feed themselves. Sometimes, broods mix with other broods, particularly if the female leaves early or when broods are part of a territorial dispute among females.
Attracting Barrow's Goldeneyes to your backyard is possible if you put up nest boxes for them before the breeding season.
Fun Fact:
In Iceland, around Lake My'vatn, local residents always have nest boxes around their homes and barns for Barrow's Goldeneyes. It has been a long-standing tradition for the people in this area to host these ducks.