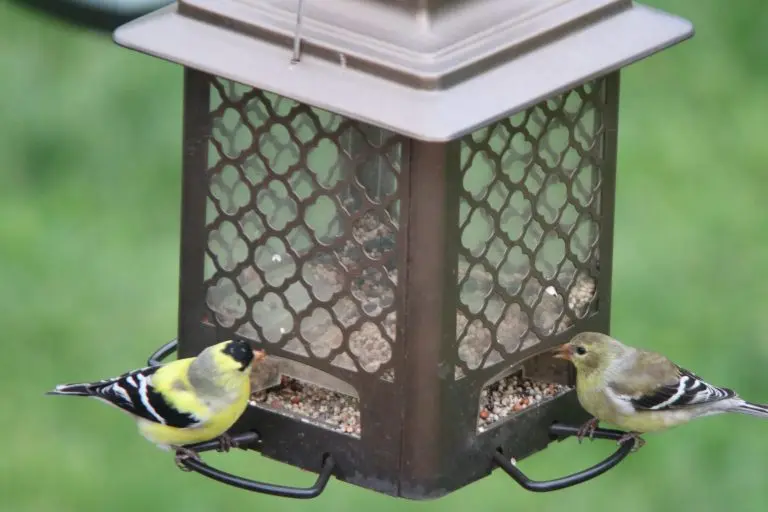 American Goldfinches are popular birds. The males have bright yellow and black coloring in spring. The females are duller brown, as are the males in winter.
Spinus tristis
Length: 4.3-5.1 in (11-13 cm)
Weight: 0.4-0.7 oz (11-20 g)
Wingspan: 7.5-8.7 in (19-22 cm)
Range
American Goldfinches can be found in most of North America and are usually resident all year. However, those that breed in Canada and the Midwest migrate to the southern US States for winter.
Habitat And Diet
You can find American Goldfinch in weedy fields and overgrown areas foraging for sunflower, thistle, and aster plants. They are also common in suburbs, parks, and backyards.
American Goldfinch Song:
Nests
Nests of American Goldfinches are usually located in saplings or shrubs. They are made of grass, bark strips, and feathers on which the female lays four to six eggs. It takes ten to twelve days for the eggs to hatch, and while the male feeds the female, she incubates the eggs.
Attract American Goldfinches
Attract them to your backyard by planting thistles and milkweed. They will visit most bird feeders and prefer sunflower seed and nyjer seed. 
Fun Fact:
Brown-headed Cowbirds are known for laying eggs in an American Goldfinch nest, but unfortunately, the seed-based diet that the parents feed them is unsuitable for them, and they eventually die.