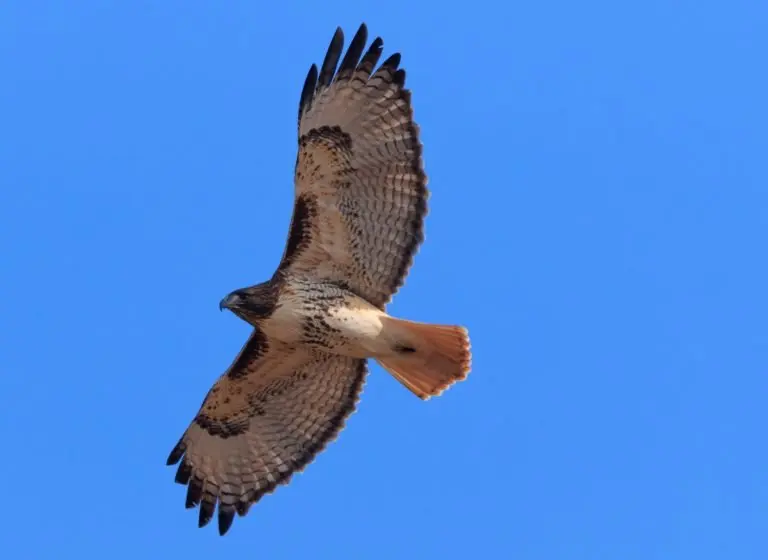 Whether you are backyard birdwatching or out on a hike these are the most common birds that you will see in winter in Washington.
How many have you spotted?
25 Common Winter Birds Washington
1. Dark-eyed Junco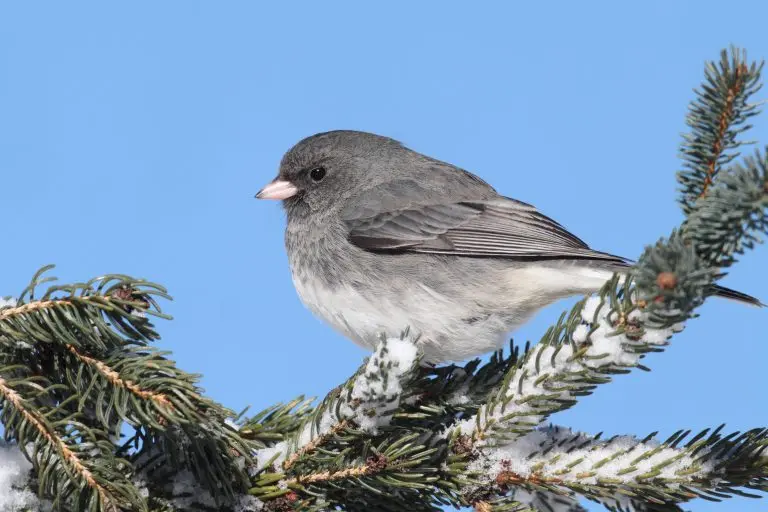 Dark-eyed Juncos are sparrows that are different colors depending on the state. They are generally slate-colored in the east and black, white, and brown in the west.
Junco hyemalis
Length: 5.5-6.3 in (14-16 cm)
Weight: 0.6-1.1 oz (18-30 g)
Wingspan: 7.1-9.8 in (18-25 cm)
Dark-eyed Juncos remain resident all year in northeastern and western US states and the Appalachian Mountains. Those that breed in Canada and Alaska migrate south in winter to the United States.
They can be found in open and partially wooded areas, often on the ground, and are common across the continent.
Dark-eyed Junco Song:
Attract Dark-eyed Juncos to backyard feeders with a variety of seeds such as black oil sunflower seeds, nyjer, cracked corn, millet, and peanuts. Platform feeders or scattered on the ground are best.
2. Song Sparrow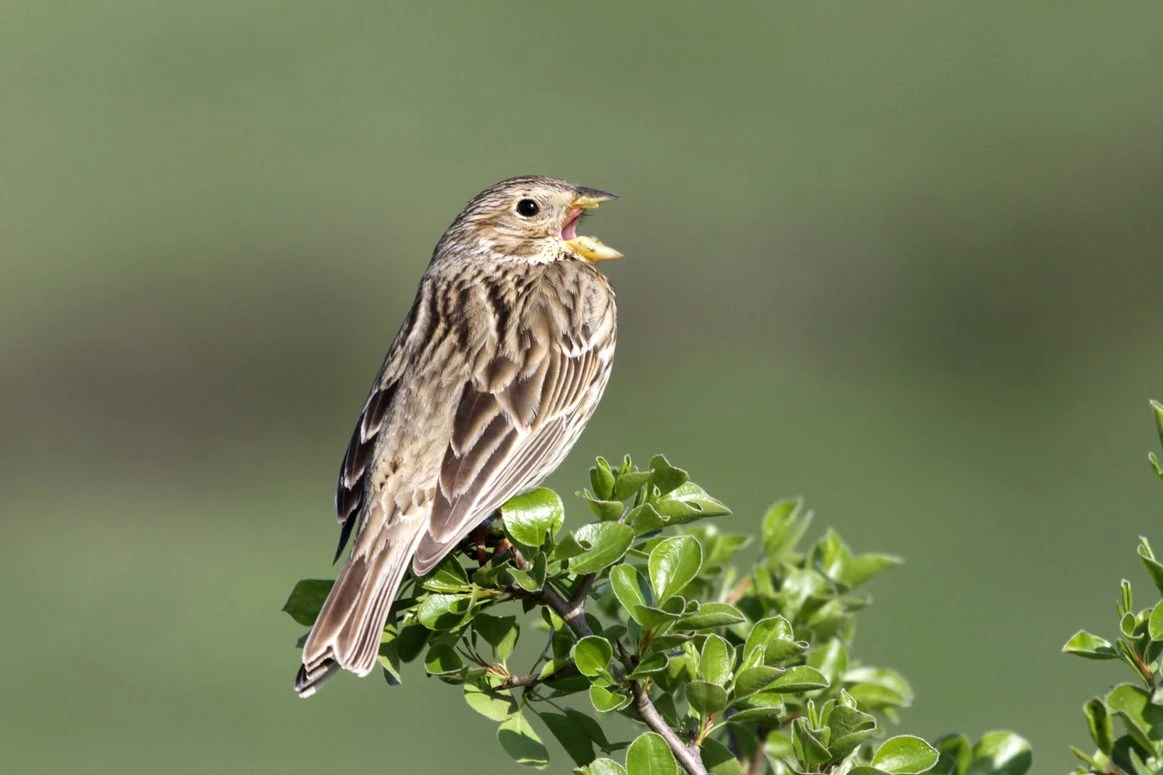 Song sparrows are not as remarkable looking as other backyard birds, but these predominantly brown-streaked birds use their almost constant song to attract mates in spring and summer.
Melospiza melodia
Length: 4.7-6.7 in (12-17 cm)
Weight: 0.4-1.9 oz (12-53 g)
Wingspan: 7.1-9.4 in (18-24 cm)
Song Sparrows live all year in the northern US states. Those that breed in Canada migrate to southern US states for winter.
They can be found in open, shrubby, and wet areas, often perched on a low shrub singing. They are often found at backyard feeders.
Song Sparrows eat a wide variety of insects and plants, including beetles, caterpillars, midges, spiders, and earthworms. They will also eat buckwheat, sunflower, raspberries, wild cherries, blackberries, wheat, and rice.
Song Sparrow Song:
Song Sparrow Call:
Attract Song Sparrows to your backyard feeders by putting black oil sunflower seeds, cracked corn, and nyjer on platform feeders.
3. American Crow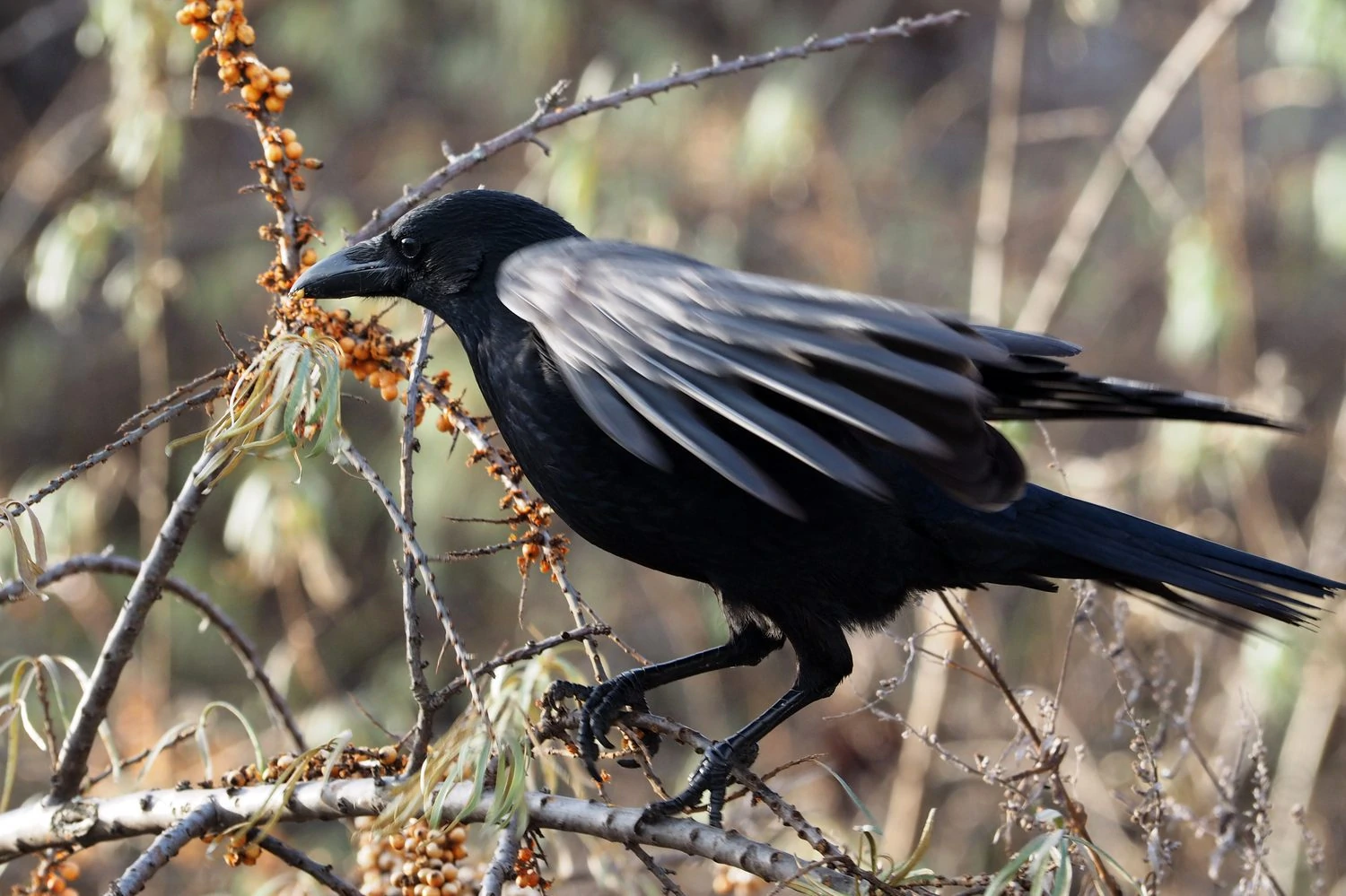 American crows are large all-black birds that make a hoarse, cawing sound.
Corvus brachyrhynchos
Length: 15.8-20.9 in (40-53 cm)
Weight: 11.2-21.9 oz (316-620 g)
Wingspan: 33.5-39.4 in (85-100 cm)
American Crows are residents all year in most of the lower 48 and the Pacific Coast in Canada and Alaska. Those that breed in Canada and the northern Midwest migrate south for winter.
They are common birds found in most habitats, including treetops, woods, fields, beaches, or towns.
They eat most things and usually feed on the ground, eating earthworms, insects, seeds, and fruit. They also eat fish, young turtles, mussels, and clams and will even eat eggs and nestlings of many species of birds.
In winter, American Crows gather in large numbers of up to two million crows to sleep in noisy communal roosts.
American Crow Call:
Attract American Crows to your backyard by scattering peanuts, but they can become a nuisance as they are attracted by garbage or pet food if left out.
4. Black-capped Chickadee
The Black-capped Chickadee is a cute bird with a big round head and tiny body. These birds will happily feed at backyard feeders and investigate everything, including you!
They have black caps and beaks, white cheeks, and are gray on the back, wings, and tail.
Poecile atricapillus
Length: 4.7-5.9 in (12-15 cm)
Weight: 0.3-0.5 oz (9-14 g)
Wingspan: 6.3-8.3 in (16-21 cm)
Black-capped Chickadees do not migrate and can be spotted in the northern half of the US and Canada.
You can find them in forests, open woods, and parks. Black-capped Chickadees eat seeds, berries and insects, spiders, and suet.
Black-capped Chickadee Call/Song:
Attract Black-capped Chickadees to your backyard with suet, sunflower seeds, and peanuts or peanut butter. They will even feed from your hand and are often one of the first birds to discover new feeders. They will also use nest boxes, especially if you fill them with wood shavings.
5. Mallard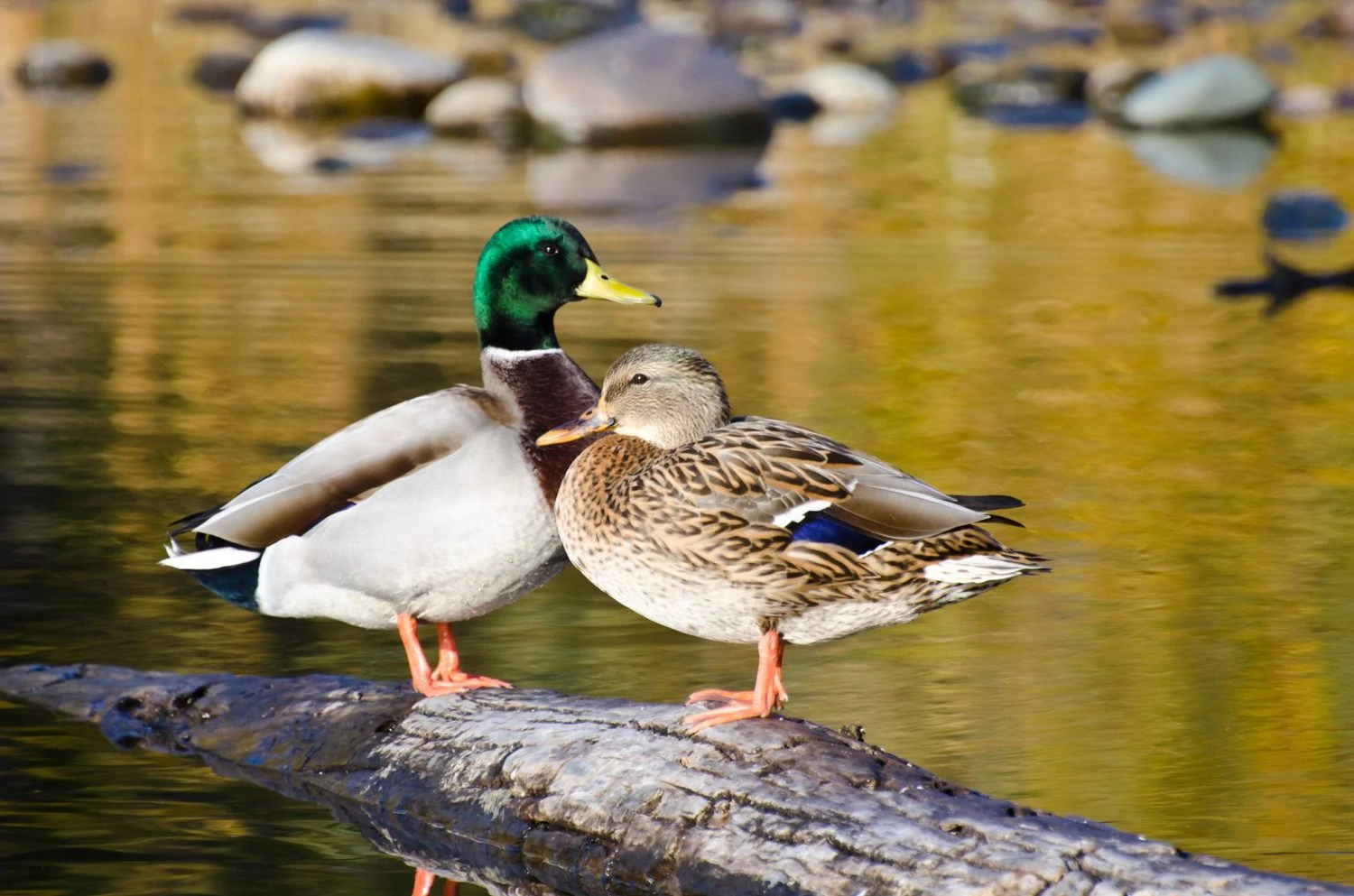 Mallards are large ducks, and the males have striking green heads. They also have bright yellow bills and gray bodies with brown breasts and black towards the tail. They have a curl of tail feathers and a blue patch on the wings bordered with white which is called a speculum.
Females and juveniles are mottled brown with orange bills but still have the blue speculum.
Anas platyrhynchos
Length: 19.7 – 25.6 in (50 – 65 cm)
Weight: 35.3 – 45.9 oz (1000 – 1300 g)
Wingspan: 32.3 – 37.4 in (82 – 95 cm)
Mallards remain all year in most of the lower 48 and the western coast of Canada and Alaska. Those that breed in Canada and Alaska head south to the southern United States and northern Mexico.
Mallards are one of the most commonly spotted and recognizable ducks that will happily be fed on ponds and rivers. They are dabbling ducks that feed on water plants and do not dive. They are very long-lived, and they have been recorded at 27 years old.
Mallard Calls:
Male Mallards don't quack, only females do. Instead, the male makes a rasping sound.
Fun Fact: Most domesticated ducks are descended from Mallards, and they have been hunted and bred for food.
6. American Robin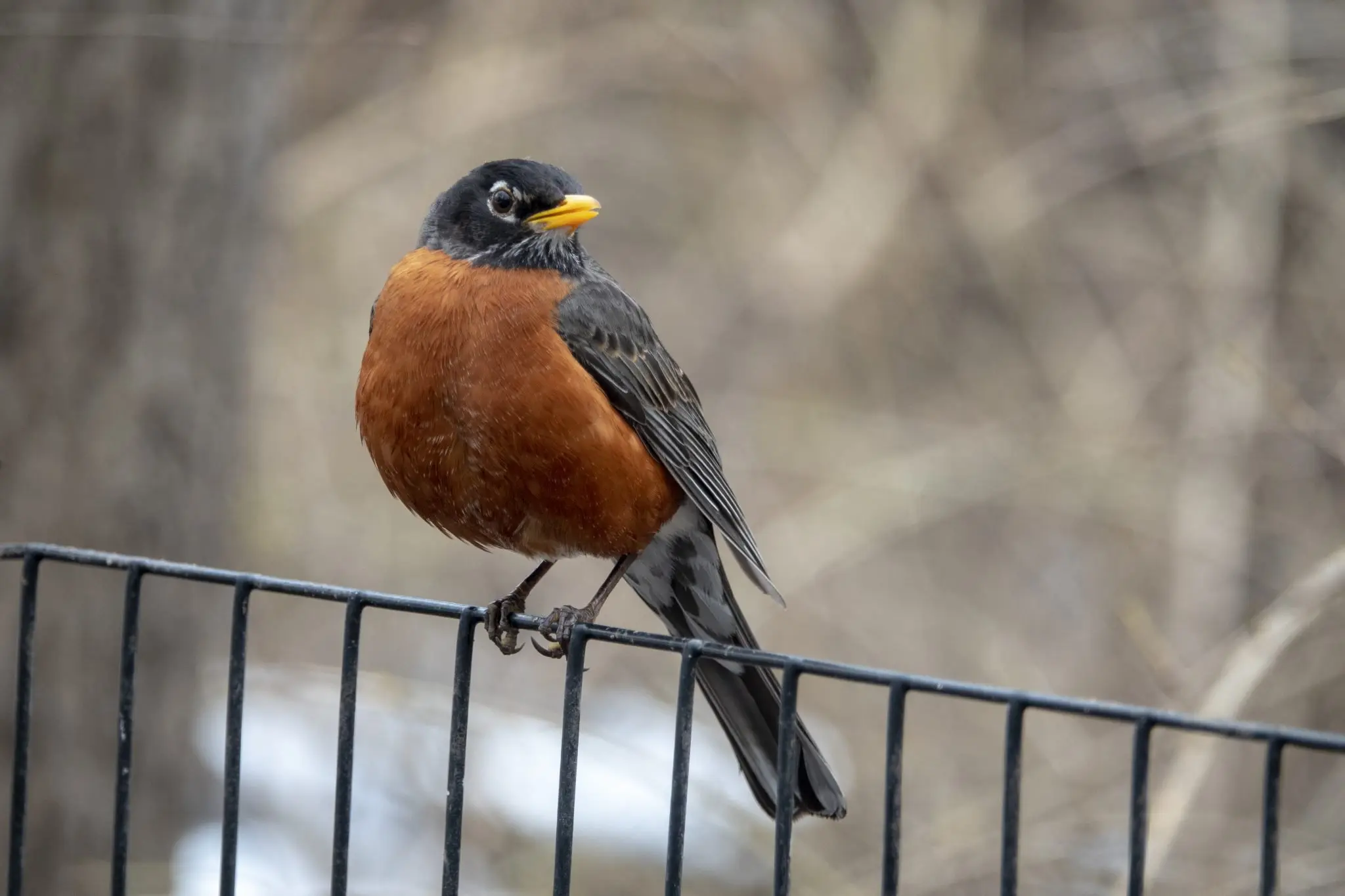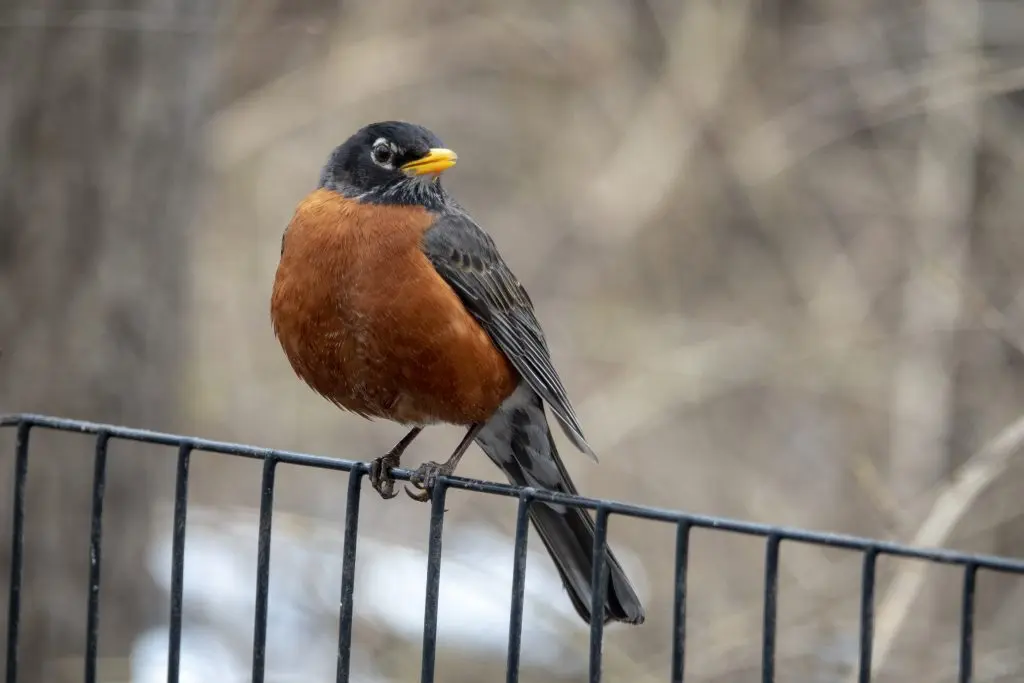 American Robins are a common sight on lawns eating earthworms. They have black heads and backs with red or orange breasts. They tend to roost in trees in winter, so you are more likely to see them in your backyard from spring.
Turdus migratorius
Length: 7.9-11.0 in (20-28 cm)
Weight: 2.7-3.0 oz (77-85 g)
Wingspan: 12.2-15.8 in (31-40 cm)
American Robins are residents in the lower 48 and the coast of Western Canada and Alaska. Those that breed in Canada and inland Alaska move south for the winter.
American Robins can be found in many habitats, from woodlands, forests, and mountains to fields, parks, and lawns. They eat earthworms, insects, snails, and fruit.
American Robin Song:
American Robin Call:
Attract American Robins to your backyard with sunflower seeds, suet and peanut hearts, fruit, and mealworms. Platform feeders are best or food scattered on the ground. Also, try planting some native plants that produce berries, such as juniper, sumac, hawthorn, and dogwood.
7. Spotted Towhee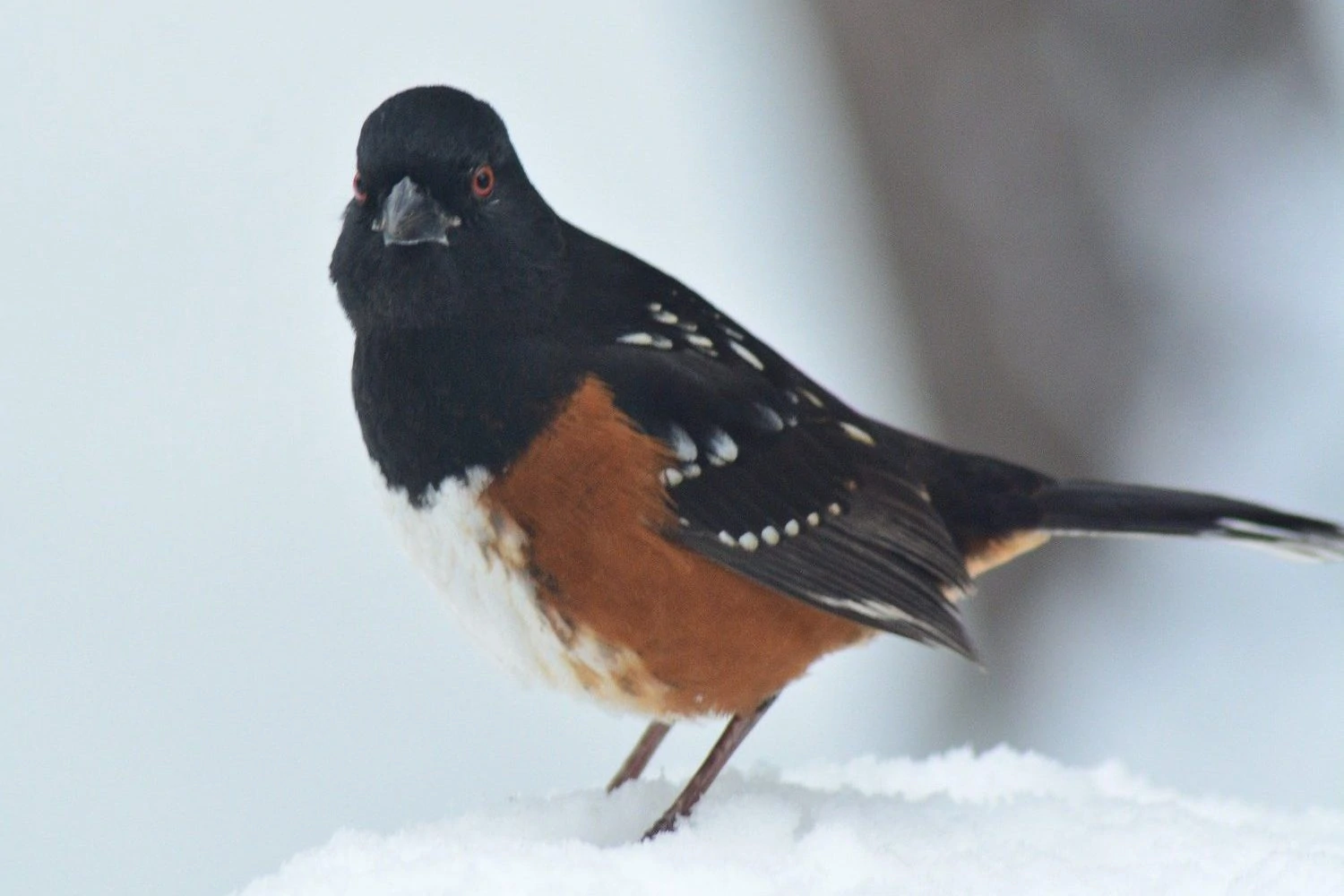 Spotted Towhees are large sparrows that are black on their head, throat, and back in the males and brown in the females. Both males and females have reddish-brown sides, white bellies, and white spots on the wings and back. They have long tails and are about the size of a Robin.
Pipilo maculatus
Length: 6.7-8.3 in (17-21 cm)
Weight: 1.2-1.7 oz (33-49 g)
Wingspan: 11.0 in (28 cm)
Spotted Towhees live in western US states, but those in the interior of the north migrate south after breeding to Texas and surrounding areas.
You can find Spotted Towhees on the ground in dense tangles of shrubs scratching around for insects, including beetles, crickets, grasshoppers, caterpillars, wasps, and bees. They also eat acorns, berries, and seeds.
Spotted Towhee Song:
Attract Spotted Towhees to your yard if you leave overgrown borders, and they will visit platform feeders or ground feeders for black oil sunflower seeds, hulled sunflower seeds, cracked corn, millet, and milo.
8. Northern Flicker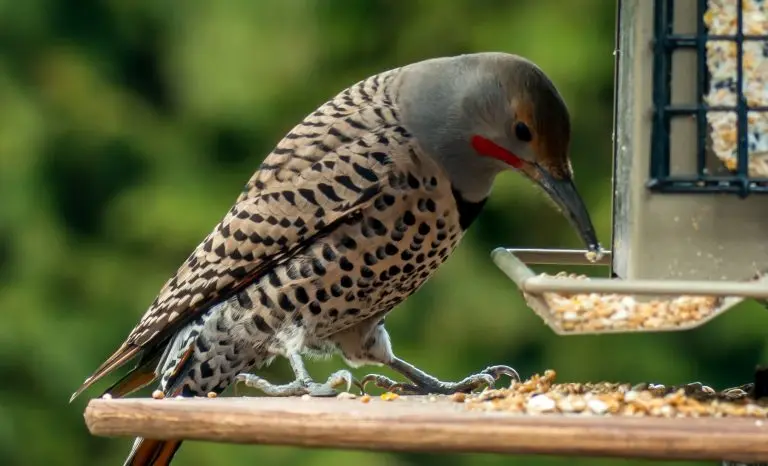 Northern Flickers are large brown woodpeckers with black spots and a white patch on their rump in flight, plus a red nape of the neck in the males.
Northern Flickers have red or yellow flashes in the wings and tail depending on where they originate. Red-shafted birds live in the west, and yellow-shafted birds live in the east.
Colaptes auratus
Length: 11.0-12.2 in (28-31 cm)
Weight: 3.9-5.6 oz (110-160 g)
Wingspan: 16.5-20.1 in (42-51 cm)
Northern Flickers can be spotted across the US all year and in Canada during summer. Those that breed in Canada migrate south for the winter.
Northern Flickers mainly eat ants, beetles, fruits, and seeds, and they can often be seen on the ground digging with their curved bill.
Northern flicker Call:
Attract Northern Flickers to your backyard with suet.
9. Bufflehead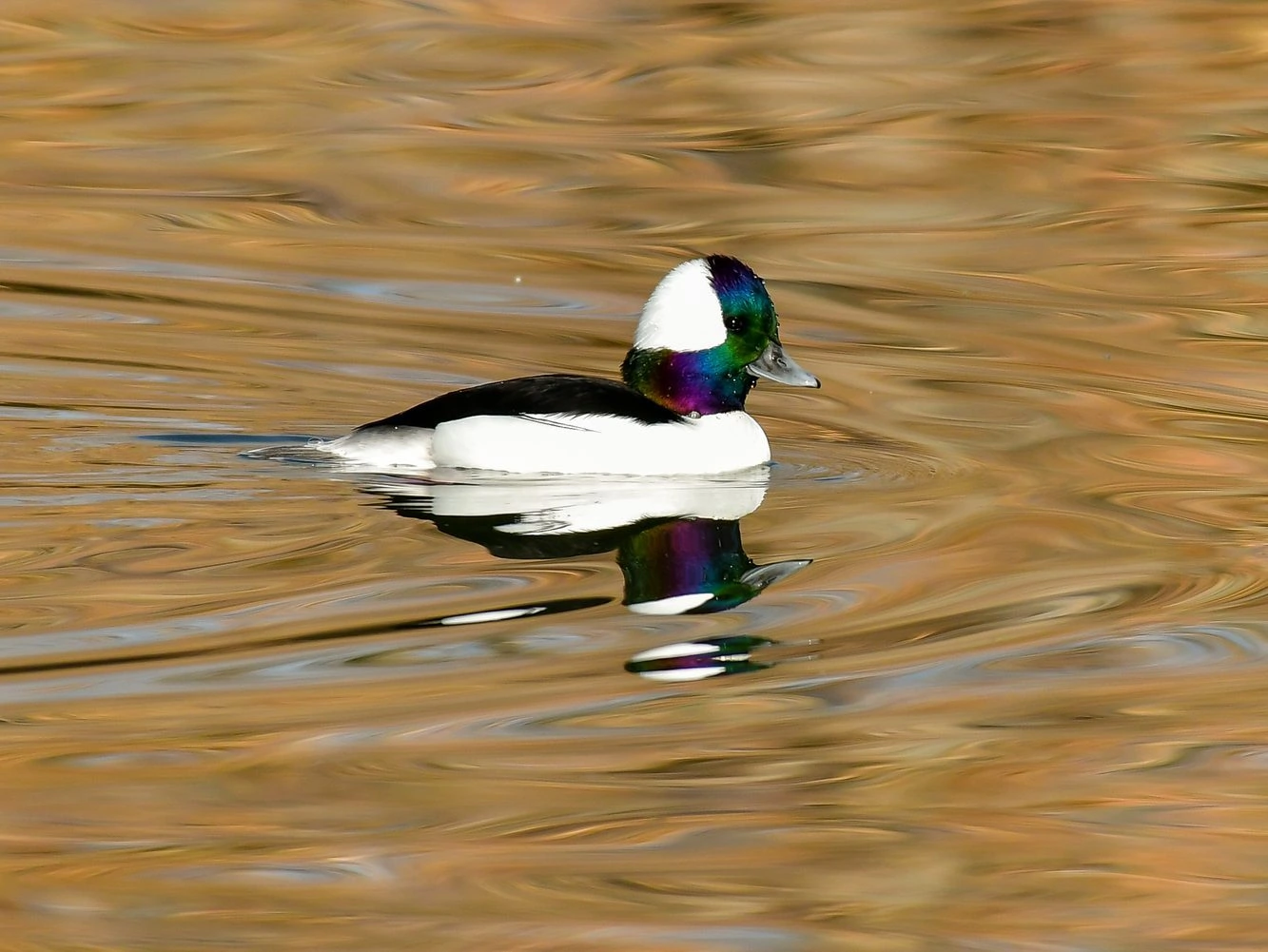 Buffleheads are small birds with bulbous heads, hence their name, "bullheaded," from ancient Greek. Male Buffleheads are easily recognizable because of the huge white patch behind their eyes. This patch highlights the glossy green and purple colors on the crown, forehead, throat, and neck. The bottom half of their bodies are white, while the upper half is black.
Female Buffleheads look nothing like the males, except for the bulbous head. They have dark brown or black heads with a white patch below the eye. Their bottom half is gray, and their top half is black. Juveniles look similar to females with their brown heads and a white patch on the head.
Bucephala albeola
Length: 13 – 16 in (33 – 41 cm)
Weight: 21.16 oz (600 g)
Wingspan: 20 – 24 in (51-61 cm)
Buffleheads breed mainly in Canada before migrating to the US, northern Mexico, and Canada's Pacific coast. They can be seen during migration in the Midwest and the Appellations.
You can find Buffleheads in small lakes and ponds with nearby poplar and aspen forests during the breeding season. In the winter, they move to protected coastal waters or shallow bays and inlets.
Buffleheads mostly dive as they forage for food. They catch mollusks, crustaceans, and aquatic insects, which they eat while underwater.
Bufflehead Calls: Buffleheads are quiet birds and don't make particularly loud calls. Males usually only make sounds around the breeding season and make chattering sounds or squeals. Females call to their young.
Attract Buffleheads to your backyard by putting up nest boxes. There is a lot of nest competition with other goldeneyes, which drives Buffleheads to seek safer and better nesting areas.
Fun Fact: Buffleheads are monogamous ducks and may remain with their chosen mate for several years.
10. Bald Eagle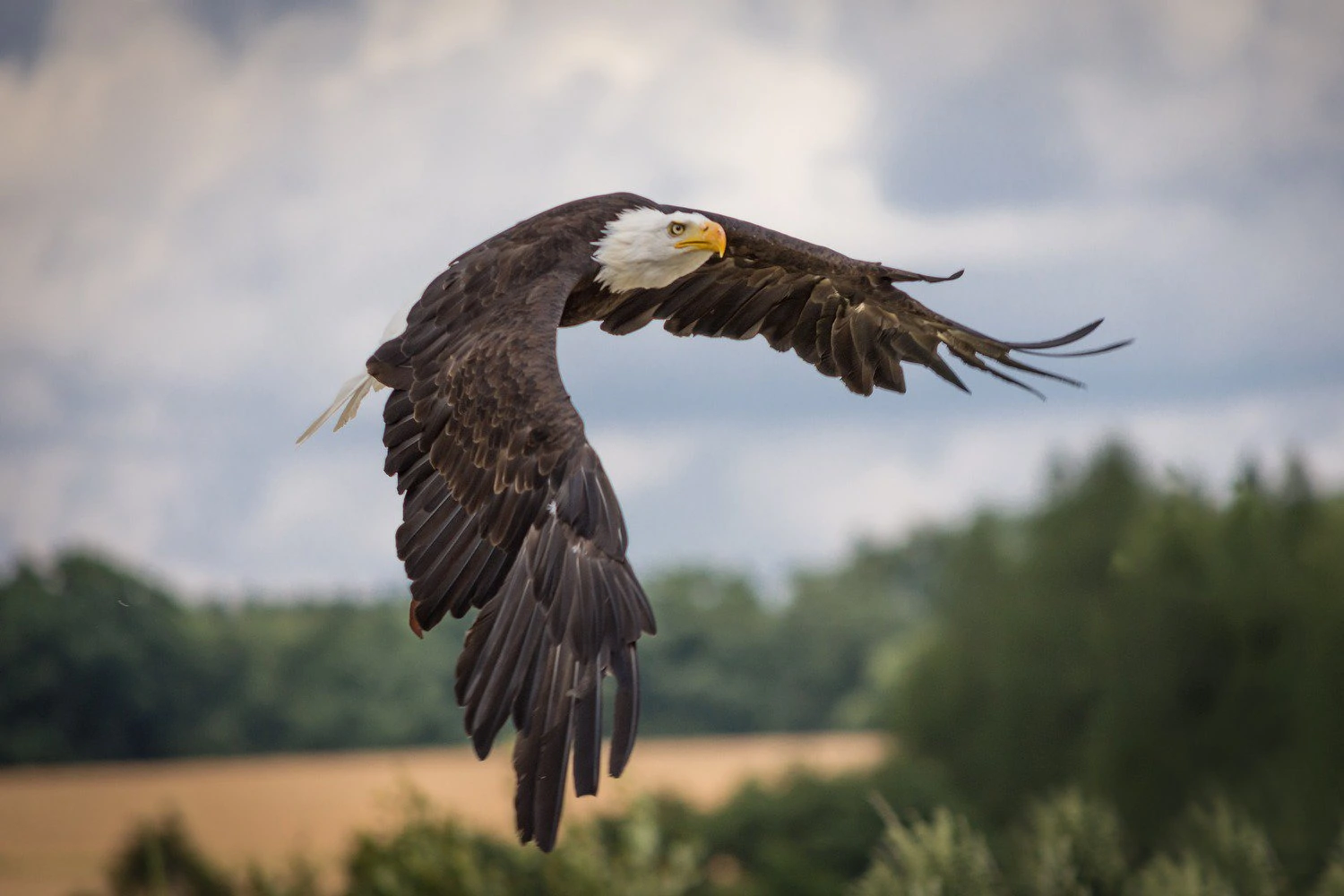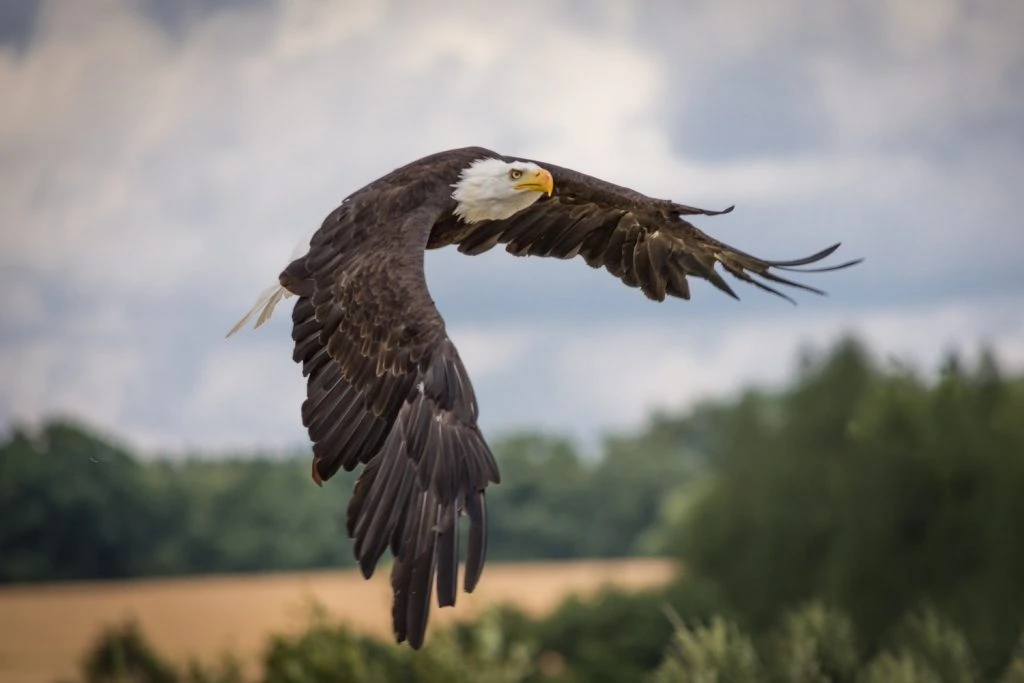 The Bald Eagle is a widely-recognized bird of prey. It has a white head, yellow eyes, and a large, hooked yellow bill. Its body is chocolate brown, and its legs are yellow, with huge talons.
Females look similar to males, except they're about 25% larger. Juveniles have dark brown heads and bodies with variable white mottling or streaking until they reach their fifth year.
Haliaeetus leucocephalus
Length: 34 – 43 in (86 – 109 cm)
Weight: 168 oz (4761 g)
Wingspan: 72 – 96 in (183 – 244 cm)
Bald Eagles breed predominantly in Canada and then migrate to the United States for winter. However, some remain resident all year, especially in coastal regions.
You can find the Bald Eagle, during its breeding season, in wetland environments. Open and large bodies of water with plenty of fish are ideal spots.
When they're nesting, roosting, or perching, Bald Eagles need tall, mature, and large trees for good visibility and have to have an open structure allowing the Bald Eagles to see the forest floor, and must be near water, especially when nesting.
In the winter, Bald Eagles flock to spots with a lot of perches around unfrozen water with plenty of fish. When there's no available unfrozen water source, Bald Eagles will congregate in open habitats with medium-sized mammals like in prairies and meadows.
Bald Eagles are opportunistic feeders and will eat what is available in their environment. Their favorite food is fish, and they prefer large ones, like trout and salmon. They may hunt these fish themselves or steal them away from other birds. Sometimes, they also eat carrion (dead) fish.
They also eat medium to large-sized birds, like ducks, herons, owls, and geese. During winter, bald eagles turn to mammals for their prey when fishing for food is not as lucrative. They will initially target weak, dying, or young prey. They hunt rabbits, squirrels, raccoons, beavers, and deer fawns.
Bald Eagle Calls: The squeak of the Bald Eagle does not fit its size as they make a rather disappointing high-pitched whistle!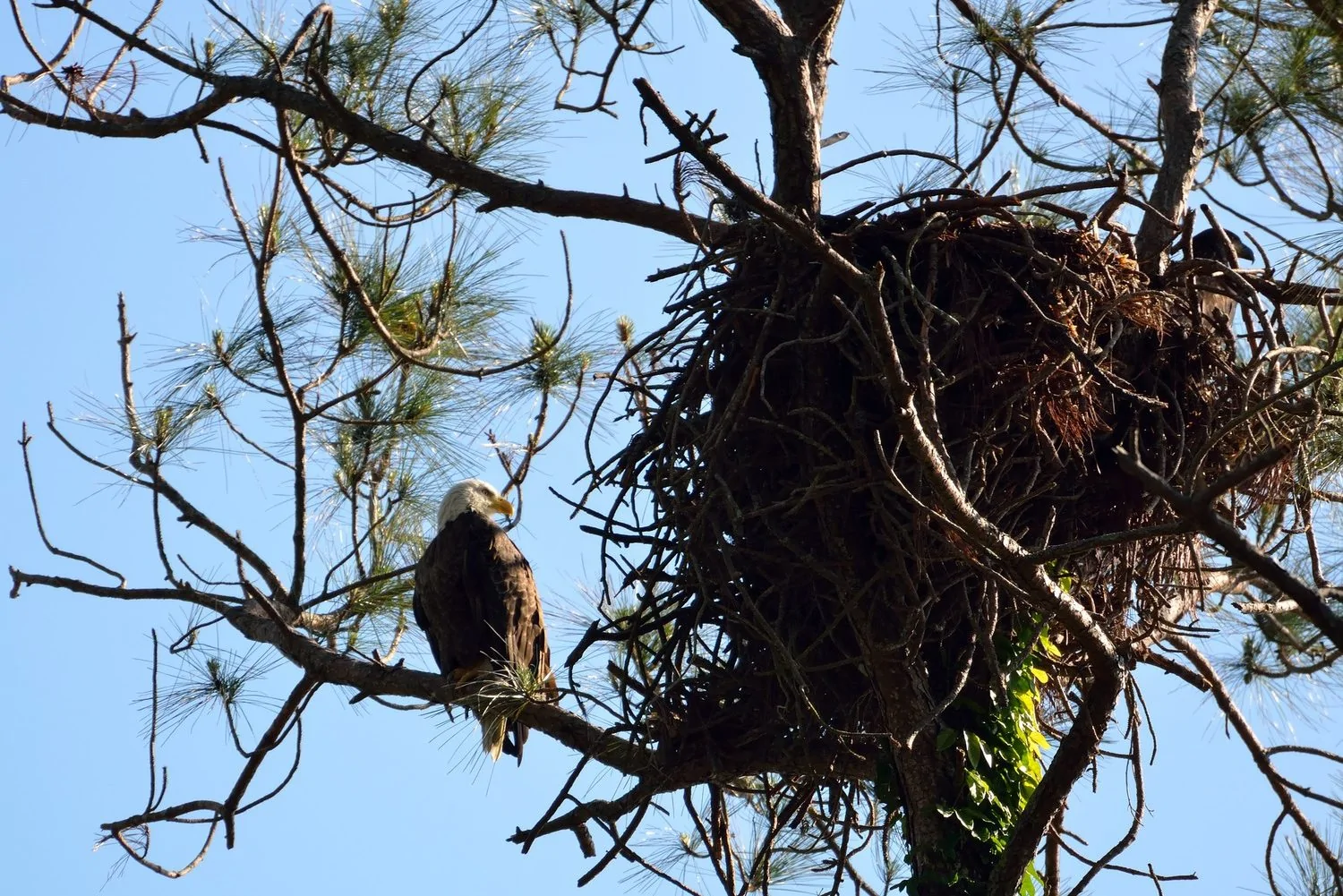 Females may lay one to three eggs per year in the wild. In captivity, they may lay up to seven eggs. The parents take turns in incubating the eggs for thirty-five days. Whoever is not sitting on the eggs gets to hunt for food to feed the other.
Fun Fact: The Bald Eagle has been the national symbol of America since 1782. It may be named "bald," but it isn't actually bald. The old version of "bald" actually meant "white," referring to its white head and tail.
11. European Starling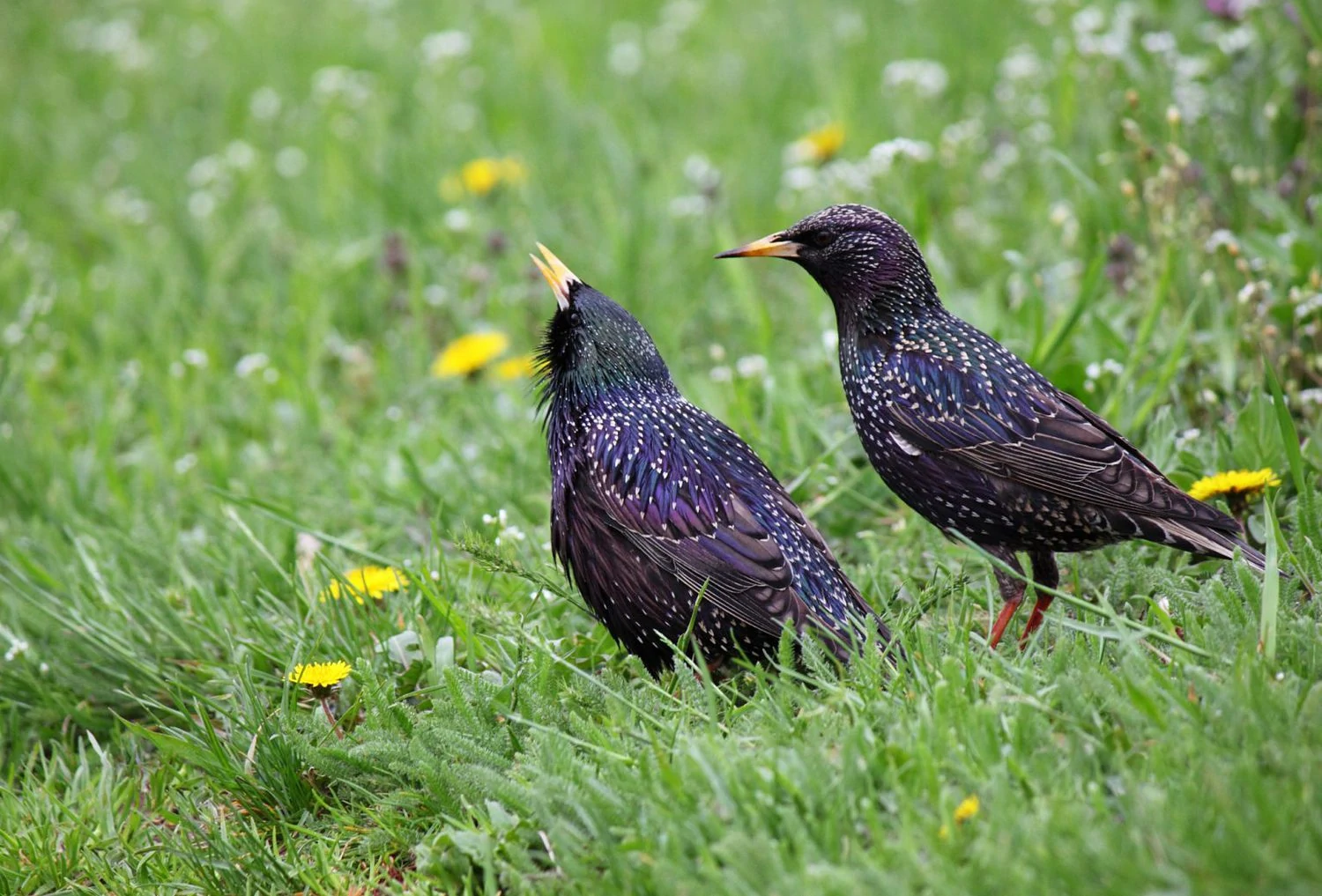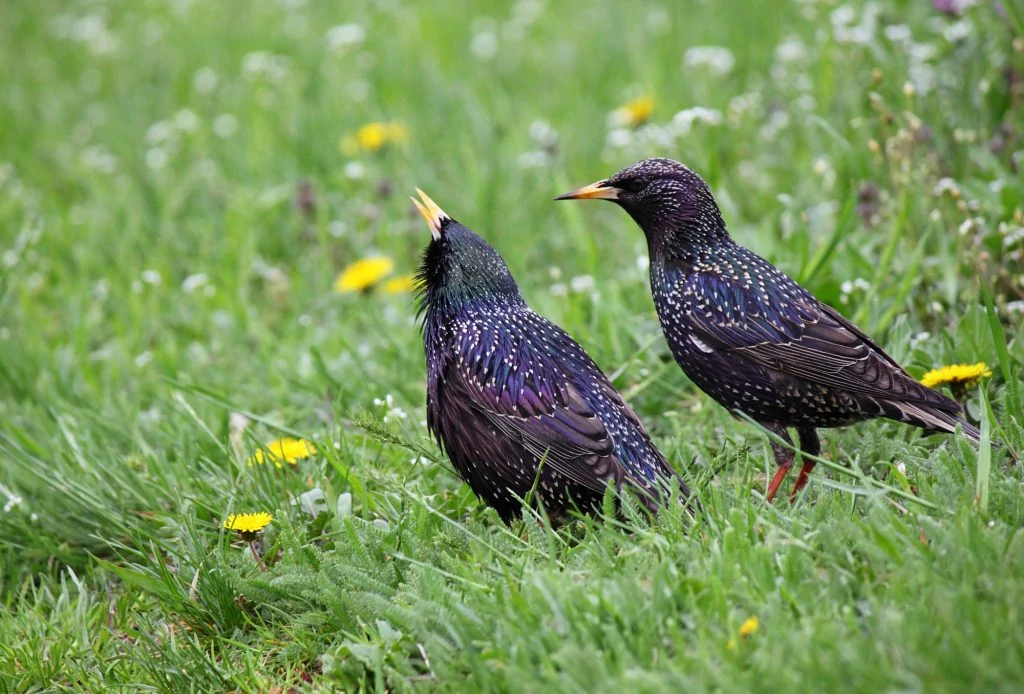 European Starlings are not native but are now one of the most numerous songbirds. They are stocky black birds with iridescent purple, green, and blue tones.
Sturnus vulgaris
Length: 7.9-9.1 in (20-23 cm)
Weight: 2.1-3.4 oz (60-96 g)
Wingspan: 12.2-15.8 in (31-40 cm)
European Starlings live in all of North America, except the north of Canada and Alaska.
They are considered a pest by some due to their aggressive behavior. These birds fly in large, noisy flocks and can be seen perched in groups on the top of trees or flying over fields.
European Starling Calls:
Starlings predominantly eat insects, including beetles, flies and caterpillars, earthworms, and spiders. However, they also eat fruit, including cherries, holly berries, mulberries, Virginia Creeper, sumac, blackberries, and grains and seeds.
Attract European Starlings to your backyard feeders with black oil sunflower seeds, suet, cracked corn, and peanuts.
12. Anna's Hummingbird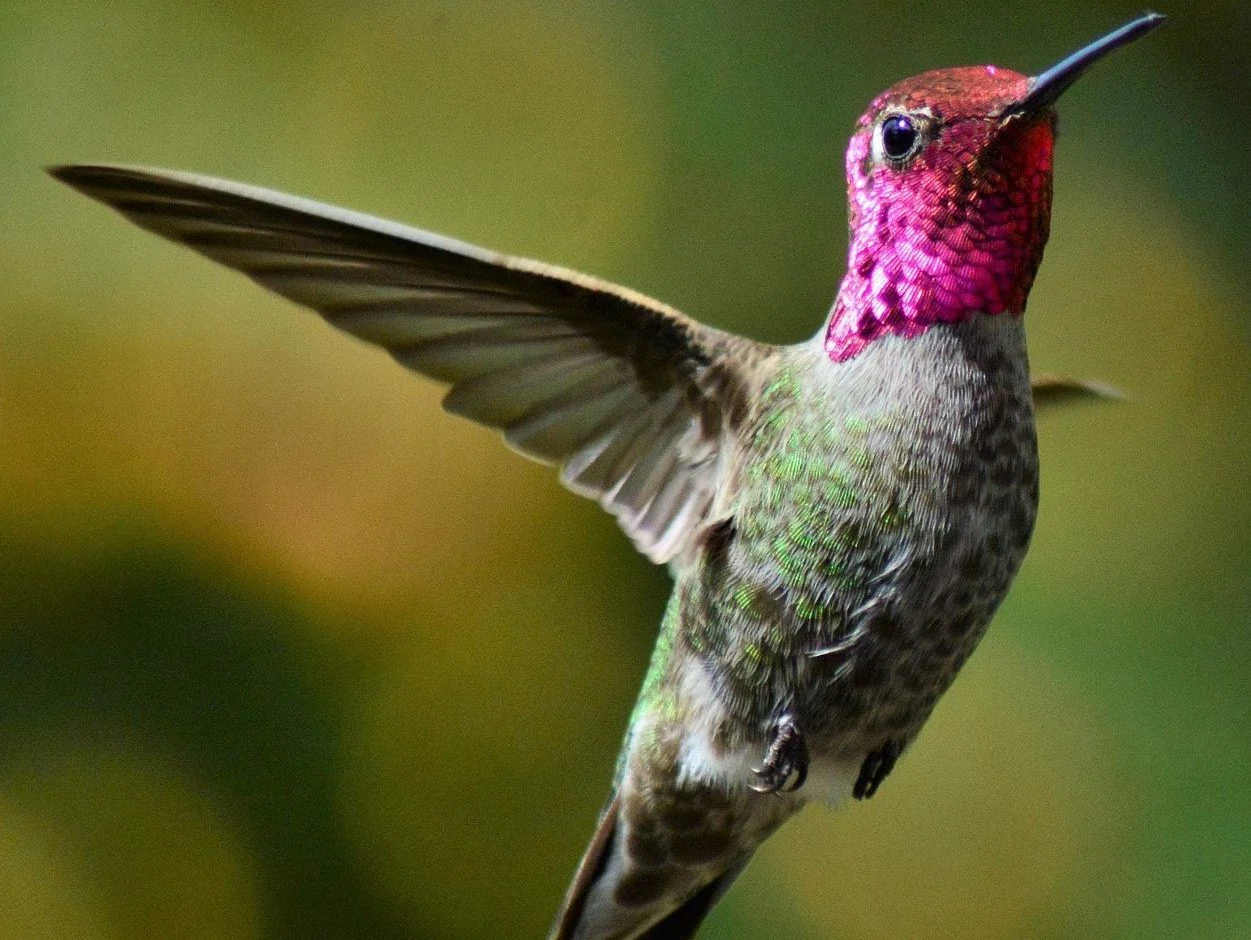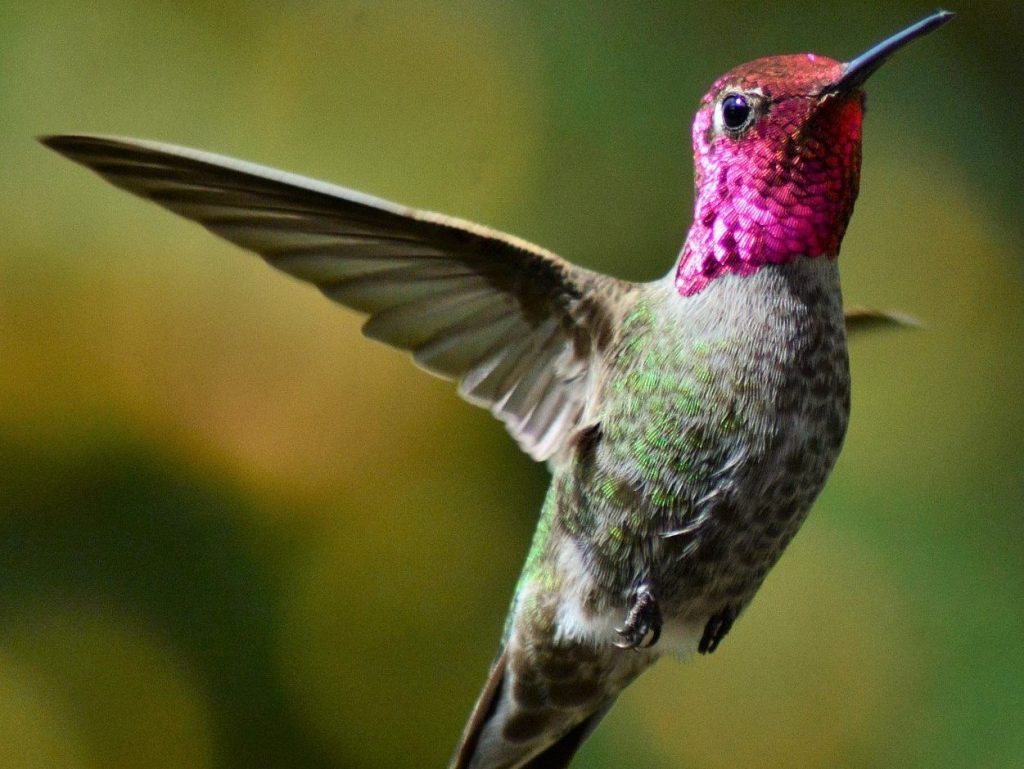 Anna's Hummingbirds are tiny birds that are mostly green and gray. The male's head and throat are iridescent reddish-pink, but the female's throat is grayish with bits of red spotting.
Calypte anna
Length: 3.9 in (10 cm)
Weight: 0.1-0.2 oz (3-6 g)
Wingspan: 4.7 in (12 cm)
Unusually Anna's Hummingbirds do not migrate, and they are the most common hummingbird along the Pacific Coast.
You can find Anna's Hummingbirds near large colorful blossoms during the spring, and they readily visit hummingbird feeders that you can fill with homemade hummingbird nectar.
They make a dramatic dive display during courtship as the males climb up to 130 feet into the air before diving back to the ground with a burst of noise from their tail feathers.
Anna's Hummingbird Call:
Attract Anna's Hummingbirds to your backyard with nectar feeders and lots of colorful plants.
13. House Finch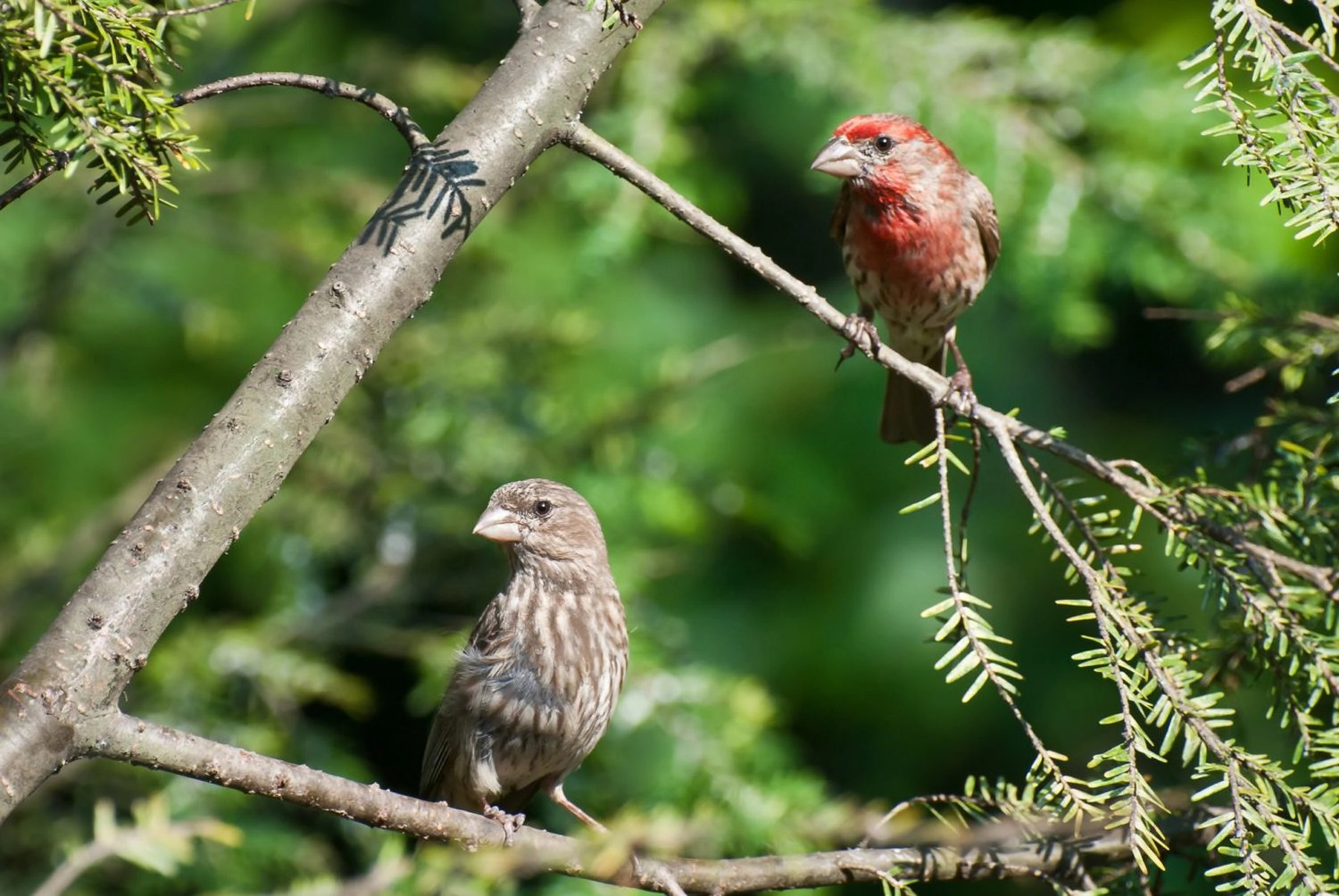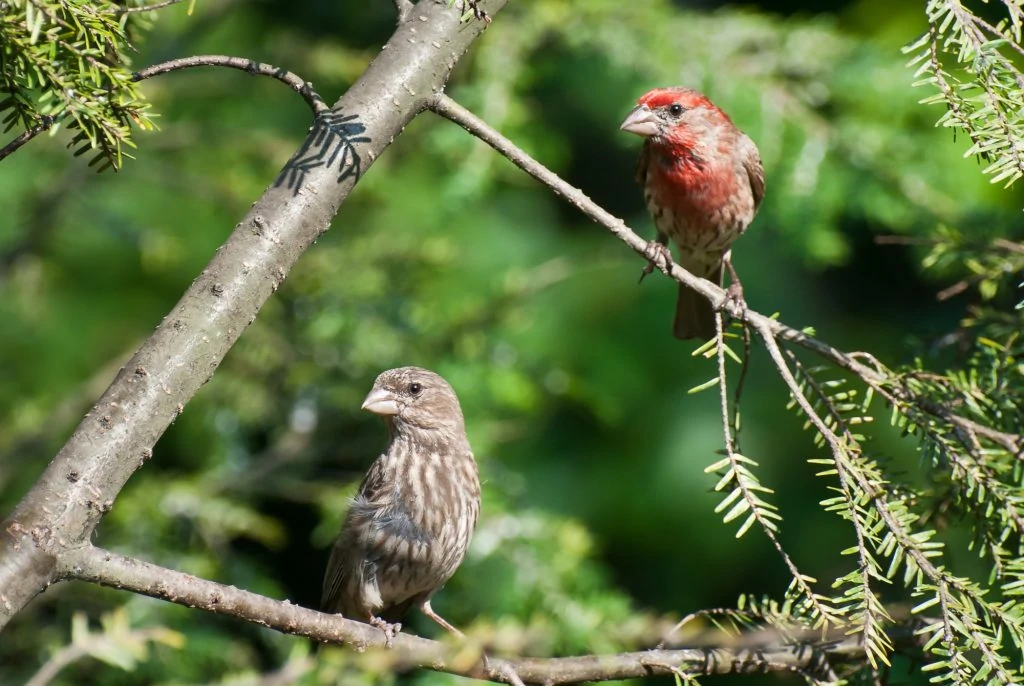 House Finches males have a red head and breast, and the rest of their bodies are mainly brown-streaked. Females are brown-streaked all over.
Haemorhous mexicanus
Length: 5.1-5.5 in (13-14 cm)
Weight: 0.6-0.9 oz (16-27 g)
Wingspan: 7.9-9.8 in (20-25 cm)
Originally only in western US states, House Finches were introduced to eastern US states and have done very well, even pushing out the Purple Finch.
They can be found in parks, farms, forest edges, and backyard feeders in noisy groups that are hard to miss.
House Finch Song:
House Finch Call:
Attract House Finches to backyard feeders with black oil sunflower seeds or nyjer seeds in tube feeders or platform feeders.
14. Canada Goose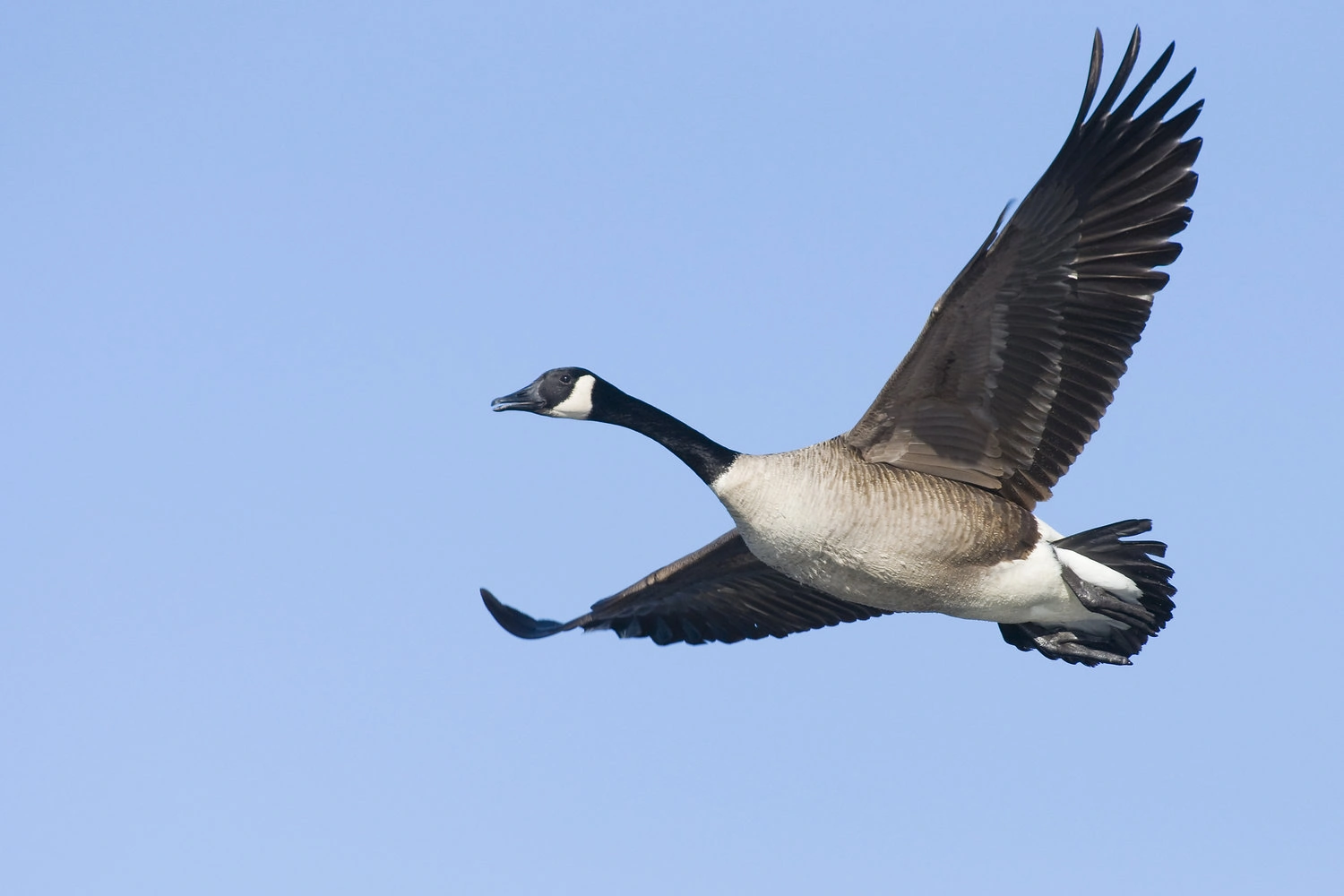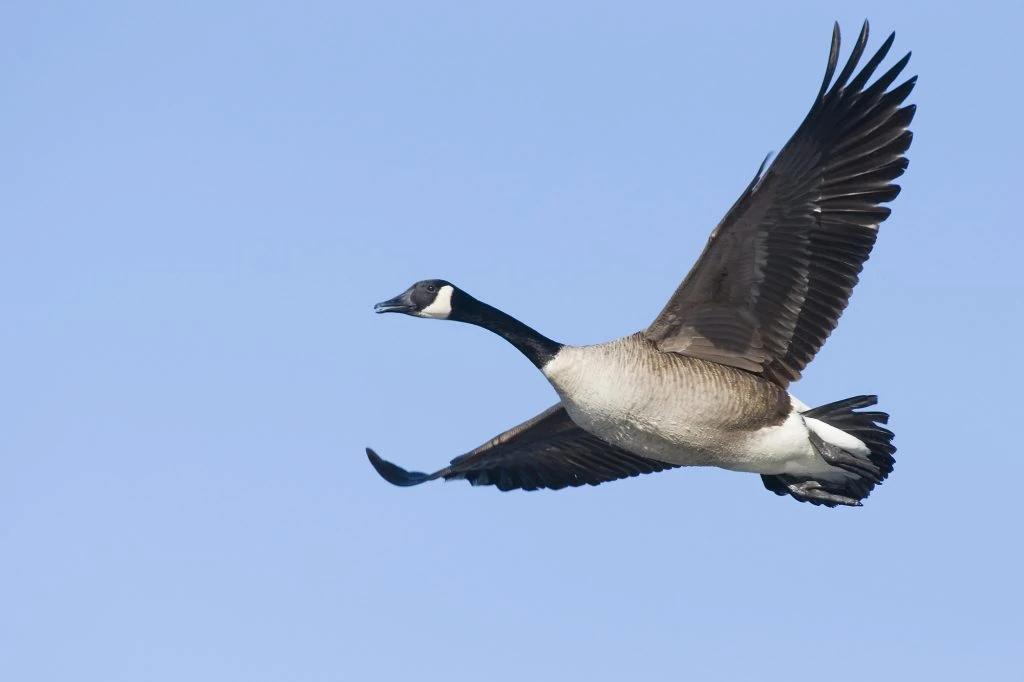 The Canada Goose, also called the Canadian goose, is a large, long-necked goose recognized for its black head and easily identifiable white chin strap.
Canada Geese look very similar to Cackling Geese, and they have the same black head and white chin strap, but their long, graceful neck and large size separate them.
Their bodies are brown with a tan or pale chest and white rump. The color of the bodies among the subspecies may be shades of gray or brown. Their legs and webbed feet are black.
Branta canadensis
Length: 25 – 45 in (64 – 114 cm)
Weight: 230.09 oz (6521 g)
Wingspan: 70 – 75 in (178 – 190 cm)
As their name would suggest, Canada Geese breed in Canada and migrate for the winter to southern US states, but those in northern US states remain all year and do not migrate. They are also found in western Europe.
You can find Canada Geese practically anywhere. They are often seen near lakes and rivers, basically, anywhere there's a body of water and an abundant food source. They are also used to humans, so they live comfortably in urban habitats like city parks, reservoirs, golf courses, public parks, and beaches.
In some places, their population has risen considerably and they're considered pests.
Canada Geese mainly eat grasses when they're on land and small aquatic insects and fish when they're on the water. They also eat wheat, rice, and corn when they're on agricultural fields. They're accustomed to receiving food from humans or digging through trash cans.
Canada Goose Call:
Fun Fact: During the breeding season, adults lose their flight feathers because it coincides with their molting season. They only regain their feathers after twenty to forty days, just in time for them to fly with their young.
15. Double-crested Cormorant
Double-crested Cormorants are large waterbirds that are usually spotted drying themselves with wings outstretched. They are named for the dual crests on their heads which appear during the breeding season. In northwestern birds, these crests are white, but otherwise, they're black.
Double-crested Cormorants have glossy, black bodies and distinctive yellow-orange skin around the base of the bill and chin. They have black legs and webbed feet. Males and females appear similar.
Juveniles are either grayish or brownish with their underparts paler in color. Their bills are hooked and orange or yellowish, and their upperparts may have a scaled or mottled pattern.
Nannopterum auritum (formerly Phalacrocorax auritus)
Length: 32 in (81 cm)
Weight: 64 oz (1814 g)
Wingspan: 52 in (132 cm)
Double-crested Cormorants only live in North America. Those that breed inland and the northeast coast migrate to the Pacific coast and southern and southeastern states for winter. However, some remain all year in Florida, Mexico, and the Pacific Northwest coast.
You can find Double-crested Cormorants in aquatic and coastal areas, preferably with an ample supply of fish, like lakes, rivers, swamps, and coasts. They may roost and breed on smaller lagoons and ponds.
Their habitat will have perching areas for drying off where they gather in groups, wings outstretched drying their wings as they are not waterproof.
The diet of Double-crested Cormorants is mainly made up of fish but they can also feed on insects, crustaceans, or amphibians. With their webbed feet, they can dive and chase fish underwater and their hooked bills give them an advantage in catching their prey.
Double-crested Cormorant calls:
Fun Fact: Double-crested Cormorants spend much of their day resting on an exposed perch with their wings spread out. They may be drying their feathers off after diving and fishing.
16. Glaucous-winged Gull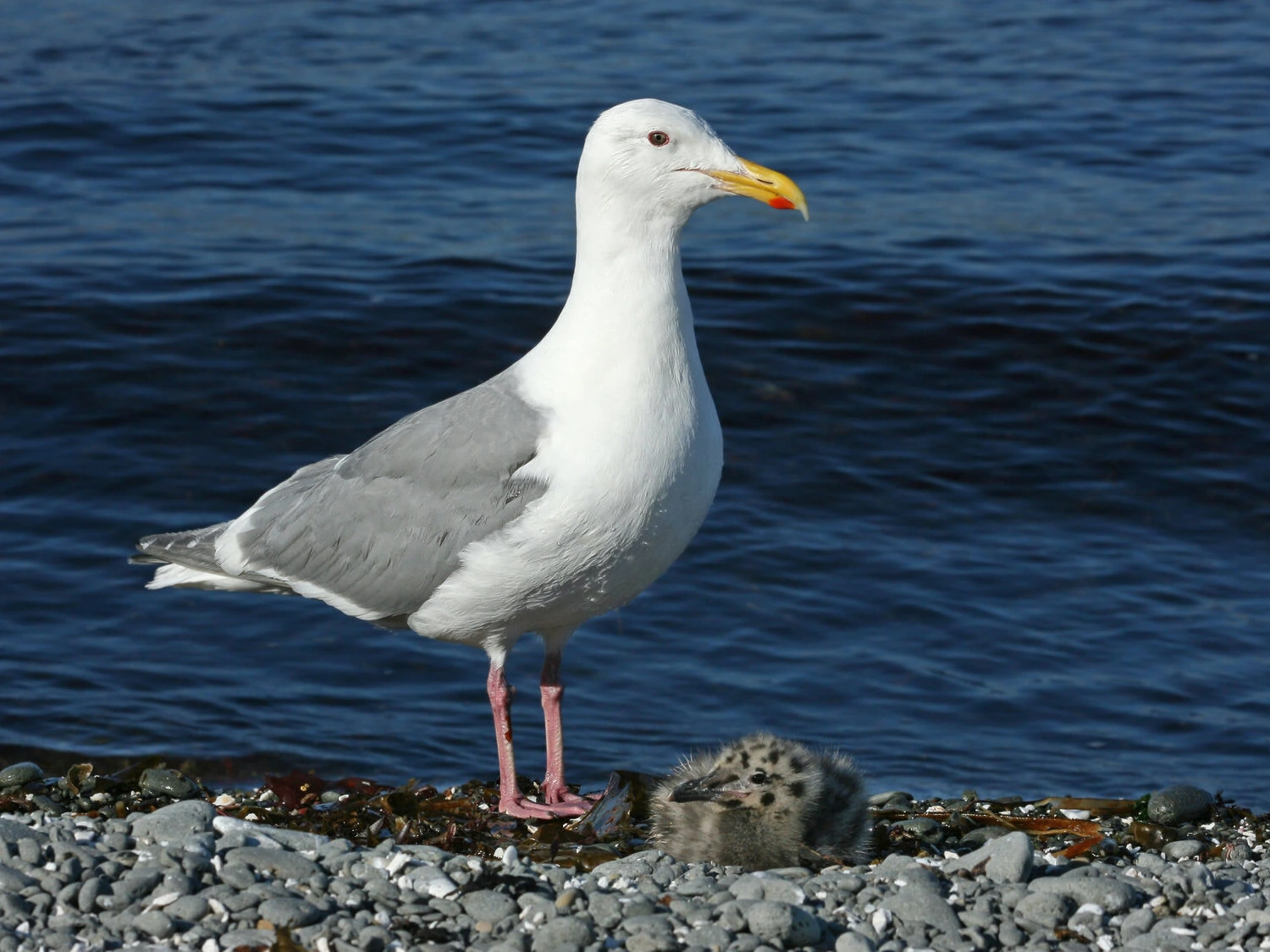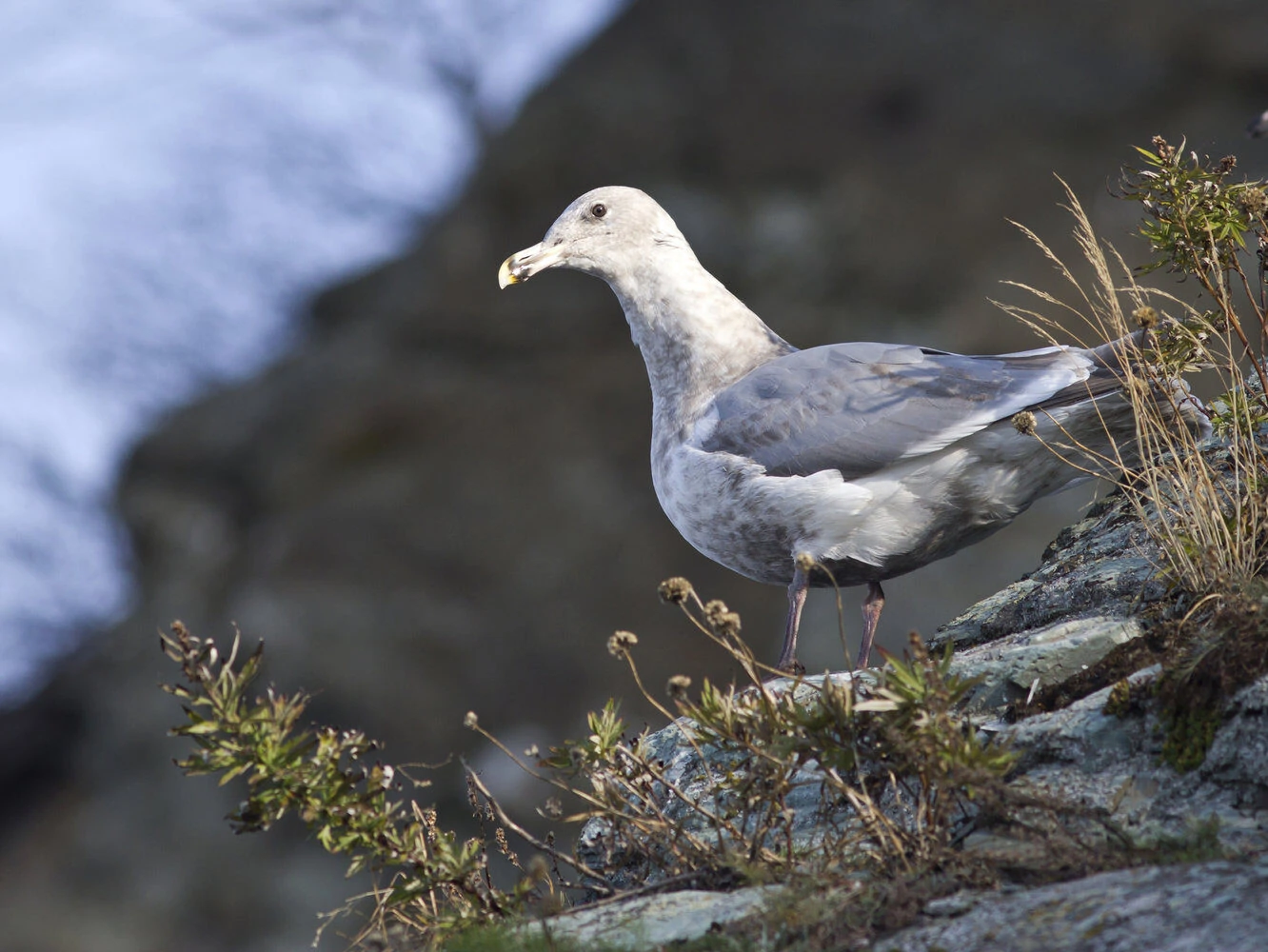 Breeding adult Glaucous-winged Gulls have white heads and dark eyes. They have yellow bills with a red spot near the tip. They have silver-gray backs and wings with white wingtips. Their underparts are white and their legs are pink.
Non-breeding adult Glaucous-winged Gulls look similar to breeding adults except that their heads, napes, and necks have varying degrees of tan or light brown smudges or mottling. They still have the same yellow bill with a red spot, gray backs and wings (with white wingtips), white bellies, and pink legs.
Juveniles take four years before they reach adult plumage. First-winter birds are generally mottled pale brown and white all over with black bills and pink legs.
Larus glaucescens
Length: 19.7 – 23.2 in (50 – 59 cm)
Weight: 31.8 – 42.3 oz (900-1200 g)
Wingspan: 47.2 – 56.3 in (120 – 143 cm)
You can find Glaucous-winged Gulls living on small, treeless islands in the ocean but close to shorelines. They often forage in sheltered coves, rocky beaches, and rocky tidepools. They are accustomed to living in urban areas and stay close to fishing vessels to partake of spilled or discarded fish.
Glaucous-winged Gulls eat a variety of prey. They hunt in tidal areas where they catch crabs, sea stars, oysters, clams, or fish. They also target birds, eggs, and chicks and may scavenge for dead animals or scraps from garbage bags in urban areas.
Glaucous-winged Gull Calls:
Fun Fact: Glaucous-winged Gulls dropped shellfish onto rocks to break the shells before eating the soft insides.
17. American Wigeon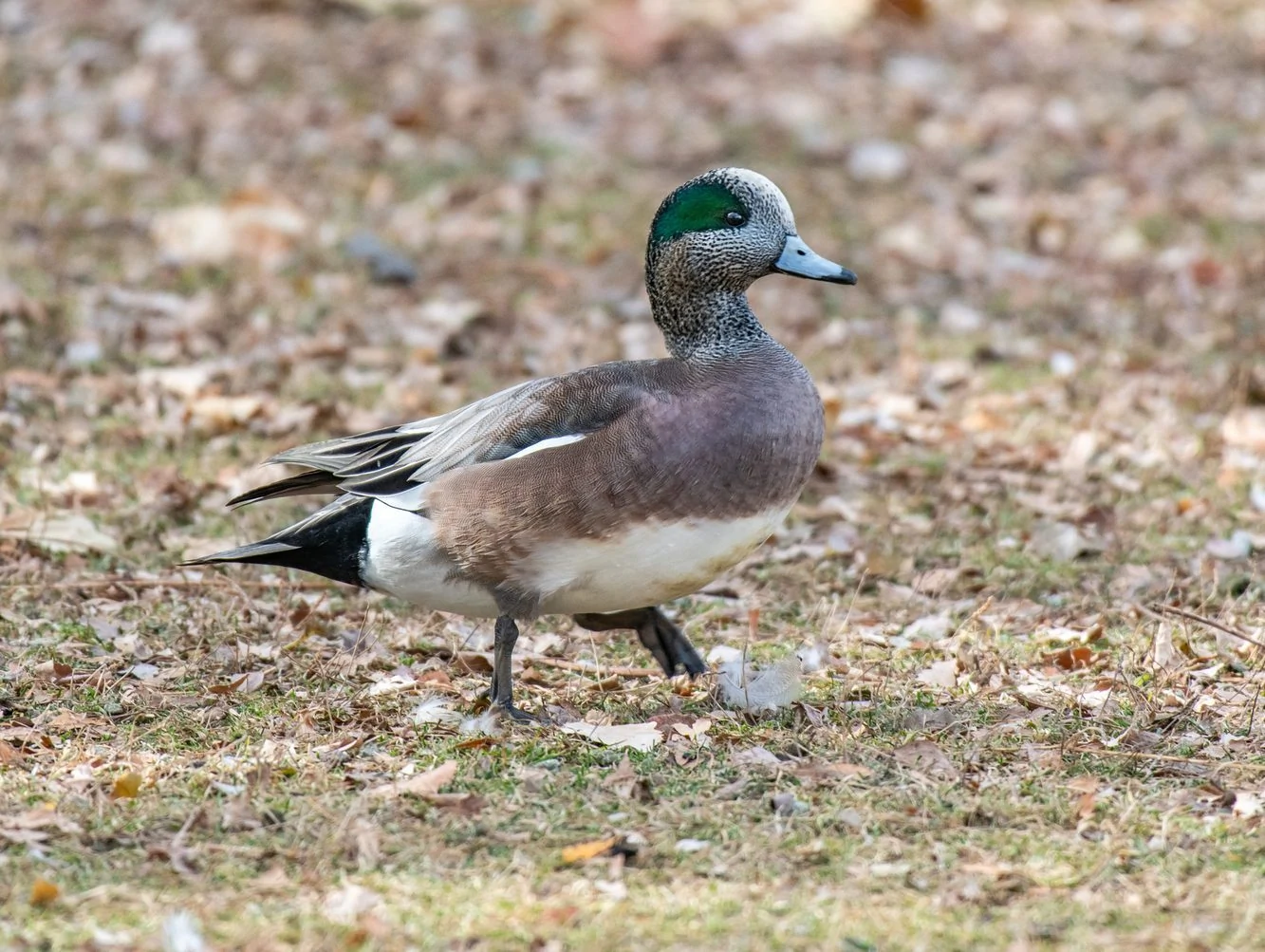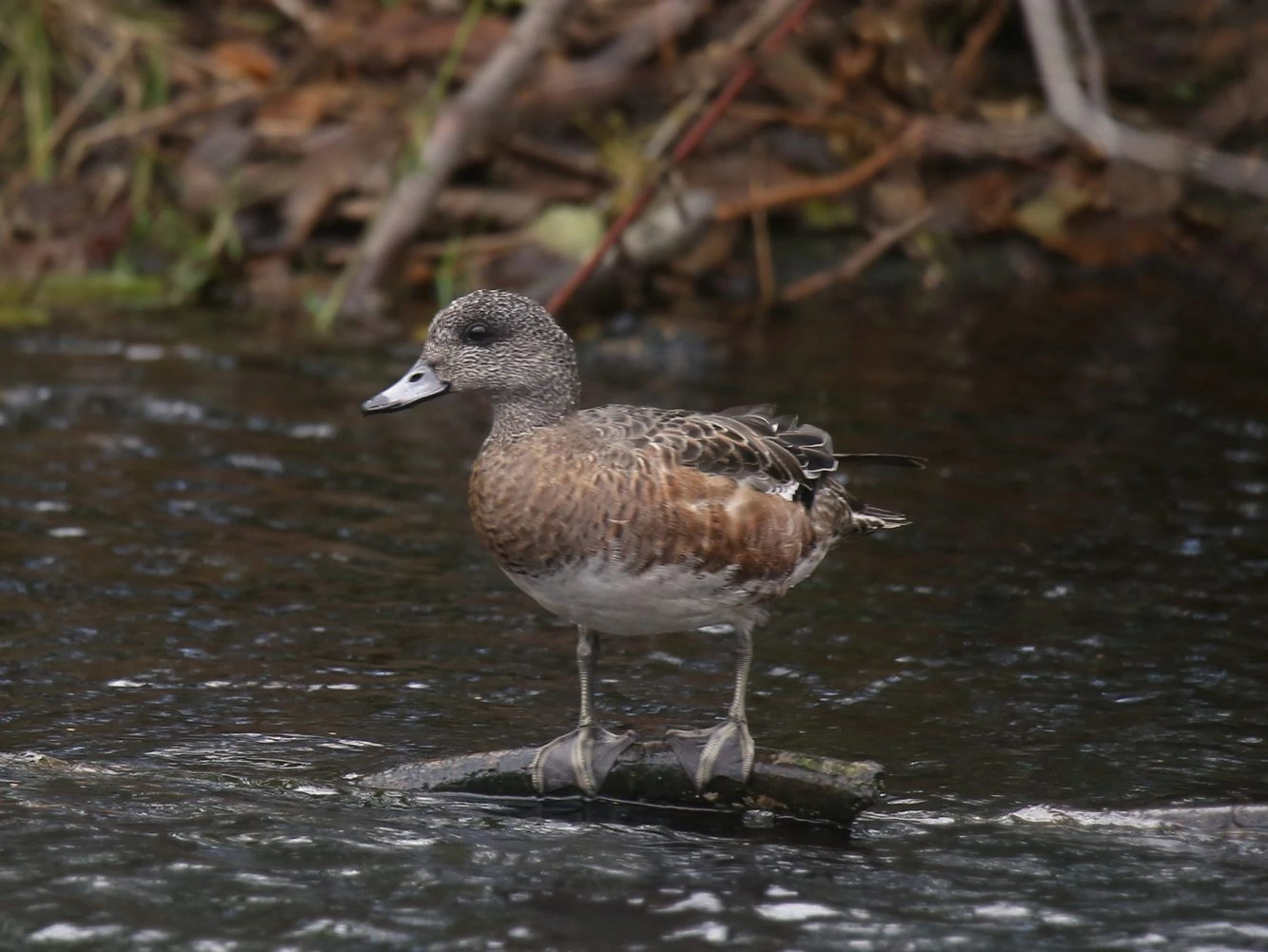 American Wigeons are small ducks with green stripes on the sides of their heads and with white caps on the males. The rest of them are grayish-brown.
Females are brown with grayish-brown heads. Male and females both have pale beaks.
Mareca americana
Length: 16.5 – 23.2 in (42 – 59 cm)
Weight: 19.1 – 46.9 oz (540 – 1330 g)
Wingspan: 33.1 in (84 cm)
American Wigeons breed predominantly in Alaska, western Canada, and northwestern US states. They spend the winter in the southern and central US states and along the Pacific and Atlantic coasts.
You can find American Wigeons feeding on vegetation both in the water and on the land in wetlands, fields, and ponds. They will also eat insects and invertebrates.
American Wigeon Calls: Male American Wigeons give a high-pitched whistle, and females make a harsh grunt.
Male American Wigeon call
Female American Wigeon call
Fun Fact: American Wigeons are known as 'baldpate' because their white stripe looks like a bald man's head.
18. Red-tailed Hawk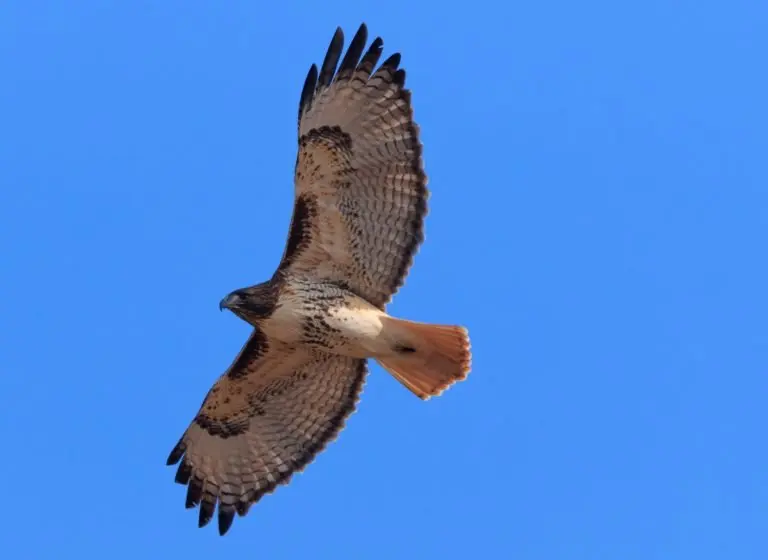 As their name suggests, Red-tailed Hawks have a distinctive short, wide red tail. They are large, with broad, rounded wings. Most Red-tailed Hawks are brown on the back and pale underneath.
They are also the easiest to spot, often on long car journeys, as they circle slowly over open fields looking for prey such as small mammals, birds, and reptiles. You can also see them perched on telephone poles.
Male
Length: 17.7-22.1 in (45-56 cm)
Weight: 24.3-45.9 oz (690-1300 g)
Wingspan: 44.9-52.4 in (114-133 cm)
Female
Length: 19.7-25.6 in (50-65 cm)
Weight: 31.8-51.5 oz (900-1460 g)
Wingspan: 44.9-52.4 in (114-133 cm)
Red-tailed Hawk Call:
The high-pitched descending raspy-screech sound of the Red-tailed Hawk is often used in movies for all birds of prey.
Red-tailed Hawks remain resident in the US and Mexico, but those birds in Alaska, Canada, and the northern Great Plains fly south for winter.
19. Great Blue Heron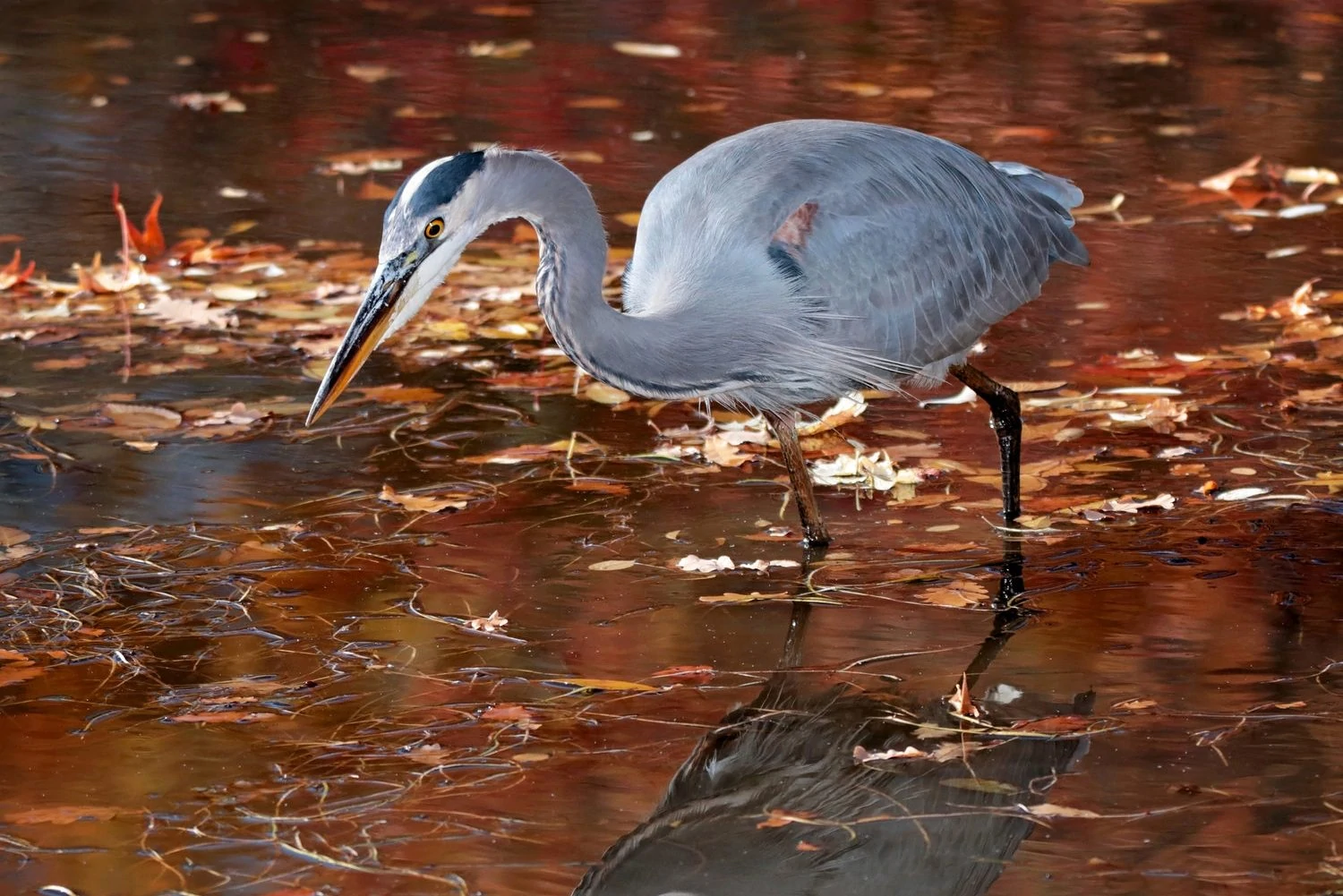 Great Blue Herons are very large, majestic birds that are the largest heron native to North America.
They have a white face with a black crest or plume that extends from the front of their eyes to the back of their heads. Their bills are yellow-orangish.
They have long gray necks with black and white streaking in the front, grayish-blue bodies, and long gray legs.
Ardea herodias
Length: 46 – 52 in (117 – 132 cm)
Weight: 128 oz (3628 g)
Wingspan: 77 – 82 in (196 – 208 cm)
Great Blue Herons remain in most US states all year, but those that breed in the Mid-West and Canada migrate south.
The Great Blue Heron has a white morph subspecies called the Great White Heron in Florida.
You can find Great Blue Herons in many wetland environments. They can be present in fresh and saltwater marshes, mangrove swamps, flooded marshes, lake edges, or shorelines.
Great Blue Herons' main diet consists of fish, frogs, salamanders, shrimps, crabs, dragonflies, grasshoppers, and other aquatic insects.
They capture their prey when wading or standing in water. They may also hover over water, dive into the water, jump feet-first from perches, or float on the water's surface.
Great Blue Heron Call:
Fun Fact: Great Blue Herons defend their feeding territory with dramatic wing outstretched displays, with their heads thrown back.
20. Steller's Jay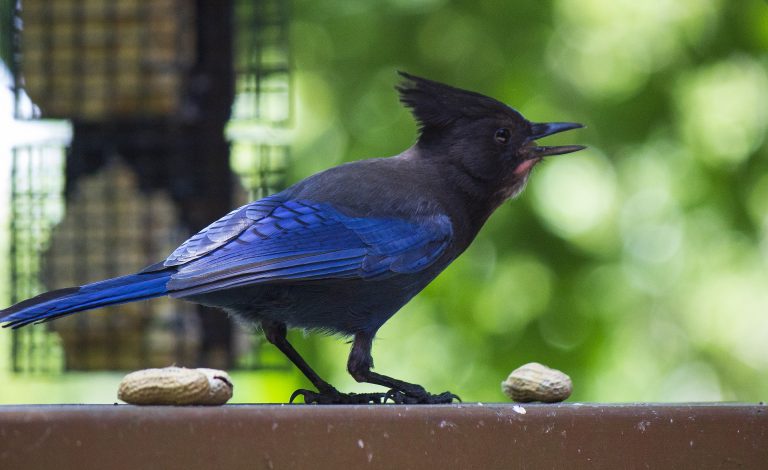 Steller's Jays are large songbirds with black triangular crests that stick up from their heads. The rest of their heads and onto their chests and back are black, with the rest of their bodies being blue.
Cyanocitta stelleri
Length: 11.8-13.4 in (30-34 cm)
Weight: 3.5-4.9 oz (100-140 g)
Wingspan: 17.3 in (44 cm)
Steller's Jays are resident in western US states, western Canada, Mexico, and Central America.
You can find Steller's Jays in evergreen forests in the mountains, and they will also be found around picnic tables, campgrounds, and backyard feeders.
Steller's Jays eat most things they can forage for, including insects, seeds, nuts, berries, eggs, and nestlings, but also making a nuisance of themselves around garbage and your unguarded picnic!
Steller's Jay sounds: They make 'kaw' sounds as well as fast two-toned calls, peeps, and harsh guttural sounds. Steller's Jays can also mimic other noises such as other bird species and even sprinklers and alarms.
Attract Steller's Jays to your backyard with peanuts and suet.
Fun fact: Stellar's Jays make nests out of the mud.
21. Common Goldeneye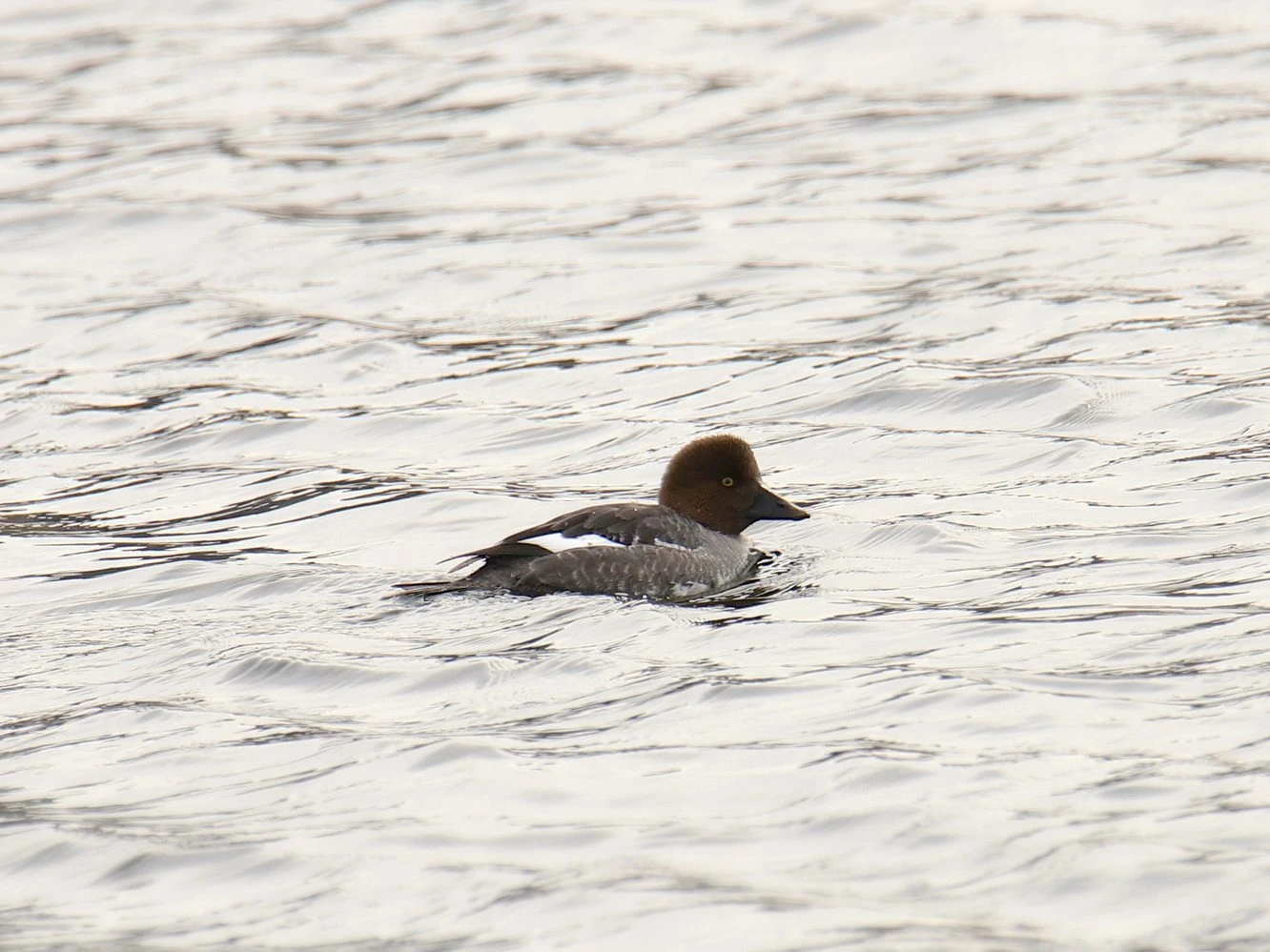 Common Goldeneye males have green heads that are iridescent and can look almost black. They have a white spot under their yellow eyes. They have white bodies and sides and black backs.
Female Common Goldeneyes are grayish-brown with brown heads. Both males and females have black bills, but females have a yellow tip.
Bucephala clangula
Length: 15.8 – 20.1 in (40 – 51 cm)
Weight: 21.2 – 45.9 oz (600 – 1300 g)
Wingspan: 30.3 – 32.7 in (77 – 83 cm)
Common Goldeneyes breed in Canada and Alaska in summer and migrate late to the lower 48 for winter.
You can find Common Goldeneyes in boreal forest lakes during the breeding season and in coastal areas in winter. Common Goldeneyes are diving ducks that feed on crabs, shrimp, crayfish, fish, fish eggs, and insects.
Common Goldeneye Calls: They are quiet ducks, but male Common Goldeneyes make soft calls, and females make harsh alarm calls.
Common Goldeneye Alarm call
Fun Fact: Common Goldeneyes can fly at speeds of over 40 miles per hour.
22. Chestnut-backed Chickadee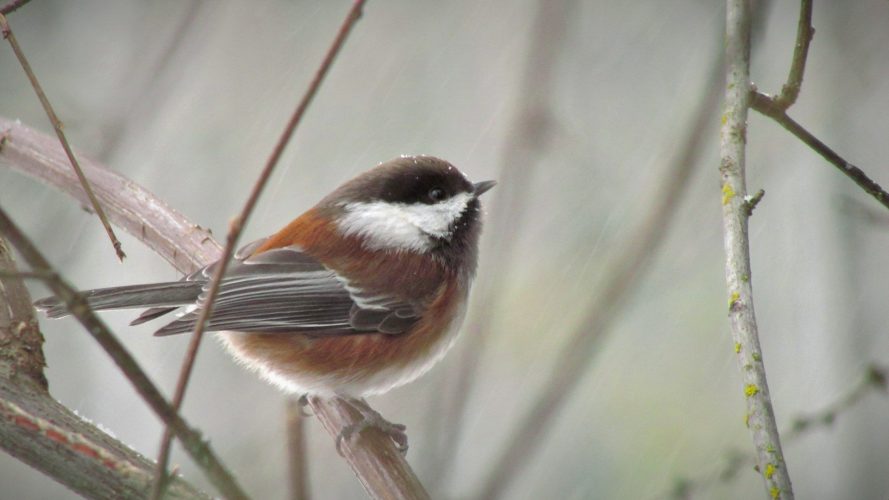 Chestnut-backed Chickadees are tiny birds with black caps and throats and white cheeks. They are a rich chestnut on their backs and sides and have gray wings and bellies. In California, their sides are gray instead of brown.
Poecile rufescens
Length: 3.9-4.7 in (10-12 cm)
Weight: 0.3-0.4 oz (7-12 g)
Wingspan: 7.5 in (19 cm)
Chestnut-backed Chickadees live flocks in wet evergreen forests along the Pacific Coast and are regular visitors to backyard feeders.
You can find Chestnut-backed Chickadees usually in conifer forests. They eat mostly insects, including caterpillars, spiders, wasps, and aphids, with seeds, berries, and fruit making up the rest.
Attract Chestnut-backed Chickadees to your yard with black-oil sunflower seeds, suet, nyjer, peanuts, or mealworms in tube feeders, platform feeders, or suet cages. They will also use nest boxes.
23. Red-winged Blackbird
Red-winged blackbirds are very common and easy to identify with the all-black coloring except for the reddish-orange wing patches. Females are rather dull in comparison with streaky brown color.
Agelaius phoeniceus
Length: 6.7-9.1 in (17-23 cm)
Weight: 1.1-2.7 oz (32-77 g)
Wingspan: 12.2-15.8 in (31-40 cm)
Red-winged Blackbirds remain all year in the lower 48 and the Pacific Coast of British Columbia. Those that breed in Canada and some northern US states migrate south for the winter.
They can often be spotted sitting on telephone wires, and the males will fiercely defend their territories in the breeding season, even attacking people that get too close to their nests. In winter, they roost in large numbers into the millions.
Red-winged Blackbird Song:
Red-winged Blackbird Calls:
Attract Red-winged blackbirds to your backyard with mixed grain and seeds spread on the ground. They will also feed from large tube feeders or platform feeders.
24. Golden-crowned Sparrow
Golden-crowned Sparrows are grayish-brown underneath and streaked brown on the back. Their heads have a black crown and a bright-yellow forehead.
The colors are duller and brown on the crown in winter, and the yellow forehead is also duller.
Zonotrichia atricapilla
Length: 5.9-7.1 in (15-18 cm)
Weight: 1.1-1.2 oz (30-33 g)
Golden-crowned Sparrows breed in Alaska and western Canada before migrating to the West Coast for winter.
You can find Golden-crowned Sparrow in weedy fields scratching for seeds such as dock, sumac, and geranium. They also eat fruit such as apples, grapes, elderberry, and olives. Insects also make up some of their diets, such as ants, beetles, butterflies, and termites.
Golden-crowned Sparrows sounds: Their song is a sad, slow series of whistles that decrease in pitch.
Attract Golden-crowned Sparrows to your backyard with seeds on ground feeders or plant native plants that fruit.
Fun fact: The gold crown of Golden-crowned Sparrows shows how dominant they are, with larger crowns showing more dominance. This helps to reduce fights amongst males.
25. Bewick's Wren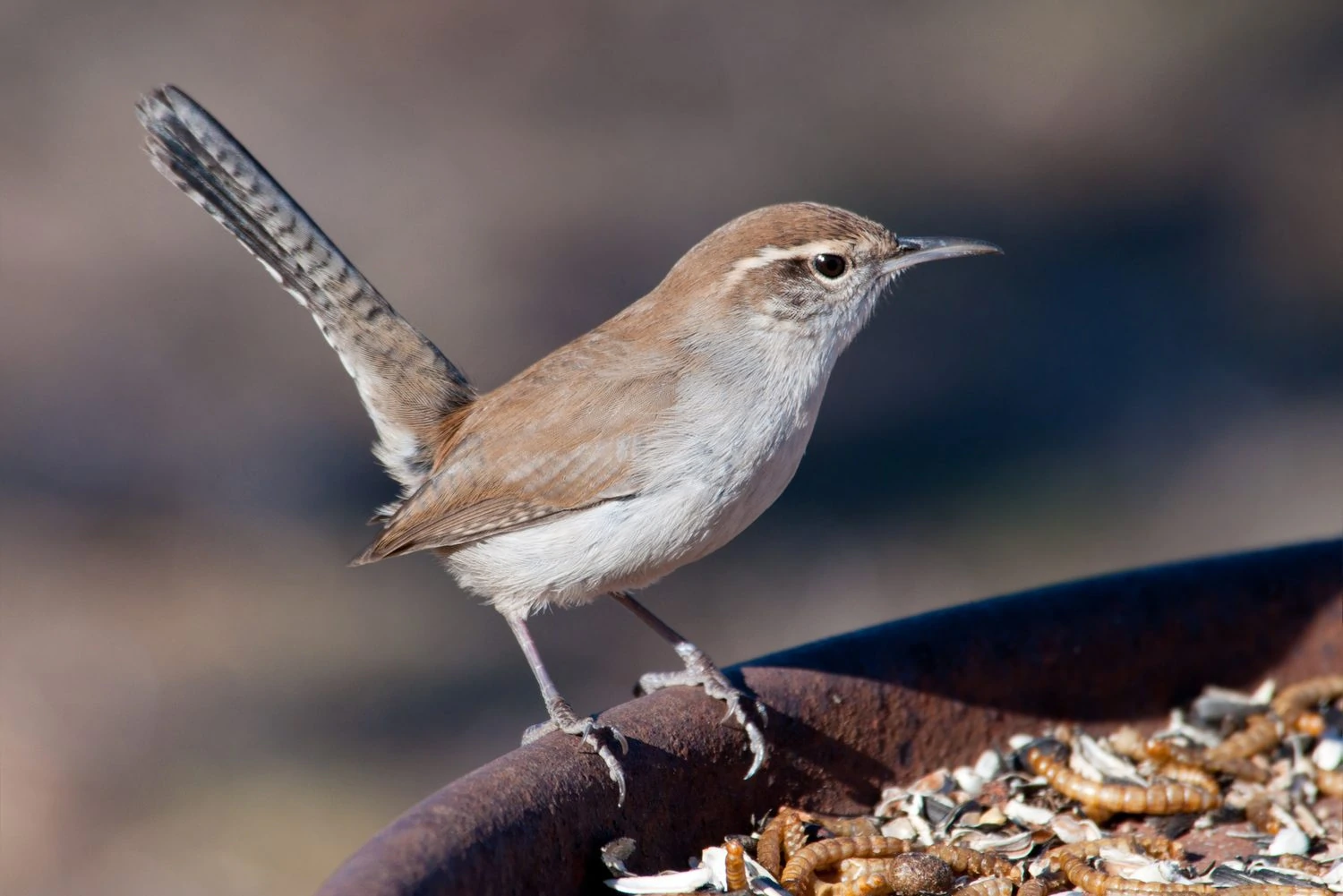 Bewick's Wrens are brown-backed birds with long gray upright tails with darker barring. They have gray bellies and a white stripe over the eye.
Thryomanes bewickii
Length: 5.1 in (13 cm)
Weight: 0.3-0.4 oz (8-12 g)
Bewick's Wrens live in southern and western states all year with some small movements in winter.
You can find Bewick's Wrens in scrub, thickets, and open woodland, hopping from branch to branch, flicking their long tails.
They feed on insects and larvae including, bees, bugs, caterpillars, and beetles.
Bewick's Wren sounds: Their song starts with a couple of short higher notes, followed by lower-pitched buzzy notes.
Attract Bewick Wrens to your backyard with suet, mealworms, and hulled sunflower seeds.
Fun fact: The House Wren is probably responsible for the unfortunate decline of Bewick Wrens in the eastern US as they would destroy their eggs.
Winter vs Summer Birds Washington
There are some birds that stay all year in Washington but many migrate in or out in the spring and fall. These lists give you the most common birds recorded in checklists by bird watchers in summer or winter on ebird.
Winter Birds Washington:
Dark-eyed Junco 46.09%
Song Sparrow 44.47%
American Crow 42.38%
Black-capped Chickadee 38.39%
Mallard 33.95%
American Robin 33.09%
Spotted Towhee 31.77%
Northern Flicker 31.74%
Bufflehead 30.57%
Bald Eagle 26.99%
European Starling 26.78%
Anna's Hummingbird 26.23%
House Finch 23.73%
Canada Goose 21.56%
Double-crested Cormorant 21.51%
Summer Birds Washington:
American Robin 50.44%
American Crow 43.97%
Song Sparrow 39.30%
Black-capped Chickadee 32.51%
Spotted Towhee 30.40%
American Goldfinch 30.11%
Barn Swallow 29.76%
Dark-eyed Junco 27.76%
Northern Flicker 26.64%
House Finch 25.92%
Cedar Waxwing 25.69%
European Starling 25.47%
Mallard 22.32%
Red-breasted Nuthatch 21.92%
Great Blue Heron 21.53%