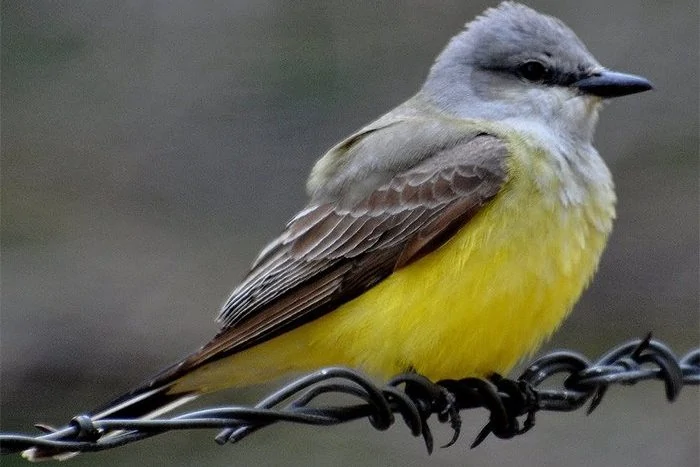 Western Kingbirds are large flycatchers with yellow bellies, whitish chests, gray heads, grayish-brown wings, and black tails with white edges.
Tyrannus verticalis
Length: 7.9-9.4 in (20-24 cm)
Weight: 1.3-1.6 oz (37-46 g)
Wingspan: 15.0-16.1 in (38-41 cm)
Range
Western Kingbirds breed in summer in western US states, the plains area, and into Canada. They migrate to Mexico and Central America, but some may overwinter in the south of Florida.
Habitat And Diet
You can find Western Kingbirds in open habitats, and they are often found perched on fences and utility lines, waiting for insects to fly by before catching them in mid-flight.
Western Kingbird Call:
Nests
Nests of Western Kingbirds are usually built in trees or shrubs, but they also nest in human-made buildings or posts. The nest is made by the female from twigs, grass, and plant material woven into a cup.
They lay up to seven eggs which take two or nearly three weeks to hatch, and the same again for the young to leave the nest.
Attract Western Kingbirds
Attract them to your yard by making it insect-friendly and planting elderberry or hawthorn, from which they will also eat the fruit.
Fun Fact:
Western Kingbird parents will feed their young for a further three weeks after they leave the nest.