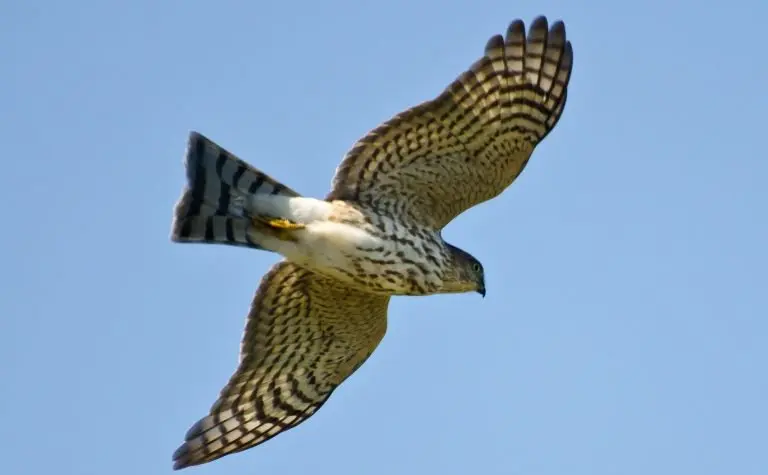 Adult Sharp-shinned Hawks are small hawks with blue-gray across the back and red-orange breasts. They have dark bands across their tails.
The females are a third larger than the male. They have long square-ended tails, short rounded wings, and small heads.
Length: 9.4-13.4 in (24-34 cm)
Weight: 3.1-7.7 oz (87-218 g)
Wingspan: 16.9-22.1 in (43-56 cm)
Range
Sharp-shinned Hawks that breed in Canada and some northern states migrate south. Those birds in the Appalachians and Western Mountains may remain all year.
Habitat And Diet
Sharp-shinned Hawks are very secretive but can be seen as they fly across open areas at the edges of forests. They are very agile and can speed through dense woods to catch their prey in flight, usually songbirds.
They can sometimes be seen near feeders catching small birds, but if you have problems with them in your backyard, remove the feeder for a few weeks.
Sharp-shinned Hawks pluck their prey on a stump or low branch before eating it. They usually eat songbirds about the size of a robin.
Sharp-shinned Hawks Call:
Nests
Nests of the Sharp-shinned Hawk are often in conifer trees in dense cover, usually towards the top of tall trees. The nest is quite large, being 1-2 feet in diameter and 4-6 inches deep. They lay 3-8 white or pale-blue mottled eggs.