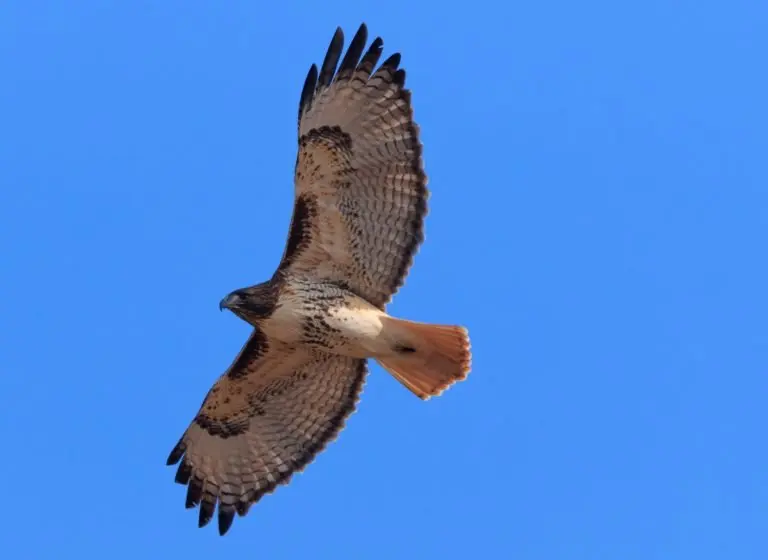 As their name suggests, Red-tailed Hawks have a distinctive short, wide red tail. They are large, with broad, rounded wings. Most Red-tailed Hawks are brown on the back and pale underneath.
Male
Length: 17.7-22.1 in (45-56 cm)
Weight: 24.3-45.9 oz (690-1300 g)
Wingspan: 44.9-52.4 in (114-133 cm)
Female
Length: 19.7-25.6 in (50-65 cm)
Weight: 31.8-51.5 oz (900-1460 g)
Wingspan: 44.9-52.4 in (114-133 cm)
Range
Red-tailed Hawks remain resident in the US and Mexico, but those birds in Alaska, Canada, and the northern Great Plains fly south for winter.
Habitat And Diet
They are also the easiest to spot, often on long car journeys, as they circle slowly over open fields looking for prey such as small mammals, birds, and reptiles. You can also see them perched on telephone poles.
Red-tailed Hawk Call:
The high-pitched descending raspy-screech sound of the Red-tailed Hawk is often used in movies for all birds of prey.
Nests
Nests are high in tall trees, cliff ledges, and sometimes on tall buildings or towers. They lay 2-3 whitish, brown-spotted eggs.
Fun Fact: