It's not just a Redhead duck that has a red head there are a few more species that you may have spotted and what to identify.
It is most likely that you have spotted a Redhead or a Canvas back, but there are a couple of more rare species in North America that have a red head too.
So check out these ducks with red heads below and see if you can find the one your looking for with the help of photos, calls, and region information.
You can also find out more about ducks and their calls or check out which ducks are in your state or province from the main menu.
1. Redhead
Redheads are exactly what these medium-sized diving birds are. They have a striking red head, contrasting with a black throat and chest and a gray body. Their bill is blue-gray with a black tip. Females share the same bill but are otherwise brown all over.
Aythya americana
Length: 18 – 22 in (46 – 56 cm)
Weight: 43.03 oz (1219 g)
Wingspan: 29 – 35 in (74 – 89 cm)
Redheads breed in western Canada, Alaska, and western US states before migrating for winter to southern US states, the east coast of the US, Mexico, and the Caribbean.
You can find Redheads in marshes, open lakes, reedy ponds, and bays where the water is deep enough to dive and root out plant vegetation. In winter, they migrate to coastal shorelines with calm waters or in reservoirs and estuaries.
Redheads dive for food, but they don't go as deep as other ducks. Their movement may be more similar to dabbling. They eat a lot of plant vegetation when it's not the breeding season. Their food includes seeds, tubers of pondweeds, water lilies, and grasses. Breeding season means they eat a lot of animals like mollusks, insects, and small fish.
Redhead Calls:
Nests of Redheads are formed by the females over or near the water. They are thick and bulky, made out of plant stems, cattails, and sedges. Redheads lay nine to fourteen eggs, but there are times when they lay their eggs in other ducks' nests. Incubation of the eggs lasts for about a month.
Fun Fact: Redheads can form large flocks of thousands in two Gulf of Mexico bays during winter.
2. Canvasback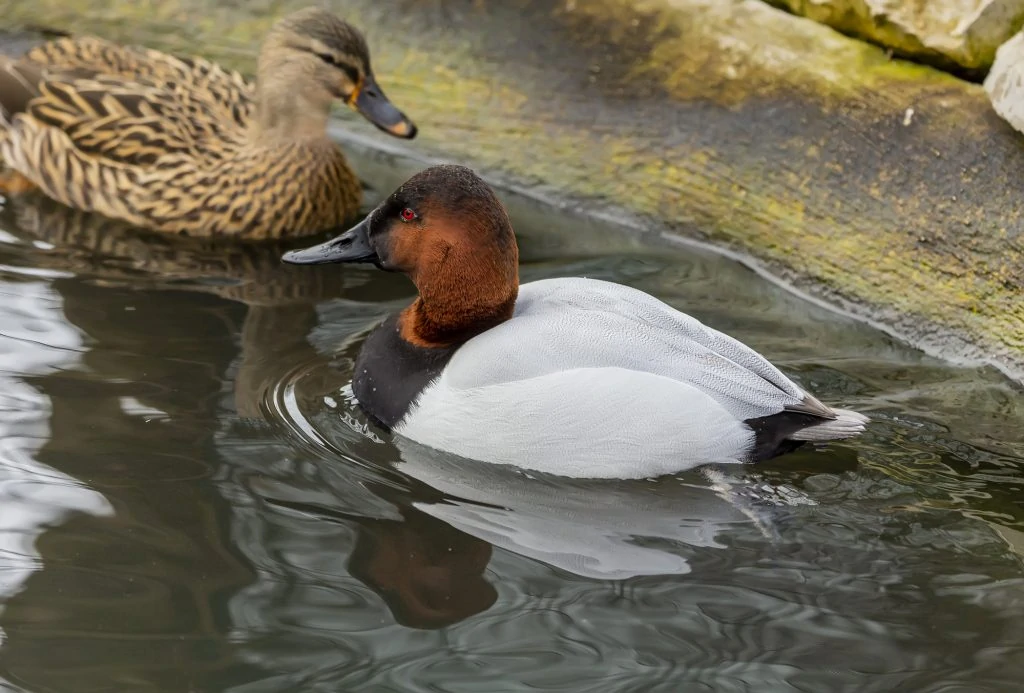 Male Canvasbacks are easily recognizable ducks from the Anatidae family because of their red eyes and sloping reddish-brown heads and throats. Their chest is black, but their bellies and backs are white or grayish. Their bottom is black too. Females are mostly brown in the head, throat, and chest, but their backs and bellies are brown and gray.
Aythya valisineria
Length: 19 – 24 in (48 – 61 cm)
Weight: 58.48 oz (1657 g)
Wingspan: 28 – 36 in (71 – 91 cm)
Canvasbacks breed in western Canada and some areas in northcentral states before migrating to southern US states, Mexico, and the east and west coasts of America.
You can find Canvasbacks in prairie marshes, deep-water marshes, lakes, bays, and ponds. They usually join large flocks with other birds, but their white bodies and sloping heads easily make them stand out. In winter, they prefer to live in freshwater lakes and coastal waters.
Canvasbacks are diving ducks, so they typically forage for food in open water. Their webbed feet are perfect for diving as they root out tubers and other plant food at the bottom of marshes, lakes, and ponds. They may occasionally dabble for seeds, buds, roots, snails, and insect larvae, too. Their favorite food is the tubers of Sago Pondweed.
Canvasback call:
Nests of the Canvasbacks are bulky and strong, made of reeds and grass that may be found on open water or on marshes with lots of plant vegetation and protective cover. The female lays five to twelve eggs that take about a month to hatch. It takes about sixty to seventy days for the ducklings to be able to fly and fend for themselves.
Fun Fact: The word "valisineria" in the Canvasbacks' scientific name comes from Vallisneria americana, or wild celery, which is their favorite food during the non-breeding period.
3. Common Pochard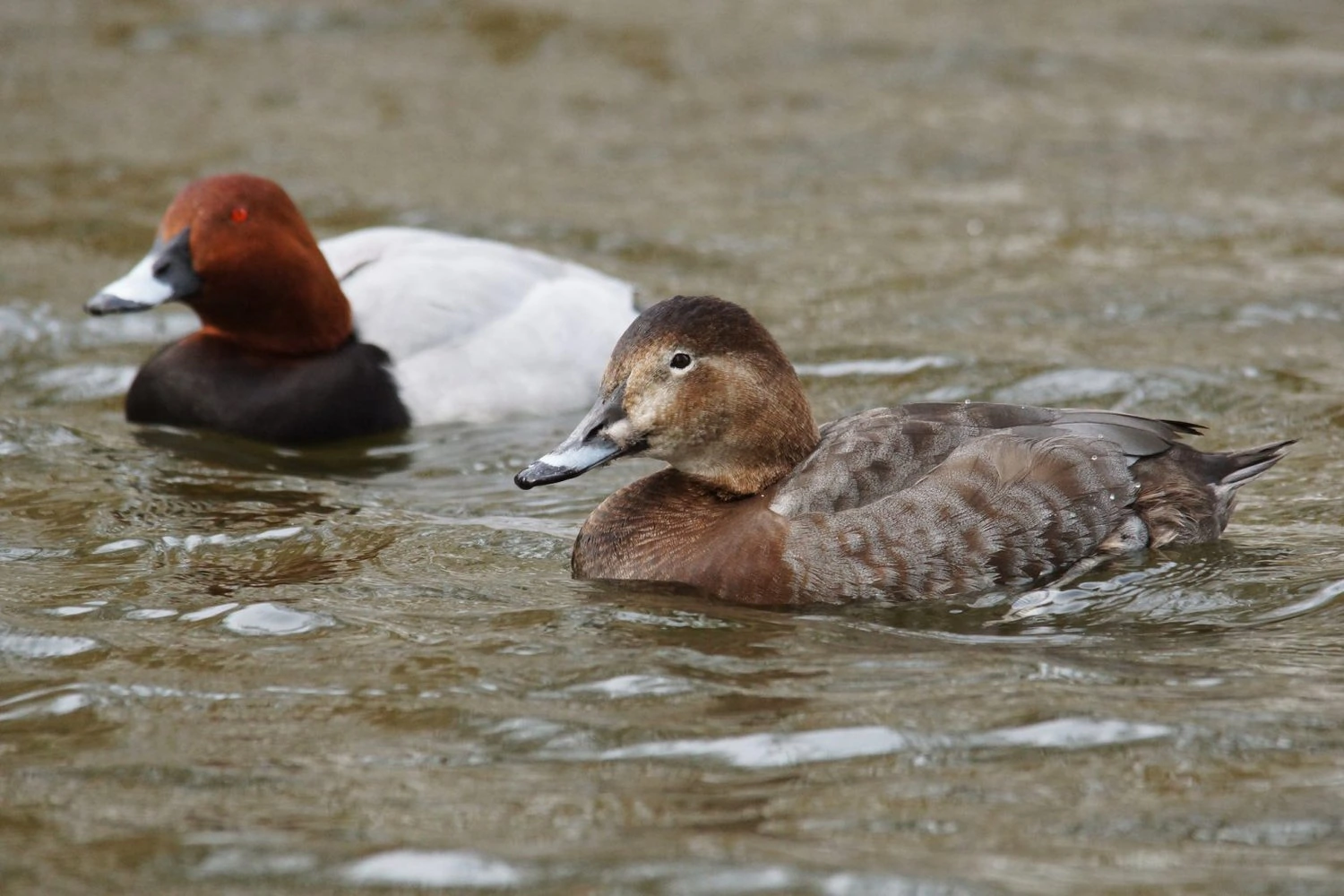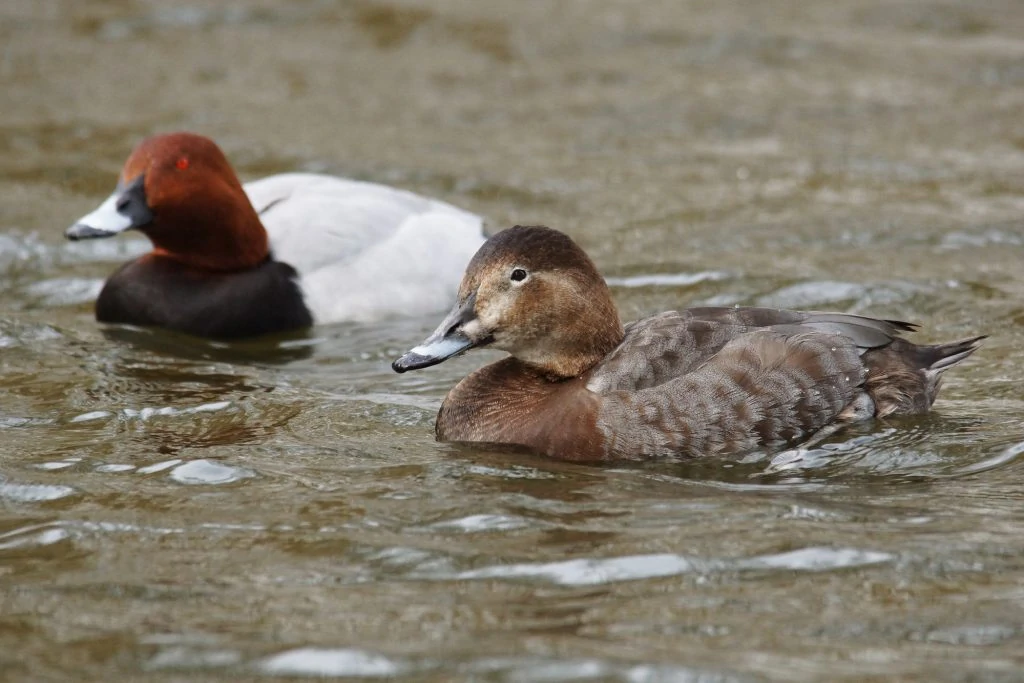 Common Pochards are medium-sized, elegant-looking birds. Males have bold, red heads and throats, long black bills with a gray band in the middle, black bellies, white backs and flanks, and black tails. They also have red eyes.
Females are less striking, but their pattern combinations are stunning. They are mostly brown and have a scalloped pattern, gray-brown colored backs, and flanks. They do share the same long, black bill with the gray band as the males.
Aythya ferina
Length: 16.5 – 23 in (42 – 58 cm)
Weight: 28.8 oz (816 g)
Wingspan: 29 – 35 in (74 – 89 cm)
Common Pochards are usually found in Eurasia and Africa, but they occasionally wander into Alaska.
You can find Common Pochards in different types of water habitats, like lakes, reservoirs and hardly-moving rivers, and marshes. They prefer areas with dense vegetation along the shoreline and a water depth that's suitable for diving. They may also be occasionally found in brackish water areas, but they much prefer freshwater habitats.
Common Pochards dive and swim underwater for food. They may keep their head underwater while feeding on seeds, stems, leaves, and roots of aquatic plants. They may also eat algae and aquatic insects, mollusks, small fish, and crustaceans.
Common Pochard Call:
Nests of Common Pochards are shallow depressions concealed in thick vegetations on the ground, built out of grass stems and feathers and very close to water. The female lays six to twelve eggs that she incubates for twenty-five days.
Fun Fact: Male Common Pochards look very similar to Redheads. The difference lies in the color of their eyes. Male Common Pochards have red eyes while Redheads have yellow eyes.
4. Smew (Female)
Smews are the only living members of the genus Mergellus. Male Smews are stunning since their feathers look like cracked ice. They are white overall, with a white crest and black patches and 'veins.'
Female Smews look nothing like the males and may even be mistaken for ruddy ducks. They have reddish heads with a white patch at the base of their hooked and serrated bills, white throats, dark gray backs, and lighter gray breasts and bellies with a scaled pattern.
Mergellus albellus
Length: 14.5 – 17 in (37 – 43 cm)
Weight: 22.4 oz (635 g)
Wingspan: 24 – 26 in (61 – 66 cm)
Smews are usually found in Eurasia, but they wander into North America.
You can find Smews around fish-rich lakes and slow-moving rivers. During the breeding season, Smews will head to forests with pine trees that are near the same water regions.
Smews dive and pursue their prey underwater, such as insects and small fish.
Smew Call:
Nests of Smews are normally found in tree holes or tree cavities, such as old woodpecker nests. The female will simply line the interior with down and lay anywhere from six to nine eggs. She will incubate them for about a month.
Fun Fact: The term "smew" has been used since the 17th Century, but no one actually knows how it came to be. It was most likely derived from "smee," a dialectal term for "wild duck."