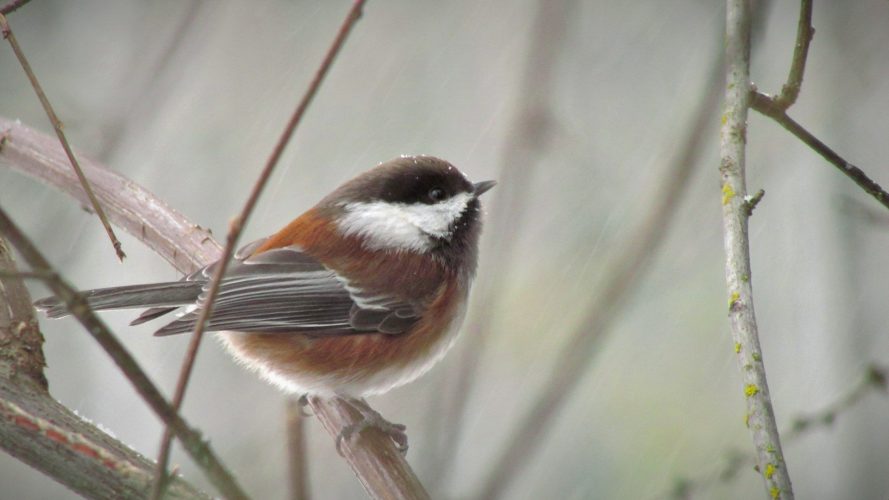 Chestnut-backed Chickadees are tiny birds with black caps and throats and white cheeks. They are a rich chestnut on their backs and sides and have gray wings and bellies.
In California, their sides are gray instead of brown.
Poecile rufescens
Length: 3.9-4.7 in (10-12 cm)
Weight: 0.3-0.4 oz (7-12 g)
Wingspan: 7.5 in (19 cm)
Range
Chestnut-backed Chickadees live in flocks in wet evergreen forests along the Pacific Coast and are regular visitors to backyard feeders.
Habitat And Diet
You can find Chestnut-backed Chickadees usually in conifer forests. They eat mostly insects, including caterpillars, spiders, wasps, and aphids, with seeds, berries, and fruit making up the rest.
Chestnut-backed Chickadee Call:
Nests
Nests of Chestnut-backed Chickadees are usually holes in rotten wood made either by the birds themselves or they use old woodpecker nests. The nest is lined with moss and bark, and then softer material such as fur and grass is added.
They lay up to eleven eggs, which take around two weeks to hatch and nearly three weeks for the young to leave the nest.
Attract Chestnut-backed Chickadees
Attract them to your yard with black-oil sunflower seeds, suet, nyjer, peanuts, or mealworms in tube feeders, platform feeders, or suet cages. They will also use nest boxes.