It's not just an American Black Duck that is a black duck, there are a few more species that you may have spotted and what to identify.
Sometimes it is the female that is darker, and also the male when they are in non-breeding plumage.
So check out these black ducks below and see if you can find the one your looking for with the help of photos, calls, and region information.
You can also find out more about ducks and their calls or check out which ducks are in your state or province from the main menu.
1. American Black Duck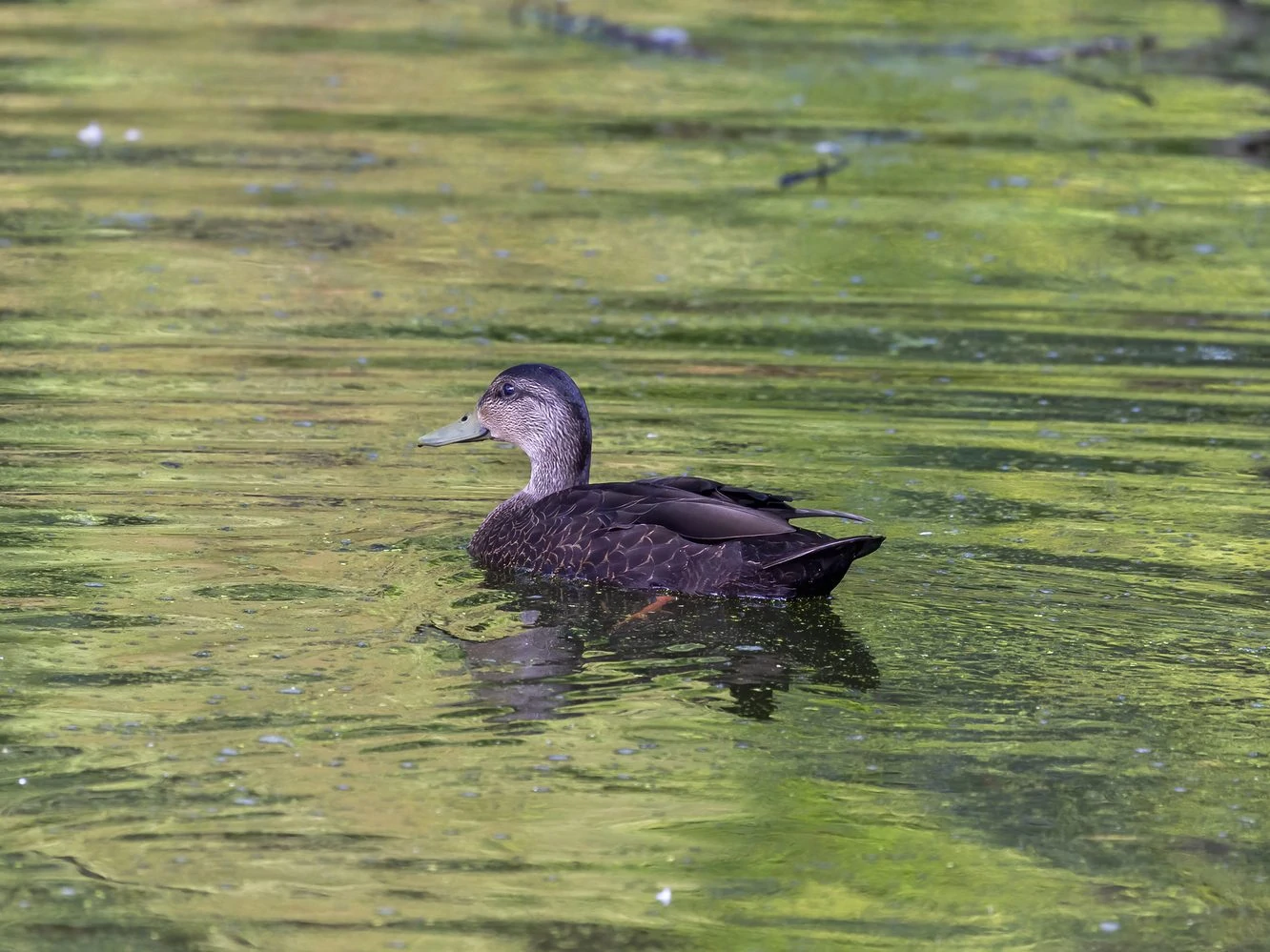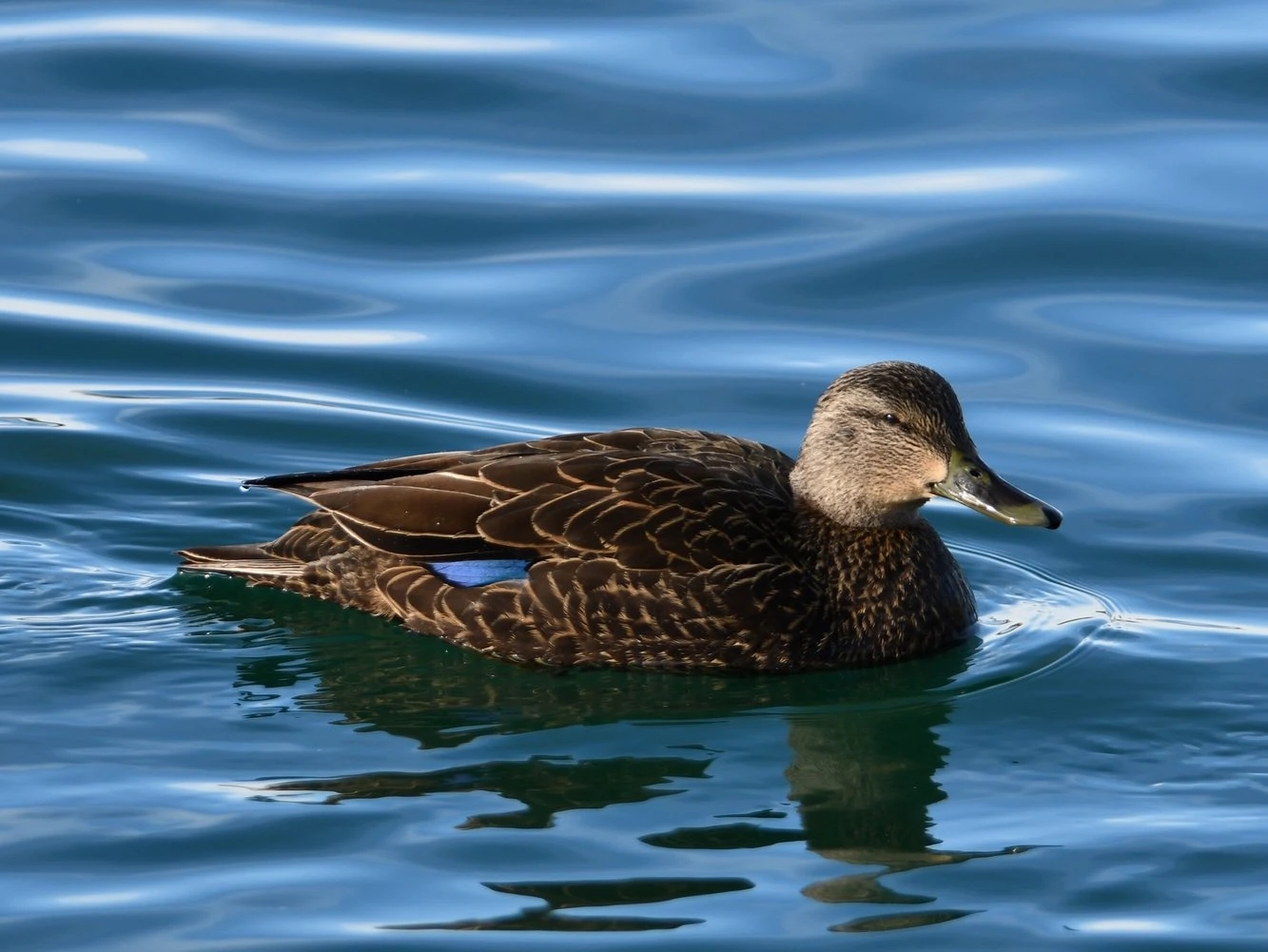 American Black Ducks are large, heavy ducks from the Anas family. They're quite possibly the heaviest ducks in the species. Males and females have the same dark brown bodies and pale brown heads. Males have a yellow bill, and females have an olive one. The only bright colors on their bodies are the blue-purple patch on their wings and their red-orange legs.
Anas rubripes
Length: 19 – 23 in (48 – 58 cm)
Weight: 49.6 oz (1406 g)
Wingspan: 33 – 36 in (84 – 91 cm)
American Black Ducks are found in eastern regions. They breed in eastern Canada and spend the winter in eastern US states. Some remain all year in northeastern US states.
You can find American Black Ducks in many different habitats. Ordinarily, they inhabit salt marshes, lakes, ponds, and estuaries. They are also seen in forested swamps, beaver ponds, agricultural fields, and flooded woods. Also, they may reside in tidal marshes, and when they want to hide from hunters, they stay on conservation land.
American Black Ducks can look for food on both land and water. Aside from dabbling, they also graze on land. They eat aquatic vegetation, animals like snails, insects, mussels, small fish, and grasses and seeds from fields.
American Black Duck calls: Male American Black ducks have a more reedy call than the females' loud quack.
Female American Black Duck
Nests of American Black Ducks usually have six to fourteen eggs that both parents care for. However, the male will leave the responsibility to the female when they reach the 2nd half of the incubation period.
Incubation usually takes twenty-six days, and the newly-hatched chicks are brought to the water to learn to forage for food. It takes another six weeks for the young to learn how to fly.
Fun Fact: 11,000-year-old fossils of American Black Ducks have been discovered in Florida and Georgia.
2. Surf Scoter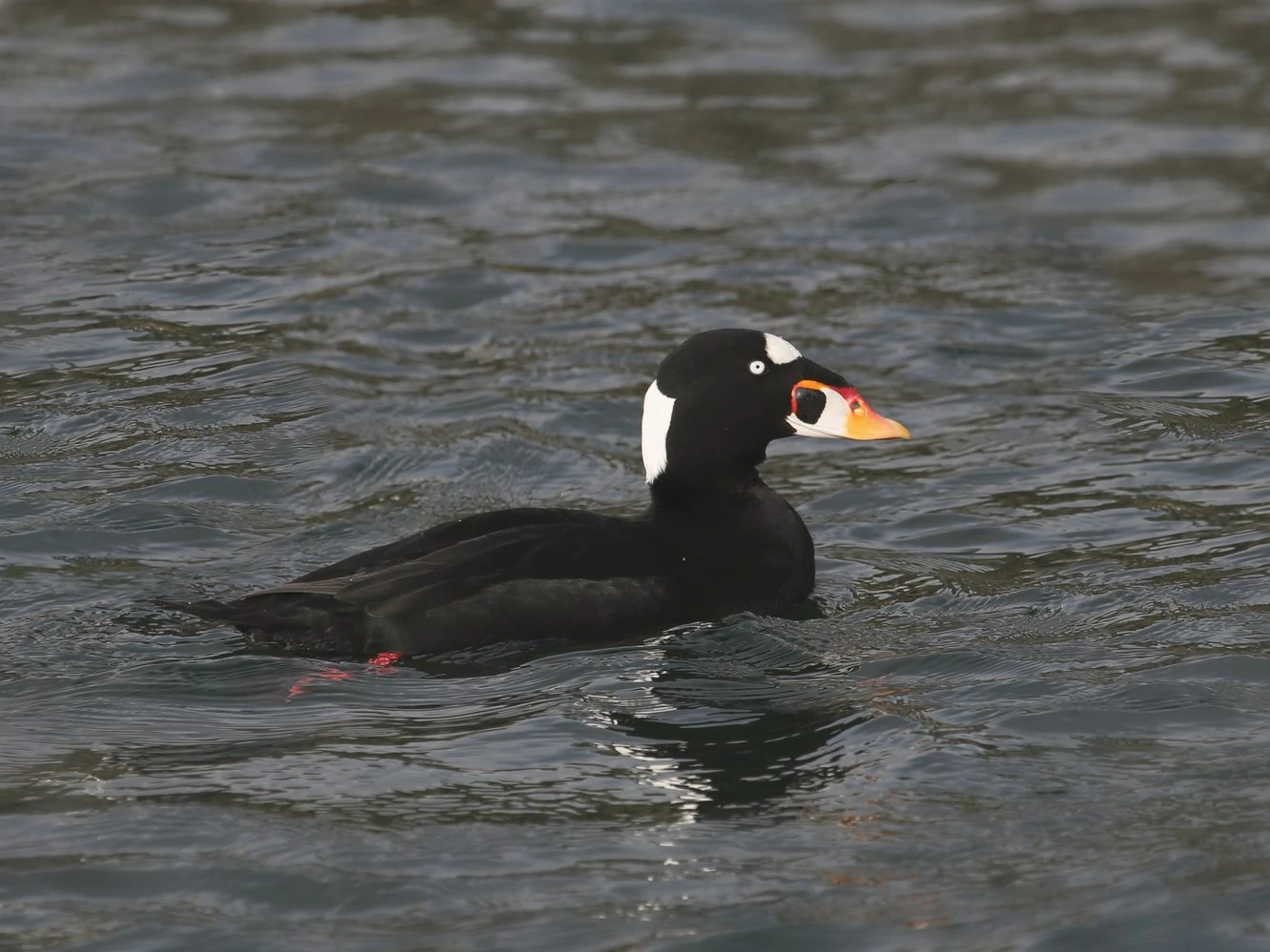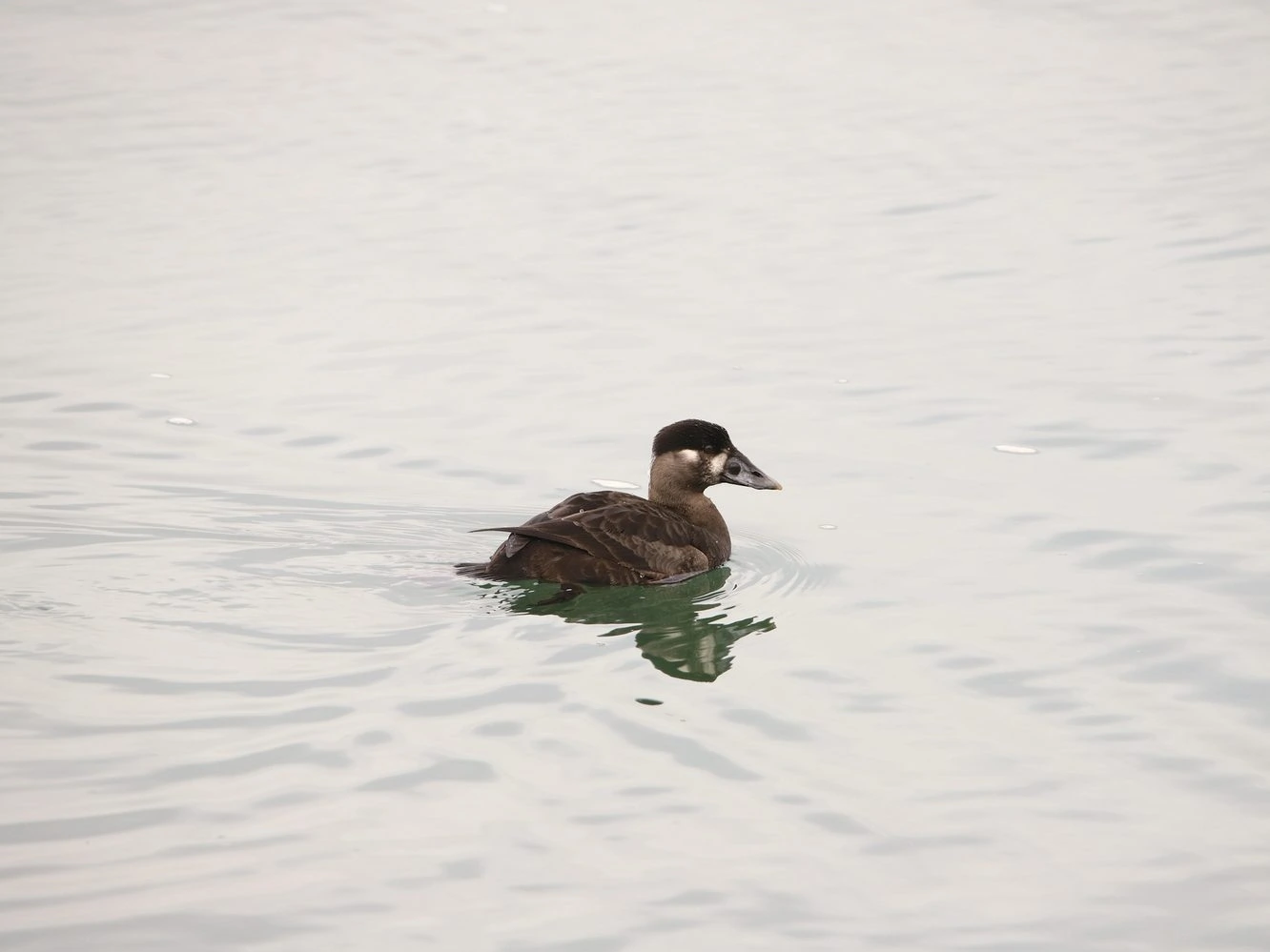 Male Surf Scoters are medium-sized birds that are sometimes called "old skunk-head coot" because of the distinct white patches on their forehead and nape that stand out against their black, velvety feathers.
Aside from these distinctive features, male surf scoters also have a large orange bill with white, red, and yellow patterns. At the base of the bill is a large, black spot. Their eyes are white.
Female Surf Scoters are mostly dark gray, but they have the white patch at the base of their bill and near the back of their eyes. They have the same bill as the male, except that theirs is smaller and dark gray.
Juveniles are brownish in color, have black eyes, and have the same coloring and shape of the bill as the males.
Melanitta perspicillata
Length: 17 – 21 in (43 – 53 cm)
Weight: 35.27 oz (1000 g)
Wingspan: 30 – 36 in (76 – 91 cm)
Surf Scoters breed in northern Canada and Alaska before migrating to the US coasts and Canadian coast.
You can find Surf Scoters in forests near freshwater lakes during the breeding season. During their molting season, they prefer shallow bays, inlets, and estuaries, places that have a good source of food and lesser threats of predation. But, they are most likely on the ocean during winter.
Surf Scoters mostly get their food by diving underwater. They also adapt their foraging attempts depending on the abundance of food. For instance, they will feed on Pacific Herring eggs during their spawning since there is less effort but more food supply. During the breeding period, they will find freshwater invertebrates and crustaceans.
Surf Scoter calls:
Nests of Surf Scoters are usually well-concealed, built on the ground, under thick brush or low tree branches, and not always near water. The female digs a bowl-shaped depression on the ground and lines it with grass and down feathers then lays around five to eight eggs which she incubates for about a month. In dense breeding areas, broods may get mixed up.
Fun Fact: Gulls often try to steal the prey that Surf Scoters catch from diving. That's why flocks frequently make synchronized dives and surfacing to make it difficult for other birds to steal from them.
3. White-winged Scoter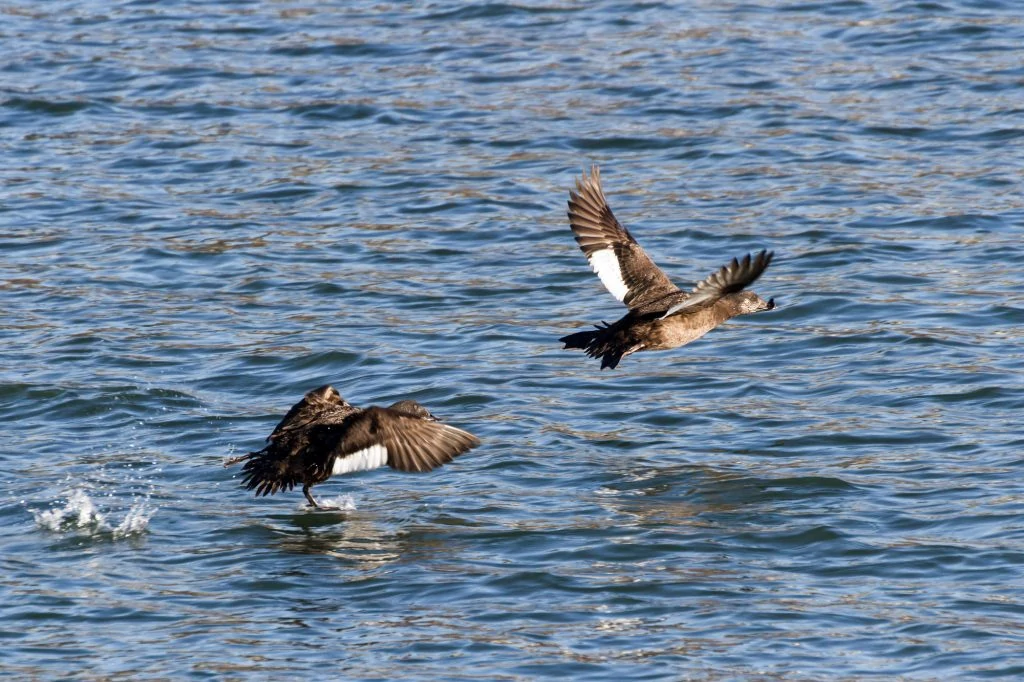 White-winged Scoters are the largest of the North American Scoters. They're easily distinguishable from the other three because of their white wing patch since the other two Scoters have totally black wings.
Male White-winged Scoters also have the distinct white, reverse comma marking around the eye, earning them the nickname "Viking Horn." Their orange-tipped bill is short and less bulbous than other Scoters, but it does have a large, dark knob at its base. Their bodies are mostly black.
Female and Juvenile White-winged Scoters are similar. They are both dark brown with white patches in front and behind their eyes. They have dark gray bills with a smaller knob at the base.
Melanitta deglandi
Length: 19 – 24 in (48 – 61 cm)
Weight: 62.4 oz (1768 g)
Wingspan: 33 – 41 in (84 – 104 cm)
White-winged Scoters breed in western Canada and Alaska before migrating for winter to the US and Canadian coasts.
You can find White-winged Scoters in northern forests near freshwater lakes and wetlands during their breeding season. During the winter, they prefer the open ocean and coastal environments, particularly bays and inlets.
White-winged Scoters are experts in diving deep underwater, capable of holding their breath while wrestling with shellfish from underwater rocks.
They usually forage in large flocks and prefer to forage from the bottom, but they will also take prey from the surface of the water. In freshwater habitats, they feed on mollusks, crustaceans, small fish, and aquatic insects.
White-winged Scoter call:
Nests of White-winged Scoters are shallow depressions on the ground, mostly concealed under a thick bush or a crevice and close to the water. They are built with plant material and lined with down.
The female lays eight to ten eggs and incubates them for twenty-five days to a month. The young leave the nest after hatching and can already feed themselves. The female takes care of them for about three more weeks.
Fun Fact: Female White-winged Scoters return to the nesting area where they were hatched. This behavior is called "Natal Philopatry."
4. Black Scoter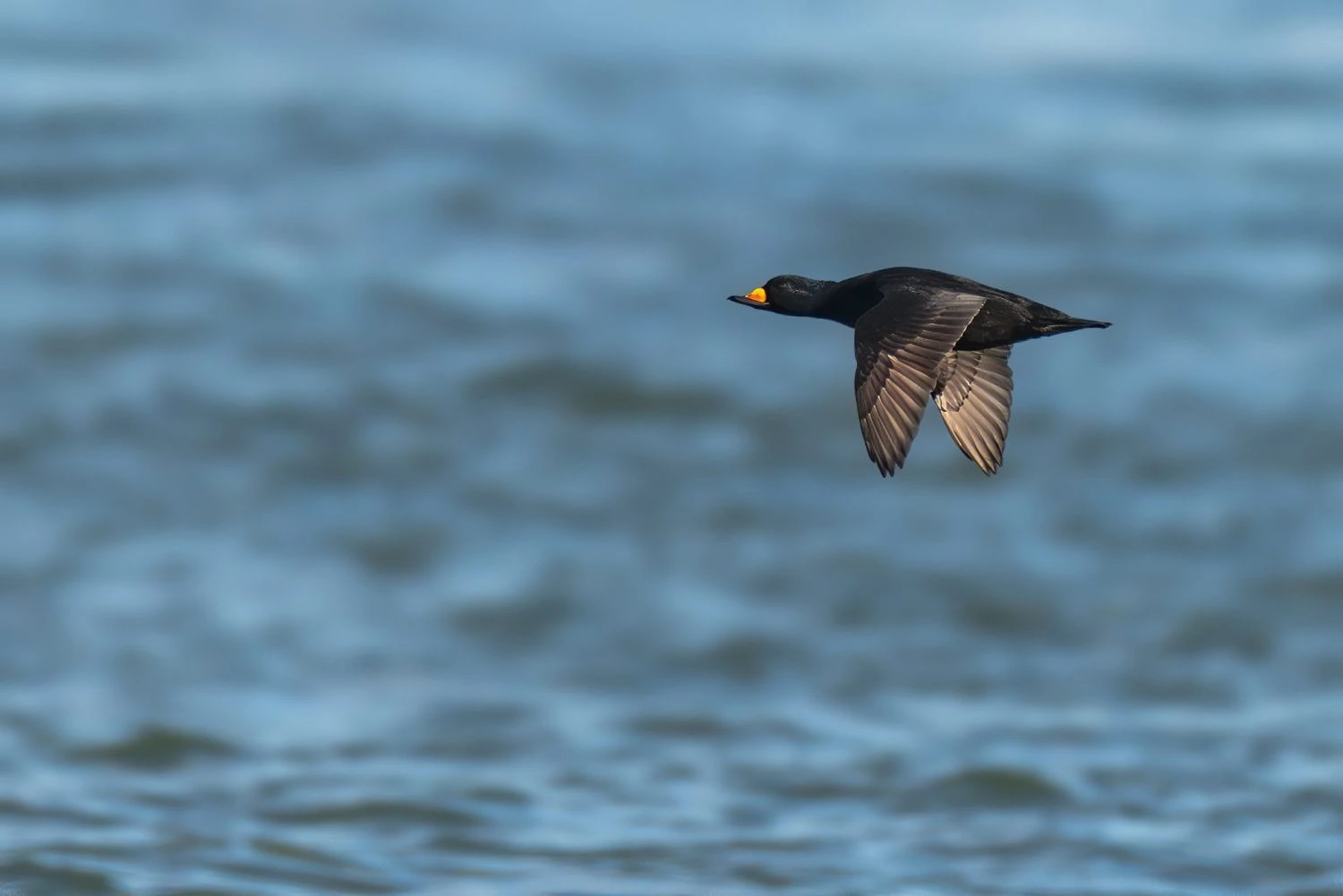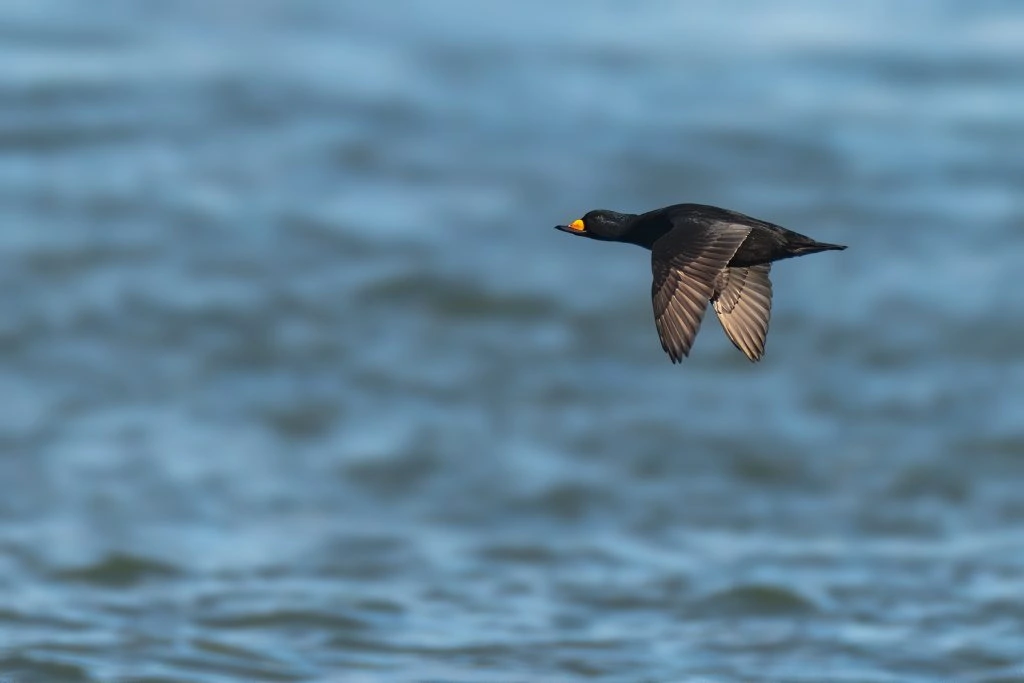 The Black Scoter is also called American Scoter. Male Black Scoters are aptly named because their whole bodies are velvety black, with the exception of a bright yellow patch at the base of their bills.
Female Black Scoters aren't black at all. They are brownish overall, with the lower half of their head paler than the rest of the body. Their cap is dark brown, and their bill is black.
Juveniles are a combination of both males and females. Their coloring and dark cap are like the females, but they also have the yellow knob at the base of their bill like the males.
Melanitta americana
Length: 17 – 21 in (43 – 53 cm)
Weight: 387.4 oz (1088 g)
Wingspan: 30 – 35 in (76 – 89 cm)
Black Scoters breed in Canada and Alaska before migrating to coastal areas of the United States.
You can find Black Scoters primarily in saltwater, particularly along rocky coastlines, during winter, or when migrating. They usually form large winter flocks with other scoter species. During the nesting period, they move to more sheltered habitats like ponds and small lakes with vegetation on the edges.
Black Scoters dive for shellfish and mollusks in oceans and bay coasts. They may occasionally eat crabs and shrimp, and other marine vegetation on top of shellfish and mollusks. When they're in freshwater, they eat a lot of insects and their larvae, fish eggs, and other vegetation.
Black Scoter calls: They are noisy birds that are easily identified in winter with the males' descending whistle.
Nests of Black Scoters are usually hidden in a rock crevice or on the ground sheltered by grass clumps. They are usually within a hundred feet of the water. The female makes a depression on the ground or on grass and lines it with her own feathers.
She will lay around eight to nine eggs and incubates them for about twenty-eight days. She will tend to them for about three weeks, after which they have to fend for themselves.
Fun Fact: Tens of thousands of Black Scoters migrate south together, creating a fantastic spectacle.
5. Barrow's Goldeneye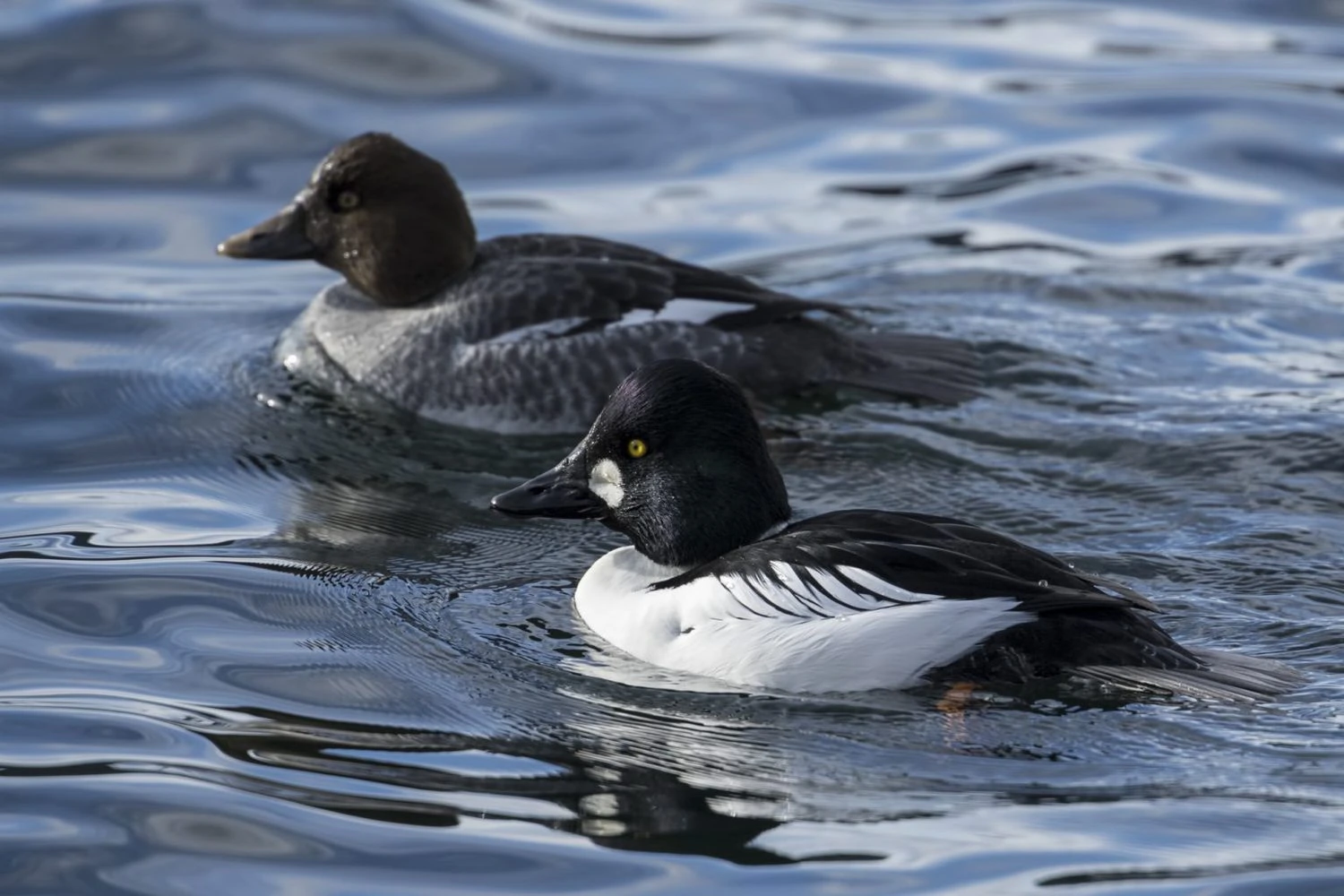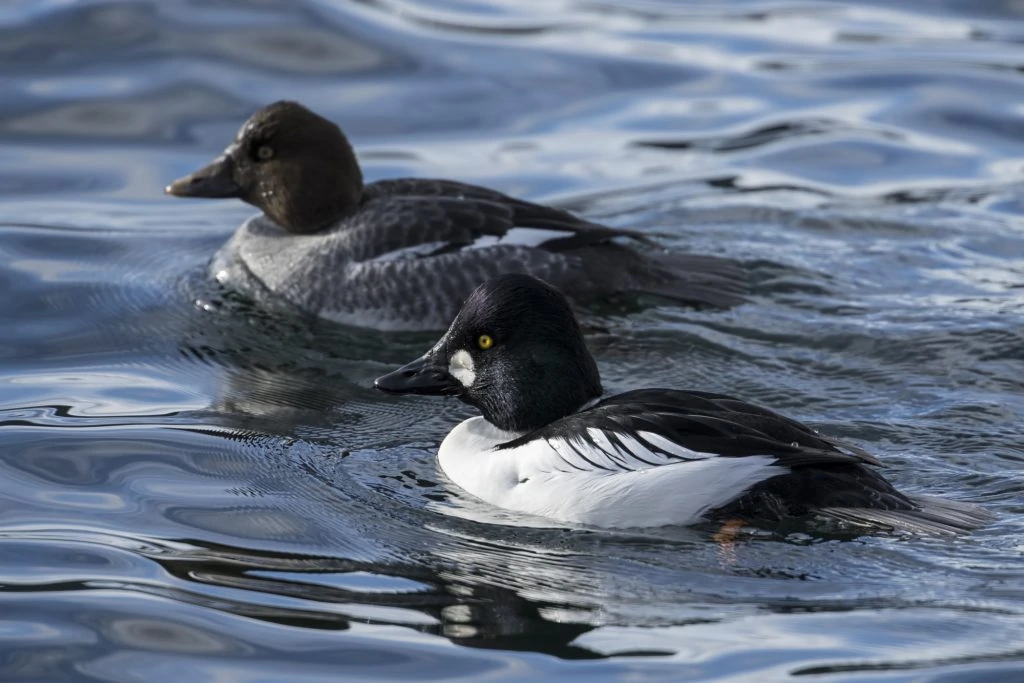 Barrow's Goldeneyes are medium-sized ducks that are commonly mistaken for Common Goldeneyes because they have very similar features. Male Barrow's Goldeneyes have black heads with a glossy purplish sheen. They have a white crescent-like patch behind their black bill.
They have golden yellow eyes and white chests and bellies. Their top half is black with distinct white shoulder bars.
Female Barrow's Goldeneyes have gray bodies, a white collar around their necks, dark brown heads, yellow-orange bills, and the typical golden yellow eyes. They also have white wing patches like the males.
Juveniles are similar to females, except they have a faint white crescent mark of the adult males.
Bucephala islandica
Length: 16 – 20 in (41 – 51 cm)
Weight: 38.4 oz (1088 g)
Wingspan: 30 – 32 in (76 – 81 cm)
Barrow's Goldeneye breed in western Canada, Alaska, and a few areas of eastern Canada near the coast before migrating to northwestern US states and the west coast of Canada.
You can find Barrow's Goldeneyes in small mountain lakes and small ponds with nearby mature trees with nesting cavities. During migration, they stop at estuaries, bays, and inlets. In winter, you'll find them along rocky ocean coasts or inland lakes.
During the breeding season, Barrow's Goldeneyes favor aquatic insects and, in fact, will head to habitats that have no insect-eating fish around so they won't have any competition for this type of prey. In winter, they will feast on crustaceans, mollusks, and small fish.
Barrow's Goldeneye call:
Nests of Barrow's Goldeneyes are usually in cavities in cliffs and trees, or they use old woodpecker holes. They may nest on the ground under a bush if there are no available cavities. The female lays six to twelve eggs and incubates them for about a month.
When they hatch, the female leads their young to where the food is so they can feed themselves. Sometimes, broods mix with other broods, particularly if the female leaves early or when broods are part of a territorial dispute among females.
Attracting Barrow's Goldeneyes to your backyard is possible if you put up nest boxes for them before the breeding season.
Fun Fact: In Iceland, around Lake My'vatn, local residents always have nest boxes around their homes and barns for Barrow's Goldeneyes. It has been a long-standing tradition for the people in this area to host these ducks.
6. Muscovy Duck
There are wild and domesticated Muscovy Ducks. Wild ducks are glossy, dark-colored, and with a less-obvious white wing patch. Males have a short crest on the nape.
Domesticated Muscovy Ducks may show a varied combination of dark brown, white, and black coloring. Both types of Muscovy Ducks have the same red, wart-like spots on their faces.
Cairina moschata
Length: 25 – 35 in (64 – 89 cm)
Weight: 102.4 oz (2902 g)
Wingspan: 54 – 60 in (137 – 152 cm)
Muscovy Ducks are predominantly from Mexico, Central America, and South America. However, escaped domesticated Muscovy ducks can be found in many areas.
You can find wild Muscovy Ducks in forests with a water source. Domesticated Muscovy Ducks live on farms and parks.
Wild Muscovy Ducks fend for themselves by wading in shallow wetlands for food. Domesticated Muscovy Ducks are comfortable being fed by humans in parks. They like "dipping" for seeds and plants.
Muscovy Duck call:
Nests of Muscovy Ducks can be found in tree hollows. They also like nest boxes. A female lays about ten eggs which she incubates by herself for a little more than a month. After birth, the female takes care of her newborns for an additional ten to twelve weeks.
Fun Fact: Muscovy Ducks have been domesticated for a long time because their meat has a stronger taste than other ducks.
7. Steller's Eider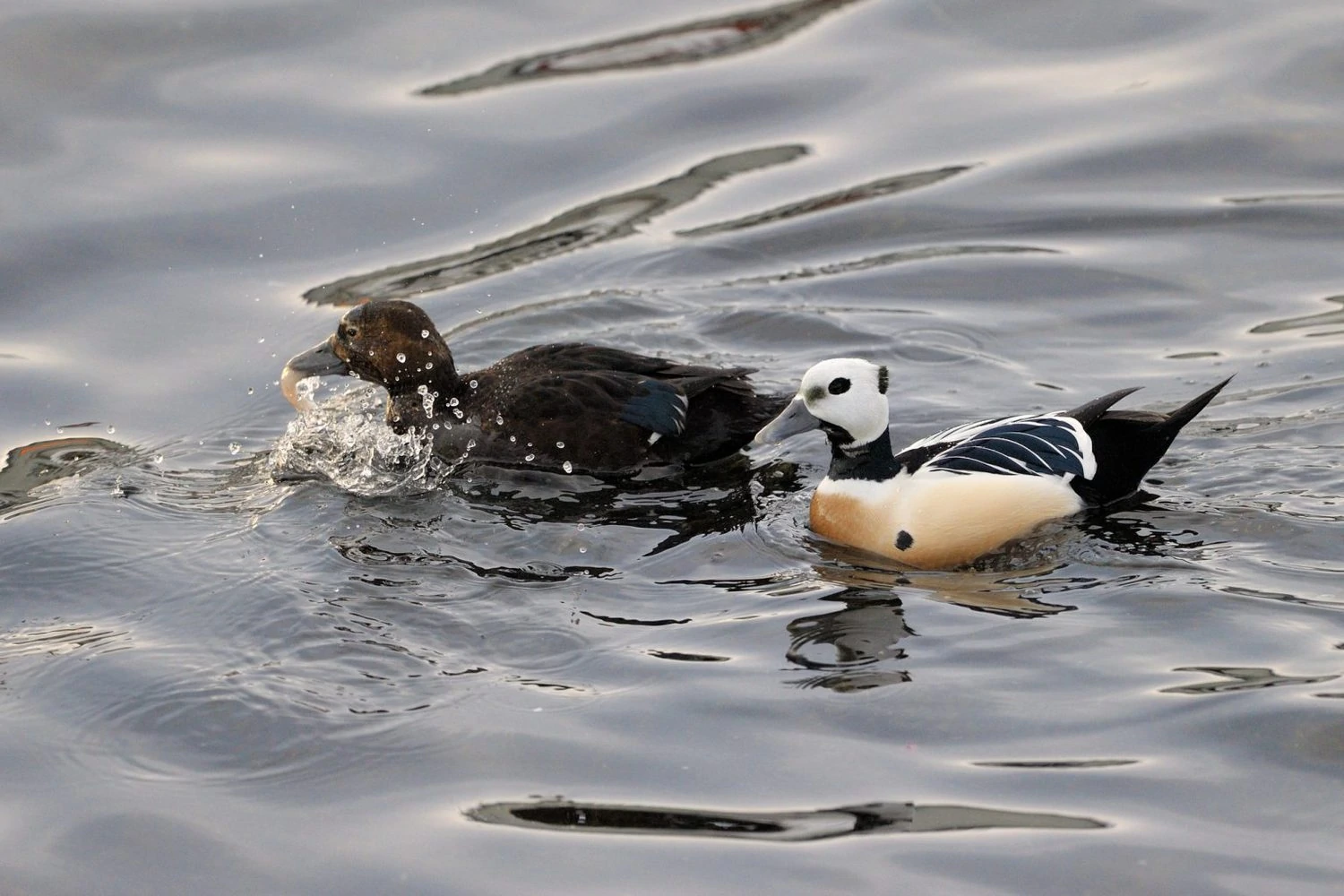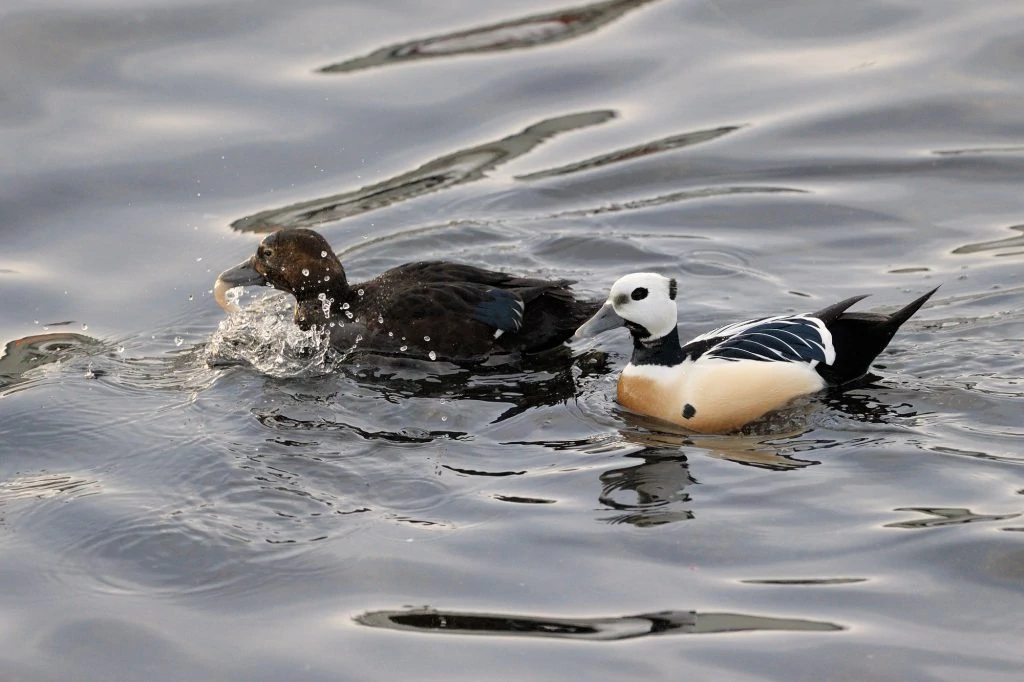 Breeding Adult Male Steller's Eiders have an interesting coloring and pattern. They are buffy underneath and black and white on the back and head. Their bills, legs, and feet are blue-gray.
Adult Females are dark brown with a light white eyering. Non-breeding males resemble the females, but they are light brown. They both have the same blue-black bordered white secondary flight feathers and white underwings.
Polysticta stelleri
Length: 17 – 19 in (43 – 48 cm)
Weight: 27.2 oz (771 g)
Wingspan: 28 – 30 in (71 – 76 cm)
You can find Steller's Eiders in very limited habitats. They're birds of the coastlines of Alaska and Eastern Russia, and they mostly stay in coastal bays and lagoons during winter and when molting. Look for them around tidal flats when molting because that's where they stay when they rest, as they're flightless at this time. During nesting season, they stay in coastal tundra with sedge marshes and freshwater ponds.
Steller's Eiders usually stay on the surface of the water when they forage. Sometimes, they stay close to shore and catch crustaceans, worms, mollusks, and mussels. On breeding grounds, they feast on beetles, small crustaceans, seeds of grasses, sedges, and other plants. They may occasionally dive into deeper water to take prey from the water column and the sea floor.
Stellar's Eider calls:
Stellar's Eiders breed in northern Alaska and spend the winter in southern Alaska. They also are found in northern Eurasia.
Nests of Steller's Eiders are mostly found on raised ridges or hummocks around marshy tundra surrounded by moss, lichen, and grasses and near water.
The female is responsible for building the nest using grasses, sedges, moss, and weeds. She may add her own down feathers when she has laid the third egg. She lays from five to ten eggs that hatch after twenty-six days.
Fun Fact: The Inupiat Eskimos call Steller's Eider "the bird that sat in the campfire" because of the male's burnt orange color of its belly.